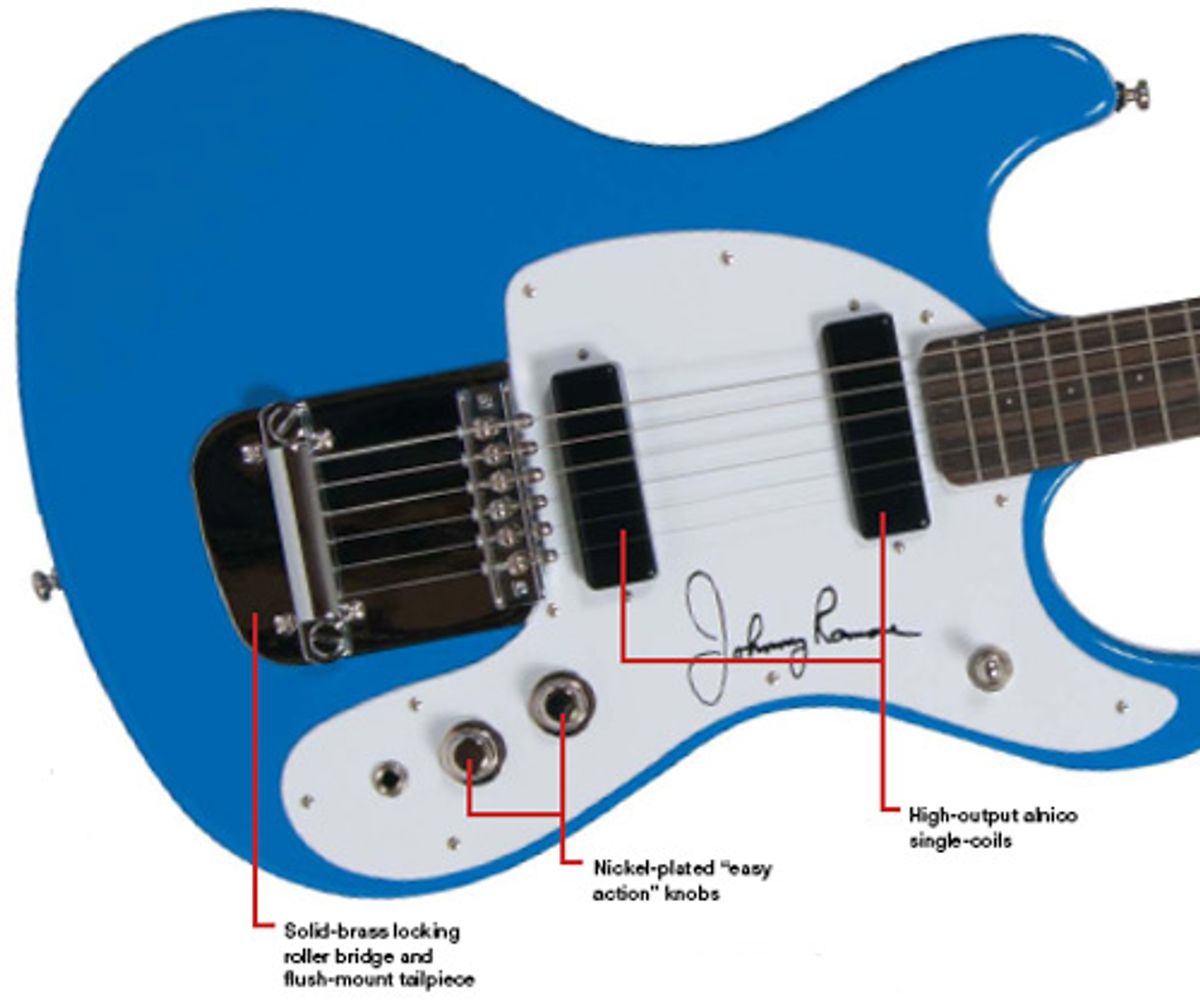 No one ever mistook Johnny Ramone for Django Reinhardt. But while Johnny wasn't the most technically adroit guitarist ever, it would be hard to overstate his impact on popular
No one ever mistook Johnny Ramone for Django Reinhardt. But while Johnny wasn't the most technically adroit guitarist ever, it would be hard to overstate his impact on popular music. Along with three fellow misfits from Forest Hills, New York, who became the Ramones in 1974, he shaped a mutant rock sound—part dirt bike, part machine gun, part bubblegum pop—that turned the music world on its ear. The Ramones weren't the first band to do damage with a distorted power chord, but no one did it quite as raw or fast. That unholy union of speed and power made them the godfathers of punk and the seed that spawned everyone from the Sex Pistols and the Clash to Black Flag and Nirvana.
Johnny's guitar approach was dead simple—fast sixteenth-note downstrokes pumped through a cranked Marshall stack. But the element of Johnny's style that most fans recognize (apart from his trademark spread-eagle stance) is his mid-'60s Mosrite Ventures IIs. Johnny later claimed he bought his signature instrument (apparently at Manny's Music in New York City for about $50) because it was the only guitar he'd ever heard of that he could afford. But with its thin and lightning-fast neck, the Mosrite was the perfect vehicle for Johnny's Gatling-gun, modulating powerchord approach.
Unfortunately for players aspiring to Johnny Ramone-style tones, the Mosrite Ventures II is an impossibly rare guitar (purportedly only 25–30 originals were made). Though future incarnations of the Mosrite brand made versions of Johnny's guitar, they were far from punk-rock priced. Hardcore Johnny fans need not despair any longer, however, thanks to the revived Hallmark Guitars company. In cooperation with the Johnny Ramone estate, Hallmark has created a loud and beautiful-playing take on Johnny's signature axe at a price that real punks can afford.
Blitzkrieg Blue
While our gloss-blue test guitar has the unmistakable elongated-lower-horn silhouette of a Mosrite Ventures model, it's significantly different than the most famous version of that guitar in many respects. Johnny's two original guitars were designed by original Hallmark Guitars founder Joe Hall while working at Mosrite in the mid '60s. Hall's intent was to create a more affordable version of the more ornate and upscale Ventures model. As such, the Hallmark lacks the carved body, and instead features a tapering contour on the sizable bass bout and a one-ply pickguard that looks like a cross between the one's you'll find on a Mosrite and a Telecaster.
Other features will be familiar to any Mosrite fan, and they're executed faithfully and lovingly. The beautiful, one-piece rock maple neck is carved with an integrated headstock that, while virtually parallel with the fretboard, is about an inch lower—creating both a better string-break angle and a cool volute that strengthens the headstockneck junction. The headstock has a delicate hourglass taper and a unique "M" carved along its top edge. Other Mosrite-esque details include narrow vintage frets, a zero fret, and a plated-brass string guide. The solid milled-brass, chrome-plated roller bridge is a thing of beauty, too: Though it's inspired by the original Mosrite units, it features improvements like fixed saddles that result in better intonation and facilitate easier string bending.
Beat on the Brat
Once you strap on the Johnny Ramone, it's easy to see why Johnny dug such a setup. It's an exceptionally well-balanced guitar that feels very sturdy. Hit a big, firstposition E chord and lean on the neck for a little modulation, and it stays right in tune. So if you're inclined to use it as a fast-chugging, punk-rock battering ram, it's likely to withstand a heavy hand without flinching.
Holding a power chord and attacking the guitar with fast downstrokes felt as natural as you could imagine. It's fantastically easy to shift power chords
and
more complex shapes up and down the neck at a CBGB-approved pace, thanks to the comfortable, low-ish action and smaller frets.
All that said, the Johnny Ramone doesn't invite just punk-style attack. The same smooth action that makes hardcore riffing a snap invites languid blues bends and Eastern-flavored legato work. And the narrow, C-shaped neck feels enough like a combination of an early-'60s Telecaster and Jaguar to make twang and surf licks second nature. That doesn't necessarily mean the Hallmark's tone is akin to those Fenders' treble sting: With the volume rolled off a notch or two on the alnico-magnet bridge single-coil, the Johnny Ramone has a darker personality. It should come as no surprise, however, that the guitar comes alive when paired with a Marshall head and a 4x12. With a 100-watt Super Lead at the other end of the cable, the Hallmark delivered the grinding, muscular tones we all associate with the Ramones—but without the clanging, spiky 2 kHz peaks you often get from single-coils and a raging Marshall.
Lead lines sounded great, too, occasionally taking on a snorkel-y, Peter Green-like quality—particularly in the middle position. It was hard to generate really biting solo tones without the help of an overdrive or fuzz, but,
man
, did this thing sound good when I employed one—they felt like natural partners!

The Verdict
A spin with the Hallmark Guitars Johnny Ramone offers a cool peek into the happy accidents that can help a player craft a signature sound. Even if the Hallmark doesn't nail every detail you'd find in a vintage Ventures model, this guitar feels unmistakably like a Mosrite in terms of balance and playability. And given how fast, light, and comfortable it is, you can imagine why Johnny and his own Mosrites were rarely apart. This is a
great
guitar for chugging punk, garage rock, and fuzzy indie rock. It might lack the nuances or classic voice of certain blues and heavy rock guitar staples, but chances are you wouldn't be reading this if that were your musical fixation. If you're on the prowl for a distinctly different flavor that really rocks, the Hallmark Johnny Ramone is all revved up and ready to go.
Buy if...
a comfortable, light, fast, growling guitar with vintage-Mosrite style and feel is your ticket to musical bliss.
Skip if...
you lament the day punk killed prog.
Rating...


Looking for more great gear for the guitar player in your life (yourself included!)? Check out this year's Holiday Gear Finds!
Flare is a dual-function pedal with a tube-like booster and a 1970s-style ring modulator effect that can be played separately or together.
Flare's ring modulator is based on the iconic tone of the original Dan Armstrong Green Ringer. This vintage classic was made famous by Frank Zappa who loved the unusual modulations created by generating a harmonic octave over notes. Messiah's version offers two control knobs: a "Sparkle" tone attenuator and output Level control. Its taupe-gold body, purple and green knobs and stick-figure rock 'n' roller holding up a flame convey an appropriately rockin'70s vibe.

​In a unique twist, Messiah's Flare pairs the ringer with a warm tube-style boost instead of a fuzz. Flare feeds the booster into the ringer for an extra punch, while preserving the Green Ringerspirit. The ringer side also turns any fuzz into an octafuzz, and it has the ability to quiet signal background noise fed through it.
The booster side features a single Boost knob to control the MOSFET circuit, making it very tube-amp-friendly with a warm, organic boost and gain of up to 32dB.
​The pedal is a distinct improvement over the 1970s pedal that inspired it. "Most ringer pedals don't track well," Tom Hejda, owner of Messiah Guitars. "The player can't rely on repeating the same effect even with the most consistently played notes. We carefully matched the components, so our ringer follows your every move, producing that slightly dirty octave you expect on demand."
Messiah developed this vintage octave pedal with flexible features so that people who love that messy, dirty Zappa-esque sound can get there with ease but there's also something for those who have not fallen in love with fuzz or the Green Ringer alone. Flare offers an array of sonic options while retaining simplicity in the controls.
Each Flair Pedal Includes:
3 control knobs: Boost, Sparkle, and Level
Two effects – Ring Modulator and Boost – can be used together or separately
Space-saving top side jacks
Durable, cast aluminum alloy 125B enclosure with fun artwork
Easy to see, illuminated True-bypass foot switch
Standard 9V pedal power input​
Flare Pedal Demo
Messiah Guitars pedals are designed with an explorative player in mind. Like their custom guitars and amplifiers, Messiah's pedals are hand-crafted in Los Angeles for a long life with guaranteed quality.
Flare retails for $199.00 and can be purchased directly at Messiah Guitars or you can hear it in person at Impulse Music Co. in Canyon Country, CA.
For more information, please visit messiahguitars.com.
This feathery little guy is a joy to play because of its incredibly quick response to your right hand - much faster and more expressive than your typical auto-wah pedal.
​If it looks like a duck, acts like a duck, and QUACKS like a duck, then it must be a duck. That's how we came up with the name for our new envelope filter. This feathery little guy is a joy to play because of its incredibly quick response to your right hand - much faster and more expressive than your typical auto-wah pedal. Trevor explains how this is possible in the launch video, as well as gives a demo on Le Canard's operation.
​The attack control determines how quickly the filter responds to the envelope, and the decay sets how quickly the filter releases afterward. The range controls which frequency spectrum the filter does its magic on. Add to this relay-based full-bypass switching with failsafe, and you've got one crazy little quacky beast. It is so expressive that you'll want to give up on your rocker-wah forever.
The MayFly Le Canard envelope filter features:
Super fast responding envelope follower. Touch it and it jumps!
Range control to dial in the character of the filter
Attack control to control how fast the filter moves on that first touch
Release control to control how slowly the filter slides back to baseline
Full bypass using relays with Fail SafeTM (automatically switches to bypass if the pedal loses power)
Cast aluminum enclosure with groovy artwork
MSRP $149 USD ($199 CAD)​
Introducing the MayFly Le Canard Envelope Filter
All MayFly pedals are hand-made in Canada.
For more information, please visit mayflyaudio.com.
Outlaw Effects introduces their next generation of NOMAD rechargeable battery-powered pedal boards.
Available in two sizes, NOMAD ISO is a compact, versatile tool that offers the convenience of a fully powered board plus the additional freedom of not having to plug into an outlet. NOMAD ISO is ideal for stages with limited outlet availability, quick changeovers, busking outdoors, temporary rehearsal locations, and more.
NOMAD ISO builds upon the legacy of the ultra-convenient and reliable NOMAD rechargeable pedalboard line originally launched in 2018. The brand new NOMAD ISO editions feature eight isolated outputs (1 x 9V DC, and 1 switchable 9V/12V DC) for even more versatility and clean, quiet power. With an integrated lithium-ion battery pack boasting 12800mAh capacity, NOMAD ISO can fuel a wide array of pedals, and will last over 10 hours* on a single charge.
Each NOMAD ISO pedal board includes adhesive hook & loop pedal-mounting tape, eight (8) standard DC connector cables, and one (1) reverse polarity DC cable, giving you everything you need to build your ultimate "off-the-grid" rig. A rugged, road-ready padded gig bag with shoulder strap is also included, to safely protect your gear while you're on the move.
NOMAD ISO S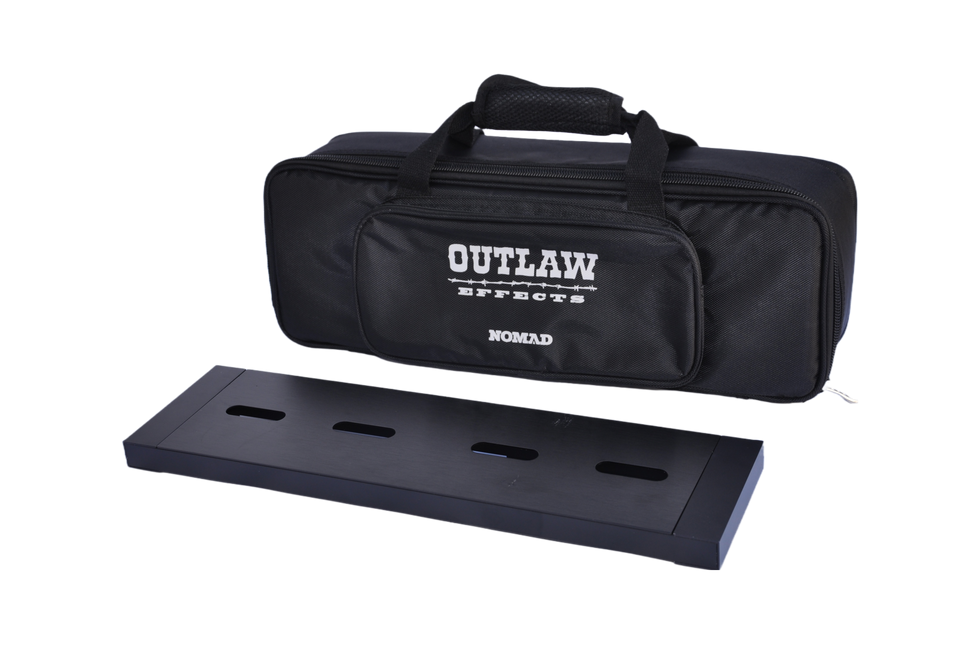 NOMAD ISO S: MSRP $309 / MAP: $249
Dimensions: 19 ¼" x 5 ¼"
NOMAD ISO M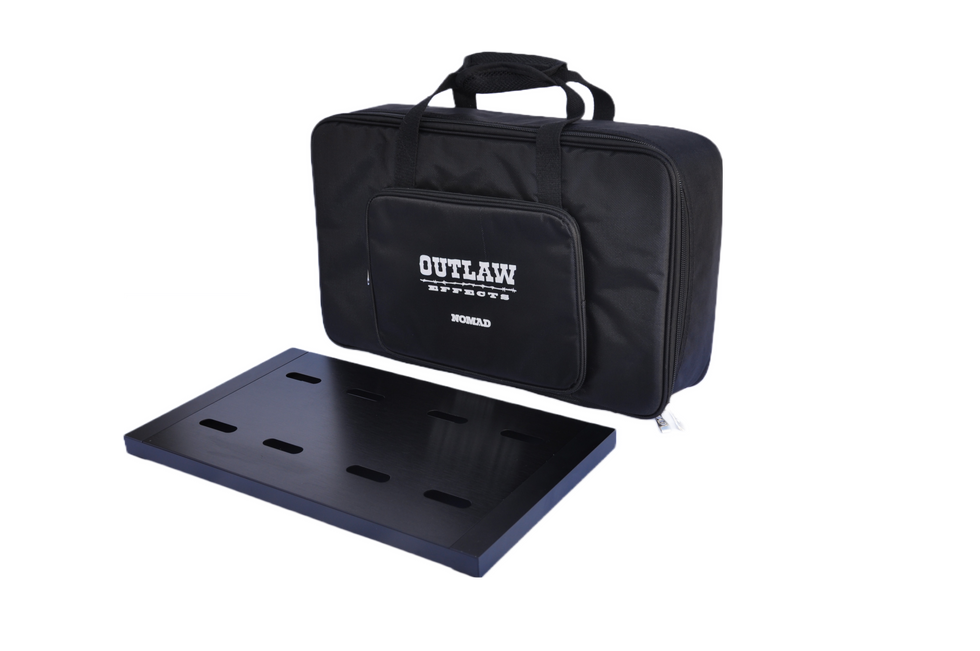 NOMAD ISO M: MSRP $349 / MAP $279
Dimensions: 19 ¼" x 11"
More info: https://www.outlawguitareffects.com.