Identifying a Rare 4-Pickup Baritone
The Demian VN-4 shares DNA with Teisco, Guyatone, and Kawai relatives.
What can I say? I love weird old guitars! And that extends to resonators, mandolins, banjos, and dulcimers, too. I could go on, but I've got to tell you that nothing intrigues me more than the oddball electric guitars that hit the American market from the late 1950s on into the late '70s. The main suppliers of these often interestingly shaped and outfitted electrics were factories in Japan, with imports from Germany, Italy, Sweden, and the U.K. playing a lesser role in the story.
The guitar I've brought to the table this month—a 1964 Demian VN-4 electric baritone—is a rare product of the '60s. It came into Nashville Used Music as a "this used to belong to our dad and we're clearing out the closet" instrument, accessorized by the usual question: "How much can we get for it?"
This was obviously a Teisco of some kind, I thought, but some research was in order.
At first glance, this guitar was immediately weird, with four pickups, two volume dials, and six switches. But what really caught my eye was the neck, which was unusually long compared to the frequent flow of other Teisco, Guyatone, and Kawai relics that come in. This was obviously a Teisco of some kind, I thought, but some research was in order. Especially since the manufacturer made a mess of the brand name on the headstock, which looks like a doctor's scribble at the bottom of a prescription.
As my fellow PG columnist Frank Meyers often explains in his monthly "Wizard of Odd," these inexpensive Japanese guitars from the '60s—regardless of the names on their headstocks—all have a pretty similar aesthetic. I felt like this one had a Teisco body, but the pickups looked like they were made by Guyatone. Maybe that's because both companies were helped along in their development by a guitar designer named Atsuo Kaneko? But I digress.

Dig these crazy controls! Mic. 1-4 on/off switches, R and S settings, and a pair of volume wheels are all ready to take the sound of this VN-4 for a spin.
With some sleuthing, the answers started coming in. What we were very lucky to have was an extremely rare Demian VN-4 baritone electric guitar from 1964 made by the FujiGen instrument manufacturing company in Matsumoto, Japan. This was extra exciting for me, because the history of this company is extraordinary. FujiGen has been a keystone in Japan-based guitar building for ages. In addition to the brands St. George, Zim-Gar, and their own Demian imprint, they've made guitars for Teisco, Guyatone, Kawai (think Hound Dog Taylor's S180), Ibanez, and even Fender. I was holding a part of that historic lineage in my hands. A VN-4 in good shape, like this guitar, might sell for up to $750, or scale down to $400 if it's had a rougher life.
This Demian VN-4 and its cousins were made to cash in on the baritone guitar craze that started in the late 1950s in the U.S., where the instrument became a staple of surf music, Duane Eddy's twangy hits, and country music sessions, and later figured prominently in spaghetti Western soundtracks and Jimmy Webb's orchestrations for Glen Campbell's hits "Galveston" and "Wichita Lineman."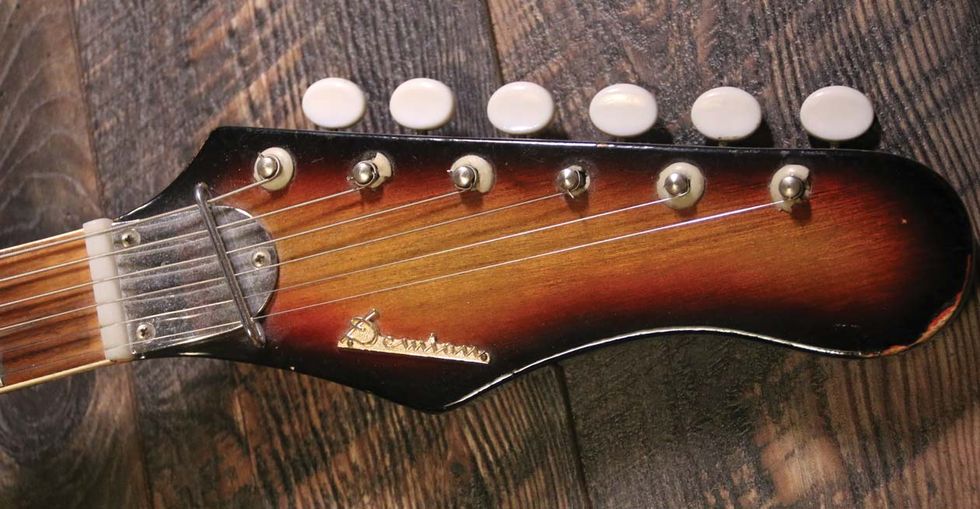 The headstock says … what? Is Demian really spelled with three Ms? This is more of a mess than a logo or brand name.
Not only does the VN-4 baritone have the cool "surfcaster" look of that era, I think it's also got more versatile tones than, say, a Fender Bass VI. That's because of the controls under the guitar's metal and chrome panels, which remind me of many Teiscos I've seen. With four single-coil pickups, two volume dials for those pickups, and six switches—three for each pickup—there are plenty of sonic options, from twangy to tic-tac to warm and fat to bright and spanky. Other than "on" and "off," it's not exactly clear what these switches do under the hood. But the ones marked "R" and "S" for each pickup provide a beefier tone when set to "S."
As for the rest, this VN-4 has a solid mahogany body, a fat, baseball-bat-style C-shaped neck with 19 frets, and a rosewood fretboard with rectangular block inlays. The finish is a quirky cherry burst that slightly varies in hue from the headstock to the body. The neck has a 26 3/4" scale and there's a vibrato system with just the right tension for classic surf and Western-movie single-note styles of playing.

The small frets, block inlays, and vibrato tailpiece are all visible from this angle. And yes, there is a truss rod inside the neck, for intonation tweaks.
I truly love this FujiGen Demian VN-4 baritone. I can't put it down. There are so many tones, and the emotions that the lower register sound conjures up seem limitless. In fact, I think I'm buying it!
Check out Mike Dugan's demo of the burly and beautiful 1964 Lindell VN-4 electric baritone—the same instrument as our Demian—and enjoy his nods to Dick Dale, Duane Eddy, and the Chantays.