A powerful pedalboard-style modeler packed with great tones and clever features.
Time flies when you're subverting analog norms! It's been18 years since Line 6 challenged sonic assumptions with the original kidney-bean-shaped Pod, the device that introduced countless guitarists to the possibilities of modeled amps and stompboxes. So it's no shocker that Helix, the company's new flagship pedalboard modeler, has all the hallmarks of a mature product line. If I had to describe Helix in a word or two, I'd consider "great-sounding" and "versatile," but I'd probably go with "thoughtful." You get the sense that a clever development team considered every conceivable way a guitarist might use a tool like this, and designed accordingly.
Mature Modeling
Helix is an ambitious multi-effector with nearly 200 amp and pedal models, a built-in expression pedal, and exceptional rear-panel connectivity. It seems designed to go head-to-head with modeling rigs like Fractal Audio's Axe-Fx II and the Kemper Profiling Amplifier, but it's configured as a pedalboard rather than a rackmount box or head. Meanwhile, Helix's $1,499 street price is well below that of its rival products, and here you edit sounds via a large, full-color LED screen, as opposed to the rather stingy LCD windows of its competitors. (Though in all cases, users can connect to a computer via USB and edit on a dedicated software interface).
Crafty guitarists might use Helix for nearly every aspect of their music making: composing and sound-designing while monitoring through headphones, tracking to DAW via Helix's quality convertors, and rehearsing and gigging by plugging into a P.A. or a clean-toned, full-frequency amp, or bypassing Helix's amp/cab simulations and playing through a conventional amp. Two performance modes let you switch between up to eight sets of up to 128 patches each, or just use Helix as a static pedalboard with simple on/of switches for each assigned effect.
Helix's physical package is as remarkable as its features. The enclosure, pedal, jacks, knobs, and switches are rugged metal—no janky plastic crap here.

More on the Floor
You can simultaneously output dry and effected tones, monitoring with effects, then re-amp the dry signal through an analog amp. (You can also use Helix as your re-amping device in the studio.) There are two 1/4" guitar inputs, stereo 1/4" and XLR outs, S/PDIF and AES/EBU digital ins and outs, and a mic input with phantom power. The controller pedal can be assigned to any combination of parameters, and you can save two sets of assignments per patch. (You switch between assignments with a toe-forward pedal motion. It's almost like having two controllers onboard.)
Helix plays well with other toys. Four mono/stereo effect loops make it easy to add external stompboxes at any point in your effect chain and save the routing info with your patches, as on a dedicated effect looper. You can route signals from the built-in controller to external devices or assign external controllers to Helix parameters. MIDI in and out jacks let you switch patches and tweak parameters on MIDI-equipped pedals or use those pedals to control Helix parameters. (I didn't test Helix with a Line 6 Variax guitar, but a rear-panel jack lets Variax players power their guitars from Helix and select patches and modify effects directly from their instruments.)
Helix's physical package is as remarkable as its features. The enclosure, pedal, jacks, knobs, and switches are rugged metal—no janky plastic crap here. The footswitch surrounds boast bright, multicolored LEDs, and each switch includes a digital "scribble strip" displaying the currently assigned effect or parameter. (The visibility is remarkable—you could probably read the Helix tuner from halfway across the stage.) And believe it or not, you can actually edit and organize sounds using only your feet, thanks to the large knobs, a big joystick encoder, and capacitive footswitches that perform multiple tasks depending on whether they're clicked or merely touched. (Still, many users will put Helix on their desktops for heavy editing sessions, or at least fire up the editing software.)
Ratings
Pros:
Great sounds. Cool design. Solid construction. Extraordinary connectivity. Good price.
Cons:
It takes time to learn your way around.
Tones:


Ease of Use:



Build/Design:


Value:



Street:
$1,499
Line 6 Helix
line6.com

Truthful Tones
The Helix models are generally excellent. As on other Line 6 products, models are based on name-brand amps and effects, with a mix of sounds you'd expect plus fun surprises. Helix hosts a more powerful processor than previous Line 6 products, providing tactile, three-dimensional tones. If the relatively grainy, lo-def modeling of older Line 6 products disappointed you, it's time for a fresh listen. Note attack is nuanced, and responsiveness and character vary from model to model. The metal amps have brutal, face-spitting impact, while the tweed and Supro tones boast convincingly funky looseness and sag. You can mix amps and cabinets and select the models and positions of virtual microphones.
Helix supports up to four parallel signal paths, all in stereo, so you can route entirely different tones to separate amps or input channels, or create complex patches with dual signal chains that get reunited at the output stage. Naturally, Helix excels at over-the-top, effect-laden patches. But it's a measure of the models' realism that minimal patches sound as engaging as highly processed ones. About the only negative thing I can say about the models is that some amps and distortion pedals don't clean up when you lower your guitar volume quite like they do in the analog world.
Theater of Operations
Helix's editing procedures are as thoughtful as its feature set. Thanks to a logical layout, color-coding, and a user-sycophantic operating system, deep editing feels as simple as possible. Learning to edit intuitively only took me about … well, to be honest, editing wasn't completely intuitive by the time I finished testing. I still relied on the included cheat sheet. (But I think I would be fluent after another day or so.) Mastering Helix definitely involves a learning curve, but chances are you'll spend more time thinking, "Wow, that's clever!" than "Man, this would be so much easier if they'd done it differently."
The Verdict

Helix is an extraordinarily powerful recording and performing tool. It rivals pricier modeling products and surpasses them in some regards, especially with its large, bright, and color-coded editing surfaces. The design is sleek and the construction is genuinely roadworthy. Evaluating models is a subjective business, but I suspect most players will be floored by the quality and range of Helix's tones. Modeling products aren't the best solution for every player, but guitarists who like hanging out in the digital realm will be hard pressed to find a superior traveling companion.
Watch the Review Demo:

Looking for more great gear for the guitar player in your life (yourself included!)? Check out this year's Holiday Gear Finds!
Outlaw Effects introduces their next generation of NOMAD rechargeable battery-powered pedal boards.
Available in two sizes, NOMAD ISO is a compact, versatile tool that offers the convenience of a fully powered board plus the additional freedom of not having to plug into an outlet. NOMAD ISO is ideal for stages with limited outlet availability, quick changeovers, busking outdoors, temporary rehearsal locations, and more!
NOMAD ISO builds upon the legacy of the ultra-convenient and reliable NOMAD rechargeable pedalboard line originally launched in 2018. The brand new NOMAD ISO editions feature eight isolated outputs (1 x 9V DC, and 1 switchable 9V/12V DC) for even more versatility and clean, quiet power. With an integrated lithium-ion battery pack boasting 12800mAh capacity, NOMAD ISO can fuel a wide array of pedals, and will last over 10 hours* on a single charge.
Each NOMAD ISO pedal board includes adhesive hook & loop pedal-mounting tape, eight (8) standard DC connector cables, and one (1) reverse polarity DC cable, giving you everything you need to build your ultimate "off-the-grid" rig. A rugged, road-ready padded gig bag with shoulder strap is also included, to safely protect your gear while you're on the move.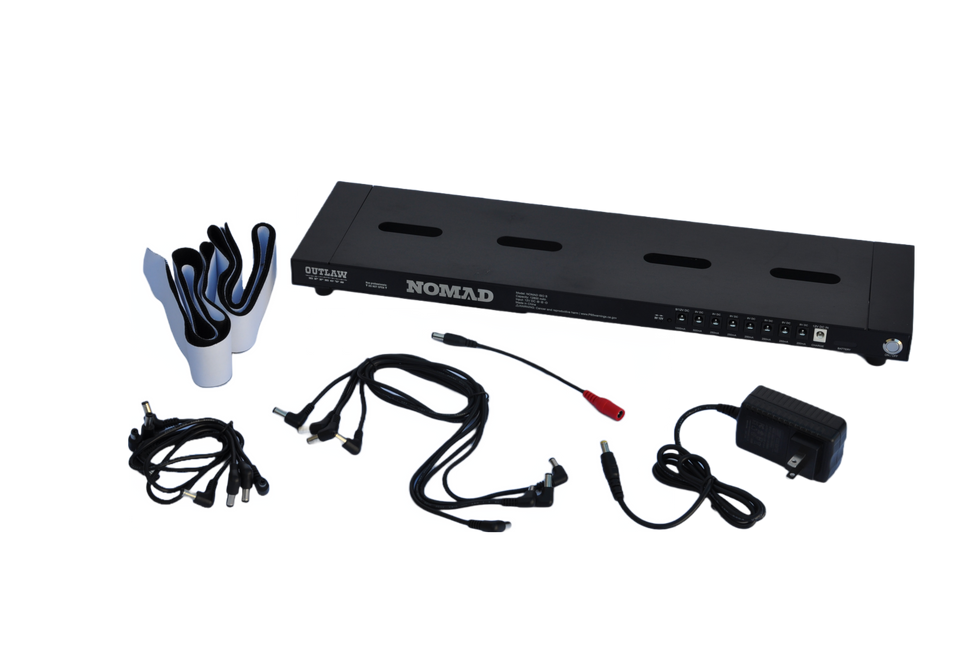 Dunable announce new Minotaur model featuring Grover Rotomatic Keystone tuners.
The Minotaur's DNA is rooted in their classic Moonflower model, which Dunable discontinued in 2017. However, they have long since wanted to create a fresh take on a carved top guitar design, and various attempts to rework the Moonflower led them to a brand new concept with the Minotuar.
Dunable's goal is to give the player a guitar that plays fast and smooth, sounds amazing, and gives maximum physical ergonomic comfort. The Minotaur's soft and meticulous contours, simple and effective control layout, and 25.5" scale length are designed to easily meet this criteria.

Dunable Minotaur!
Features
25.5" scale length
Dual Humbucker
one volume, one tone, push pull for coil splitting
Grover Rotomatic Keystone tuners
Grover Tune O Matic bridge with brass Kluson top-mount tailpiece
jumbo nickel frets
12" fretboard radius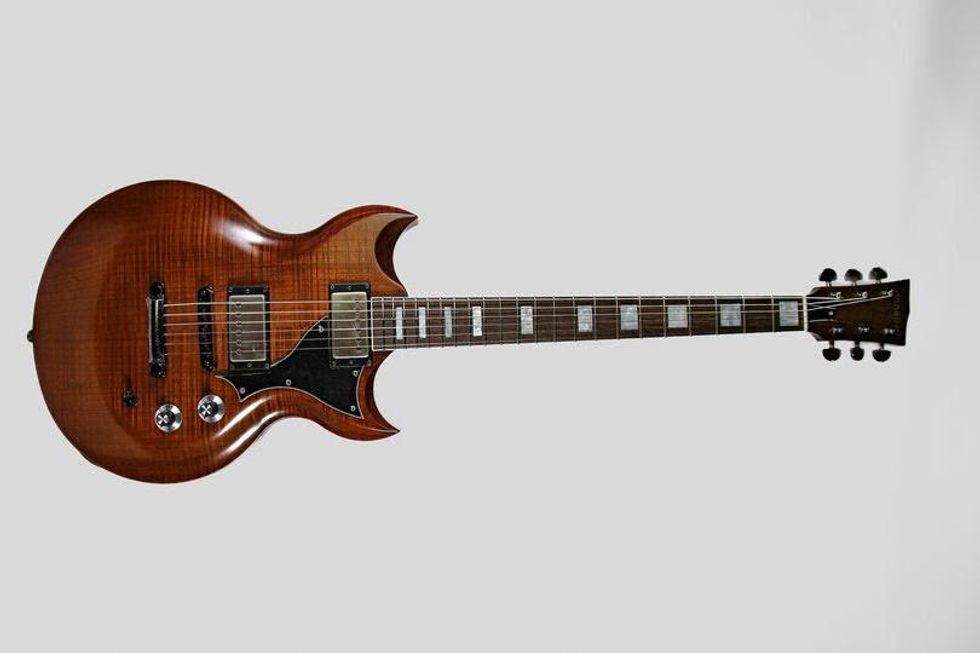 Dunable
This full-amp-stack-in-a-box pedal brings a new flavor to the Guitar Legend Tone Series of pedals, Missing Link Audio's flagship product line.
Adding to the company's line of premium-quality effects pedals, Missing Link Audio has unleashed the new AC/Overdrive pedal. This full-amp-stack-in-a-box pedal – the only Angus & Malcom all-in-one stompbox on the market – brings a new flavor to the Guitar Legend Tone Series of pedals, Missing Link Audio's flagship product line.
The AC/OD layout has three knobs to control Volume, Gain and Tone. That user-friendly format is perfect for quickly getting your ideal tone, and it also offers a ton of versatility. MLA's new AC/OD absolutely nails the Angus tone from the days of "High Voltage" to "Back in Black". You can also easily dial inMalcom with the turn of a knob. The pedal covers a broad range of sonic terrain, from boost to hot overdrive to complete tube-like saturation. The pedal is designed to leave on all the time and is very touch responsive. You can get everything from fat rhythm tones to a perfect lead tone just by using your guitar's volume knob and your right-hand attack.
Features 
Three knobs to control Volume, Gain and Tone
Die-cast aluminum cases for gig-worthy durability
Limited lifetime warranty
True bypass on/off switch
9-volt DC input
Made in the USA
MLA Pedals AC/OD - Music & Demo by A. Barrero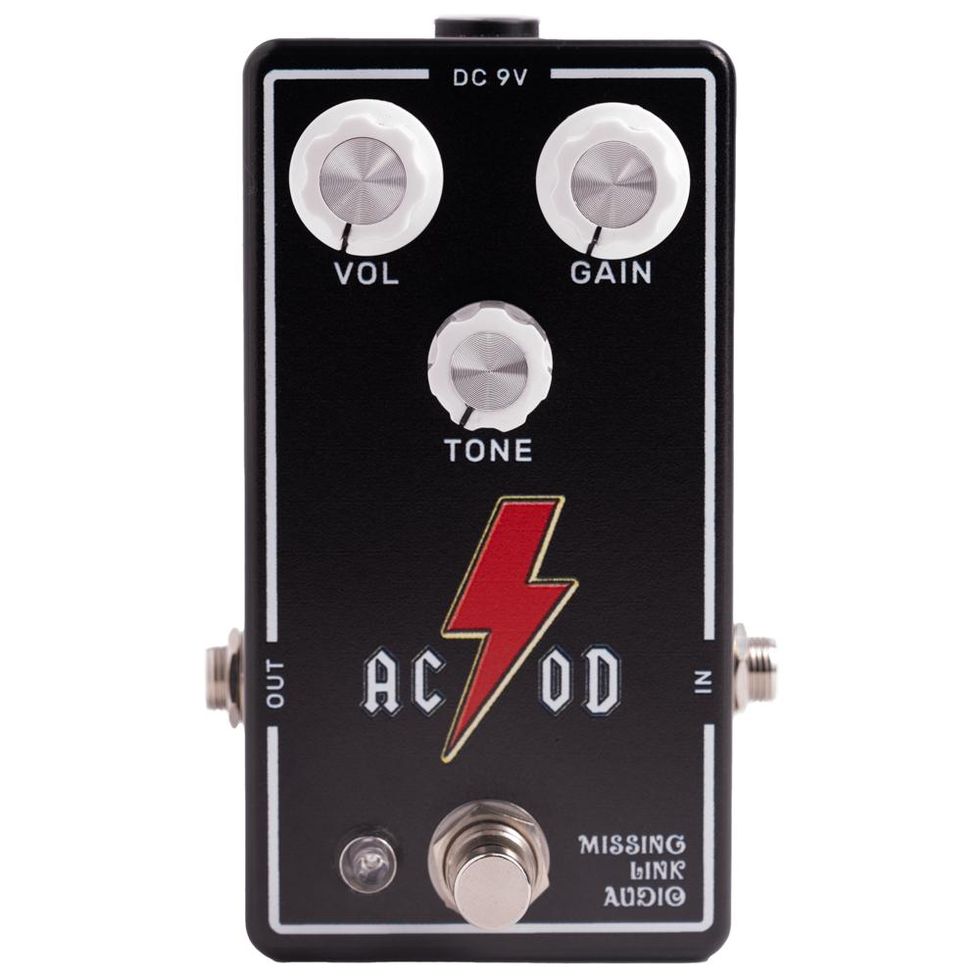 www.mlapedals.com.