A wickedly versatile multi-effect unit with remarkable flexibility.
 

Ratings

Pros:

Tons of options. Great reverbs and delays. Impressive collection of distortion models.

Cons:

Slightly confusing tap tempo setup. Weak rotary simulation.

Street:

$599

Line 6 HX Effectsline6.com

Tones:Ease of Use:Build/Design:Value:
---
I've always had a somewhat tortured relationship with multi-effect units. During my formative playing years I was easily seduced by loads of options and the ability to store more presets than I would ever need. At the time, though, the quality of tones never seemed to balance with the allure of convenience. Over the last 20-or-so years Line 6 has worked hard to make their emulations sound as good as they are convenient. Their newest multi-effect, built on the Helix framework, HX Effects, is one their most evolved efforts yet.
Hung Up on HX
If I were to succinctly describe the difference between the HX and the Helix it would be "All the effects, but none of the amps." The HX is specifically designed for players who want to keep their analog amps and effects but add a substantial layer of digital flexibility and options.
Along the top of the HX sits eight capacitive, touch-sensitive footswitches, which allow you to activate and bypass effects, change signal flow, move between snapshots, and much more. Above those sit an array of six buttons and push-knobs for manually navigating menus and adjusting the parameters of the effects.
Some of my biggest hang-ups with earlier generations of multi-effect units were the navigation and organization of the presets. In the midst of writing this review Line 6 released HX Edit, which allows you to organize, edit, backup, import, and wrangle just about every performance parameter from the more approachable interface of a desktop or laptop computer. But even before HX Edit I didn't have too much difficulty getting around. Within minutes of plugging it in I was able to go from an empty preset to a basic board with several drives, reverb, vibrato, and a slapback delay—all tweaked to taste and in my preferred running order.
I didn't count them one-by-one, but Line 6 lists more than 100 different effects in the HX—easily more than I'll ever use. Although there are only six footswitches, you can use run up to nine effects at once and assign multiple effects to a single footswitch. Since the release of the DL4 and its similarly formatted cousins, Line 6's delays, reverbs, and modulation effects have been solid and the HX's effects sound every bit as good. (Bonus for all you longtime Line 6 fans: All of the legacy tones from the M series stompbox modeler are included.) The reverbs can move from slightly spacious to overwhelmingly lush and awash with shimmery overtones. ­­Want to go deep and have a pedalboard with a half-dozen reverbs? Go ahead. I tried it and it's fun.
I'm a huge fan of stacking different dirt pedals and the HX makes experimentation more fun than a game of Jenga. I routed an Electro-Harmonix Soul Food in one of the send/return loops and dialed up the HX's Minotaur for comparison. Although the controls didn't compare on a one-to-one basis, I was able to get veryclose to the Soul Food's feel and response. Combining Klon-style dirt with a TS-808-style overdrive enabled many different shades of distortion.
The Verdict
There are far more options, features, and tones here than I could possibly cover in a single review. Quite simply, the HX Effects is one of the most flexible multi-effect units I've ever played. With its compliment of I/O options, IR support, MIDI functionality, and smartly designed interface, I wouldn't be surprised to see it pop up in future Rig Rundowns. And I was very impressed with how organic the digital overdrives sounded. Whether you use it as a hub for your entire pedalboard or just as a grab bag of sounds, the HX Effects is a top-notch piece of gear that will add real power to your rig.
---
Looking for more great gear for the guitar player in your life (yourself included!)? Check out this year's Holiday Gear Finds!
Outlaw Effects introduces their next generation of NOMAD rechargeable battery-powered pedal boards.
Available in two sizes, NOMAD ISO is a compact, versatile tool that offers the convenience of a fully powered board plus the additional freedom of not having to plug into an outlet. NOMAD ISO is ideal for stages with limited outlet availability, quick changeovers, busking outdoors, temporary rehearsal locations, and more.
NOMAD ISO builds upon the legacy of the ultra-convenient and reliable NOMAD rechargeable pedalboard line originally launched in 2018. The brand new NOMAD ISO editions feature eight isolated outputs (1 x 9V DC, and 1 switchable 9V/12V DC) for even more versatility and clean, quiet power. With an integrated lithium-ion battery pack boasting 12800mAh capacity, NOMAD ISO can fuel a wide array of pedals, and will last over 10 hours* on a single charge.
Each NOMAD ISO pedal board includes adhesive hook & loop pedal-mounting tape, eight (8) standard DC connector cables, and one (1) reverse polarity DC cable, giving you everything you need to build your ultimate "off-the-grid" rig. A rugged, road-ready padded gig bag with shoulder strap is also included, to safely protect your gear while you're on the move.
NOMAD ISO S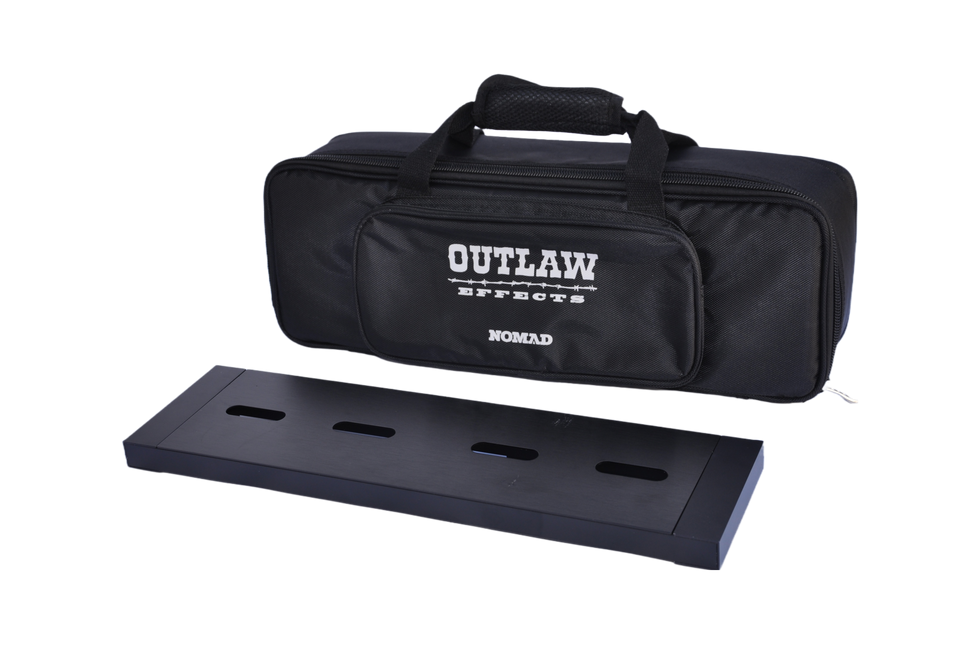 NOMAD ISO S: MSRP $309 / MAP: $249
Dimensions: 19 ¼" x 5 ¼"
NOMAD ISO M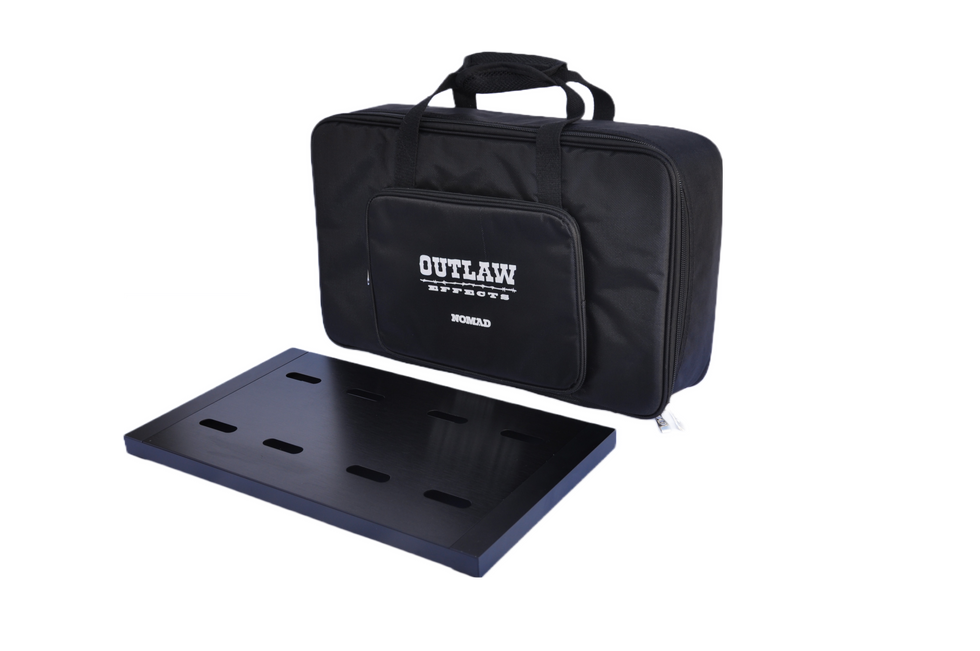 NOMAD ISO M: MSRP $349 / MAP $279
Dimensions: 19 ¼" x 11"
More info: https://www.outlawguitareffects.com.
Dunable announce new Minotaur model featuring Grover Rotomatic Keystone tuners.
The Minotaur's DNA is rooted in their classic Moonflower model, which Dunable discontinued in 2017. However, they have long since wanted to create a fresh take on a carved top guitar design, and various attempts to rework the Moonflower led them to a brand new concept with the Minotuar.
Dunable's goal is to give the player a guitar that plays fast and smooth, sounds amazing, and gives maximum physical ergonomic comfort. The Minotaur's soft and meticulous contours, simple and effective control layout, and 25.5" scale length are designed to easily meet this criteria.

Dunable Minotaur!
Features
25.5" scale length
Dual Humbucker
one volume, one tone, push pull for coil splitting
Grover Rotomatic Keystone tuners
Grover Tune O Matic bridge with brass Kluson top-mount tailpiece
jumbo nickel frets
12" fretboard radius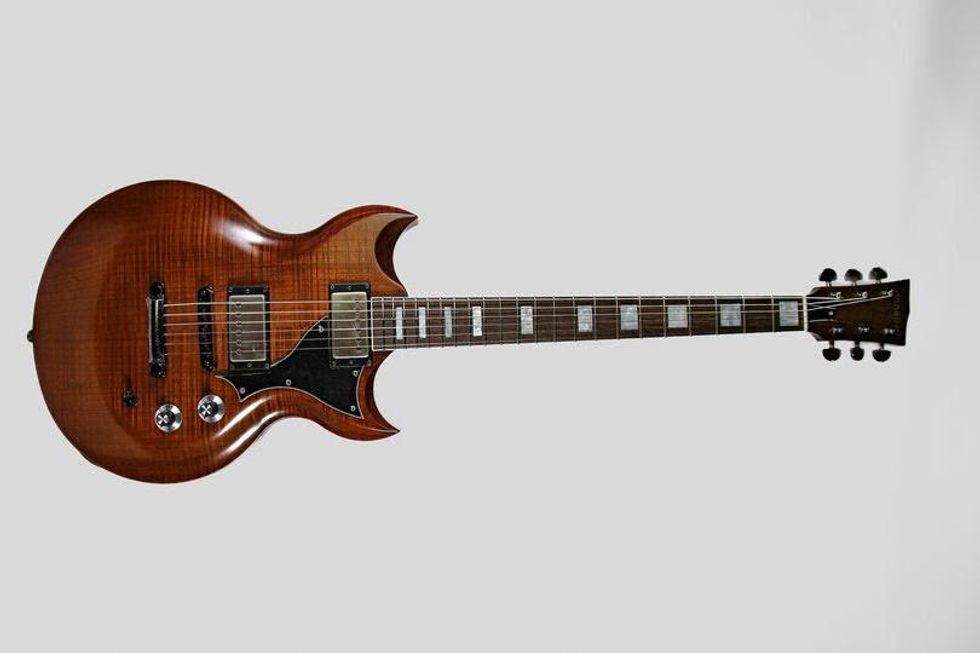 Dunable
This full-amp-stack-in-a-box pedal brings a new flavor to the Guitar Legend Tone Series of pedals, Missing Link Audio's flagship product line.
Adding to the company's line of premium-quality effects pedals, Missing Link Audio has unleashed the new AC/Overdrive pedal. This full-amp-stack-in-a-box pedal – the only Angus & Malcom all-in-one stompbox on the market – brings a new flavor to the Guitar Legend Tone Series of pedals, Missing Link Audio's flagship product line.
The AC/OD layout has three knobs to control Volume, Gain and Tone. That user-friendly format is perfect for quickly getting your ideal tone, and it also offers a ton of versatility. MLA's new AC/OD absolutely nails the Angus tone from the days of "High Voltage" to "Back in Black". You can also easily dial inMalcom with the turn of a knob. The pedal covers a broad range of sonic terrain, from boost to hot overdrive to complete tube-like saturation. The pedal is designed to leave on all the time and is very touch responsive. You can get everything from fat rhythm tones to a perfect lead tone just by using your guitar's volume knob and your right-hand attack.
Features 
Three knobs to control Volume, Gain and Tone
Die-cast aluminum cases for gig-worthy durability
Limited lifetime warranty
True bypass on/off switch
9-volt DC input
Made in the USA
MLA Pedals AC/OD - Music & Demo by A. Barrero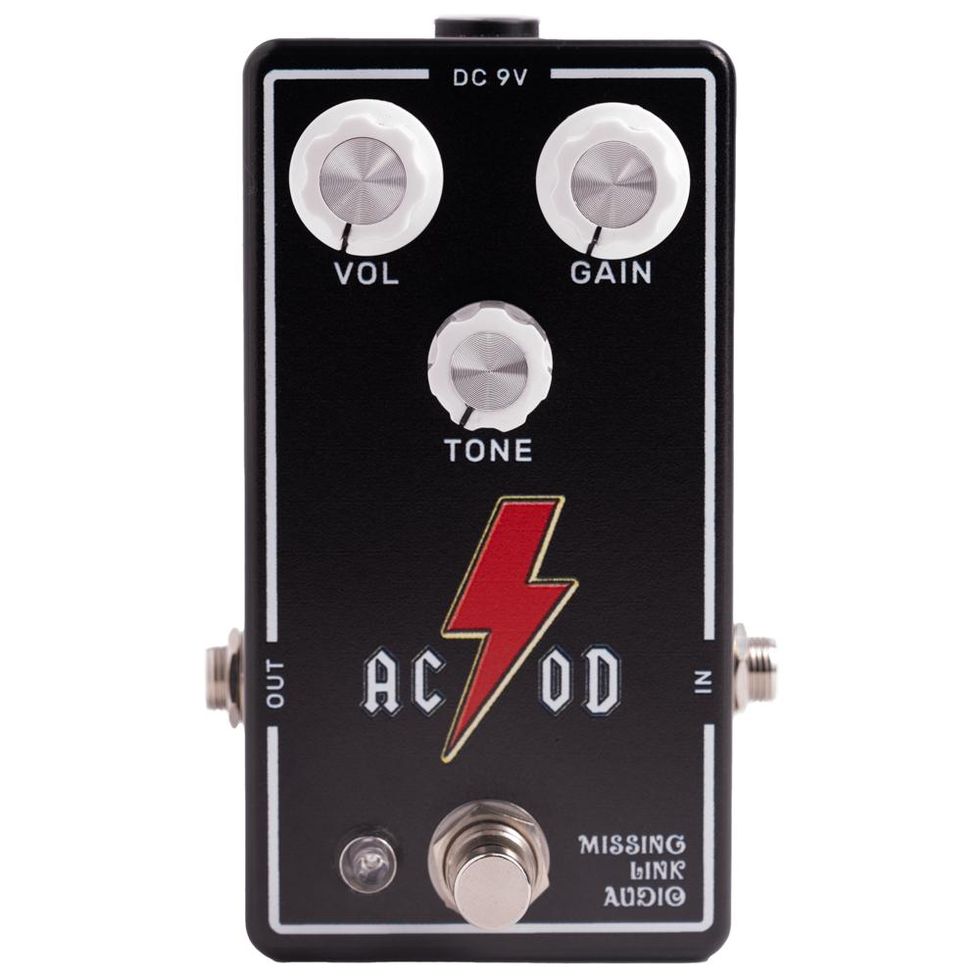 www.mlapedals.com.