Line 6 POD Go Wireless Review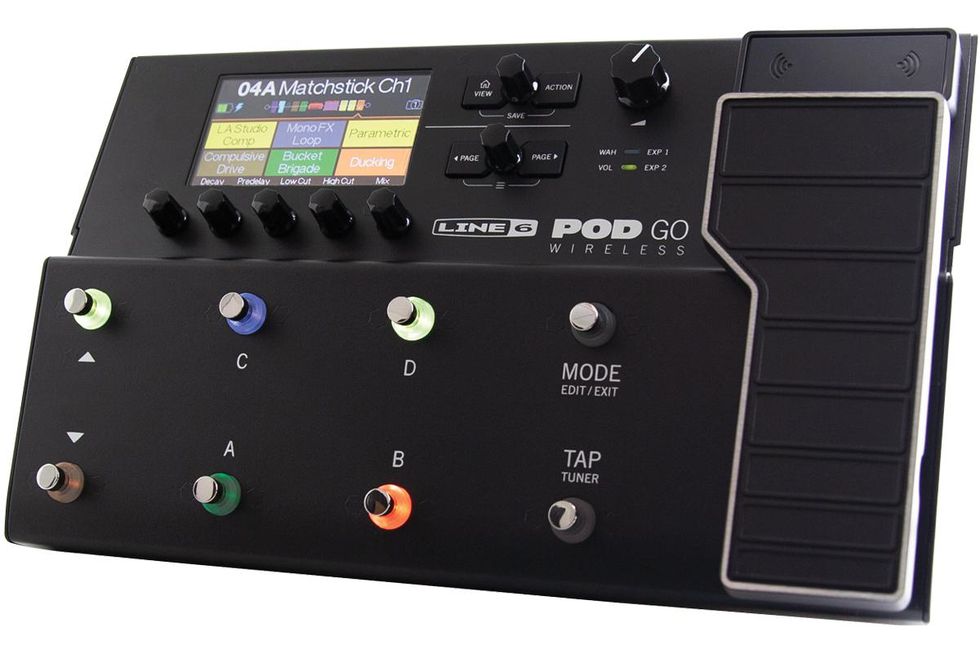 Gateway to Helix, or a wireless wonderland of tone?
Dynamite price for the number of effects and amps. Wireless performance is solid. Visually appealing and effective interface.
Polycarbonate chassis might not be most road-worthy. Not enough power for some advanced DSP-intensive effects.
4.5
3.5
4
4
I fondly remember the first-gen POD from Line 6. It didn't look like anything else. And it was packed with way more features and effects than my novice's sense of tone could comprehend. It had amp models based on units I'd only read about and offered a fantastic portable and quiet solution to practicing. Heck, Pete Anderson even used a pair of them on stage as recently as 2014 when we caught up with him for a Rig Rundown. And if it's good enough for Mr. Anderson...
---
Fast forward to the newly released POD Go Wireless. It shares a lot of digital DNA with company's newer flagship Helix processors. The interface is intuitive with effective visual representations of every part of the virtual signal chain. With a wireless unit this might be one of the best accessibly priced digital processors around.
I've Got a Blank Space Where My Board Should Be
One of the primary benefits of any good digital modeler, profiler is the ability to better understand how each element of your chain interacts with your gear. The POD Go takes a bit of the guesswork out by automatically placing a few components on your virtual board but leaves a lots of potential for experimentation.
When you load up a blank preset it starts with wah, volume, effects loop, amp, cab, and EQ blocks. The four open spots (two before the amp and two at the end of the chain) are available for gain effects, modulation, reverb, delay, or any of the additional 206 effects that come loaded with the unit. (Line 6 regularly offers free amp, cab, and effects updates). Although a few elements always remain in place, the remaining slots can be rearranged with ease.
I love the phasers and effected delays so much that I designed a board with four of them just to see how much syrupy oscillation I could drum up.
Even Better Than the Real Thing?
The POD Go Wireless offers a total of 10 "blocks" (the amp, cab, and effects elements that make up a signal chain). That should cover the needs of most players the POD Go Wireless is designed for. The unit itself is not quite as road-rugged and portable as the HX Stomp, but the built-in treadle and easy setup are huge advantages. In terms of DSP power, the POD Go has a little less processing power that the HX Stomp and slightly less than half the power of a full Helix Floor model. It's missing a few of the more DSP-intensive effects in the Helix line, like the dynamic hall reverb and the recent polyphonic additions, but that doesn't mean there are loads of very good-to-excellent sounds at your disposal.
I A/B-ed a few of the effects with my HX Stomp and found nearly all of them to be excellent equivalents. And after experimenting with the stock cabs and a few free impulse responses I found online (there is a sizable online community of IR creators), I felt I could match nearly any tone I could get out of my Helix Stomp. The POD Go Wireless's range of available amps are impressive—with accurate Fender, Vox, Marshall, Dumble, Revv, and Orange models along with original Line 6 designs. When it comes to effects, the modulation and delay sections are where I feel the POD Go really shines. I love the phasers and effected delays so much that I designed a board with four of them just to see how much syrupy oscillation I could drum up.

Obviously, the main difference between the POD Go Wireless and the standard POD Go is the addition of a G10 wireless unit. After plugging the included dongle into the guitar input of the POD Go Wireless, the unit and the guitar paired almost instantly. I'd rank it as one of the most pain-free wireless setups I've experienced. And as expected, the G10 was rock solid. (All of the sound clips for this review were recorded with the G10).
The Verdict
Line 6 has established the Helix ecosystem as a pro-level sound-creation environment for players that favor the flexibility of a digital setup. Does the POD Go Wireless match the Helix's performance power? Not quite. But it comes impressively close—particularly for the price. It gives you access to some of Helix's very best tones, offers numerous I/O options, a well-designed, intuitive interface, and a handy treadle. It's not quite as sturdy as the Helix units, and if you're looking for a rig more suited to regular road abuse, the HX Stomp is likely more your jam. But overall, the POD Go is one of the best entry-level multi-effects units in existence, and the inclusion of the G10 wireless makes it an even greater value. And even though my nostalgic side would love to see a retro kidney-bean version, the POD Go Wireless represents real progress, and an evolution of basically great and practical tone-creation tool.