Pigtronix Phi Echolution and EP2 Envelope Phaser Pedal Reviews
Pigtronix''s EP2 and Echolution are feature-packed stompboxes that boast a wide variety of studio-quality Envelope/Phase and Echo effects.
Last year I had the pleasure of reviewing the Philosopher's Tone from Pigtronix. The experience I had with that pedal made me anticipate the arrival of the EP2 Envelope Phaser and Phi Echolution with bated breath. Pigtronix is a unique company in that they are very forward thinking and offer original and cool additions to stomp boxes while still retaining a familiar feel. Their studio-quality effects are equally at home on the console as they are on a pedalboard. Like all Pigtronix pedals the Phi and EP2 are built like tanks and are powered by dedicated DC power supplies with higher voltages for better headroom. They're also packaged in colorful and expressive cases that mirror their sonic capabilities. Let's take a look at these pedals and see what Pigtronix has to serve up this time around.


EP2 Envelope Phaser
Download Example 1


Univibe-like settings



Download Example 2


Funky filter with medium Sensitivity setting



Download Example 3


High Sensitivity setting with Staccato engaged




All clips recorded with 2008 Fender American Standard Strat into 65Amps Tupelo with SM57 through Chandler LTD-1 preamp direct into ProTools.
The EP2 is the result of six years of customer feedback from the original EP1. I've said it more than once but I'll say it again, we live in the golden age of gear, and seeing the dedication that Pigtronix has shown to improving on an already good design is testament that there are many manufacturers building gear who love gear. It doesn't take but one look at the well-thought-out layout and assortment of options to realize this is a labor of love. Aside from true bypass and the standard i/o, there are also inputs for an external filter trigger (EF Trigger), a Sweep Pedal and Speed Pedal. Across the top of the pedal are controls for Sensitivity, Depth, Center and Speed, as well as Resonance. Below the row of knobs are five mini switches for Staccato, EF Sweep, Blend, LFO Smooth and Invert. It's built like a tank and looks like it will last a lifetime. In one way the toughness is a good thing, but after a while the mini switches were a little painful to switch on and off due to their tight throw and short nature. That notwithstanding it's amazing how many controls they could fit in without it feeling cramped.
In Play
Make no mistake, the EP2 is a funk machine, but it goes far deeper than a typical envelope filter. The reach and range of this pedal can take you on a journey from heavy funk to rich, Leslie-inspired warble to "Sunday Afternoon In The Park" drum-triggered filter sweeps.
At its core, the EP2 demands that you dig in and tweak the knobs and switches, and gives you instant rewards for every change made. With the wealth of options and control the sky is the limit in terms of what tones can be achieved. In my first play through I plugged in my 2008 Fender Strat into the EP2 and out to a Mojave Dirty Boy set to clean. With all the knobs set at noon and the switches in their off (or similar) positions, I instantly called up a gloriously thick Univibe tone. Using the Speed control to slow things down, it easily copped to Hendrix-inspired tones and made me want to spend the afternoon just on that one setting. The trio of controls (Depth, Center and Speed) have an enormous range to them that let you go from slow-as-molasses churning textures to bird chirping and ray gun, outer space FX.
The real funk came out when I switched over to EF mode and turned on the Staccato control. Staccato is a new circuit that is designed to track the envelope better for faster picking and tighter rhythm playing. You can really feel the difference in the release in this mode as the envelope dissipates faster and leaves room for the next note to come back and stomp out another filter sweep. It's surprisingly intuitive and urges your playing to move in that direction. Brilliant. You can also choose to sweep up or down with the EF Sweep switch as well as switch between + or – on the Invert switch, which changes the phase. A cool feature that's new to the pedal is LFO Smooth switch, which reduces the resonance when LFO is in use. This lets you set the Resonance control to one setting and then switch on the LFO Smooth to get a completely different sound.
I very much enjoyed the EP2 and while I couldn't cover every feature on the pedal due to space (it would fill a book to explain all of the potential) it's clear that this is a winner. With manual control over Sweep and Speed with separate pedals as well as triggering with an external source (which ended up being the most fun when triggering from a kick drum track on one of my songs) there is no end to what you can do.
Buy if...
you're in the market for a deep, filtering experience.
Skip if...
you don't have the funk.
Rating...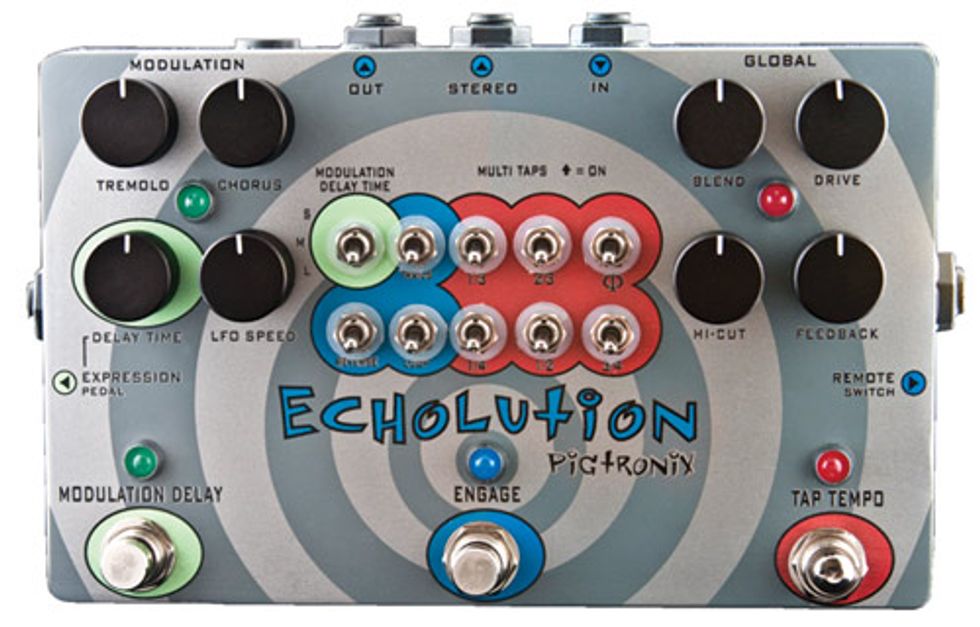 Phi Echolution
Download Example 1


Rhythmic Delay with hi cut feedback repeats



Download Example 2


Haunting delay using volume pedal before Echolution



Download Example 3


Psychedelic reverse delay



Download Example 4


Phi engaged with multiple taps for complex rhythmic delay




All clips recorded with 2008 Fender American Standard Strat into 65Amps Tupelo with SM57 through Chandler LTD-1 preamp direct into ProTools.
The Phi is a studio quality delay that offers the benefits of analog and digital in a stompbox format. Make no mistake, this is not your typical delay box. It goes beyond the normal delay fare and offers up a wide palate of cool and ultimately useful sounds. The layout is a little scary at first because there are so many controls on the pedal, but with a little bit of time it all becomes clear. Again, there is no doubt the folks at Pigtronix are players because they've thought of some very clever ways to achieve great-sounding and complex delays very easily.
You can think of the Echolution as two separate delays. On the left side of the pedal is the Modulation Delay with controls at the top for Tremolo, Chorus, Delay Time and LFO speed. On the right is the Tap Tempo Delay with a Tap Tempo footswitch at the bottom and global controls for Blend, Drive, Hi-Cut and Feedback above. In the middle of the pedal are two rows of five mini switches (same as the EP2) that set up various states for the pedal. The modulation delay time is a 3-way switch for setting the range from short to medium to long. The Tails switch is a toggle that lets the delay repeats to continue on after stomping the engage switch--perfect for wrapping up a solo and elegantly rolling right back into rhythm playing without the delay. A Reverse switch makes the delays come back like a backward tape echo and the Loop lets the content loop indefinitely. There are also five other switches that control the style of subdivisions for the repeats, which is super cool in combination with the tap tempo. You can choose between 1/3, 2/3, ¼, ½ and ¾ or any combination of them. This makes for complex polyrhythms, as well as many other interesting rhythmic delays. The "Phi" switch is the real genius, and differentiating factor in the Echolution, as it applies what is called the Golden Ratio. There is some math involved to explain it but it can be summed up as "The Rhythm of the Universe" and is sort of in between. It changes all of the ratio switches to new values and lends an interesting blend of rhythmic changes and movement—very natural and very cool.
In Play
I plugged my
Les Paul
Custom into the Echolution and ran it into the front end of an early '70s Marshall Superlead. Using the manual's sample setting of an Echoplex conjured up a very familiar sound--like an Echoplex! The Drive control is a very effective component of the sound, and when pushed hard it simulated that front-end crunch that I love so much about the early Echoplexes. The Tap Tempo easily set up the tempo and a flashing red LED showed that it had accepted my input. Knowing there was a bank of switches waiting to be tweaked, I spent a great deal of time experimenting with the various subdivisions. It was apparent that you could get lost in all of the possibilities, and it was a blast to hear the combinations.
After a while I put up a drum track and engaged the Phi switch. Everything shifted from the delay settings I had, but they worked so musically and felt natural in a way that's hard to explain. While they weren't perfect, that was exactly what made them so appealing. It's like having complete control of the settings but them having a mind of their own that works within your definition. The Reverse switch brought on psychedelic reverse tape delays and made me want to play sitar licks and trip out for a while, which is just what I did!
Switching over to the Modulation Delay side, I tried various settings that created a lush stereo chorus as well as a very cool tremolo delay. The tremolo delay was literally a tremolo on the delay notes, and not the main input, which I'd never heard before. Some of the rotary speaker simulations didn't float my boat and I had a hard time adjusting them to get that vibe, but to me that's a bit of a throw away considering what the Echolution's strength lies in, which is killer delay. The only thing you can't do with this pedal is save a preset. With so many options, it would be nice to be able to store your sounds and call them up on stage, but that's not in the cards. Still, no analog delay does that so it's hard to call a strike against it.
There's so much more the Echolution can do than I've had the opportunity to cover here so I recommend you take one for a test drive. My guess is you'll leave the store with one...it's that good.
Buy if...
you want a killer delay with a huge variety of options.
Skip if...
you need to store your delay settings.
Rating...