A great-sounding, supremely customizable amp modeler for iPad and iPhone.
Most musicians who've spent time with an iPad grasp what a gratifying music-making tool it can be, whether you're just tapping out simple tunes with your thumbs, or refining guitar overdubs for your next album. The best iOS music apps provide shockingly good sound, smooth connectivity between apps and devices, and ingenious interfaces that make the most of the multi-touch screen.
One particularly successful iOS app for guitarists is Positive Grid's JamUp, a versatile amp and stompbox modeler with added superpowers, such as an 8-track DAW and an audio file player for practicing to mp3s. JamUp XT, the free version, offers a single amp model and six stompbox simulations. The $20 JamUp Pro XT provides six virtual amps and 16 effects (and many more if you purchase additional expansion packs for five or ten bucks each).
Now Positive Grid dives even deeper into amp modeling with BIAS, a $20 app for iPhone and iPad (sold separately). While the multi-functional JamUp is no slouch in the modeling department, BIAS focuses exclusively on amp modeling, offering a large collection of fine-sounding models of almost unrivaled tweakability. There are no recording functions, no mixing, and no effects other than simple ambient reverb and noise gating—not even amp tremolo or simulated spring reverb.
The extraordinary flexibility of the preamp stage and its ability to realistically simulate the multiple preamp stages of modern, high-gain amps deliver punishing chunk tones that retain character and complexity even at extreme settings.

It's misleading, however, to dwell on the things BIASdoesn't do, since BIAS supports both Audiobus and Inter-App Audio, two protocols that allow iOS apps to communicate with each other. You can, for example, open the amps you create in BIAS within JamUp, or record into GarageBand for iOS via BIAS's amp modeling. So while BIAS performs a single task, there are few limits to how you might deploy the app.
A Model Modeler
I tested BIAS on an iPad Air, connecting my guitar via an Apogee Jam interface (which connects via the iPad's Lightning jack), and also with an IK Multimedia iRig (which plugs into thetablet's headphone jack). Both methods yielded great results. (Positive Grid also makes two hardware interfaces, JamUp Plug and JamUp Plug HD, but BIAS works with any iOS-compatible interface.)
BIAS's home screen browser lets you select amps from nine tone categories: clean, glassy, blues, crunch, high gain, metal, insane, acoustic, and bass, each with four factory models. When you select a model, a virtual faceplate appears, offering six controls (gain, bass, middle, treble, presence, and master.) Functions remain fixed for all 36 models. The modeling quality is excellent overall. Tones are realistic, detailed, and responsive.
But the factory sounds are only the jumping-off point. When you click the gear icon to enter edit mode, a flow-chart-like graphic appears, depicting seven tone-shaping stages. Selecting one brings up a specialized interface for adjusting its parameters. The possibilities are vast—the preamp editor, for example, includes 21 user-adjustable parameters, allowing you to choose virtual tubes, fine-tune the gain structure and simulated biasing, and micro-manage EQ leaving and entering the stage. The tone stack stage, meanwhile, offers 15 different tone models plus three bands of quasi-parametric EQ. The power amp, transformer, and cab simulation stages are equally versatile. Additionally, there are two fully parametric EQ stages you can insert anywhere within the virtual circuit.
It's deep. Some players will get everything they need from the presets and never enter edit mode. But players who enjoy tweaking and customizing are likely to be BIAS's biggest fans.
Yet there's nothing off-putting about BIAS's formidable controls. The app makes customizing virtual amps so fun and approachable that it's hard <em>not</em> to come up with cool new models. And once you do, you can share them with other BIAS users from within the app, or download thousands of user-created patches.
Minimum system requirements: iOS 7 or higher. iPhone 4S or newer. iPad2 or newer. iPad Touch fifth generation or newer.
Ratings
Pros:
Excellent tones. Immensely customizable. Powerful connectivity. Lucid interface.
Cons:
Vintage/clean tones not quite as engaging as modern hard rock and metal sounds.
Tones:


Ease of Use:


Build/Design:


Value:


Street:
$20 street in the Apple Store (also available for iPhone)
Positive Grid BIAS for iPad
positivegrid.com
BIAS tends to favor heavy rock and metal sounds. The extraordinary flexibility of the preamp stage and its ability to realistically simulate the multiple preamp stages of modern, high-gain amps deliver punishing chunk tones that retain character and complexity even at extreme settings. BIAS's clean-toned, vintage-flavored sounds are perfectly pleasant and usable, but it's the high-gain realm where BIAS savages much of the competition. It's no surprise that BIAS is rapidly becoming the modeler of choice for many shred and metal players.
Keeper Tracks?

Absolutely—and iOS makes it easy to wrangle the files. For example, I recorded this review's demo clips (online version only) using BIAS within GarageBand, and simply emailed myself the mp3 mixes. Next, I uploaded my entire session to iCloud, and it appeared on my computer as a GarageBand file, which I could open within Logic Pro X, my usual DAW. There I could refine sounds further with Logic's relatively sophisticated tools, but there was nothing lacking in the iPad recordings. It's entirely plausible that a crafty player could track an entire album on an iPad using BIAS and an iOS DAW.
In fact, the Positive Grid team seems set on making iOS/desktop comparisons moot. A plug-in version of BIAS for Mac is reportedly coming soon. Meanwhile, the company just released Final Touch, a sophisticated mastering tool for iOS.
The Verdict
We find BIAS guilty of being a killer iOS amp modeler. Luddites can get good results from the factory presets, and tweakers will have a field day with a virtual amp designer whose process feels much like, well, designing an amp. High-octane distortion is BIAS's marquee sound, though there are many nice clean-toned and bass colors as well. The UI is a joy to work with, and BIAS plays well with other iOS music software. Anyone making guitar music on an iPad should investigate this powerful and beautifully realized app.
Looking for more great gear for the guitar player in your life (yourself included!)? Check out this year's Holiday Gear Finds!
Flare is a dual-function pedal with a tube-like booster and a 1970s-style ring modulator effect that can be played separately or together.
Flare's ring modulator is based on the iconic tone of the original Dan Armstrong Green Ringer. This vintage classic was made famous by Frank Zappa who loved the unusual modulations created by generating a harmonic octave over notes. Messiah's version offers two control knobs: a "Sparkle" tone attenuator and output Level control. Its taupe-gold body, purple and green knobs and stick-figure rock 'n' roller holding up a flame convey an appropriately rockin'70s vibe.

​In a unique twist, Messiah's Flare pairs the ringer with a warm tube-style boost instead of a fuzz. Flare feeds the booster into the ringer for an extra punch, while preserving the Green Ringerspirit. The ringer side also turns any fuzz into an octafuzz, and it has the ability to quiet signal background noise fed through it.
The booster side features a single Boost knob to control the MOSFET circuit, making it very tube-amp-friendly with a warm, organic boost and gain of up to 32dB.
​The pedal is a distinct improvement over the 1970s pedal that inspired it. "Most ringer pedals don't track well," Tom Hejda, owner of Messiah Guitars. "The player can't rely on repeating the same effect even with the most consistently played notes. We carefully matched the components, so our ringer follows your every move, producing that slightly dirty octave you expect on demand."
Messiah developed this vintage octave pedal with flexible features so that people who love that messy, dirty Zappa-esque sound can get there with ease but there's also something for those who have not fallen in love with fuzz or the Green Ringer alone. Flare offers an array of sonic options while retaining simplicity in the controls.
Each Flair Pedal Includes:
3 control knobs: Boost, Sparkle, and Level
Two effects – Ring Modulator and Boost – can be used together or separately
Space-saving top side jacks
Durable, cast aluminum alloy 125B enclosure with fun artwork
Easy to see, illuminated True-bypass foot switch
Standard 9V pedal power input​
Flare Pedal Demo
Messiah Guitars pedals are designed with an explorative player in mind. Like their custom guitars and amplifiers, Messiah's pedals are hand-crafted in Los Angeles for a long life with guaranteed quality.
Flare retails for $199.00 and can be purchased directly at Messiah Guitars or you can hear it in person at Impulse Music Co. in Canyon Country, CA.
For more information, please visit messiahguitars.com.
This feathery little guy is a joy to play because of its incredibly quick response to your right hand - much faster and more expressive than your typical auto-wah pedal.
​If it looks like a duck, acts like a duck, and QUACKS like a duck, then it must be a duck. That's how we came up with the name for our new envelope filter. This feathery little guy is a joy to play because of its incredibly quick response to your right hand - much faster and more expressive than your typical auto-wah pedal. Trevor explains how this is possible in the launch video, as well as gives a demo on Le Canard's operation.
​The attack control determines how quickly the filter responds to the envelope, and the decay sets how quickly the filter releases afterward. The range controls which frequency spectrum the filter does its magic on. Add to this relay-based full-bypass switching with failsafe, and you've got one crazy little quacky beast. It is so expressive that you'll want to give up on your rocker-wah forever.
The MayFly Le Canard envelope filter features:
Super fast responding envelope follower. Touch it and it jumps!
Range control to dial in the character of the filter
Attack control to control how fast the filter moves on that first touch
Release control to control how slowly the filter slides back to baseline
Full bypass using relays with Fail SafeTM (automatically switches to bypass if the pedal loses power)
Cast aluminum enclosure with groovy artwork
MSRP $149 USD ($199 CAD)​
Introducing the MayFly Le Canard Envelope Filter
All MayFly pedals are hand-made in Canada.
For more information, please visit mayflyaudio.com.
Outlaw Effects introduces their next generation of NOMAD rechargeable battery-powered pedal boards.
Available in two sizes, NOMAD ISO is a compact, versatile tool that offers the convenience of a fully powered board plus the additional freedom of not having to plug into an outlet. NOMAD ISO is ideal for stages with limited outlet availability, quick changeovers, busking outdoors, temporary rehearsal locations, and more.
NOMAD ISO builds upon the legacy of the ultra-convenient and reliable NOMAD rechargeable pedalboard line originally launched in 2018. The brand new NOMAD ISO editions feature eight isolated outputs (1 x 9V DC, and 1 switchable 9V/12V DC) for even more versatility and clean, quiet power. With an integrated lithium-ion battery pack boasting 12800mAh capacity, NOMAD ISO can fuel a wide array of pedals, and will last over 10 hours* on a single charge.
Each NOMAD ISO pedal board includes adhesive hook & loop pedal-mounting tape, eight (8) standard DC connector cables, and one (1) reverse polarity DC cable, giving you everything you need to build your ultimate "off-the-grid" rig. A rugged, road-ready padded gig bag with shoulder strap is also included, to safely protect your gear while you're on the move.
NOMAD ISO S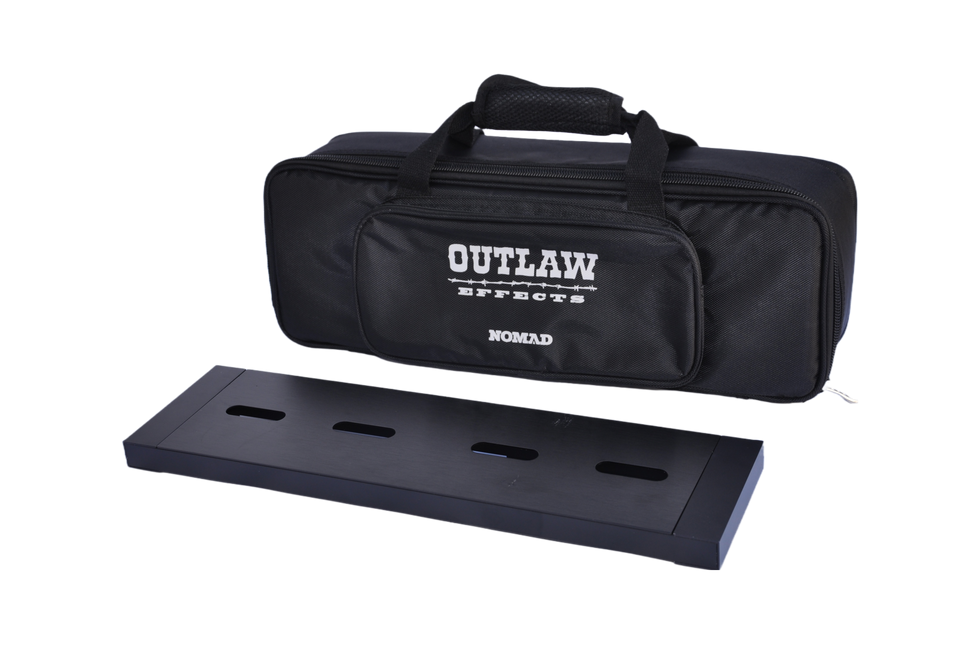 NOMAD ISO S: MSRP $309 / MAP: $249
Dimensions: 19 ¼" x 5 ¼"
NOMAD ISO M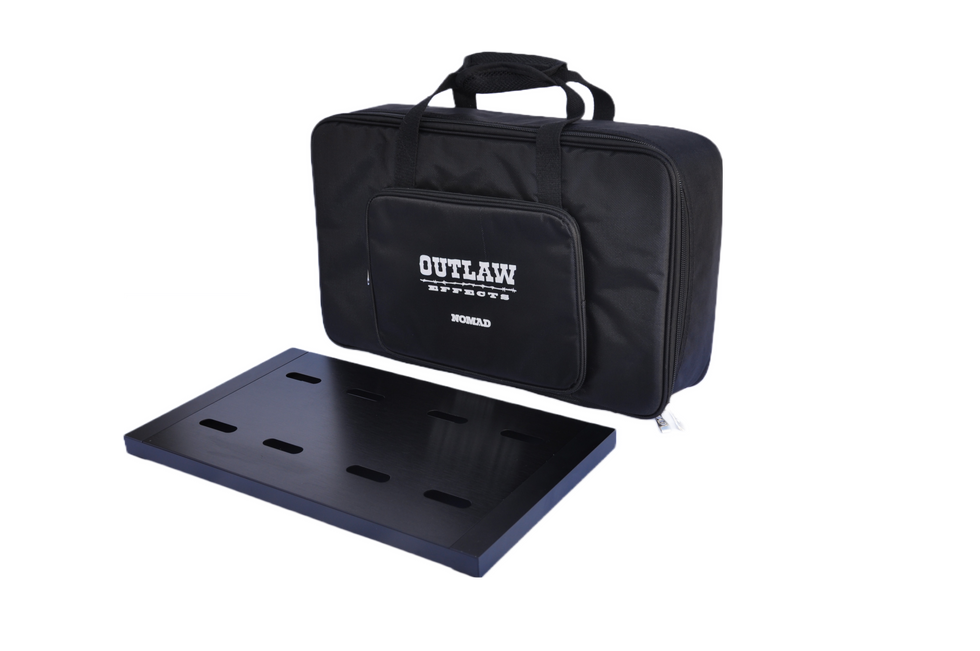 NOMAD ISO M: MSRP $349 / MAP $279
Dimensions: 19 ¼" x 11"
More info: https://www.outlawguitareffects.com.