Quick Hit: A&E Craft Ultima Review
An affordable trigger capo that grips like an angry gorilla.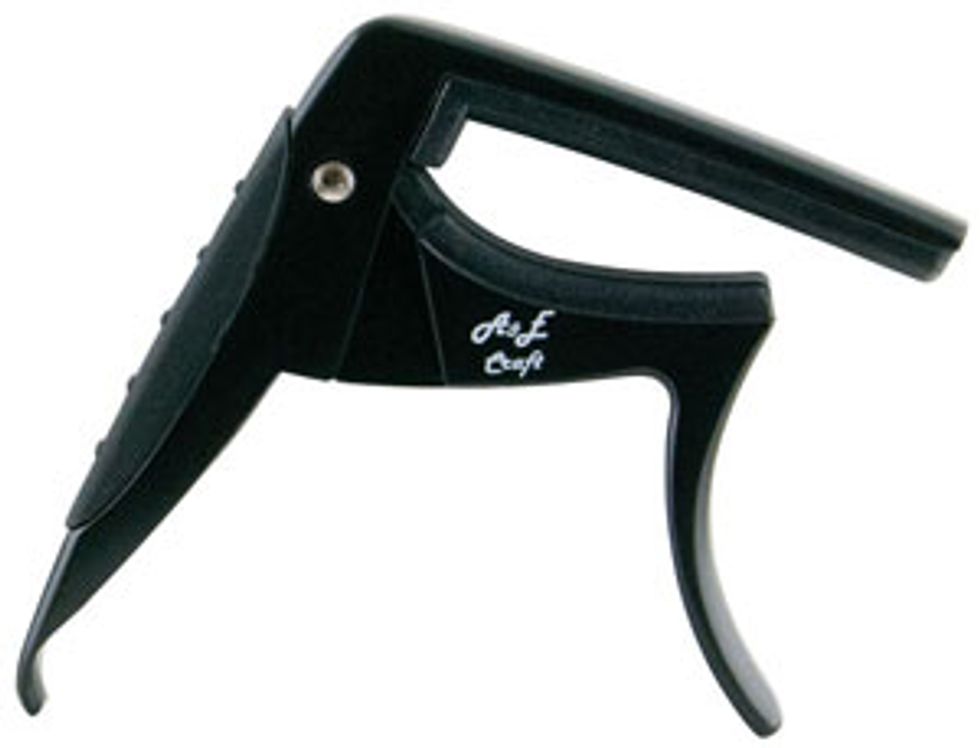 For my money, trigger capos are a bit of magic. They make changes fast and easy onstage and facilitate experiments when writing and practicing. A&E Craft's new Ultima capo doesn't radically rewrite the trigger capo rules, but it's a solid performer.
The Ultima has the grip of an angry gorilla. Its internal spring action is smooth, and the extra length of the rubber-tipped upper handle provides solid leverage. I capoed my Danelectro 12-string at the seventh fret and didn't hear a single rattling or muted string—remarkable given the guitar's relatively high action (and the fact that a few of my go-to capos have failed at the same task). If your guitar has jumbo frets, the Ultima's heavy squeezing action cause sharp intonation. Also, the width of the arm that contacts the strings is a bit shorter than on some competing capos, which can be an issue on wide necks, or if you tend to capo above the seventh fret. Overall, though, the Ultima is a sturdy, light, and fairly priced capo option.
Test Gear: Danelectro Hodad 12, Fender Stratocaster "E" Series, Rickenbacker 330, Martin 00-15, Gibson J-45, Taylor 214ce
Ratings
Pros:
Smooth action. Tight grip. Nice ergonomics.
Cons:
Tight grip can mess with intonation on jumbo-fretted guitars. Length of capo arm may be too short for wide-necked guitars and high fret positions. Online-only sales make it tough to replace a lost Ultima on tour.
Street:
$12.49 (online—direct)
A&E Craft Ultima Capo
aecraft.rocks
Ease of Use:


Build/Design:


Value: