G7th has redesigned and upgraded their offering for Classical and Flamenco players with the new Performance 3 Classical with ART.
The ART active string pad mechanism infinitely adapts to perfectly match the radius over the strings on nearly any guitar, delivering unrivaled tuning stability by applying even pressure across all the strings – specifically designed on this model to handle wider flat fingerboards as well as radiused fingerboards.
"Since the introduction of the ART has been so successful and popular with guitarists all over the world, Classical players have been constantly asking when they could have it, too! There's also the added bonus of how well it copes with niche guitars, such as 7 strings, where we've seen a rise in popularity through social media influencers." - Nick Campling, G7th Designer & Chairman
The Performance 3 Classical capos will be available in our iconic Silver finish and come with our Free Lifetime Warranty as standard.
For more information, please visit g7th.com.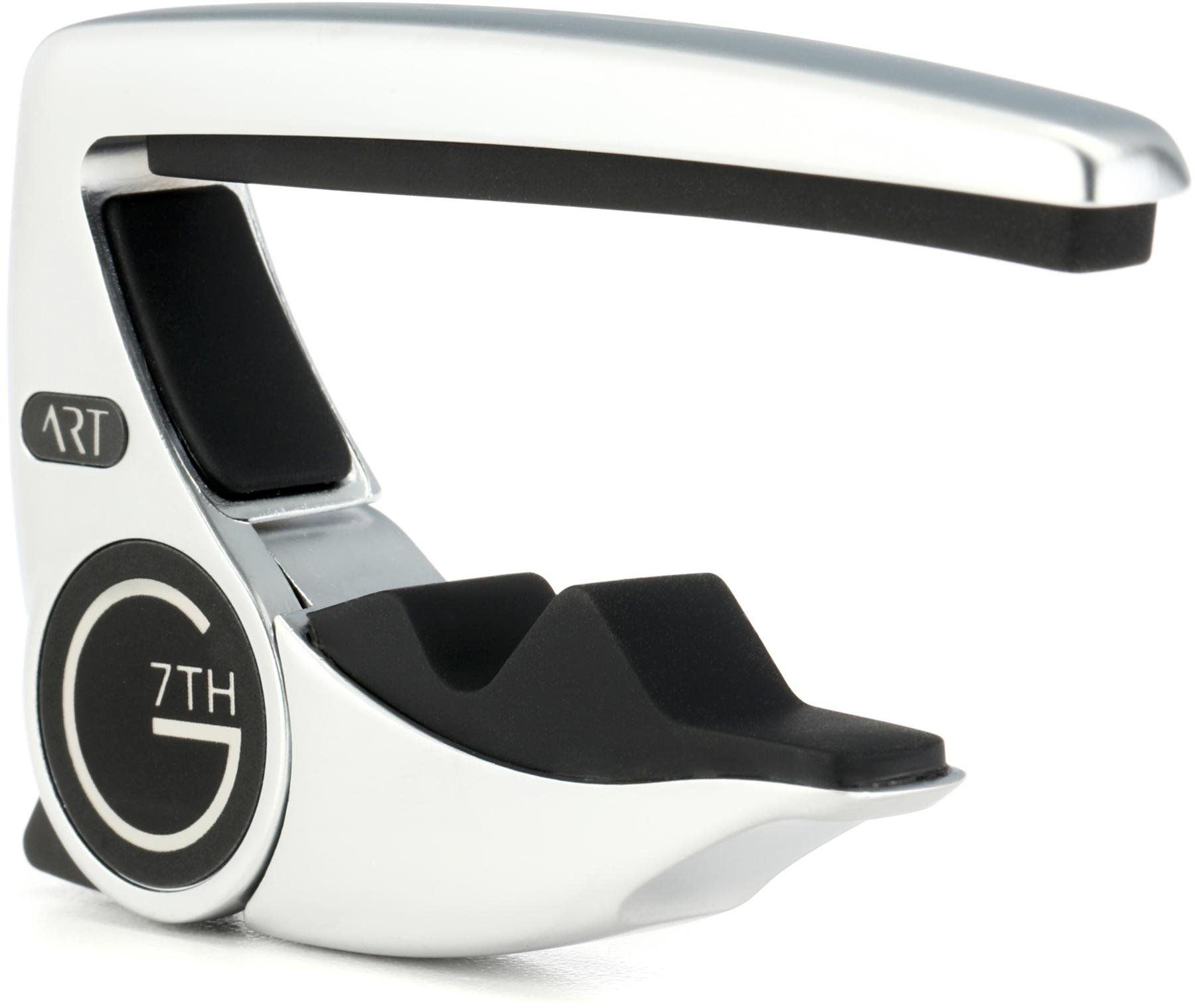 Performance 3 Classical Silver
G7th
A capo that makes you forget you're using a capo.
 

Ratings

Pros:

Amazing adaptability to any radius. Easy one-handed operation.

Cons:

Just pricey enough to keep you from losing it at the gig.

Street:

$54

G7th Performance 3 Capog7th.com

Ease of Use:Build/Design:Value:
At first glance, the sleek, almost futuristic design of G7th's latest capo might not seem to be much of an upgrade from their previous iterations. I'd say it speaks more to how the company's thoughtful designs and improvements have aged gracefully. The Performance 3 is slightly wider than the earlier version but retains the easy grab-and-go mechanics, which can be a total deal-breaker for some strummers if a capo can't be adjusted on the fly with one hand.
The flagship feature here is the ART—Adaptive Radius Technology, which allows the capo to work on modern and vintage-style necks no matter what the radius is
The flagship feature here is the ART—Adaptive Radius Technology, which allows the capo to work on modern and vintage-style necks no matter what the radius is. I used it on a reissue Fender Jaguar with a vintage 7.25" radius and it immediately felt secure and I didn't notice any buzz or tuning issues even with rather low action. As I moved from a flatter Ibanez neck to the "C" shape of my Schroeder, the Performance 3 cradled whatever I threw its way. Another outstanding feature is how well the Performance 3 deals with not putting too much pressure on the strings, which can cause tuning issues. Admittedly, it can be hard to get excited about a capo, but the Performance 3 is one of the rare capos that makes me forget I'm even using a capo—which is kinda the point, right?
Test gear: Schroeder Chopper TL, Fender '62 Jaguar Reissue, Cordoba Acero, Ibanez RG550
A newly designed capo with an adjustable spring setup.
Shenzhen, China (June 20, 2019) -- Guitto is a whole new brand founded by JOYO Technology. Different from JOYO, this new brand is focused on creative accessories. Today we are announcing a new capo with unique design.
Have you ever observed your capo? A normal capo with too much pressure is very likely to mess up your tone. Try to play a note on your 6th string, then play multiple times with different pressure on your left-hand finger. You will hear slightly different tones between these notes. That's why you need a capo with an adjustable spring. With this capo, your strings will always stay in tune. What you see is what you hear.
GGC-02 also has other unique features. A nail puller is attached at the bottom of the handle, there's no more trouble when you change your strings. Besides, a hidden slot on the capo allows you to set a pick on it, you will never worry about losing picks on stage with this insurance mechanism.
This capo may be the most functional one you ever try.
Features:
Adjustable capo pressure.
Nail puller attached.
Hidden slot for pick.
Revolver shape design.
For more information:
JOYO Audio