The former Los Alamos National Laboratory scientist and frequent Fender Custom Shop collaborator hits a homer with these must-try pickups for JM nuts.
Curtis Novak's Jazzmaster Widerange (aka JM-WR) pickups use threaded, adjustable iron-chromium-cobalt pole-piece magnets and steel bottom plates in an effort to authentically infuse Jazzmaster-sized routes with the sounds of Fender's rare cunife (cobalt-nickel-iron)-magnet Wide Range humbuckers from the '70s. The neck pickup is rated at 10.3k, and the bridge is in the 10.5–11k range.
As with the original Seth Lover-designed Wide Ranges, JM-WRs aim for single-coil tones minus the hum—not PAF-like humbucker sounds (which are best achieved with steel pole pieces and a bar magnet beneath the coil). To that end, the JM-WRs succeed magnificently: With them, my baritone Jazzmaster retained its gloriously fat, hollowed-out neck sounds, engulfing middle-position chime, and bridge-position slice, but with significantly less extraneous noise, more warmth, depth, and body than traditional-voiced JM pickups, and a nice helping of the trademark Wide Range texture and grit. A must-try for JM addicts.
Recorded using a Squier Vintage Modified Jazzmaster with a Warmoth baritone neck running into a J. Rockett Audio Designs Archer (output at 2 o'clock, treble at 1 o'clock, gain off) and an MXR Reverb (set to "epic" mode), and then into a Jaguar HC50 combo and a Goodsell Valpreaux 21. The Jaguar's Shure SM57 and the Goodsell's Royer R-121 were routed through an Apogee Duet and into GarageBand, with no subsequent EQ-ing or tweaking.
Clip 1 - Arpeggiated rhythm in bridge position, then middle, then neck.
Test Gear: Squier/Warmoth baritone Jazzmaster, Goodsell Valpreaux 21 w/Weber Blue Dog and Silver Bell speakers, Jaguar HC50 w/ Weber Gray Wolf, MXR Reverb, J. Rockett Audio Designs Archer.
Ratings
Pros:
Retains fundamental Jazzmaster tonal characteristics. Fantastically detailed. Warm and intriguingly textured.
Cons:
On the pricey side—although significantly less than cunife-magnet repros.
Street:
$150 (each)
Curtis Novak Jazzmaster Widerange Set
curtisnovak.com
Tones:


Versatility:


Build/Design:


Value:



Looking for more great gear for the guitar player in your life (yourself included!)? Check out this year's Holiday Gear Finds!
This full-amp-stack-in-a-box pedal brings a new flavor to the Guitar Legend Tone Series of pedals, Missing Link Audio's flagship product line.
Adding to the company's line of premium-quality effects pedals, Missing Link Audio has unleashed the new AC/Overdrive pedal. This full-amp-stack-in-a-box pedal – the only Angus & Malcom all-in-one stompbox on the market – brings a new flavor to the Guitar Legend Tone Series of pedals, Missing Link Audio's flagship product line.
The AC/OD layout has three knobs to control Volume, Gain and Tone. That user-friendly format is perfect for quickly getting your ideal tone, and it also offers a ton of versatility. MLA's new AC/OD absolutely nails the Angus tone from the days of "High Voltage" to "Back in Black". You can also easily dial inMalcom with the turn of a knob. The pedal covers a broad range of sonic terrain, from boost to hot overdrive to complete tube-like saturation. The pedal is designed to leave on all the time and is very touch responsive. You can get everything from fat rhythm tones to a perfect lead tone just by using your guitar's volume knob and your right-hand attack.
Features 
Three knobs to control Volume, Gain and Tone
Die-cast aluminum cases for gig-worthy durability
Limited lifetime warranty
True bypass on/off switch
9-volt DC input
Made in the USA
MLA Pedals AC/OD - Music & Demo by A. Barrero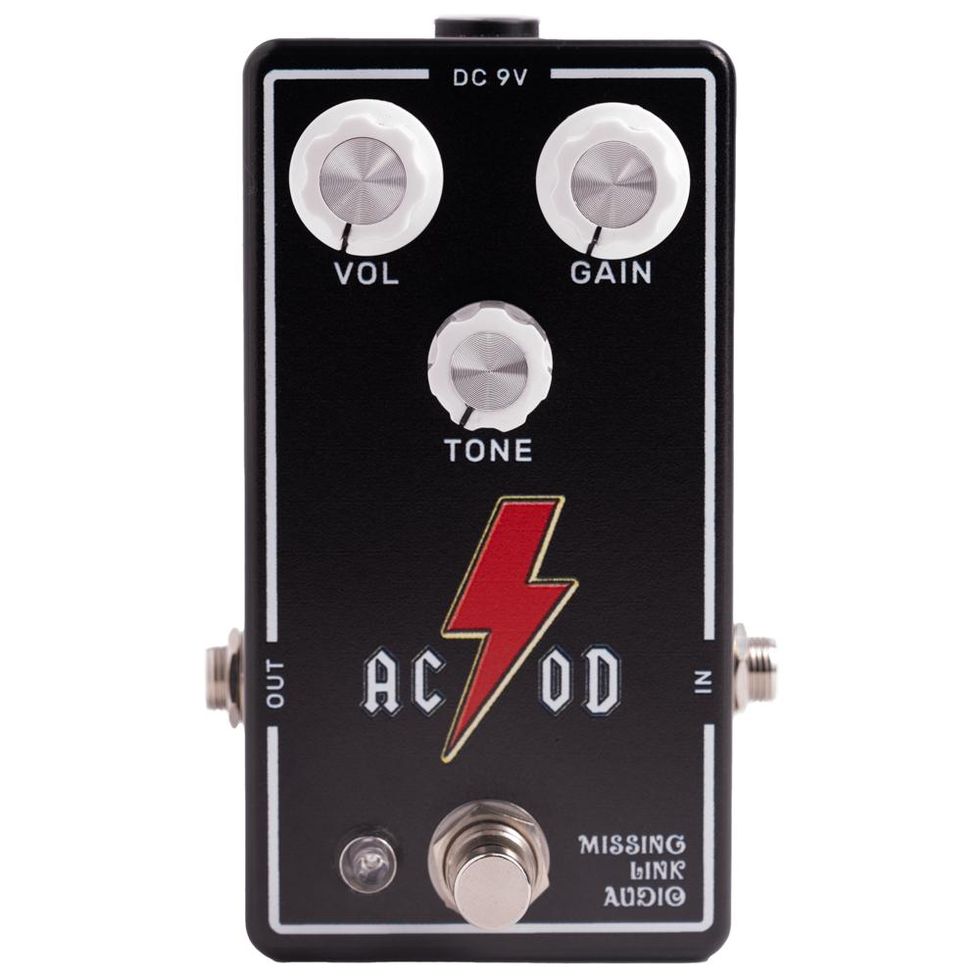 www.mlapedals.com.
Sporting custom artwork etched onto the covers, the Railhammer Billy Corgan Z-One Humcutters are designed to offer a fat midrange and a smooth top end.
Billy Corgan was looking for something for heavier Smashing Pumpkins songs, so Joe Naylor designed the Railhammer Billy Corgan Z-One pickup. Sporting custom artwork etched onto the covers, the Railhammer Billy Corgan Z-One Humcutters have a fat midrange and a smooth top end. This pickup combines the drive and sustain of a humbucker with the percussive attack and string clarity of a P90. Get beefy P90 tone plus amp-pummeling output with the Railhammer Billy Corgan Z-One.
Patented Railhammer Pickups take passive guitar pickups to a new level with rails under the wound strings lead to tighter lows, and poles under the plain strings offer fatter heights. With increased clarity, the passive pickup's tone is never sterile.
Railhammer Billy Corgan Signature Z-One Pickup Demo
Designed for utmost comfort and performance, the Vertigo Ultra Bass is Mono's answer to those who seek the ultimate gigging experience.
Complete with a range of game-changing design features, such as the patent-pending attachable FREERIDE Wheel System, premium water-resistant and reflective materials, shockproof shell structure and improved ergonomic features, the Vertigo Ultra Bass takes gear protection to the next level.
The Vertigo Ultra Bass features:
Patent-pending FREERIDE Wheel System that allows for wheels to be attached on the case in no time, giving you the option to travel with it seamlessly
Upgraded materials, including a water-resistant 1680D Ballistic Nylon outer shell, plush inner lining and new reflective trim for maximum backstage and night visibility
Enhanced protection with a shockproof shell structure and heavy-duty water-resistant YKK zippers for protection from the elements
Improved ergonomics and functionality including added back support and load-lifting detachable shoulder straps with side release buckles
Flexible storage options with added space for touring essentials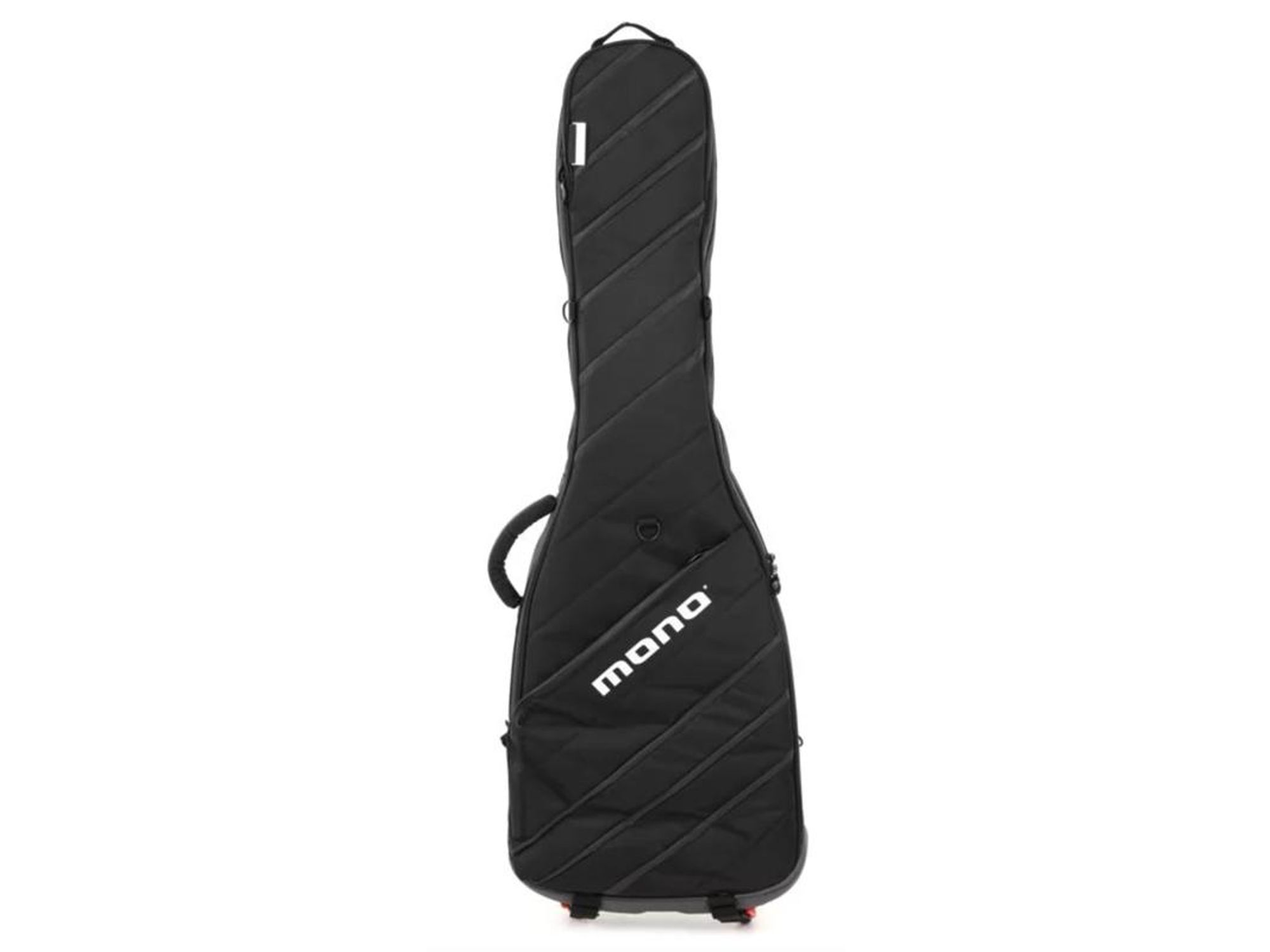 For more information, please visit monocreators.com.
Mono