EarthQuaker Ledges Review
Love varied reverb texture and presets but hate complex preset maneuvers? Well, meet your new best friend.
Simple-to-set-and-access presets. Great thickening ambience at modest settings. Effective damping control.
Some saccharine overtones in long reverbs—even with damping.
4
4.5
5
4.5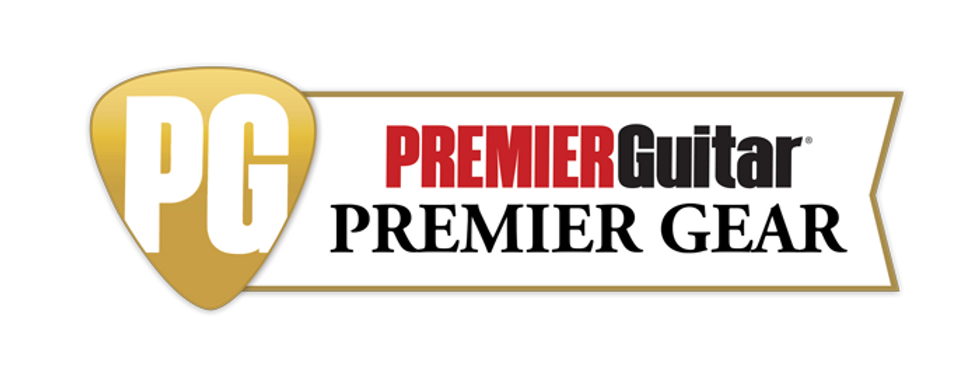 I'd guess that when many people consider EarthQuaker and reverb in the same breath, they imagine devices from the wilder side of the effects spectrum. Certainly, EQD built their share of these. Reverbs like the Transmisser, Astral Destiny, and Afterneath are famous for their ability to mix modulation, octave content, or filtering effects with reverb and then propel those sounds ever skyward. But EarthQuaker is equally adept at building practical reverbs. The ultra-utilitarian Dispatch Master is one of the company's best sellers. The discontinued Levitation moved from modest reverbs to extra-ethereal spaces with ease. And the Ghost Echo lives in the relatively pedestrian realm of digital spring-style reverb.
---
The new Ledges, which combines room-, hall-, and plate-style voices, fits very neatly on the practical side of the EarthQuaker reverb family. But that does not mean it is timid by any stretch. Indeed, one of the most practical facets of Ledges' design is how readily you can move from reverb that's barely there to interstellar realms.
Streamliner to Space
Ledges walks a middle ground between complex pedals with multiple modes, voices, and presets, and more streamlined, what-you-see-is-what-you-get stompboxes. Everything you need to summon the whole of Ledges' expansive reverb vocabulary is right there on the face of the pedal. Six presets are saved and selected via a small, illuminated save/recall button that's adjacent to the rotary preset selector switch. To save a preset, you merely set the other controls to preferred positions, select a preset position on the preset knob, and hold down the save/recall button. That's it. There are no tricky multi-tap-hold-and-twist maneuvers to navigate. It's dead simple and it's beautiful.
Ledges' remaining four controls are a wet/dry mix control, a reverb-length knob, a treble-damping control, and a 3-position toggle that selects room, hall, or plate reverbs. There's also an expression pedal jack, and you can assign any settings to an expression pedal (and save them within a preset) using a quick two-step sequence.
From My Room, I Dreamed of the Stars
Room mode is great for adding body as much as ambience to your guitar signal. Even at bassier damping settings, it gives a guitar a fuller, airier essence. It's great for adding heft to a Stratocaster pickup without sacrificing its essential Stratiness, or, at less damped settings, giving the top end of a humbucker's signal a little more top-end life. Using less damping and a more aggressive mix can approximate the reflections of tile surfaces, or, with longer tails, a small gymnasium. These reverb settings are beautiful for pairing with a clear but overdriven guitar signal, or with a quick, tape-style echo for old-school reggae or rhythm and blues studio ambience.
"There are no tricky multi-tap-hold-and-twist maneuvers to navigate. It's dead simple and it's beautiful."
The most modest hall settings start where the most ambient room settings leave off. But there is a sense of just-right size and body in the hall mode, particularly at mellow length and mix settings. In this range you can find pretty alternatives to amplifier spring reverbs that offer many similar overtones without the splashy clang of a spring. It's a tasteful but robust sound that situates itself with ease in a mix, and will likely make you popular with bandmates and recording engineers. It doesn't take much extra length, though, before the hall takes on cave-like proportions. It's good to mind your damping and mix settings here. But a little extra top end from the damping control can add pretty, almost harmonizing overtones.

The plate setting, to my ears, sounds magnificent with all the knobs parked at 10 o'clock. Here, clean guitars become big but tasteful in ways that can fill and transform a song—making chords a beautiful bed for accompanying instruments and giving lead lines sweet resonance. But the plate setting is also home to preposterously long and near-infinite reverbs that can turn a single chord into a bed for whole extended verses. Without the damping setting, many of these reverberations might sound cloying in the top end. And some sugary overtones can remain if you don't get that setting right. But if you consider the way these extreme options enable a move from a very subdued reverb to a preposterously expansive one—just with the flick of the preset switch—you start to see the performance potential Ledges has to offer.
The Verdict
Ledges gracefully straddles the line between utility and access to outsized ambience. It's an incredibly practical stage and performance tool that can move between many moods, modes, and identities in a set with reassuring ease. EarthQuaker definitely hit the easy-to-use mark here. Not surprisingly, they created a very satisfying palette of sounds to work with, too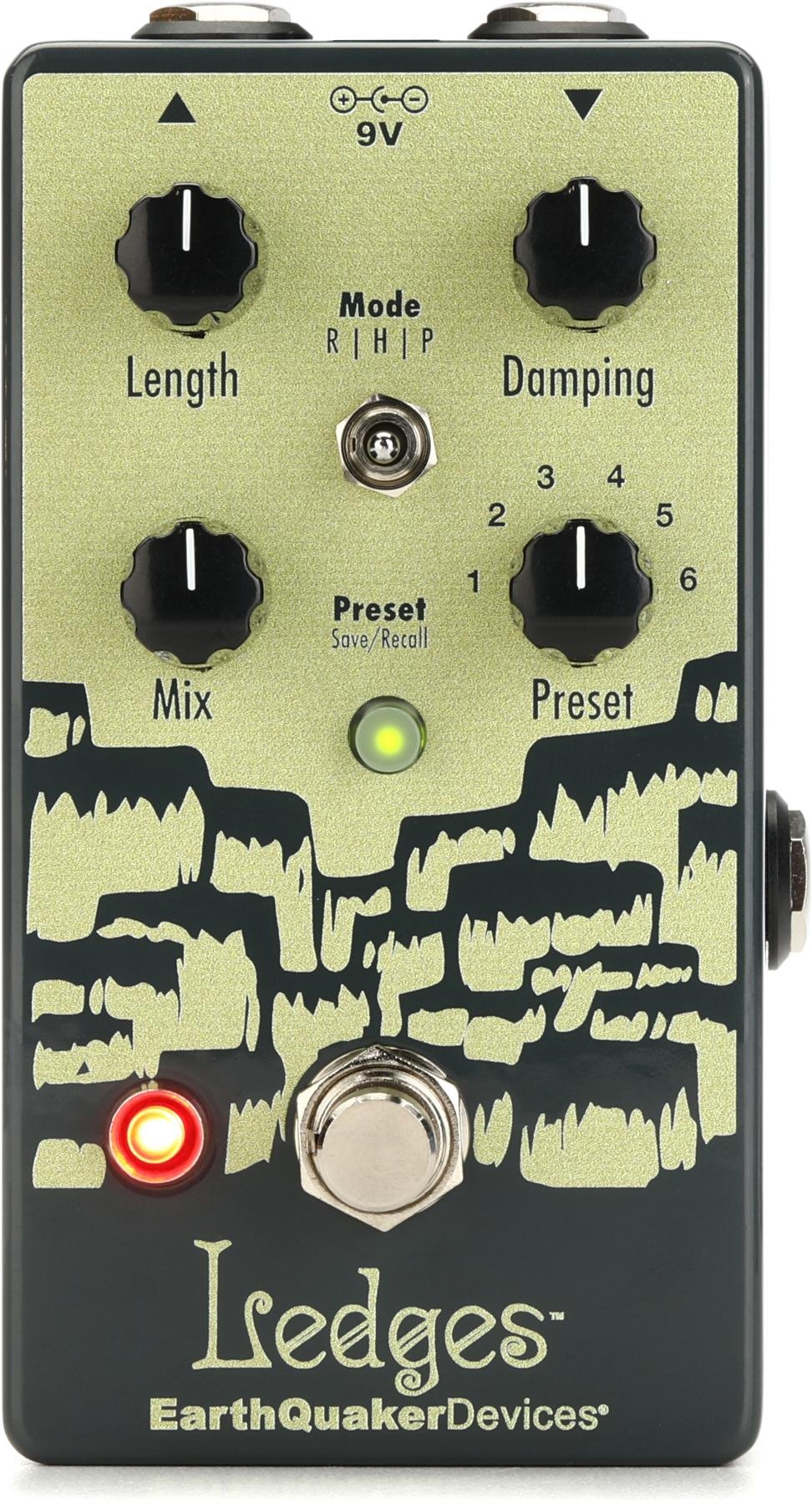 EarthQuaker Devices