Kirk Hammett's latest signature V stands out for its articulate and not-overpowering pickups.
Well crafted. Excellent playability. Great articulation and detail in pickups.
5
4.5
4.5
4.5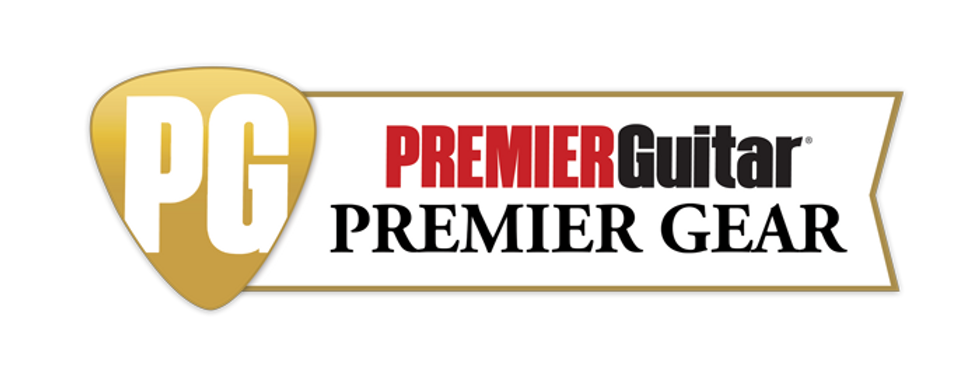 In addition to his legendary leads, Metallica's Kirk Hammett, is identified with aggressive wah use, a sizable horror memorabilia collection, and his iconic V-shaped guitars. The KH-V is not the first ESP V-shape to honor Hammett. The KH-1 owns that distinction. But ESP and Hammett have maintained their relationship for decades, and the latest fruit of that partnership is another killer V-shaped metal axe, the LTD KH-V.
---
Top-Shelf Treatment
The LTD KH-V is, obviously, designed to get attention—which the behemoth presence of the case ensured before I even touched the guitar. The LTD KH-V's slightly asymmetrical V body is made of Korina, and it's offered in three colors: black sparkle, red sparkle, and metallic gold. Our test model LTD KH-V came in the eye-catching, glossy black sparkle finish.
I'm pretty familiar with ESP's LTD line and I've always thought that, in general, those guitars are excellent values that verge on underpriced. The Korea-made LTD KH-V pushes the boundaries of the "underpriced" category at $1799, which, is a hefty chunk of change that might feel a little high given past LTD pricing. When you consider that Gibson makes a replica of Hammett's 1979 Flying V that retails for $15,000, the LTD KH-V might start to feel like a bargain. But the relatively high price of the LTD KH-V is not hard to justify, largely because of premium components that make up the guitar.
The KH-V's pair of active EMG Kirk Hammett signature Bone Breaker humbuckers—a ceramic BB-B in the bridge and an alnico 5 BB-N in the neck that both measure 10k-ohm DC resistance—sell independently for $199 a pair. Other nice hardware includes a TonePros locking Tune-o-matic-style bridge, which is paired with a string-through-body design at the tail end for increased sustain. At the headstock, the LTD KH-V features locking LTD tuners. It would be unreasonable to expect this kind of componentry in a less expensive guitar without seeing sacrifices in fit and finish, and there is no evidence of that here. The fancy black sparkle paint job is deep and beautiful, craftsmanship is clearly excellent, and the factory setup was perfect. This was a very easy guitar to play, right out of the case. Add all this up, and $1,799 does not seem like too much to pay.
The neck-thru-body construction underpins a 25.5" scale, and the neck itself is a 3-piece maple neck with an ultra-thin U profile. The Macassar ebony fretboard, with its attractive pearloid wave inlay, is milled to a very flat 14" that is very comfortable to play, and feels even smoother under the fingers for the 24 extra-jumbo frets.
One Guitar for Many Sounds
In my tests, I used excerpts from Metallica's music as sonic guides. Metallica's early works are shred masterpieces that usually take the listener through many changes in moods and tone variations, ranging from ultra clean to over-the-top. Those dynamics demand versatility from an instrument, and the LTD KH-V delivers. Playing clean, I explored the haunting arpeggiated phrase from the beginning of "One" and basked in tones that rang full, clear, and with impressive weight. I attempted the clean solo during the intro of "One" using the LTD KH-V's neck pickup, and was impressed with how much sustain I got from the guitar—all without a lick of pedal gain. Bent notes rang far longer and with fuller sustain than I recall hearing in most similar guitars. And the clean blues lead sounds I got from the instrument are not dissimilar to tones someone like John Mayer might use. Even with the tone knob all the way up, the guitar still retains warmth on both pickup settings. It never falls into ice pick territory.

The Bone Breaker pickups are relatively noise free and sound cleaner than most high-output pickups. That makes a big difference when using extra high-gain amp or pedal settings. Cranking the gain on my amps, I took a shot at the sextuplet rhythm figure from the bridge of "One." This type of figure requires a very crisp and tight sound, and even with a lot of gain in the mix, the LTD KH-V was articulate in a way that makes shreddy picking pop with detail. The tapped section in the "One" solo and melodic figures like the repeating muted triplet phrase in "For Whom the Bell Tolls" also benefited from the LTD KH-V's cleaner, more precise output.

The Verdict
Signature guitars are generally so personalized for an artist that they can't possibly appeal to everyone. But I have to admit that, in my younger days, I avoided some quality signature instruments because the artist wasn't someone I cared for. In doing so, I missed out on some fantastic instruments. If you're a Kirk Hammett fan in search of a killer V-shaped guitar, then the LTD KH-V is a no-brainer. But even if you're not a Hammett fan, the LTD KH-V's detail, clarity, capacity for articulation, top quality, and fair price make this a guitar any shredder should consider.