This lightweight, solid-state professional amp has some famous fans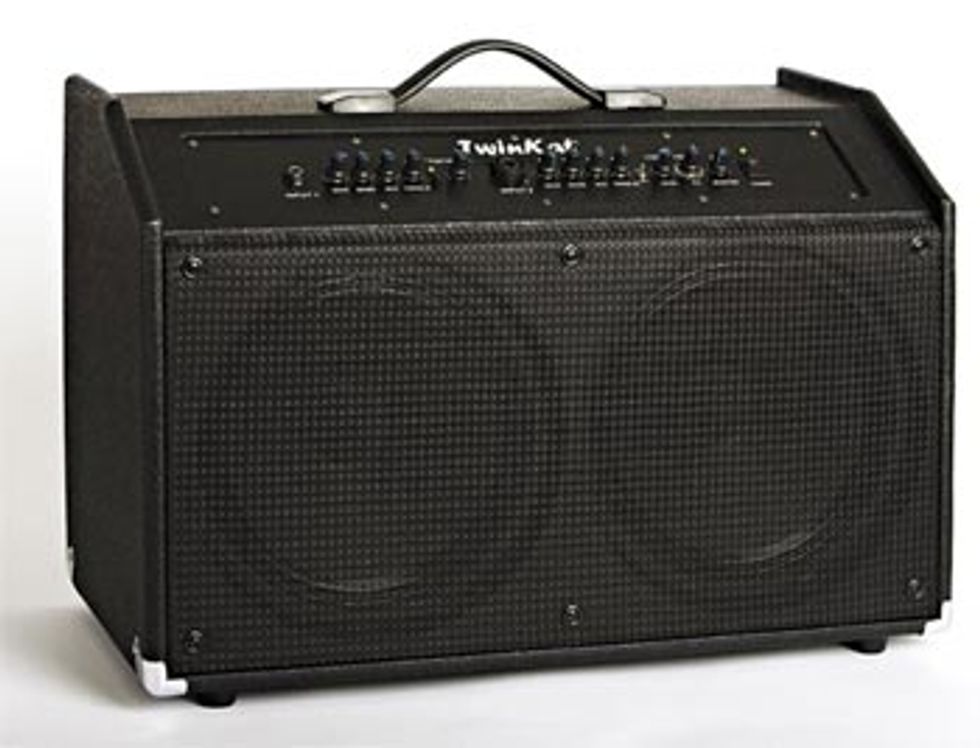 Your attention please. A quick show of hands – who is tired of lugging heavy, fragile tube amps to gigs? If you raised your hand (in front of a magazine, no less) you'd be well served to meet JazzKat. The New Jersey-based company has made its reputation by delivering big, clean sounds in a small, easy to transport package. Their roster of featured artists would elicit pangs of envy from any modern amp builder – John and Bucky Pizzarelli, Randy Johnston and Frank Vignola have either lent their names to specific models or have given the solid-state amps a thumbs-up.
Although JazzKat is known for their high quality, MOSFET-based single 8", 10" and 12" combo amps, the TwinKat is somewhat of departure for the company. Unlike other JazzKat amps the TwinKat uses dual 10" Celestion G10-based speakers, and features two channels, plus built-in effects with line out. This amp is geared towards the professional musician for both live and studio work. Starting at 150 watts, the TwinKat tops off at a stunning 250 watts with the use of extension cabinets.
Upon taking the TwinKat out of its well-padded shipping box, I found the amp to be extremely lightweight, especially for a 2x10 combo. Players who have long suffered from transporting Fender Vibroluxes to far-away gigs will rejoice at this amp's back-friendly heft, part of which can be attributed to its dual series of ports in the back.
---
"...JazzKat''s goal was to make a loud, portable, noise-free and fat sounding amp. I believe they''ve succeeded in achieving all of these goals, and have even managed to include some features no one was expecting."

---
Overall, its look is long and low, more akin to a new Dodge Magnum than any preexisting design. The controls are smartly laid out, with each channel having its own EQ, but featuring special appointments not found on the other channel. The design is clean, business-like and speaks with authority. For a 2x10 combo, the TwinKat is remarkably small (23"x15"x11") and hovers just around 25 lbs.
Turning the amp around reveals both standard and surprising features, the first and most surprising of which is a voltage regulator, handy for those overseas shows. Other features include an effects loop, an external speaker jack, a 1/4" headphone jack and an XLR line out. Also printed on the back panel is a quick reference guide to each of the amp's 16 effects settings: two hall reverbs, three room reverbs, three plate reverbs, three chorus settings, one flange, two delays, a single rotary speaker option and a vocal cancel. The different reverb settings determine the depth, length, decay rate and overall ambiance of the reverb selections.
Channel one also features a "Tube Drive" knob that can be bypassed entirely. At the recent Anaheim NAMM show, designer Marty Abbate said that they added a single 12AX7 tube to their amps because certain players insisted that the only way to achieve a great sounding amp was to use tubes. "There it is," Abbate said, pointing to the Tube Drive option on the amp's faceplate. The Tube Drive can vary the guitar's output, volume, compression, tone and drive. It's easy to dial in pleasing results by striking a balance between channel one's Gain knob and the Tube Drive. Those who have experience with master volume amps will feel right at home with this feature.
Despite what the name may imply, the Tube Drive is not a built-in TS9 or 808. However, it can be used to add a degree of compression and temper a particularly tinny Strat or Tele; if pushed to its outermost limits, it can add some dirt to the signal. Granted, this level of gain is more akin to Duke Robillard than High on Fire, but obviously this is not the amp's intent. Balancing the Tube Drive and the Gain knobs can produce a natural overdrive, similar to pushing a 15-watt Princeton to its limits. I am pleased to say that unlike solid-state amps from the Paleolithic era, the TwinKat's overdrive was rich, satisfying and usable.
Kat Power
For my first test, I used a late-nineties chambered Guild Bluesbird. With the Tube Drive activated and set just a couple of ticks below the halfway point, the sound became somewhat muddy and indistinct. Rolling back the Tube Drive to a lower setting added warmth, a degree of compression and flattened the EQ response. That said, if you are using a big box, especially one with a floating pickup, you'll want to control how focused the amp's output is or things will quickly become an unpalatable audio stew. Bypassing the Tube Drive yielded more natural sound reproduction, more dynamic EQ, and, dare I say, more tube-like response. Caution and experimentation are the keys to success when using the Tube Drive.
Channel selecting is accomplished by clicking a diminutive 3-way toggle slightly off center on the amp's control panel. The toggle enables you to access channels one, two or both, increasing the amp's tonal pallet. Unlike channel one, the second channel does not utilize the Tube Drive feature. Also unlike some dual channel amps, channel two does not sound radically different from the first channel. Obviously both channels can be set up using different EQ settings, but both channels can be blended, further expanding the TwinKat's dynamic range.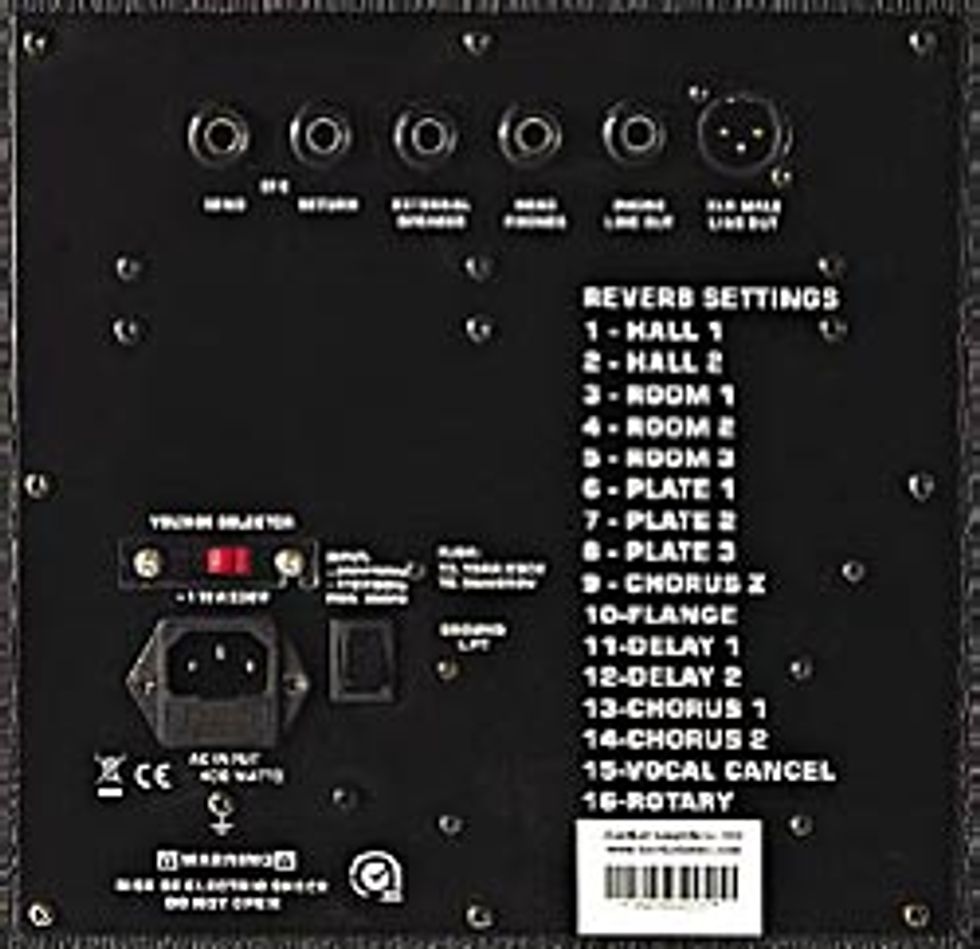 The TwinKat's digital effects are controlled by a single indented rotary knob and a Level control. The Effects knob itself uses small print that can be difficult to see in low light situations, so a good ear and fine touch may be needed in order to dial in your desired results. Generally speaking the reverb is very good, but it does sound a bit gated as the signal begins to decay and then comes to an abrupt halt, as opposed to gradually tapering off like a long pan analog reverb unit. This should be fine for live situations, but it may keep some people from using it for recording purposes.
In order to better explore the amp's effect options, I switched to a Michael Dolan Strat equipped with Razor single coil pickups. After a while, I found myself constantly being drawn to the delay, setup in a slapback configuration. I tried as hard as I could but I found it difficult to keep from trying my hand at rockabilly licks and Ry Cooder-inspired slide work. As with Fender's Jazzmaster, it is unlikely that JazzKat intended the TwinKat to be used for country licks. That said, the single-coils quacked and chimed with enough authority to satisfy even the most dedicated twang aficionados.
Plugging a low-gain, analog overdrive into the TwinKat effects loop was somewhat disappointing. I've had problems mating this overdrive pedal with solidstate amps, and unfortunately, this wasn't an exception to that rule. The analog overdrive pedal sounded weak and harsh through the effects loop. Going direct improved things a bit, but not dramatically – switching to a digital overdrive pedal yielded far better results. Sending an analog chorus pedal through the effects loop was also mixed bag. As with the Tube Drive, caution and experimentation are the keys to success when using the TwinKat's effects loop.
Last but not least, I plugged in a workhorse of a guitar that you could take to a small club and not worry about – a Korean made D'Angelico clone with a single Kent Armstrong floating pickup. I was able to get very usable big box tones by simply going direct into the amp with a George Lynch vintage cable. Activating the Tube Drive added just the right amount of glow to the D'Angelico's woody tone. I would have liked to seen a footswitch for the amp, and send/ receive levels or wet/dry blend adjustments for the effects loop. As mentioned earlier, some of the controls may become difficult to read in low light situations – the addition of an LED readout window for the reverb effects would be an especially welcome addition.
The Final Mojo
Overall, the TwinKat is a very good amp with few, if any, drawbacks. Marty Abbate stated that the JazzKat's goal was to make a loud, portable, noise-free and fat sounding amp. I believe they've succeeded in achieving all of these goals, and have even managed to include some features no one was expecting. The TwinKat can occasionally sound a little boxy, but to its credit it is never sterile or shrill. If you're looking for portability and don't want to mess around with tubes, look here.
Buy if...
you want a quiet, low weight, good sounding amp that lets you leave the bag of effects at home.
Skip if...
you want to be able to make quick tonal changes with a top of the toe.
Rating...
 
MSRP $1149 - JazzKat Amplifiers, LLC - jazzkatamps.com

Our expert has stated their case, now we want to hear yours. Share your comments and ratings below.