Krank Amplification Rev Jr. Mini-Stack
While the small-wattage craze has been a boon for guitar players of all stripes, bringing great tone down to manageable decibel levels, it seems that blues and classic rock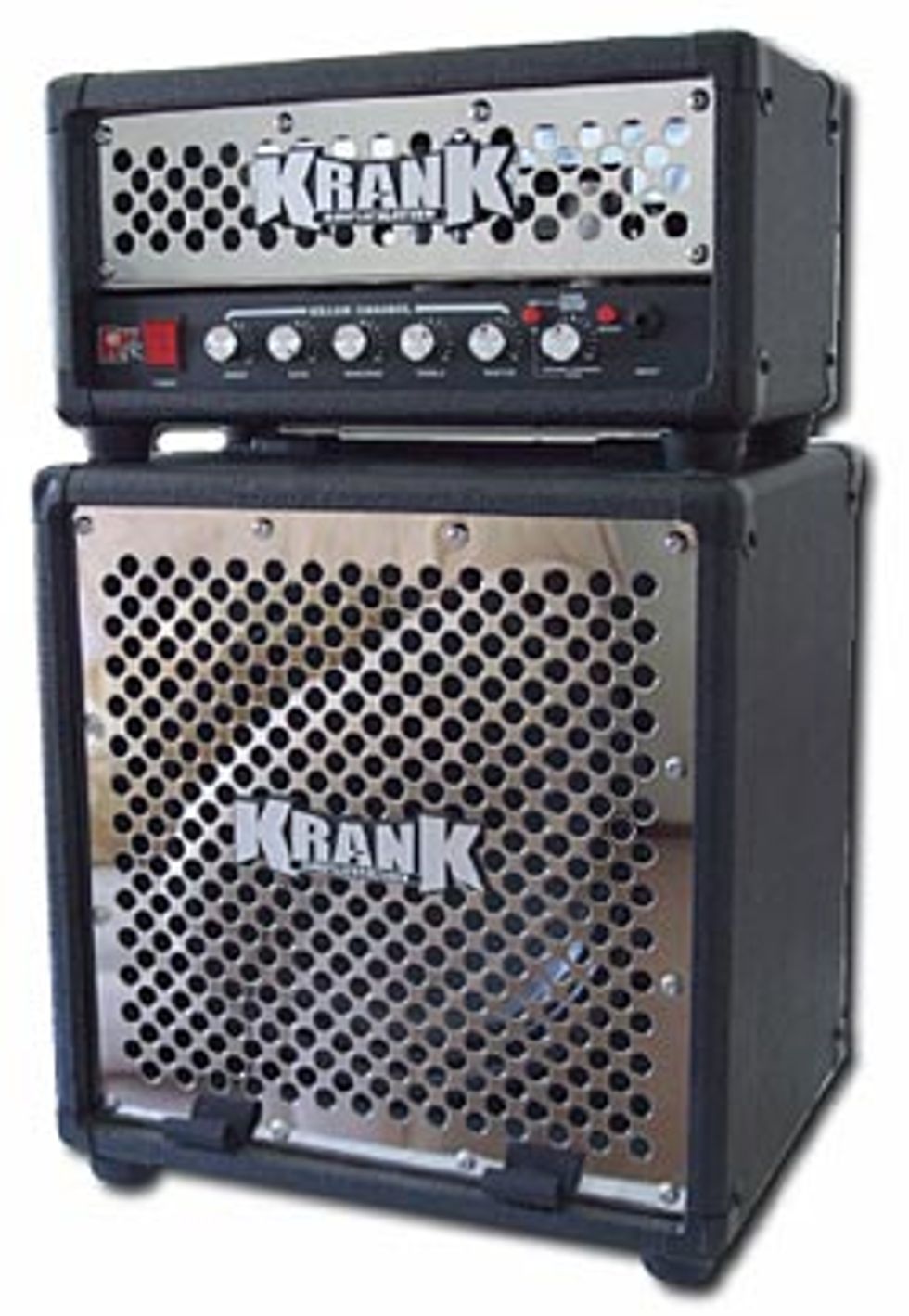 While the small-wattage craze has been a boon for guitar players of all stripes, bringing great tone down to manageable decibel levels, it seems that blues and classic rock players – needing mostly clean sounds or a mild crunch – have stood to benefit most. Unfortunately for those players needing a bit more gain on tap, there's been a dearth of compact options to choose from.
So there's 20 watts, you're saying with a shrug. Well, those 20 watts are put through a gain-soaked circuit, complete with three 12AX7s and two 5881s – a 6L6 variant that starts out shimmering and gets fat as hell when you drive it hard. When you add the Boost switch and the Active FX loop (more on that shortly), the Rev Jr. shows up with enough headroom to destroy weaker constitutions.
Wisely realizing that guitarists cannot live on distortion alone, the Rev Jr. comes equipped with a respectable "Kleen" channel. Playing on the Kleen channel bypasses all of the EQ, leaving you with just a volume knob. This may be enough to discourage some players, but the intrepid will find plenty to like. With a Gibson BFG plugged in, the P-90 at the neck had plenty of depth, while the Burstbucker at the bridge sparkled, thanks to the duet of 5881s. Fortunately, it's easy to get this amp cooking in no time; turning up the volume to 9 rewarded me with a creamy Marshall-esque grind – perfect for those bedroom covers of "All Right Now."
And that's before the effects loop enters the picture. The Rev Jr. features an active/ passive loop, which alone is a nice addition for an amp of this size, but the real surprise is when you hit the Active FX switch sitting there innocently enough on the rear panel. This introduces another preamp gain circuit to the proceedings, and has the ability to take those overdriven Kleen channel tones even further into modded-Marshall territory. It makes such a difference that even the Krank manual recommends leaving the loop on at all times.
But you probably aren't reading this because you want an overdriven Marshall. Flip on the Krank channel and everything becomes multiplied. The EQ comes back in (and it actually works here). There is suddenly a lot of gain on tap.
The Sweep knob gives you a good control of the amp's frequencies, allowing you to dial in a solid low-end or more midrange crunch. With the Sweep down low and the Bass cranked, the Rev Jr. put out enough bottom for our dropped C riffs. Of course, the lows aren't going to be as tight as a full-sized Revolution head, and the solitary 12" speaker got a little flatulent as the Gain control rotated to the right, but considering we were pushing this amp at the ceiling of its abilities with only one 12" cab, there was plenty to be impressed with.
If you're in the market for something with a little less wattage, but still want to whip out those lightning-fast and murderously low Dethklok riffs, you'd do well to check out the Rev Jr. mini-stack. The faint of heart need not apply.
Rating...
Tone...
 
Craftsmanship...
 
Features...
 
Value...
 
Overall...
 
---
Krank Amplification
Full Stack MSRP $1199
Half Stack MSRP $949
krankamps.com
Our expert has stated his case, now we want to hear yours. Log on and share your comments and ratings.