Review: Carvin X-100B Amplifier & Cabinet
Carvin''s X-100B head and X-100A 4x12 offer versatility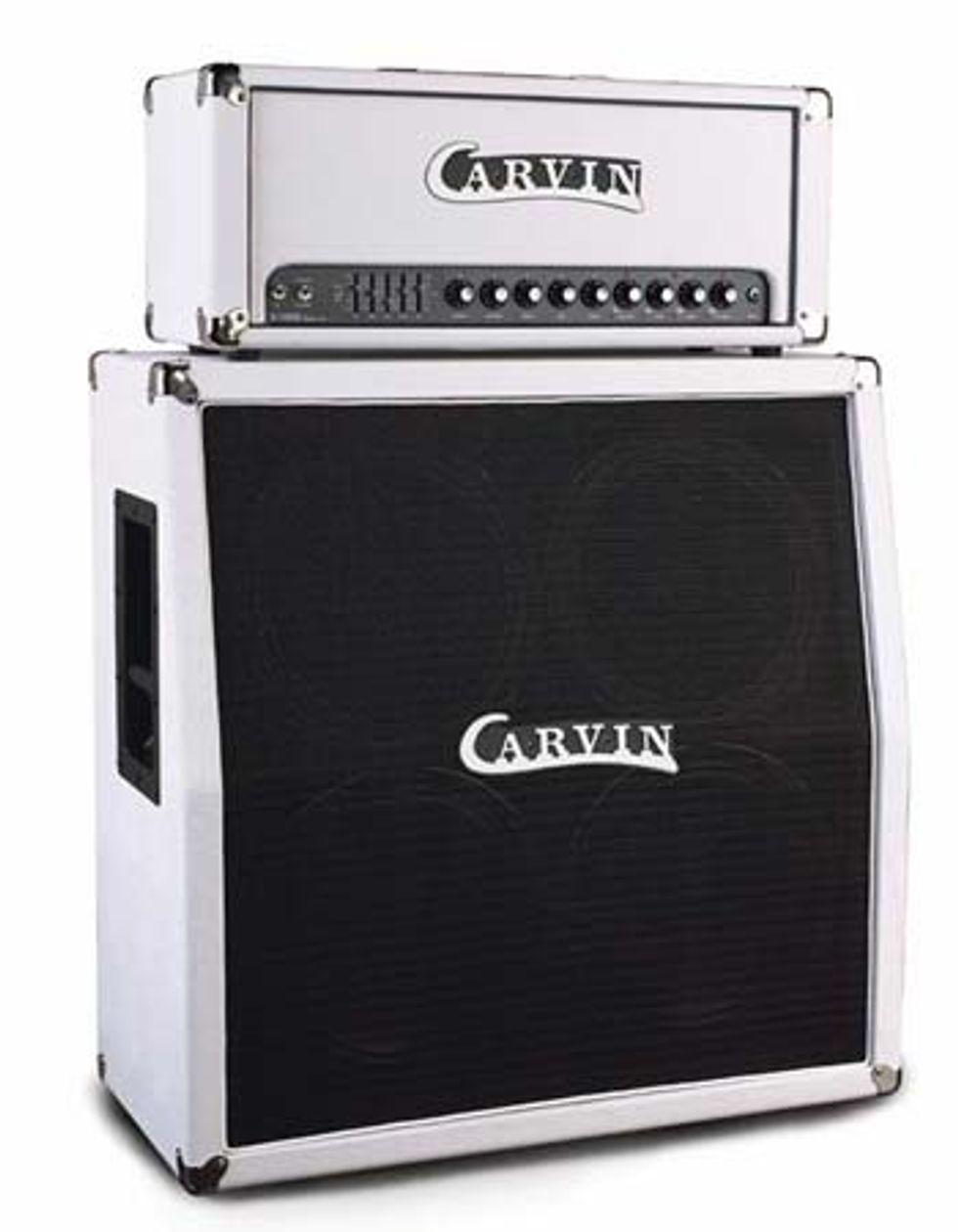 This month, I had the opportunity to test drive Carvin's newly reissued X-100B head and X-100A 4x12 cabinet covered in white tolex. Wow, talk about a sassy and very attractive package! It came complete with a speaker cord and an optional four button foot switch.
The X-100B was a model produced by Carvin in the eighties and became very popular with rock players such as Frank Zappa, Craig Chiquico from Jefferson Starship, Warrant, and of course Steve Vai—who allegedly recorded the track "Blue Powder" with this amp.
The Specs
The front panel, from left to right, starts with controls for Power; Standby/Operate; Lead/Rhythm EQ selector switch; and a five band graphic with shelving frequencies for 75, 150, 500, 1.5 and 3K bands with a range of plus or minus 18 db. This is followed by Reverb, Presence, Treble, Middle and Bass tone controls. Next, we have an overall Master volume with a FS Boost mini toggle switch. A Lead master volume follows with another mini toggle for Gain boost. Lead Drive and a mini toggle for channel selection and a Rhythm volume with a bright mini switch finishes up the front control plate. The guitar input jack is located on the right side of this panel.
On the back panel there are two parallel speaker output jacks; an impedance selector switch with 16, 8, or 4 ohm selections; an RMS power switch designating 100, 50 or 25 watts; and a selector that enables the user to select between EL34 tubes and the 6L6 or 5881 tube. My demo amp was loaded with Groove Tube EL34Rs. There's also an XLR line out jack which captures the power section of the amp. Unlike some jacks of this type, this is not speaker emulated. The effects loop send and return jacks have a variable output switch allowing +4db for rack effects, -10db for pedals and a 0 db setting as well. Finally, there are jacks for the two types of foot switches offered and of course the AC in-plug.
In addition to the all tube output, the amp uses three 12AX7 preamp tubes, which is surprising to me as most amps these days seem to use four because of tube buffering in the effect loops and extra gain stages.
The Sound
This is a fascinating amp for sure. I found the tone controls to be very wide ranging with active circuits providing cut and boost capabilities, although they were not marked as such. When coupled with the 5- band EQ, an amazing range of both clean and overdriven tones were created. It was pretty intuitive and I had no trouble getting tones that I thought were great. The EQ can only be used on either the clean or overdrive channel, not both simultaneously. But after experimenting, I decided that the clean channel really didn't need the EQ to get clean sparkling tones. As a matter of fact, the clean channel was stellar. The bright switch was not harsh or overbearing compared to some other amps. The clean channel had very high headroom and it did not compress too much, even at higher gain settings with humbucking pickups.
The Overdrive channel could be driven into big, creamy, fat distortion even without using the gain toggle switch. If you are so inclined however, that switch will produce any amount of over-the-top sustain and gain anyone would ever need. It was easy to back things down on these controls to get the traditional bluesy and classic rock sounds for which this amp is famous for. The guitar cleaned up well when turned down even at high gain settings. By using the EQ, more modern rock tones were there as well. However, I didn't hear the type of distortion produced by a Rectifier or Soldano. It seemed to be a bit more open and even bigger, but not as percussive on the low end. However, the EQ really helped this and also provided the boost in the bottom that some players may require.
One thing I look for in an overdrive channel is the ability to produce "even order" musically related overtones. This means that when holding notes, the amp went into octave sustain easily. Some amps seem to fight this because they have too many uneven harmonics which actually choke the overtones. The X-100B overtones were musically pure.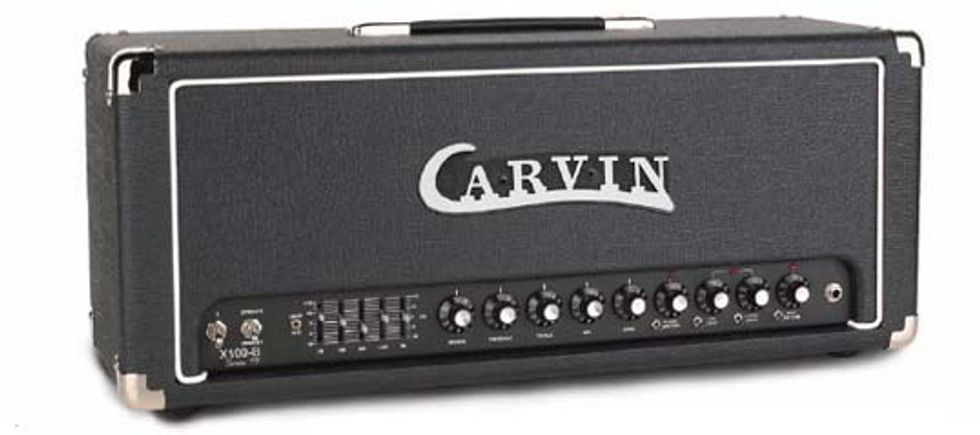 Additional Features
The RMS power switch is an interesting feature. Of course, when changing from 100 watts to 25 watts, some loudness drop is apparent but not as much as I expected. Usually compression is increased when doing this, but again, it didn't double the compression when going to 25 watts. There was a slightly noticeable effect, but not enough to make the clean channel sag like a rectified Fender amp. For my money the 100 and 50 watt settings were the coolest and the reverb on this amp is spectacular. It is deep and clear without being excessive or overpowering. It has a long decay time and does not get in the way of the notes played. Even with the control on full, it was still very deep and haunting, ala Peter Green.
The Foot Switch
The four button foot controller is very versatile. It has the usual channel switch, reverb on/off switch, effects loop on/off switch and a fourth button that can be configured to serve as a mute switch when changing guitars or a boost switch for lead volume. The function of this switch is changed by using the FS BOOST switch on the amp's front panel. LEDs indicate the function of the switches, while components are enclosed in a sturdy housing and should hold up to even the heaviest foot.
The Cabinet
The cabinet is a closed-back, slant design—though Carvin does offer a straight 4x12 as an option—loaded with Celestion Rocket 50 speakers. Jacks on the rear could be utilized for mono or stereo operations. The cabinet is fitted with wheel inserts for easy transportation. The handles are metal and the fit and finish was very good overall. This cabinet sounded tight—very loud with a balanced frequency range.
Construction
Both the head and cabinet are well made and carry the same vintage-style Carvin logo, like the original models. The cabinet, as well as the heads, are available in an assortment of colored coverings. All cabinetry is premium multi-laminate plywood and utilizes chrome corners for protection. The speaker grille was black, expanded metal which struck me as quite protective. The overall construction seems good, practicable and durable, yet proves a visually attractive finished product.
Buy if...


you are looking for a killer half stack at a great price or if you need tonal versatility and a great clean channel



Skip if...
you are looking for Boogie Dual or Triple Rectifier-type tone for modern and down tuned guitar

Rating...
 
Our expert has stated their case, now we want to hear yours. Log on and share your comments and ratings.