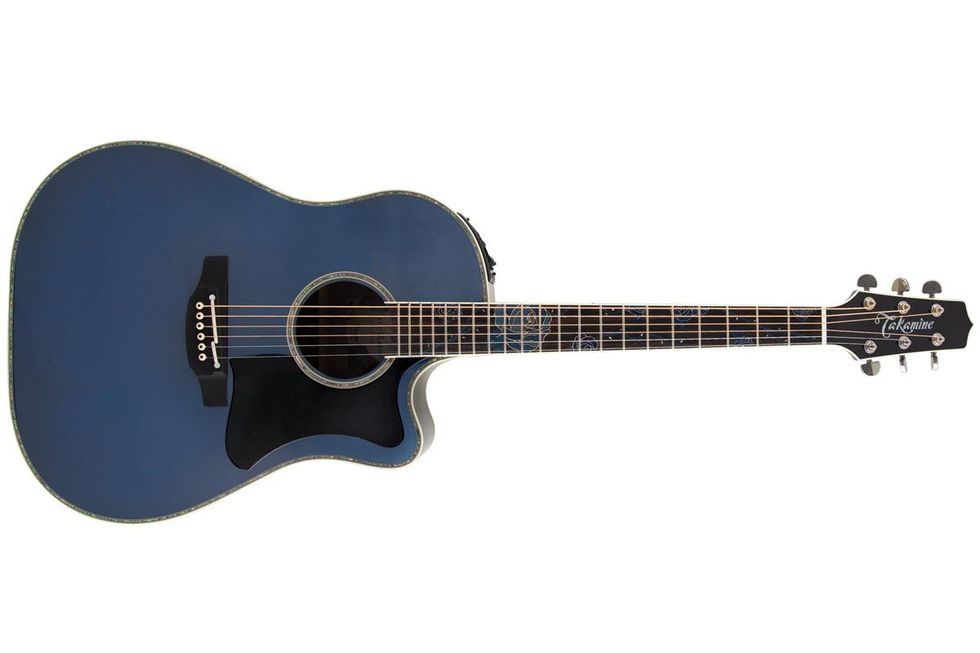 A rare flower that's also an incredibly smooth player.
Superb setup. Ultra-playable. Impeccable construction.
Lacks some low-end thump and sustain.
4
5
5
3.5
Any Twin Peaks fan knows the significance of the blue rose. It's a flower that does not exist in nature (at least without dyeing or clever genetic engineering). In David Lynch's universe of the bizarre, it symbolizes the mysterious and unexplainable. Elsewhere in myth and literature, the blue rose is used to represent the unattainable. Takamine's own limited-edition LTD 2021 cutaway dreadnought, which has a lovely fretboard inlay of a blue rose, is not exactly unattainable—at least if you can spare the near-$3,300 necessary to score one. But it is destined to be a rare flower. And while it's the super-luxurious adornments that are most likely to sear this Takamine into guitar spotters' memories, there's a good chance that those who play one will remember the model as much for its superb playability as its unique and outré design elements.

---
Play "Mood Indigo," Mr. Nudie!
Takamine has always deftly walked the line between old-world craft and modernity. On one hand, Takamines are renowned as workhorses—favored at various times by relentlessly touring, hard-playing musicians like Bruce Springsteen, Noel Gallagher, and Thom Yorke, who could afford to play anything, but valued Takamine's quality, smooth playability, and reliable amplified performance characteristics. But Takamine has also embraced a pretty adventurous styling sense since they rose to prominence in the late '70s. And perhaps aware of their standing as go-to instruments for high-profile stage performers, Takamine has never shied away from couture with a splash.
The LTD 2021 embodies both facets of Takamine's persona. For starters, it's an impeccably built instrument. And while you should expect as much for a guitar north of 3K, this Takamine is as flawless as any of the many high-end acoustics with similar price tags. The aspect of the design likely to be the most polarizing—the fretboard inlay—is perfectly executed. The inlay is dyed using the same aizome method that distinguishes so many beautiful Japanese indigo fabrics. And while it evokes the flash of a Nudie suit (which would be perfect stage accompaniment for the LTD), the inlay is lovely to behold and looks more subdued up close. The beautiful finish, which Takamine calls charcoal-blue gradation, actually fades from a dark transparent indigo at the tail to a lighter shade at the neck joint. Like the fretboard inlay, it's actually considerably more subtle in person than it looks in photographs. In fact, the design element that pops the most is the abalone that makes up the purfling, rosette, and headstock inlay.
Built for Speed
While the LTD 2021's bold styling is certainly the product of labor-intensive processes, playing it couldn't feel much more effortless. The neck is a thing of beauty. There's just enough thickness in the profile to suggest a little mid-century American flattop influence, but it's far from a log and feels plenty fast for acrobatic contemporary playing techniques. That satisfaction is compounded by the notable ease of fretting. The action is low but the neck is totally free of buzz. It's hard to imagine a nicer setup, and the deep cutaway enables you to explore and leverage that playability right up to the 21st fret. (It's little wonder that so many performers that are primarily electric players have embraced this Takamine body style.)
It's hard to imagine a nicer setup, and the deep cutaway enables you to explore and leverage that playability right up to the 21st fret.
For a dreadnought, the LTD tends to be pretty mid-rangey. And even in de-tuned settings the 6th string has a robust low-mid presence that can overshadow some low overtones. Some of this mellowness may be down to the solid sapele back and laminate sapele sides, which have many of the same warm qualities of mahogany, but less of the reactive low-end sustain of rosewood. This relative lack of bottom-end oomph is not an all-bad thing, however. And the trade-off is that the 2021 sounds exceptionally well-balanced. High strings positively sparkle and the combination of high and high-mid detail and liveliness plus the easy playability make fingerstyle picking a delight. This a great guitar for conveying melodic intricacies in those settings.
In amplified applications, the LTD 2021 successfully communicates most of these virtues without too much undersaddle pickup tone-thinning or clatter. The CT4-DX preamp (which is paired with Takamine's Palathetic undersaddle transducer) may be substantial in size and heft, but it's 4-band EQ and double notch filters are capable and flexible enough to overcome most common amplified performance pitfalls and even offer options for creative EQ settings.
The Verdict
The LTD 2021's gregarious and celebratory styling are not going to tickle everyone's fancy. Its playability and sonic balance, however, are impossible to deny. And if you're the kind of performer who doesn't mind stepping out in high style, or a collector/player that treasures the unique, the LTD will scratch that itch in a big-time way. But any guitarist will appreciate the easy playability of this exceptionally well-executed instrument.