Two-Rock Classic Type 2 Review
What is it about Northern California that compels people to make really good amps? Within a hundred miles of San Francisco you have Mesa Boogie, Brown Note, Budda and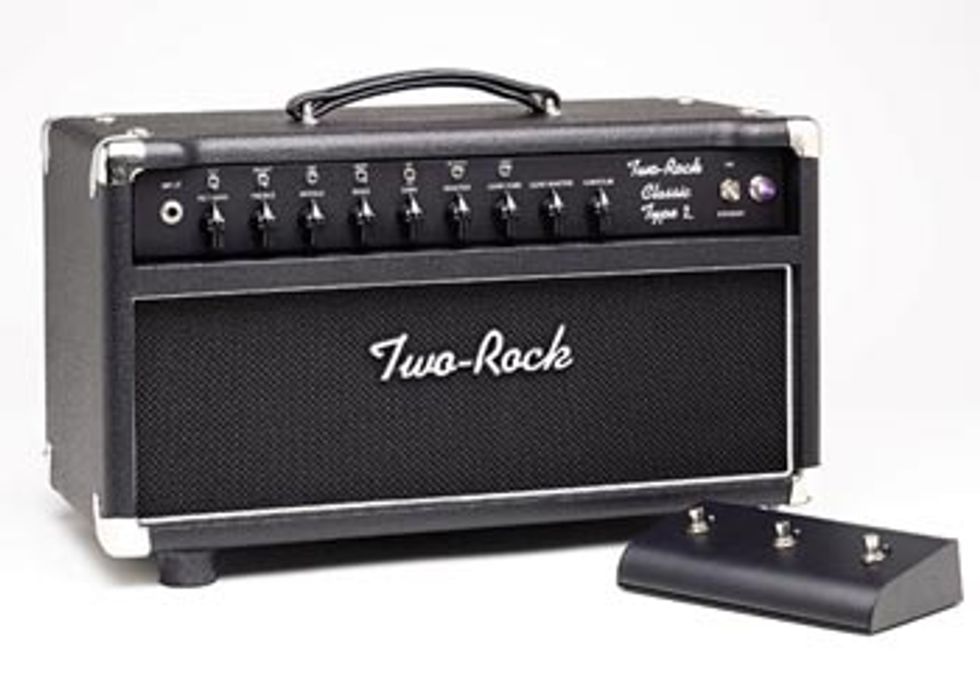 What is it about Northern California that compels people to make really good amps? Within a hundred miles of San Francisco you have Mesa Boogie, Brown Note, Budda and K&M Analog Designs, better known as Two-Rock. Sure, the San Francisco scene isn't what it used to be, but I think the unique vibe of the place makes you just want to be part of it.
Starting with just $600 worth of seed money and a love of high-end audio equipment, Joe Mloganoski and Bill Krinard put together their first amps in 1999 in Bill's (Petaluma, near Two-Rock) and Joe's (Point Reyes Station) garages. Bill had already been working as a guitar and amp tech at Cotati's Zone Audio, a stone's throw from Prairie Sun Recording, and Joe had a background in consumer electronics repair before forming K&M Analog Designs. Both men shared a love of classic, hand-wired, point-to-point tube amps. As there have been many comparisons between Two-Rock amps and some of Alexander Dumble's creations, Joe is quick to point out that Two-Rock amps evolved from the knowledge obtained from "all things tube," and are the continued evolution of the art.
---
"The Classic Type 2 has a sound that''s uniquely its own, and like a world-class chocolate it teases you and makes you thinkg you''ve experienced it before...It''s elusive, seductive, haunting and somthing you just can''t grasp."
---
The 50-watt version of the Two-Rock Classic Type 2 is an attractive head with nine "chicken head" controls and seven mini-toggles that enable the user to sculpt their sound in almost any way imaginable. Most of the controls are dedicated to allowing the user to adjust varying degrees of gain, sensitivity, equalization, and making allowances for humbuckers, single-coils, room acoustics and speaker cabinet variations. There is a detailed, nine page instruction manual which directs the user on how to adjust the internal tone stack board, fuse recommendations for domestic and international applications, the externally adjustable negative feedback circuit and other recondite tone shaping arcana.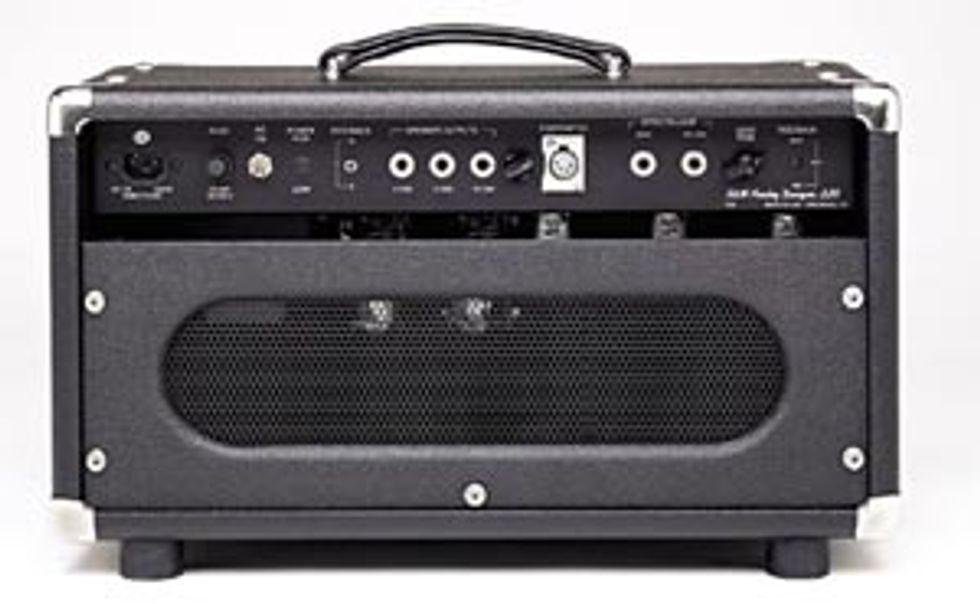 Flipping the amp around exposes even more options for the user. These options include a power selector that will lower the 50-watt models to 30 and 100-watt models down to 70, a feedback selector for altering the amount of negative feedback in the power amp section, and both lead contour and lead gain trim options. In short, you may want to take a while to familiarize yourself with these functions and you may want to keep a diary of your favorite settings. The amp itself is powered by three 12AX7s and two 6L6GC output tubes.
Joe and Bill also sent along a version of their soon to be released ELI1 external buffered effects loop. According to Joe, the ELI1 will be available soon, but, "Not everyone who buys our amps wants or needs an effects loop. Having an external buffer optimizes signal integrity simply because it isn't in the signal path unless you need it." Joe says the ELI1 will be a stand-alone unit and its projected price is $2100 ($1895 street).
Treat Me Lowdown
For test purposes I used a Mesa Boogie 1x12 WideBody with a stock Eminence speaker. I also called into service my standard test guitar, a late-nineties dual Duncan SH-1 '59-equipped Guild Bluesbird, plus a Michael Dolan Strat and two other guitars that have historically had noise problems with high-gain amps – the first being a dual Stephens Design P-90-fitted ash body Tele variation and the second being a late-fifties Danelectro U1. Lastly, I set all of the EQ knobs at noon and kept all of the additional tone switches in the "off" positions.
The Guild delivered a gutsy
humbucker
crunch with a delicious, warm glow surrounding each note. I've played several other heads through this cabinet and no other head I've played has made this cab sound this good. There wasn't any of the harshness usually associated with this particular speaker – just clean, articulate highs, fully pronounced mids and a fat, well supported bass.
Historically, tremolo-equipped, Stratstyled guitars are not known for their sustain, but patched through the Classic Type 2, the Dolan-caster really sang out. The Two- Rock had a nice compression that added a lot of sustain but avoided overly squashing the signal. Playing the guitar past the octave notes didn't become shrill or glassy and first position chords still had plenty of note-to-note separation. Switching to the amp's "clean" mode was reminiscent of an extremely good, non-reverb-equipped blackface Fender; warm, fat, wonderful and with a lot a depth.
The final tests were with the historically noisy P-90-outfitted, ash bodied Tele thing and the Danelectro U1. While neither guitar was as quiet as the Guild, any additional hiss added by their non-potted pickups was absolutely minimal – a true testament to Bill and Joe's build quality. Overall, the amp's distortion was sophisticated, detailed and favored players who use a lot of dynamics and finger playing.
THE Question
Now to answer the question that is on every one's mind – does it sound like a Dumble? Yes and no. Given that Alexander Dumble didn't make any production models and used relatively stock parts then modified them as needed, this is a lot like asking, "Does a Crocker ride like a Harley-Davidson?" Al Crocker was a friend of Paul Bigsby and did what Alexander Dumble did with amps – only with motorcycles. Crocker used Harley- Davidson engines and whatever else he could find; his are now considered some of the most collectable bikes ever made, but they ain't Harleys.

Ok, I've hemmed and hawed long enough. Plugging straight into the Classic Type 2, it was amazing how rich and detailed the tone was, but comparisons to any of Dumble's creations are inaccurate. The Classic Type 2 has a sound that's uniquely its own, and like a world-class chocolate it teases you and makes you think you've experienced it before. There are hints of memories. Flavors you think that are there but are not. It's elusive, seductive, haunting and something you just can't grasp.
But in order to achieve a more "Dumblelike" flavor I ran an Xotic AC Booster through the external buffered effects loop; with a little adjustment of the EQ and the Gain knobs I was right in the pocket. I'll admit I felt a little guilty running the AC Booster because the Type 2 sounded so good on its own. Joe points out that the ELI1 unit was set up to rectify the differences between the amp and effects' impedance. While that may be so, it also gives the user further adjustments and lowers any effect's noise.
Some people who absolutely must have a reverb unit may be slightly put off by its absence, but given the richness of the Classic Type 2's voice, I don't think it's really needed. Just to be thorough, however, I did run a BOSS DD-6 both direct and through the effects loop and got good results both ways. Also available is the Two-Rock Classic Reverb, available in both 50 and 100-watt versions.
Although I did experience a blown fuse with the Classic Type 2, Joe speculated that was due to a shorted output tube. Their commitment to customer satisfaction was evident when they offered to send me a full complement of tubes and fuses without charge and were even willing to cross-ship a new head to make sure I was happy. It's apparent that one of the things that separates them from some guy who downloaded a Dumble schematic from the net is that they are an actual company with five employees, versus a guy with a soldering gun and a kitchen table.
Let us not mince words – $5500 is a lot of money for a head. If you want to purchase Two-Rock's ELI1 external buffered effects loop that will add almost two more grand to your bill. But is there a "bargain" alternative? Not hardly. Given the platform that the Classic Type 2 is based on, the Type 2 is the bargain alternative.
The Final Mojo
The Two-Rock Classic Type 2 is an astonishing feat. Its rich, fat, detailed, nuanced tone should appeal to players who demand an amp that responds instantly to their input. Make no mistake: this is a studio quality amp that is designed for real world applications.
Buy if...


you want to own the ultimate in fast reacting, touch sensitive tone sculpting


Skip if...
you have already bought tickets to Metalfest 2009
Rating...

MSRP $5500 - K&M Analog Design - two-rock.com

Our expert has stated their case, now we want to hear yours. Log on and share your comments and ratings.