Rig Rundown: Alice Cooper's Ryan Roxie, Tommy Henriksen, and Nita Strauss
The guitar trio details the gear they use to fuel the shock-rock shenanigans every night.
Premier Guitar hung with Tommy Henriksen, Ryan Roxie and Nita Strauss of the Alice Cooper band during the Nashville stop on their 2014 tour with Mötley Crüe. This team of elite ax wielders stay true to the classic rock tone that Cooper's band helped establish in the late '60s while incorporating modern shred.
Ryan Roxie's Gear
Guitars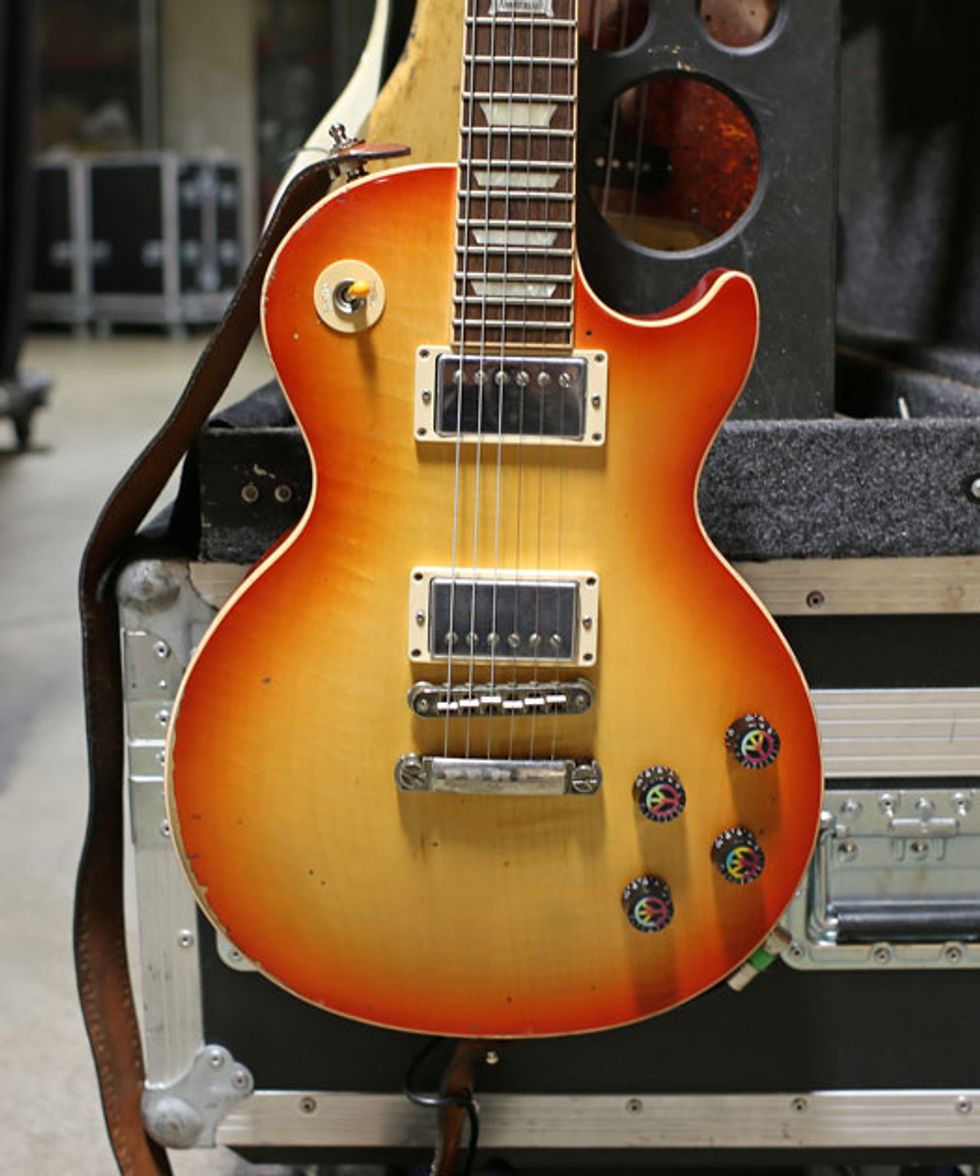 Ryan Roxie's recipe for tone has always included a Les Paul & Marshall. His current #1 guitar is his completely stock 2014 Gibson Les Paul, nicknamed "Peace", with Gibson's proprietary self-tuning system.
When a cleaner tone is needed, Roxie reaches for a 2012 Gibson ES-335. Since Roxie doesn't use channel switching or drive pedals, he moves to the neck pickup—which is roughly half the volume than his bridge pickup.
The trio of Gibsons is rounded out with a 2007 Flying V—relic'd by Rock N' Roll Relics—loaded with three Gibson humbuckers. All of Roxie's guitars are strung with Gibson Brite Wires .010-.046.
Amps
When asked about amps, Roxie is a man of few words: "Marshall JCM800 into a Marshall 4x12 with 20w Celestion Greenbacks. Enough said."
Effects
Roxie plugs his Gibsons into a Shure UR4D+ wireless unit before it hits a TC Electronic Polytune. From there it goes through a T-Rex Effects Replica, Morley Bad Horsie Wah, TC Electronic John Petrucci Dreamscape, Dunlop DS-1 Tremolo, TC Electronic Shaker, TC Electronic Spark Booster, and a pair of TC Electronic Flashback delays. Roxie keeps things quiet with a Boss NF-2 Noise Gate and powers the whole thing with a Cioks DC10.
Tommy Henriksen's Gear
Guitars
As a tribute to Cooper's original guitarist Glen Buxton, Tommy Henriksen goes with three Gibson SG Customs. The one above is finished in silver.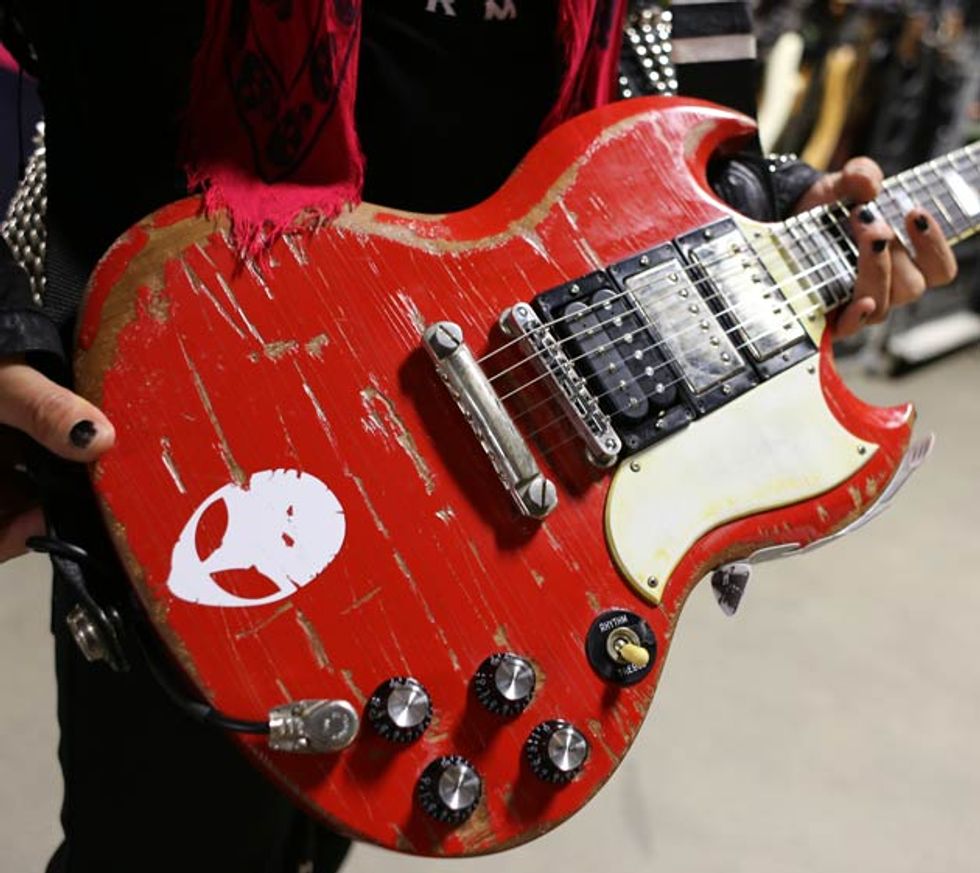 His second SG is battered and finished in Ferrari red.
The third one is a 1991 Anniversary model in faded yellow tuned to dropped-D tuning. Each SG was refinished and relic'd by Mike Palermo from Palermo Guitars. All three SGs are loaded with DiMarzio pickups and SIT .010-.052 strings.
Amps
Henriksen uses a Blackstar HT-METAL 100 plugged into a Blackstar HT-Metal 4x12 Cabinet and keeps a Marshall JCM900 as a back up.
Effects
Henriksen plugs his SGs into a Shure UR4D+ wireless unit before going into an ISO/Buffer box from L.A. Sound Design. His compact, but powerful, board contains a Korg Pitchblack tuner, MXR ZW90 Zakk Wylde Phaser, MXR ZW38 Black Label Chorus, Boss FV-500L volume pedal, Strymon El Capistan dTape Echo, Analogman King of Tone, Boss FA-1 (which is controlled by a custom footswitch), and a EBS Dynaverb. A Voodoo Lab Pedal Power 2 Plus powers the entire board.
Nita Strauss' Gear
Guitars
With her bandmates Henriksen and Roxie going for a classic rock tone, Nita Strauss keeps it modern with her rack of Ibanez guitars. Her current favorite is a red Ibanez RGT320Z Prestige with a neck-through mahogany body and quilted maple top. The neck was planed and stripped to match the Super Wizard profile from one of her other guitars. She rocks a DiMarzio D Activator in the bridge and a DiMarzio Evolution in the neck.
Next in line is Strauss' Ibanez S5470FDSH Prestige. The three-pickup configuration includes a DiMarzio Gravity Storm in the bridge and neck positions and a DiMarzio True Velvet single-coil in the middle slot.
For something a little creepier, she has her Ibanez RG2620ZE Prestige that also features DiMarzio pickups (Evolution in the neck position and an DiMarzio Super 3 in the bridge), an Edge Zero bridge, and a custom "Feed My Frankenstein" graphic by Robert Emery from Rockstar Trendz. All of Strauss' guitars are strung up with D'Addario NYXL .010-.046 strings.
Amps
Strauss plugs into one loud and proud Blackstar Series One 104EL34 and keeps a second as a backup. She chose this amp over others for it's heavy tone and because of the ability to switch channels using MIDI. The head runs into a Blackstar Series One 412 PRO B cabinet.
Effects
Strauss' pedal board is about as minimal as it gets. A Rocktron Prophesy II lives provides all her effects and lives in a rack with a Shure UR4D+ wireless unit. She controls her effects with her Rocktron All Access MIDI foot controller and a Voodoo Lab Pedal Power 2 Plus provides the juice.