Nashville studio ace shows it's more about chops than gear.
Premier Guitar's John Bohlinger met with Brent Mason after a session at Nashville's celebrated Blackbird Studio. Mason, one of the most recorded guitarists in history, talked guitars, pedals, and amps ... and played his ass off.
Guitars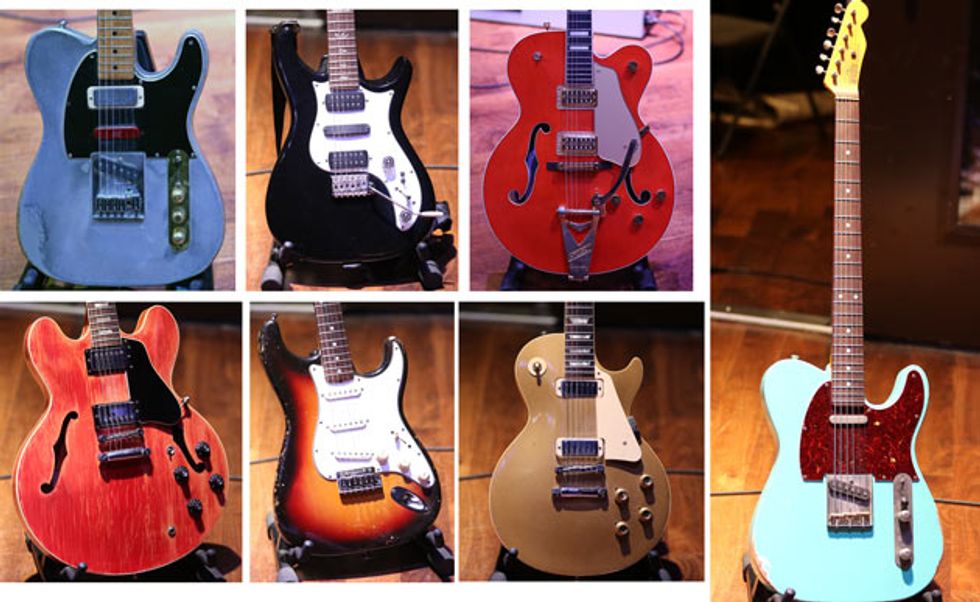 Mason has delivered some of the most incredible Tele-whacking, chicken-pickin', double-stopping, face-melting, mind-blowing solos in country music. For most of these sessions, he used a bastardized 1968 Fender
Telecaster
that he bought used in the '80s for a few hundred dollars.
Sporting a car primer finish applied by the previous owner, this Tele has been customized with a Joe Glaser B-Bender and a Gibson mini-humbucker at the neck position. A standard Tele 3-way switch controls the neck humbucker and Tele bridge pickups, while a blend knob brings in a Seymour Duncan Vintage Stack that Mason added as a middle pickup.
The session great's PRS Brent Mason Signature model is decidedly non-Tele-like. Featuring a bolt-on maple neck, a PRS tremolo, Phase III locking tuners, Narrow 408 humbuckers in the bridge and neck positions, and a 305 single-coil in the middle, this versatile guitar has coil-splitting options that let Mason dial in a huge variety of sounds.
For moody mellow tones, Mason goes to his stock, pre-Fender Gretsch 6120 Duane Eddy model. Mason takes advantage of the 6120's Filter'Ttron pickups for twang and the stock Bigsby tremolo for vibe.
When he wants go low and rumbly, Mason plugs in his stock PRS SE Mike Mushok Baritone guitar. This mahogany-body beauty is usually tuned down to B.
Amps
Mason has a very straight-ahead approach to amps. Though he carries three heads and two cabinets, there's no switcher needed: When he wants a different tone, he simply unplugs his 1/4" cable from one amp and plugs it into another, then pulls the speaker cable out of one amp to use with the next. His top amp is a 1965 Fender 50-watt Bassman, customized by Nashville amp guru Kye Kennedy. Number two is a PRS 2-channel "H" for big angry tone. Last in line is a Matchless DC-30 he bought while tracking the first Shania Twain album.
For cabinets, Mason switches between a Little Walter tweed 2x12 loaded with 75-watt Celestion G12T-75s and a vintage Fender Bassman 2x12 with two Celestion Vintage 30s.
Effects
Through the years, Mason has gone through countless combinations of pedals. Currently, he's using a simpler system that he put together himself mounted on a large Trailer Trash pedalboard.
The signal chain starts with a Dunlop MC404 CAE Wah into an Ernie Ball 6166 volume pedal. Next is a Wampler Ego Compressor, a Boss GE-7 Equalizer customized by Analog Man, a Visual Sound V2 Truetone Clean Boost, a Xotic Effects RC Booster, a Xotic Effects BB Preamp, and a Creation Audio Labs MK 4.23 Clean Boost.
For dirt, there's a Dunlop reissue Way Huge Red Llama Overdrive followed by Mason's signature Wampler Hot Wired V2 Overdrive.
All of Mason's clean boost and dirt pedals are on a no-name loop box that Mason bought "from a dude on eBay." On a separate loop station, Mason runs his more trippy effects, starting with an Electro-Harmonix Stereo Memory Man and a Pigtronix Tremvelope. Next in line are Wampler Faux Tape Echo and Faux Spring Reverb stompboxes. The final effect is an old, tried-and-true Line 6 MM4 Modulation Modeler.
Mason uses a Boss TU-2 tuner and powers the whole enchilada with several Voodoo Lab Pedal Power 2s.