Prog-metal architect Aaron Marshall shows off a pair of dazzling Mayones prototypes before he explains using a small digital footprint for tons of tones.
After the dissolution of his previous band, Speak of the Devil, Aaron Marshall forged out on his own and created Intervals in 2011. (Through the band's existence, Marshall has remained the sole constant member and is the band's musical pilot.)
The instrumental band is like a robust jambalaya. It uses ingredients from prog, metal, djent, jazz, and even top-40 pop to make its own cosmic stew. After two instrumental EPs—The Space Between (2011) In Time (2012)—he recruited vocalist Mike Semesky and released their 2014 full-length debut, A Voice Within. Aaron Marshall decided the best version of Intervals was that eschewing vocals and moved on to release two more LPs in 2015 (The Shape of Colour) and 2017 (The Way Forward). Each release has seen Marshall (and the culminating tours with various bandmates) push further through the prog glass-ceiling with a no-holds-barred approach redefining themselves, and the resulting genre.
During the band's run opening for co-headliners Chon and Between the Buried and Me at Nashville's Marathon Music Works, Intervals ringleader Aaron Marshall spoke with PG's Perry Bean. The Canadian details his new custom builds from Mayones, talks about the power and freedom the Axe-Fx III gives his band, and even explains how NYSYNC, TLC, and Destiny's Child still influence him today.
Aaron Marshall's time playing axes from PRS, Suhr, and Aristides has afforded him some serious R&D time. He's now working with Mayones—custom builder from Poland—to hopefully design a dream sig model. The above is an early-stage prototype for Aaron that starts with Mayones' Regius Core body. (The Core models come with a carved top while the standard Regius has a slab-style body.) The body wings are mahogany that are sandwiched between an 11-ply, neck-through design that uses primarily maple. The other wood stringers are made from mahogany and amazakoe. And because Aaron is a touring pro, they included carbon-fiber reinforcements in the necks so that baby is sturdy. The fretboard is ebony, the entire guitar is decked out with black pearloid, it has a Schaller 3-way pickup selector (bridge, inner coils, neck), a set of Bare Knuckles (Holy Diver in the bridge and Emerald in the neck), and a Gotoh 510 trem. All his guitars take D'Addario NYXL strings that are gauged .009–.046 and he plays in standard tuning.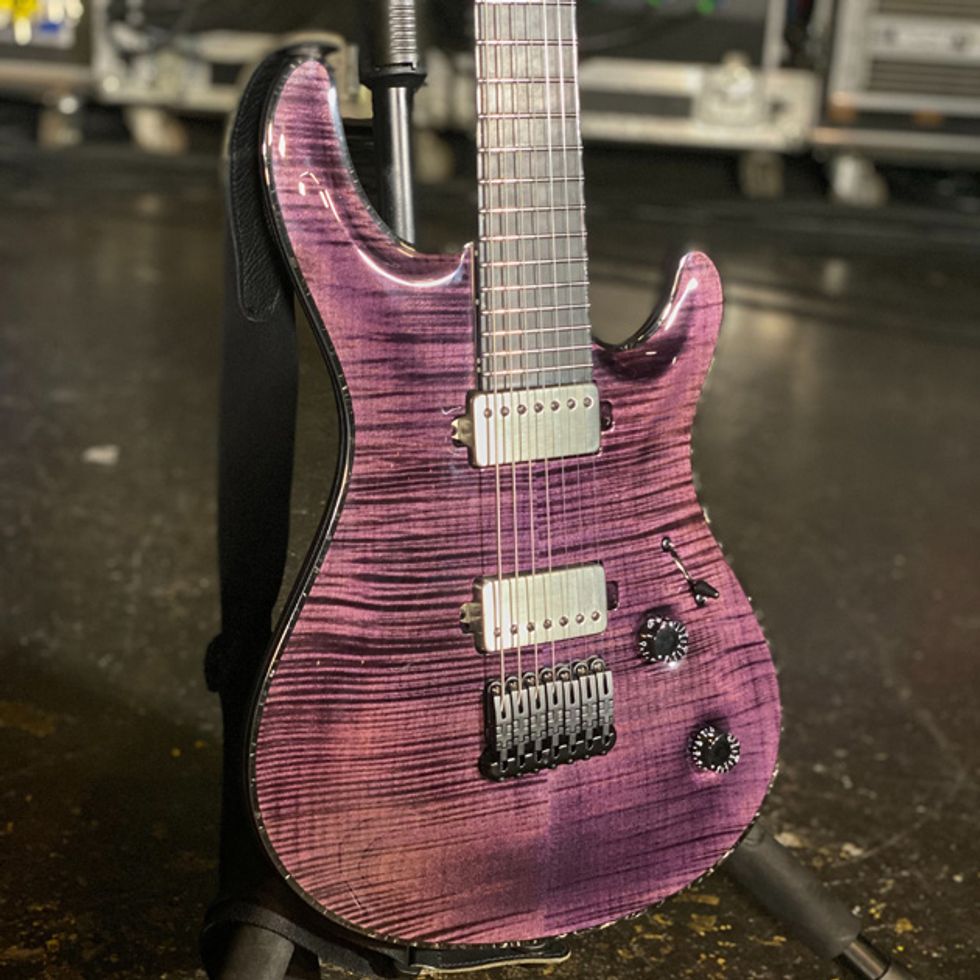 Here's a spitting image of the beautiful green prototype that has a 7th string, stunning purple finish, swamp ash body wings instead of mahogany, and because Aaron Marshall doesn't prefer trems on extended-range instruments, it has a Schaller Hannes bridge. For this one, he's using a custom hybrid set of D'Addario NYXLs that include .009-.013-.016-.030-.042-.052-.068.
Joining the band earlier this year to help out for a run of dates in India, Travis Levrier (Scale the Summit, Entheos) scored this Charvel Custom Shop USA Select DK24 HH 2PT CM with Seymour Duncan Pegasus and Sentient Humbuckers.
For 7-string songs, Travis Levrier rocks this old-school Jackson Custom Shop beast that also has Seymour Duncan Pegasus and Sentient Humbuckers.
Holding down bass onstage for Intervals since 2017, Jacob Umansky goes hard in the paint with a custom Dingwall Z3. The one-of-a-kind 6-string bass features a custom "sexy-storm-trooper" finish on the sandblasted ash body and has Dingwall pickups with Darkglass electronics under the hood.
Got 15 minutes? Then you probably have enough time to set up a Intervals show. Much of that swiftness is thanks to the processing and programming power inside the Fractal Audio Axe-Fx III. Before a given tour, Aaron spends weeks setting up not only the tones for each patch, for each portion of a song, but he has things meticulously set that he theoretically can play a full show without hitting his foot controller after the first note. The III is brought to life by a Seymour Duncan PowerStage 700.
The aforementioned "lifeline"—a Fractal FC-12 that guides the Axe-Fx III each night.
While the band all use in-ear monitors, Aaron Marshall does have a Mesa/Boogie 4x12 for stage volume and feedback manipulation.
---
Click below to listen wherever you get your podcasts:
---
D'Addario XT Strings:https://www.daddario.com/XTRR
---