Learn about the tools these nu-metal pioneers are using to create down-tuned mayhem while on tour.
Premier Guitar met with Korn's James "Munky" Shaffer, Brian "Head" Welch, and Reginald "Fieldy" Arvizu, and their guitar tech, Jim Otell, to get the lowdown on the band's down-tuned wall of sound before their headlining show in Nashville's Bridgestone arena on November 25.
Fieldy's Bass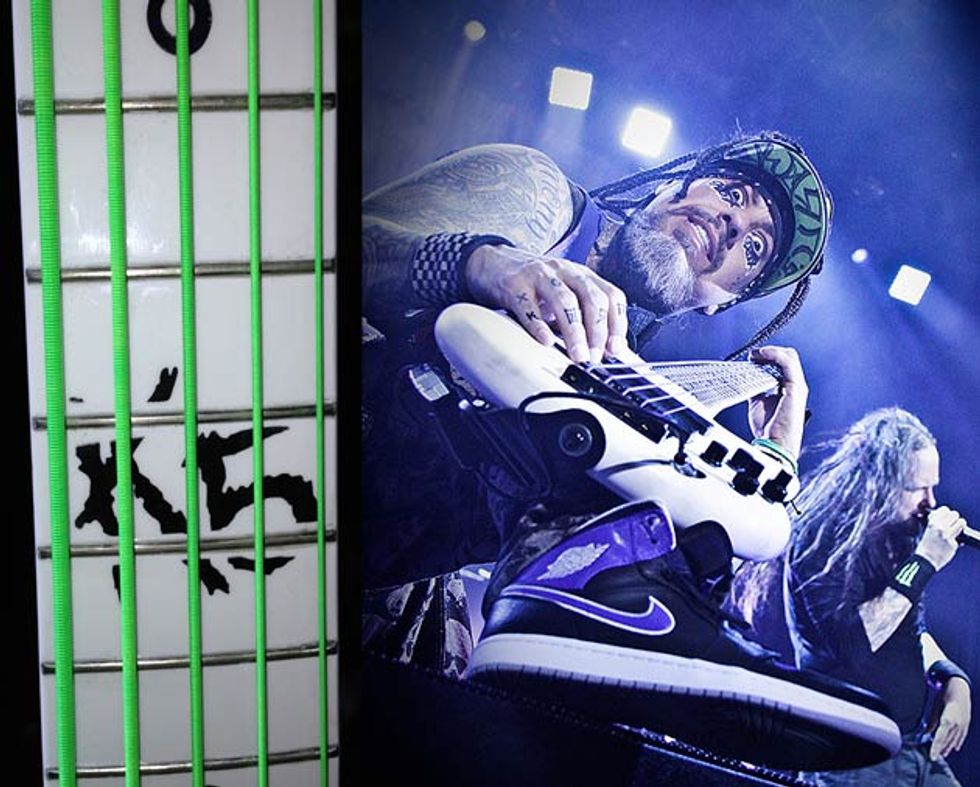 Photo by Sbastien Paquet
Every night on their current tour Korn plays their respective Signature Ibanez instruments, as well as such other Ibanez favorites as Fieldy's 5-string SDGR SR1305 K-5, which features ADX pickups and a painted fretboard.
Head's Guitar


Photo by Sbastien Paquet
Head test-drove his prototype signature Ibanez model, the Komrad 20, which will debut at winter NAMM 2014. This rumbling 7-string features a trippy paint-splatter finish, fixed bridge, and DiMarzio PAF 7 pickups.
Munky's Guitar


Photo by Sbastien Paquet
Munky still tours with his first good guitar—an Ibanez he put on layaway at Guitar Center and slowly paid off. Today it sports a duck-tape finish that holds the body together after years of road abuse.
Effects

Today, Munky's rig is very close to what he toured with 20 years ago. He plugs his Ibanez into a Shure wireless that feeds an A/B box for switching guitars. Next comes a DigiTech XP 100 Whammy-Wah, Dunlop Cry Baby 105Q Bass Wah, MXR Phase 90, Electro-Harmonix Nano Small Stone, Boss MT-2 Metal Zone, BBE Soul Vibe SV-74, Boss DD-6, Boss RV-5, Chimera Synthesis bC9 mini analog synth, Electro-Harmonix Memory Boy, Boss DD-3, and MXR Talk Box. Munky uses a second A/B box for switching between dirty and clean amps, and for the dirty amp he engages a Pigtronix Gatekeeper between songs. (This noise gate is never left on while he's playing.)
Amps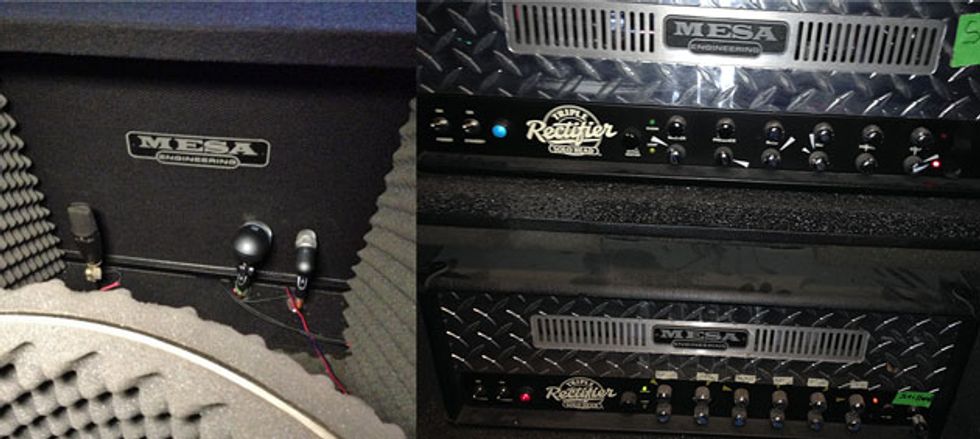 Munky and Head each run a pair of 150-watt Mesa Boogie Triple Rectifier Solo heads loud and proud. To help control stage volume, both Munky and Head isolate the cabs for their dirty Triple Rectifier offstage inside a road case, and capture the thunder with three mics: a Shure KSM27, Beta 52, and Beta 56.