Rig Rundown: The Black Keys' Dan Auerbach (2014)
We catch up again with tech Dan Johnson who goes over the equipment changes since 2012, including new kitschy guitars, kooky combos, and why the blues-rock juggernaut needs so much fuzz.
Premier Guitar's Chris Kies is on location in Milwaukee, Wisconsin, at the BMO Bradley Center to get a rig reprisal on Akron's favorite guitarist.
Guitars
In typical Auerbach fashion, the guitar boat is stocked with forgotten oddballs, mostly built in the Chicago area during the '50s and '60s. His newest "main" axe is an emerald green '60s Custom Kraft semi-hollowbody that Johnson found on eBay a few months ago. Auerbach bought it immediately. This beauty is used onstage to cover parts of the band's two newest albums—
El Camino
and
Turn Blue
. To get this booger rocking, Johnson had to reset the neck because of a horrible backbow—he also added a two-way truss rod to help with future repairs. Johnson then installed new frets, replaced the nut, and added a Rickenbacker-style bridge for better intonation and so it could be pushed a bit off the bridge pickup. Lastly, he outfitted the trem with a "MacGyver"-style solution—an old bent hat rack. Johnson says that the original Valco single-coils in the guitar sound great and Auerbach loves to solo with it in the neck position, with the treble rolled off, and cranking through the Shin-ei Companion fuzz.
Another new addition is a mid-'30s Dobro spider-bridge brass resonator that Auerbach uses on the acoustic intro to "Little Black Submarines" off of
El Camino
. The brass body gives the guitar a more subdued sound so Auerbach prefers to use this on the beginning of the song rather than a traditional acoustic guitar thanks to the under-saddle B-Band pickup that gives it a very recognizable sound with added panache from the reso. Once the brooding intro is over, he quickly switches to the Guild Thunderbird to finish the raucous ending to the song.
The third new friend to Auerbach's live collection is a '50s Supro lap steel made from Masonite. Like the Dobro, the Supro only makes a brief appearance during the solo on
Turn Blue
's "Gotta Get Away."
The 1964 Guild Thunderbird is still in the mix. The only thing that's been worked on since the last shoot was Johnson giving the axe a refret job to make it a tad easier to play. Original updates to the guitar included rewinding the bridge pickup—done by Lindy Fralin—and replacing bunk switches. The Thunderbird is the only guitar that is strung up with SIT Strings .010–.046 because Auerbach generally plays this guitar on the more reserved songs and prefers a lighter setup. (The other guitars feature regular SIT .011–.050 strings.)
Another old favorite is the black National that is used on the band's middle material like
Magic Potion
up to songs off
Brothers
like "Howlin' For You." (Auerbach used the aforementioned white Supro on the studio recording but opts for this monster for live performances of the song.) Now that Dan Johnson is playing guitar on tour, he currently uses this guitar for the band's cover of Edwyn Collins' "Girl Like You."
This white '65 Supro Martinique—nearly identical to Auerbach's black National—is one of the tour's workhorses because it's used on all the material from
Brothers
, some stuff off of
El Camino
and is picked up every night for "Your Touch." Other than refretting, the resoglass model is completely stock and its piezo bridge pickup still works great and can be heard on studio tracks from
Brothers
like "Howlin' For You" and "Too Afraid to Love You."
When it comes time to cover the band's first albums like
Thickfreakness
and
The Rubber Factory
Auerbach goes to his trustee Harmony H78 semi-hollow. Over its lifetime, the guitar has gotten a new bridge, controls, and pots.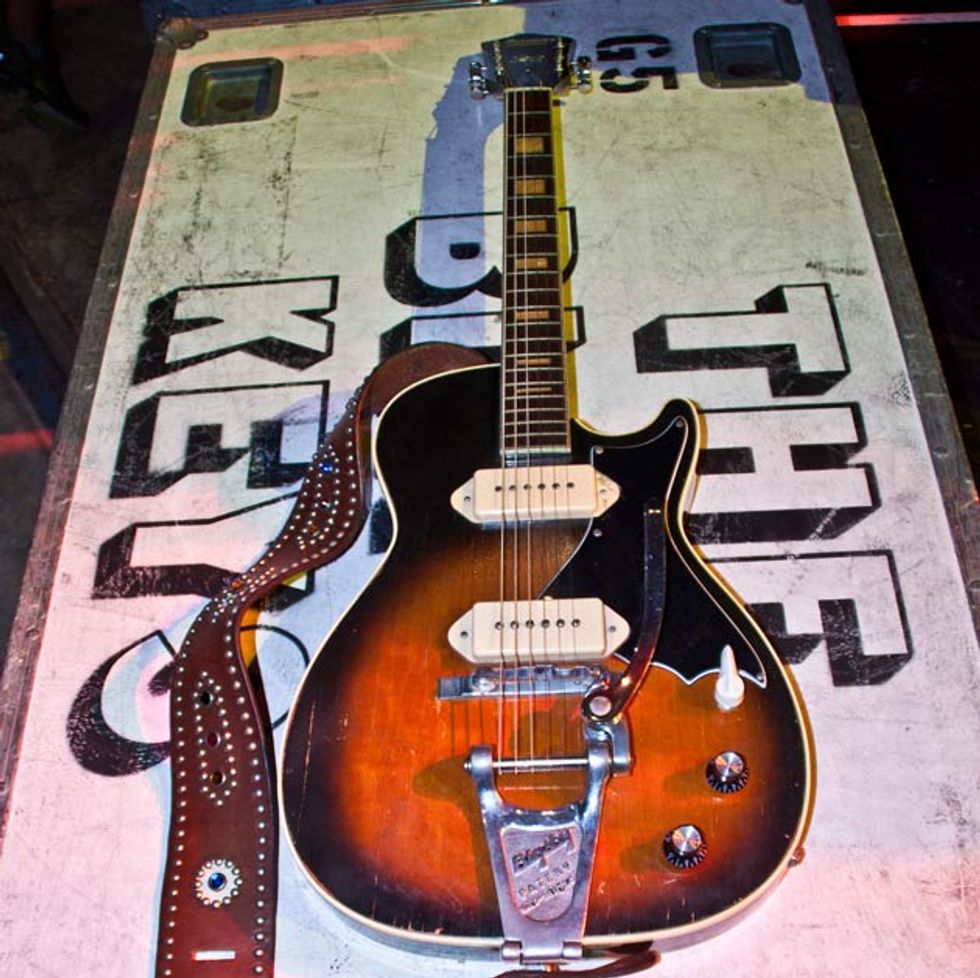 Auerbach's '60s Harmony Stratotone has been a longtime member of his arsenal. Once he acquired it, the guitar had a its bridge P-90 re-wound by Lindy Fralin. It's kept in open-G tuning for "Run Right Back."
Amps and Cabs
Since the Rig Rundown in 2012, Auerbach's four-amp setup has gone through some considerable changes. The only amp from the previous Rig Rundown is a Fender Quad Reverb that had speaker surgery since then and now has four 12" Tubby Tone Alnico 25W Hempcone speakers because the Celestion Greenbacks and Vintage 30s locked up and stopped working.
He originally had a Marshall JTM45 head, but that was swapped out for a 50-watt plexi in the need for added stage volume. There's a Fulltone Custom Shop Tape Echo (with a Strymon El Capistan standing by as a backup) going through it for a continuous tight slapback effect. The 8x10 Marshall cab still has the same Jensen speakers as before.
Replacing the Victoria Dual Deluxe is a pair of vintage 6V6-powered Danelectro combos. This one is a 1958 Commando accordion amp that is loaded with eight 8" speakers—four original ceramic speakers and four replacement alnico speakers from Weber.
Here is the back of the Commando with its speakers in all their glory.
The second Danelectro combo is a 1956 Challenger that still has its original single 15" speaker. Johnson commented that the tremolo sounds killer but they opted to use a Boss TR-2 so the effect can be applied to all four amps simultaneously.
Effects
Auerbach's effects are set in a rack and controlled by an RJM Effects Gizmo and dual Mastermind controllers—a customized one out front and a standard one switched by Johnson. The MIDI setup allows Johnson to make more complicated changes (usually on the newer songs) while Auerbach sings. The rack houses a Boss TR-2 Tremolo, Boss OC-2 Super Octave, Boss PS-5 Super Shifter, Boss PH-3 Phase Shifter (used for "Tighten Up"), a Radial Tonebone BigShot PB1 that's used only for a warm boost, a vintage Shin-ei Companion fuzz with the FY-6 circuit for an added octave effect, a Rosac Nu Wa Fuzz wah pedal (only used for the fuzz) run into an MXR Ten Band EQ to replace the mids, and a vintage Electro-Harmonix Big Muff Pi. He uses Lehle switchers to route the pedals. The fuzz breakdown is the Big Muff is used on the band's earliest material, the Companion fuzz is used on the more modern stuff like
Brothers
up to
Turn Blue
and the Nu Wa is used sparingly here and there depending on Auerbach's mood.
His backup rig consists of copies of his Boss pedals, an Electro-Harmonix Q-Tron Plus, and a whole host of stomps from EarthQuaker Devices, including a Terminal Fuzz, Hoof, Tone Job, Disaster Transport Jr., and two commissioned custom clones—a copy of the Shin-ei and Nu Wa.
On the floor, Dan controls his volume via MIDI with a Mission EP-1 Expression Pedal and Sound Sculpture Volcano volume control. The only pedal on the floor is a Boss PS-5 Super Shifter used for the intro to "Lonely Boy."