Stadler Guitars Goldtop Electric Guitar Review
Download Example 1 Middle Switch Position Download Example 2 Neck pickup Clips recorded with a 1981 Marshall JCM800 halfstack. Few things in the average electric guitarist's life thrill quite
Few things in the average electric guitarist's life thrill quite like the sight of a goldtop—Gibson or otherwise. Classy, sophisticated, and given to aging gracefully, most goldtops tend to exude the same sense of refinement and elegance that Gibson's first goldtop
Les Paul
did when it was introduced in 1952. It's a look that has stood the test of time and that continues to inspire players and luthiers alike.
Having worked for Gibson and at the legendary Gruhn Guitars in Nashville, Thomas Stadler is one guitar builder who has seen his share of exquisite, exemplary, and important goldtop specimens. And his new Goldtop model is an homage to the original Gibson model (and at least one other very iconic electric), with a few modern design appointments.

Gold Rush
Stadler's gold-finished doublecut is striking for more than just its finish. The butternut body bears the unmistakable rounded profile of a Les Paul—at least from the endpin to the waist. But from the waist onward, the guitar's design is distinctly informed by Doug Irwin's legendary Tiger—Jerry Garcia's go-to axe from 1979 to 1990.
Unlike just about any goldtop Les Paul you're likely to see, the 24 3/4"-scale Stadler has a two-piece maple neck, which Stadler selected for the sonic clarity it lends a pair of P-90s. Stadler also used small, vintage-style fretwire and Kluson-style tuners. Other visible design enhancements for optimizing tone include the wraparound bridge—a patented Stadler design that's essentially a Gibson-style wraparound with a bone saddle.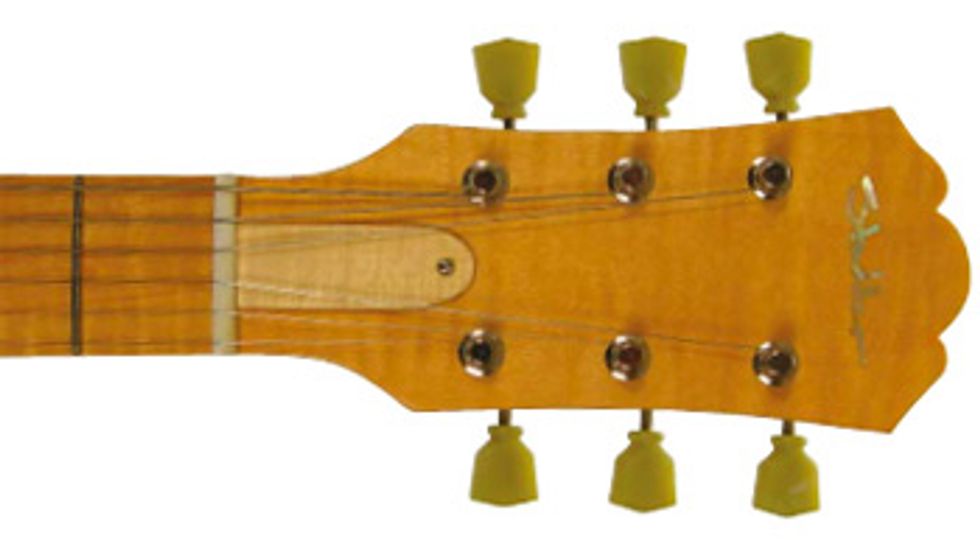 The combination of the butternut body with the maple neck is certainly unusual. Butternut is commonly used by wood sculptors and model enthusiasts, and is very similar to walnut in many regards—including grain and response to bending and sanding. Tonally, it's known to have deep overtones reminiscent of mahogany, but with an airy, open treble response similar to basswood. It's good to see a luthier exploring unconventional material options rather than sticking to the tried-and-true woods that have become so common in the guitar-making universe—especially on a guitar inspired by such archetypical instruments.

Worth Its Weight in Tone
The first thing most players will probably notice when they pick up a Stadler Goldtop is the size of the neck profile. I was taken aback by its massive, baseball bat-like quality, which evoked the feel of a 1958 Gibson Les Paul Standard reissue or even a Fender Jeff Beck Signature Strat.
The beefy neck helps make the Goldtop a riffing machine. It's certainly not a lightning-quick neck, and the smaller fretwire doesn't make things feel any faster—even though the fretboard is fairly flat. But the combination of the neck, pickups, and body construction compelled me to search for riff after corpulent riff to hang on to and hold. And plugging the guitar into a 1981 50-watt Marshall JCM800 half-stack turned out to be a perfect match for the Stadler. Every note was defined, huge, and
mean
, although big, open chords still sounded detailed and absolutely dripped with harmonics.
The pickups in our test Goldtop were stock Gibsons (though, for an additional $100, Stadler will wind custom pickups with Forbon bobbins and alnico pole pieces). The neck pickup in particular offered a shining example of great P-90 sound, inspiring ill-fated attempts to cop classic Leslie West riffs. Rolling back the guitar's tone knob shaved off the highs, but also seemed to make the midrange hairier and slightly meaner. The in-between position on the pickup selector put a heaping selection of tones at my fingertips, too. Although it's not a pickup configuration I use often, the middle position turned out to be the position I used most, thanks to its excellent outof- phase tones and biting rhythm sounds. However, whether I used the pickups in tandem or on their own, they always provided an extraordinary playing experience.
One thing that was especially great about playing the Goldtop was how well I could feel the body and neck resonate. The fact that I was hanging onto each note longer than I normally would—the neck has a way of making you want to linger more than shred—made that resonance more noticeable, and that says something about how a guitar's design can shape the way you play. The Goldtop's design and tonal qualities brought me to the realm of honest, grooving rock, and kept me happy kicking out riffs in the vein of Tim Sult, Leslie West, and Malcolm Young for hours on end.

The Verdict
The Stadler Goldtop was a blast to play. It's not the most versatile guitar around, though I sense it wasn't meant to be. The combination of old-school design with carefully thought-out alterations—such as using butternut wood for the body—make it stand out from a lot of guitars going for a similar vibe. And it's a unique and super-classy-looking beauty that successfully fuses two of the most striking electric solidbodies ever built.
Watch the video review:
Buy if...
you like a substantial neck and you're after great resonance and expressive P-90 tones with a vintage feel.
Skip if...
you prefer a moderately sized neck and/or a wide variety of pickup-switching options.
Rating...