Cables, whether used for power, for linking pedals, connecting amplifier to speaker, or in the internal connections of an amplifier, offer different tonal qualities that will enhance, decrease, or be transparent to your tone
With all of the things that people have to alter, shape, and color their guitar tone, often times not a lot of thought is given to the actual path that leads to all of these components to begin with: wires. It may be easy to dismiss the importance of the quality of this path as simply "wire is wire," but that would be shortchanging the value of what it is that is actually carrying your signal to all those components that you worked so hard to obtain.


So, where do you begin? Are you going to tear open your amplifier and start changing all the wires? What wires were even used in the first place? Did the builder of this or that product even give any thought to wire quality? It is important to remember that what we are talking about here is quality. I am not speaking in terms of better or worse. Expensive does not equal better. Inexpensive does not equal worse. The point here is to realize that grades of quality are simply different. When building a quality amplifier, for example, careful consideration should be given to the sonic character of all wiring involved. The reason is to facilitate what is desired as the end result, not to be fancy. The fact is that certain wire colors the sounds differently than others. If I am aiming for transparency and for the instrument to be the voice of the amplifier, I should use wire that facilitates that.
Musicians will spend great amounts of time and money making sure their signal chain is wired true bypass, so that the electronics of their pedals do not affect their tone. They will spend hundreds on different tubes to shape their sound. All of these considerations are important and make a very real difference, but these same musicians will argue over whether or not the actual wiring powering those units makes any difference. A cracked and oxidized AC cord is degrading the tone of your prized amp. An upgrade to a standard quality AC cord will make a very noticeable difference. Upgrade that cable to something of high quality and you
will
hear an improved tone. An improved quality cable connecting that beautiful amp to that custom speaker cabinet will allow you to hear those pieces for what they have to offer.
Instrument cables are probably the most common form of wiring that the average player gives credence to. There are many types, brands, and grades of cables that result in a particular tone. Some cables actually sound different the direction they are played. It is true! If you were to go into any high-end recording studio you will see high-end cables. Is the reason for this because these cables have been so hyped up that high-end cable companies have fooled the entire industry, or is it because quality cables make a very real improvement in tone?
A low quality instrument cable can bring certain qualities to the table such as: hum, static (especially when the cable is moved), dull tone, and interference. These cables are also often unreliable and may not be doing your tone any favors. The aim with these types of cables simply is to transfer sound with less consideration given to the quality of that sound. I've seen many cheap cable companies offer "Lifetime Warranty" on their product. The problem with this is when the cable breaks you are then given a replacement of the same cable that has failed you!
When talking of high quality cable we are talking about attention to detail. Attention has been given to the purity of the metal (copper, silver, other), the quality of the plugs and the way the wires are insulated. Some high quality cables are constructed so that each strand of wire is actually coated so as to prevent noise and interference. Careful consideration is given to the wire gauge, resistance, capacitance, and inductance. Thicker wire gauge, for example, does not equate to better tone. A balance needs to be in place with regards to keeping the gauge large enough to handle the load placed upon it, but small enough to keep the capacitance and inductance low. Other important factors to consider are diameter of individual wire strands, the length of cable, aging of the cable, and durability. All of these factors contribute to a cable's frequency response and get us closer to what we are after: better tone. But since "better" is so subjective, let us just say "purer."
Another consideration when talking cables is that of break in. It is commonly known that speakers and tubes have a break in period to where they settle in. Wires are no different. An instrument cable, for example, will break in as it is continued to be used. What may start off as sounding tight becomes relaxed. You may notice a particular difference in the smoothness of bass response and the chime of the highs as the cable continues to break in.

The point of this article is to shed some light on an often overlooked component of a player's signal chain. It is important to bear in mind that any player should use whatever cable they are comfortable with using and whatever fits into their budget. Cables, whether used for power, for linking pedals, connecting amplifier to speaker, or in the internal connections of an amplifier, do offer different tonal qualities that will enhance, decrease, or be transparent to your tone. Which ones you choose to use is all part of shaping your sound.
Check in next month for a hands-on overview of a Dumble Overdrive Special.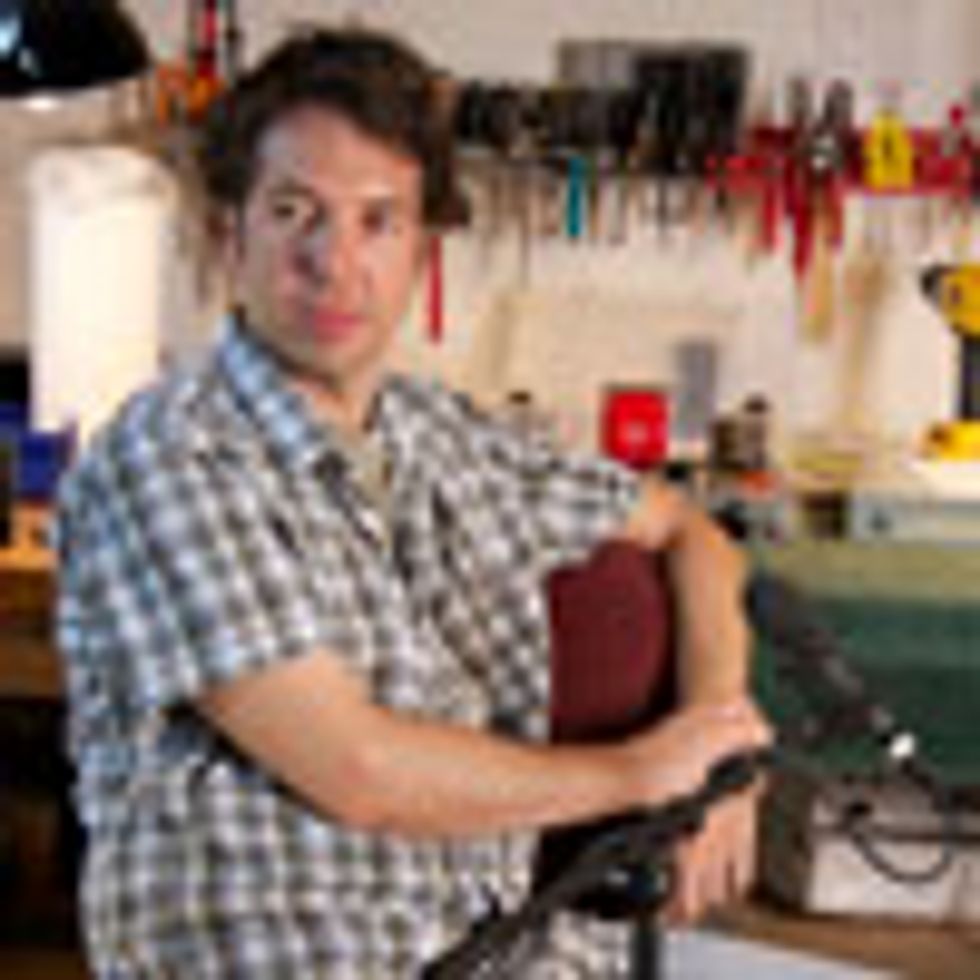 Tim Schroeder
is the President and chief engineer at Schroeder Audio Inc. of Chicago Illinois where he is responsible for new product design/construction as well as over seeing repair operations at Schroeder Guitar and Amplifier Repair.
schroederaudioinc.com
Download Example 1 Middle Switch Position Download Example 2 Neck pickup Clips recorded with a 1981 Marshall JCM800 halfstack. Few things in the average electric guitarist's life thrill quite
Few things in the average electric guitarist's life thrill quite like the sight of a goldtop—Gibson or otherwise. Classy, sophisticated, and given to aging gracefully, most goldtops tend to exude the same sense of refinement and elegance that Gibson's first goldtop
Les Paul
did when it was introduced in 1952. It's a look that has stood the test of time and that continues to inspire players and luthiers alike.
Having worked for Gibson and at the legendary Gruhn Guitars in Nashville, Thomas Stadler is one guitar builder who has seen his share of exquisite, exemplary, and important goldtop specimens. And his new Goldtop model is an homage to the original Gibson model (and at least one other very iconic electric), with a few modern design appointments.

Gold Rush
Stadler's gold-finished doublecut is striking for more than just its finish. The butternut body bears the unmistakable rounded profile of a Les Paul—at least from the endpin to the waist. But from the waist onward, the guitar's design is distinctly informed by Doug Irwin's legendary Tiger—Jerry Garcia's go-to axe from 1979 to 1990.
Unlike just about any goldtop Les Paul you're likely to see, the 24 3/4"-scale Stadler has a two-piece maple neck, which Stadler selected for the sonic clarity it lends a pair of P-90s. Stadler also used small, vintage-style fretwire and Kluson-style tuners. Other visible design enhancements for optimizing tone include the wraparound bridge—a patented Stadler design that's essentially a Gibson-style wraparound with a bone saddle.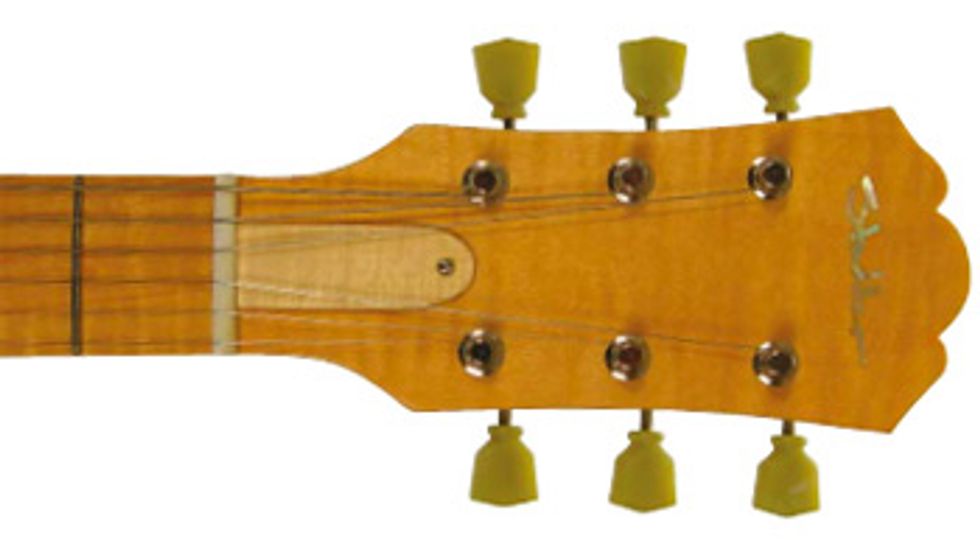 The combination of the butternut body with the maple neck is certainly unusual. Butternut is commonly used by wood sculptors and model enthusiasts, and is very similar to walnut in many regards—including grain and response to bending and sanding. Tonally, it's known to have deep overtones reminiscent of mahogany, but with an airy, open treble response similar to basswood. It's good to see a luthier exploring unconventional material options rather than sticking to the tried-and-true woods that have become so common in the guitar-making universe—especially on a guitar inspired by such archetypical instruments.

Worth Its Weight in Tone
The first thing most players will probably notice when they pick up a Stadler Goldtop is the size of the neck profile. I was taken aback by its massive, baseball bat-like quality, which evoked the feel of a 1958 Gibson Les Paul Standard reissue or even a Fender Jeff Beck Signature Strat.
The beefy neck helps make the Goldtop a riffing machine. It's certainly not a lightning-quick neck, and the smaller fretwire doesn't make things feel any faster—even though the fretboard is fairly flat. But the combination of the neck, pickups, and body construction compelled me to search for riff after corpulent riff to hang on to and hold. And plugging the guitar into a 1981 50-watt Marshall JCM800 half-stack turned out to be a perfect match for the Stadler. Every note was defined, huge, and
mean
, although big, open chords still sounded detailed and absolutely dripped with harmonics.
The pickups in our test Goldtop were stock Gibsons (though, for an additional $100, Stadler will wind custom pickups with Forbon bobbins and alnico pole pieces). The neck pickup in particular offered a shining example of great P-90 sound, inspiring ill-fated attempts to cop classic Leslie West riffs. Rolling back the guitar's tone knob shaved off the highs, but also seemed to make the midrange hairier and slightly meaner. The in-between position on the pickup selector put a heaping selection of tones at my fingertips, too. Although it's not a pickup configuration I use often, the middle position turned out to be the position I used most, thanks to its excellent outof- phase tones and biting rhythm sounds. However, whether I used the pickups in tandem or on their own, they always provided an extraordinary playing experience.
One thing that was especially great about playing the Goldtop was how well I could feel the body and neck resonate. The fact that I was hanging onto each note longer than I normally would—the neck has a way of making you want to linger more than shred—made that resonance more noticeable, and that says something about how a guitar's design can shape the way you play. The Goldtop's design and tonal qualities brought me to the realm of honest, grooving rock, and kept me happy kicking out riffs in the vein of Tim Sult, Leslie West, and Malcolm Young for hours on end.

The Verdict
The Stadler Goldtop was a blast to play. It's not the most versatile guitar around, though I sense it wasn't meant to be. The combination of old-school design with carefully thought-out alterations—such as using butternut wood for the body—make it stand out from a lot of guitars going for a similar vibe. And it's a unique and super-classy-looking beauty that successfully fuses two of the most striking electric solidbodies ever built.
Watch the video review:
Buy if...
you like a substantial neck and you're after great resonance and expressive P-90 tones with a vintage feel.
Skip if...
you prefer a moderately sized neck and/or a wide variety of pickup-switching options.
Rating...


The world-renowned fingerstyle guru talks about his new album, Vividly, breaking his effects addiction, and why he made DADGAD his go-to tuning more than 30 years ago.
Pierre Bensusan onstage with his trusty 32-year-old Lowden "Old Lady" acoustic at the Bornemouth Folk Club in Bornemouth, England, September 22, 2009. Photo by Paul Savine
A lot of great guitarists have made use of the DADGAD tuning—in which the open strings sound a Dsus4 chord—to break the constraints of concert tuning. That's because it's versatile and adaptable to Celtic tunes, raga, and Appalachian styles, among others. British folk pioneer Davy Graham used it extensively in the early '60s, and in his wake great rock players like Jimmy Page and Trey Anastasio have dabbled in it, too. But few instrumentalists have made so much from it as fingerstyle legend Pierre Bensusan. For nearly four decades now, Bensusan has used the tuning to play his highly personal blend of Celtic, Middle Eastern, jazz, and Brazilian strains.
The 53-year-old Bensusan was born in Oran, Algeria, and reared in Paris—an upbringing that would eventually lend a cosmopolitan sense to his music. Like many young musicians, he got caught up in the folk revival of the 1960s, strumming and singing songs in the mold of Woody Guthrie and Bob Dylan, before developing his trademark fingerstyle approach.
Bensusan was only 17 when he signed his first recording contract. A year later, his first album,
Près de Paris
(1975), won the Grand Prix du Disque at the Montreux Jazz Festival in Switzerland. Since then, Bensusan has released a handful of carefully conceived albums filled with compositions of orchestral-like complexity and stunning stylistic variety. Bensusan also wrote
The Guitar Book
to illuminate the concepts behind those records.
With his warm baritone voice and trademark scatting, Bensusan is also an accomplished singer. Unlike previous releases, his latest album,
Vividly
, is split evenly between instrumentals and pieces with vocals. But the recording has plenty to offer the guitar aficionado, including cluster chord voicings, unusual chord progressions, shimmering harp-style harmonics, and dense counterpoint.
We recently spoke with Bensusan about his influences, his short-lived foray into electronic effects, and more.

What were your formative musical experiences like?
I was 11 years old when I first got a guitar and mostly strummed it, accompanying myself singing French tunes and American folk songs. Then, when I heard the music of players like Bert Jansch and John Renbourn, that really gave me a kick in the pants and stimulated me to learn how to fingerpick and play solo, in a contrapuntal style.
How'd you get into using DADGAD tuning, and what was it about it that moved you so deeply?
Bensusan cradles a 23-string harp guitar built by Dave Evans. Photo by Doatea Bensusan
Early on, I discovered a lot of alternate tunings by just randomly playing around with my tuning pegs. After a while, I come to the conclusion that I had to stick to one tuning and learn the fretboard in it. I chose DADGAD for its versatility and have been using it exclusively since 1978. [
Ed.: In a rare deviation, Bensusan uses standard on his composition "Altiplanos."
] DADGAD is a flattering tuning, which means that you can remain at the surface of it and have an exciting time for a little while. But if you just play a lot of open-string voicings and don't really investigate the tuning's full potential, then you are going to sound just like everyone else. So I went about studying DADGAD carefully, playing around with many different scale and chord patterns, many different ideas and styles. After doing this a while, I was able to freely express myself in the tuning. Then DADGAD became invisible: I was playing the tuning—it wasn't playing me.
Tell us a little about the Lowden that has long been your main guitar.
In 1978, when I was touring Northern Ireland, I met a friend of George Lowden. Several months later, I saw a Lowden guitar in a shop in Paris, and I immediately fell in love with both the sound and look of the instrument. So I called the luthier immediately and asked him to make me a guitar with mahogany back and sides and a cedar top. I've played that guitar, which I call "Old Lady" [
Ed.: It is officially known as the model S22
], for almost 33 years now and have used it on all of my records. I also have another Lowden, my "New Lady," which is about three years old and is my signature model. It has a spruce top and rosewood body, giving it a different sound than my original Lowden. It's very responsive, has a lot of headroom, and is very clear and bright. What's amazing about the newer guitar is it can be so fast and effortless that you really have to pay attention to what you play so things don't get out of control. It forces me to approach things carefully, which is good.

In what way do you feel like the new guitar can contribute to things getting "out of control"?
If you aim right, that instrument gives you a 3-D rendition, close to perfection, but if you don't pay attention, you can get overwhelmed by the strength of projection. I am grateful that I have to pay that attention to how I touch it, which is the way it should be, and can only help me to become a better player.
How would you describe your compositional process?
I let my imagination play its role and then allow the guitar to take over. At the beginning, a new piece is just an idea that I have. Over several weeks or several months or several years, I'll start to incorporate my fingers without ever losing sight of the original concept. Technique can distort an idea, and I'm vigilant about watching out for that. In a way, composing has strengthened my instrumental technique—figuring out how to accurately express something on the guitar has greatly improved my knowledge of the fretboard and my touch on the instrument.
Bensusan plays a November 2009 gig in Germany with his 1978 Lowden flattop,
which features a cedar top and mahogany back and sides. Photo by Schramberg
So in the beginning a new piece is only in your head?
Very often, it is completely and only in my head and has nothing to do with the guitar. I like it to stay that way until I feel the time is right to give it an actual sonic form with what I have in my hands—a guitar—without losing the content to comfort zones dictated by my instrumental technique. Of course, I also find lots of inspiration just by wandering on the instrument. So, it's a combination of both—imagination
and
talking with the guitar, looking for the right notes.

Your style is all over the map. Can you pinpoint some of your influences?
Oh, they're so varied. It can go from Arabic music—I was born in North Africa—to Celtic music and songs from central France, Brazil, India, Cuba, Mali, and beyond. I'm a sponge and am constantly listening to a lot of different things. But at the end of the day, I'm trying to put all these different sounds—which I've learned not by studying techniques and theory, but through osmosis—through my own filter to see what comes out. My music is also influenced by my life today and the world in which we live, which is not the perfect place. And thanks to music, for the last 40 years I've been very fortunate to have traveled all over world, experiencing a lot of different cultures and geography. This has definitely informed my music as well.

You sometimes scat sing in the manner of George Benson. How did you get into that?
When I first heard [Brazilian singer-songwriter] Milton Nascimento, it occurred to me that he was not only a great singer but a painter who creates beautiful moods with the color of his voice, and that inspired me to augment my guitar playing with my voice. At the same time, I got into scatting through George Benson, and later I was influenced by the amazing things Bobby McFerrin does with his voice. But I've tried to scat and sing in my own way—what's the point of copying?



Bensusan played his entire set at the 1986 Festival d'été de Québec under an umbrella held by Bob Walsh. Photo by Henri Pichette

In the 1980s, you turned to effects to create lush acoustic-electric soundscapes, but it seems that lately you've all but abandoned electronics. Why is that?
I was reluctant to enter that world to start with, but once I did I went all the way. I was like a child in a toy store. It was amazing to discover ping-pong delays, to be able to record more than a minute of myself playing, then add layers and layers on top of that. I did sound-on-sound effects live onstage for 15 years, and my music reached a very inspiring place—though I know that some people weren't happy with my experiments. Using effects, I felt powerful, but that ended up being a very dangerous thing. I started to feel as if I couldn't function without effects—and that freaked me out. So, one day before a new tour began, I took a look at all my equipment and said to it, "You stay here— I'm going without you." I left for the tour with only my guitar and a cable, wanting to touch people with just the instrument.
At first, it was difficult to be stripped of effects. The guitar sounded so small, and on some sound systems, not so great. But I started to accept those sonic limitations and work within that dimension. I concentrated on things like making a beautiful vibrato tell a story, and after a while I got to a point where I could do a concert with no PA—just a guitar and a room. Now I bring a minimum of equipment on tour— my guitar, a volume pedal, a reverb unit, two microphones, a little guitar stand, a music stand for the lyrics so I don't forget them. And that's it, except for an electric fan to keep me cool—and that takes up the most space of all.
Has ditching effects changed your playing at all?
Yes. Effects, especially reverb, can greatly mask the sound of a guitar and cause you to forget its natural sound. When you just play a naked guitar, you're confronted by the pure tone and understand that it requires a lot of work and attention to make the instrument sound beautiful. When I stopped using effects, I found myself concentrating a lot on my right-hand attack and on my left-hand touch. I was forced to address the sound correctly on an acoustic level, and that's why these days I record without headphones and maybe add just a tiny bit of effects later in the recording process.
Tell us a little about your latest album, Vividly.
On the last recording [2001's
Intuite
], I put my singing aside. But this time I wanted to do a record where songs with lyrics and instrumentals shared the space equally. I tried to create a sequence of tunes that would make sense as a whole and would also make sense if you listen separately to the songs and the instrumentals. For each of the songs—some of which I was happy to collaborate on with my wife, Doatea, and a singer-songwriter friend from Los Angeles named Nina Swan—I was careful to record parts that didn't conflict with the lyrics. I wanted a listener to be able to pay attention to one element at a time without any confusion. In other words, I treated the voice and guitar like equal instruments. I'm very happy with
Vividly
, which some people have told me is my best record to date. My guitar tone has improved. I sing better than I did in the past. Most importantly, it's a record that shows where I am as a musician and as a person.
Improvisation seems to play a real prominent role in your music.
I try to be as spontaneous as possible by approaching a new composition with the notion that it'll never really be completed. I'll of course try to learn what I've written note-for-note, but very soon after that I will deviate from the piece and play it more freely, giving myself a bit of a vocabulary around the places that my fingers know. I'll follow a piece to where it leads me. Here's another way I look at improvisation: At the end of the day, everything we learn on our instrument has to be forgotten, because as much as you work hard to overcome the technical challenges that surface when you approach music, ultimately you need to ignore all that information in order to be fully attentive and reactive to what you are instantly composing.



The "New Lady" acoustic that Bensusan's signature Lowden is based on (shown here) features an Adirondack spruce top, Honduran rosewood back and sides, a Madagascar rosewood bridge, a 5-piece maple neck, ebony headstock overlay, and sycamore, rosewood, and mahogany purfling. Photo courtesy of George Lowden


What makes for a strong improviser?
It helps to have a thorough knowledge of the fretboard, to know the different locations of any given chord and its inversions, to have multiple positions for scales and modes under your fingers. At a certain point, though, you have to stop thinking about scales and actually play music. Music is much more than just a logical and harmonious juxtaposition of melodies. Inside all this, there is an intact abstraction— a brutal and vibrant jewel—calling for your senses, emotions, and all our human feelings. No words can describe that sensation. If there were, then there would be no need to play or listen to music anymore.
Pierre Bensusan's Gearbox
Guitars
1978 Lowden S-22 (dubbed "Old Lady"), Lowden Pierre Bensusan signature model (dubbed "New Lady"), signature Altiplanos archtop made by Michael Greenfield, Juan Miguel Carmona nylon-string, Kevin Ryan steel-string
Effects
Ernie Ball Volume Pedal, Zoom H4 handheld digital recorder (for reverb)
Amplification
Headway Pickups piezo pickup routed through Fishman internal preamp (60 percent of the signal), custom mic handmade in Michigan (40 percent of the signal), RØDE vocal mic
Strings and Picks
Wyres .013–.056 signature set, clear Dobro thumbpick