Tsakalis AudioWorks Six Review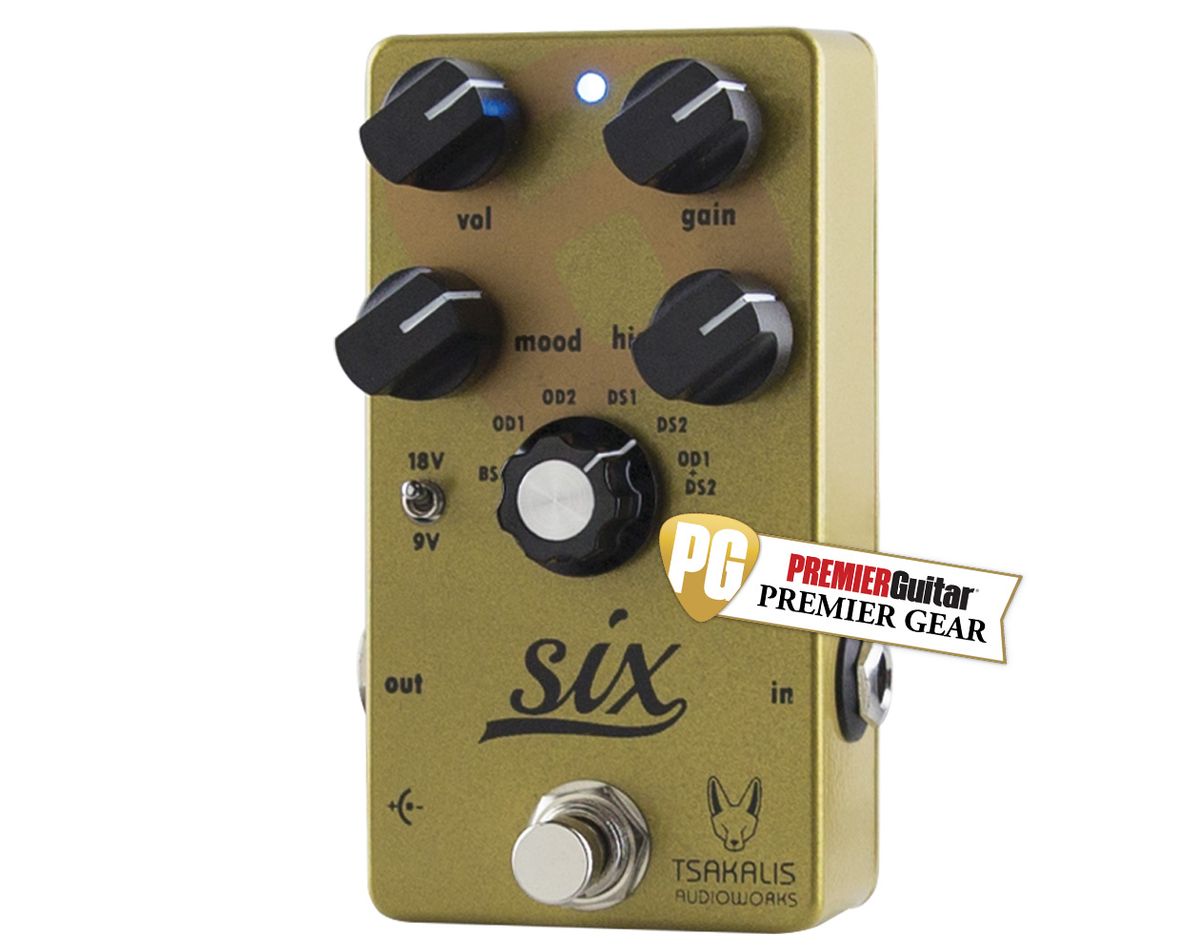 A sextet of superior overdrive and distortion voices adds up to dirt-crafting versatility.
First several clips Gibson Les Paul, bridge pickup, into a JTM45-style amp set for light crunch. Then Les Paul neck pickup into Fender Super Reverb amp.
0:00 – Les Paul into JTM45-style amp, pedal off.
0:06 – Pedal on, with all knobs at 50%; Mode-BS (boost), then switches through all other five settings.
0:52 – Gain raised to 70%
1:21 – Neck pickup into Super Reverb, pedal off.
1:27 – Pedal on, OD1 setting, all knobs 50%.
1:36 – DS2 setting, all knobs 50%.
 

Ratings

Pros:

Expansive palette of voices. Great dynamic range. Impressive low-end resonance and sustain. Slinky playability. Tuning stable. Virtually indestructible.

Cons:

It's a little pricey, but not outrageously so.

Street:

$239

Tsakalis AudioWorks Sixtsakalisaudioworks.com

Tones:Ease of Use:Build/Design:Value:
---
Based in Athens, Greece, former repairman Chris Tsakalis segued into full-time pedal building a few years ago after his design for a tube-driven overdrive caught on in his local scene. His new Six is the latest overdrive to package several variations of classic overdrives into one unit—in this case six voicings inspired by the popular Paul Cochrane Timmy, Marshall Bluesbreaker, and Analog Man King of Tone (KOT).
Golden Goose
The controls on the face of the Six are pretty simple. They include knobs for gain, volume, mood (a global tone control), and a high-pass filter—plus a 6-position rotary switch for selecting boost, overdrive, or distortion voicings. There's also a 9V/18V toggle switch that taps the internal voltage doubler. There is no battery option.
Inside the 4 1/4" x 2 1/4" x 1 1/8" box we find an extremely original circuit topology. After prototyping more traditional designs, Tsakalis removed all the coupling capacitors linking each stage along the signal flow. The result, he says, is a more natural-feeling pedal that better retains the character of the guitar played through it.
It's super articulate, clear, and defined from note to note.
Rotary Club
I tested the Six with a very Les Paul-like Patrick James Eggle Macon Single Cut and a Stratocaster-inspired Lentz SSL running into a tweed Deluxe-style 1x12 combo and a custom JTM45-style head with a 2x12 cabinet. The first setting on the dial, "BS," is a clean boost that delivers ably on that promise. The next four settings offer two overdrive variations and two distortion settings. The final position runs overdrive 1 and distortion 2 in series for more sizzle and saturation.
Honestly, every one of these settings sounds killer. And what impresses me most is the quality of the sounds that the Six reveals at every twist and turn. It's super articulate, clear, and defined from note to note. It also manages to be smooth and rich—a delectable combination of overdrive characteristics that makes it one of the best drive pedals I've played in a long time. The 9V/18V toggle offers a little more compression and fur in the 9V setting, and greater headroom in the 18V mode, which I generally preferred.
There's no super-high gain here, but whether you're boosting a Stratocaster with a clean amp for a little extra body, want to kick a Les Paul and non-master volume Marshall-style rig in the pants, or take an amp's lead channel to more saturated zones, the Six delivers outstanding results.
The Verdict
Tsakalis has taken his inspirations and turned them into a dirt pedal that offers great fidelity, rich overdrive, and impressive flexibility. It's not cheap, but it's not outrageous, either, given what you get for your investment—truly top-flight drive tones.
---