Vintage Vault: 1962 Epiphone Crestwood Custom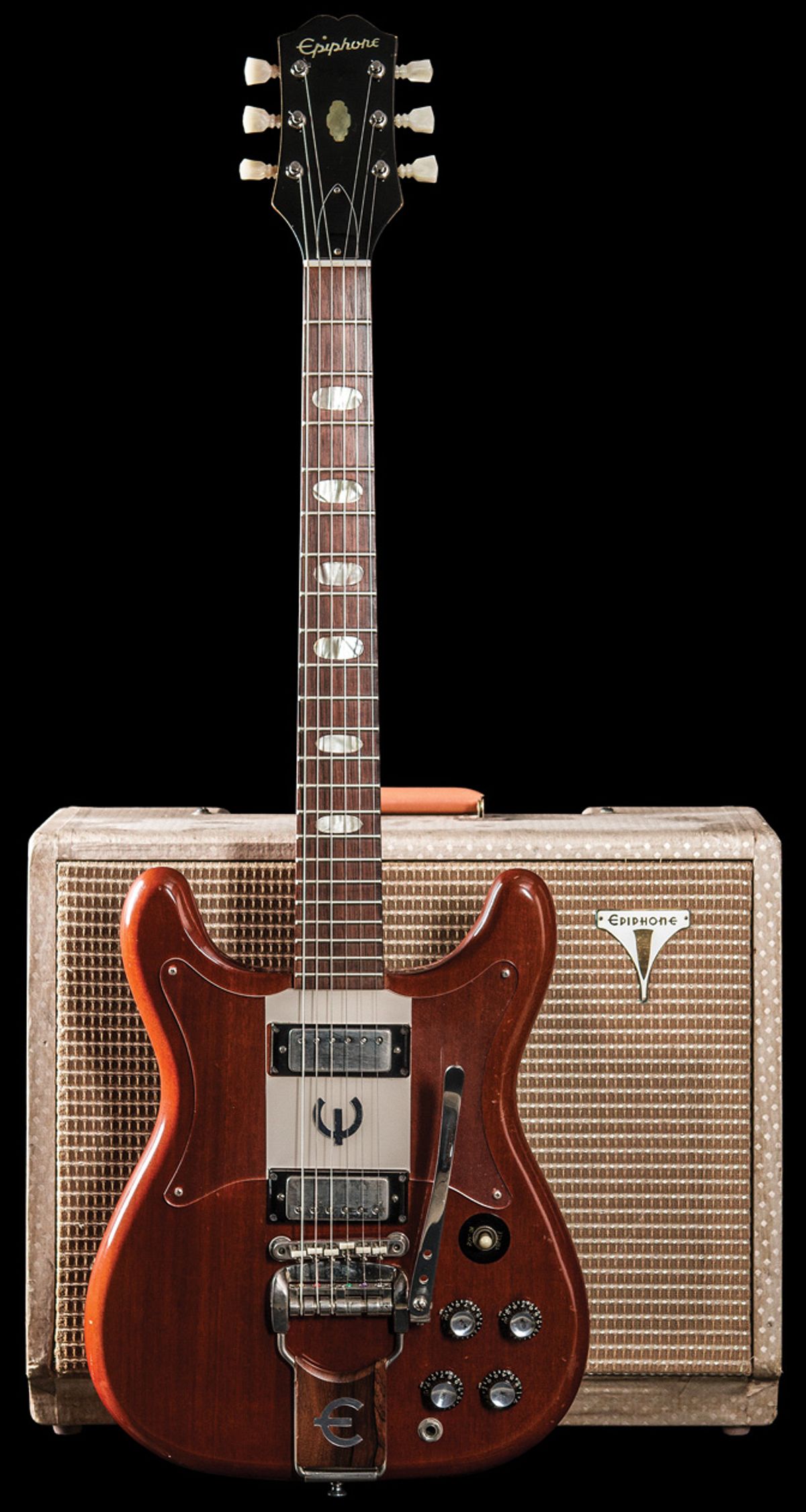 A deeper look at one of Epiphone's first solidbody production models.
Gibson purchased Epiphone, its major rival of the 1920s and '30s, in 1957. Production of new Epiphone guitars in Kalamazoo began in 1958, using a few parts left over from the old Epiphone factory in New York City. Most parts had been destroyed in a suspicious fire.
Familiar model names were used on many of the new guitars, including Triumph, Deluxe, Zenith, and Emperor. The electric thinline guitars (except the Emperor) had new names like the Sheraton (introduced in 1958) and the Casino (introduced in 1961). The solidbody line started with the two-pickup Crestwood and the one-pickup Coronet. These guitars had slab mahogany bodies, like Gibson's Les Paul Junior.
The original 1962 price for an Epiphone Crestwood Custom was $290, plus $50 for a hardshell case or $15 for a chipboard case.
By 1959, the Crestwood was renamed the Crestwood Custom, and its 1 3/4" body was slimmed to 1 3/8", with more-rounded edges. The existing stock of original Epiphone New York-made pickups was phased out and replaced with new mini-humbucking pickups by 1961.
The 1962 cherry red Epiphone Crestwood Custom featured this month has the standard appointments for that year, as described in the 1962 Epiphone catalog: "Tune-o-matic bridge permits adjusting string action and individual string lengths for perfect intonation. Tremotone vibrato adds pulsating effects–swings out of the way for rhythm playing. A beautiful Honduras mahogany body and neck with adjustable truss rod. Rosewood fingerboard with oval pearloid inlays … and all 22 frets above the cutaway for easy fingering. Clear plexiglass pickguard and nickel plated metal parts."

Note the elegant craftsmanship of this Crestwood Custom, with its wooden tailpiece cover, clear pickguard, and white plate between pickups. In addition to a mahogany slab body, this model also shares its pickup selector location with the SG.
The guitar's three-tuners-per-side headstock would change to six tuners in a row by 1963, with the body also becoming asymmetrical. The U.S.-made Crestwood Custom was discontinued in 1970.
The original 1962 price for an Epiphone Crestwood Custom was $290, plus $50 for a hardshell case or $15 for a chipboard case. The current market value is $3,500.

Gibson acquired Epiphone and moved manufacturing to Kalamazoo, Michigan, in 1958, the year before this Devon amp
was built. New, this amp and guitar combo had a list price of less than $400.
This Crestwood rests on a 1959 Epiphone EA-35 Devon amp. The name Devon was previously used for a budget Epiphone archtop, before the Gibson buyout. The original information sheet included in the back of the amp reads: "Its unbelievable value includes top-mounted four-tube chassis, top-mounted control panel, 9 watts output, two instrument inputs, Jensen 10" speaker, volume control, on-off switch, jeweled pilot light, protective fuse. Large professional size 20" wide, 16" high, 9" deep; weight 20 pounds."
The original price for this amp was $95. The current value is $500.
Sources for this article include Epiphone: The Complete History by Walter Carter, Gibson Electrics: The Classic Years by A.R. Duchssoir, and the Vintage Guitars Info website at guitarhq.com.