Vintage Vault: 1972 Fender Jaguar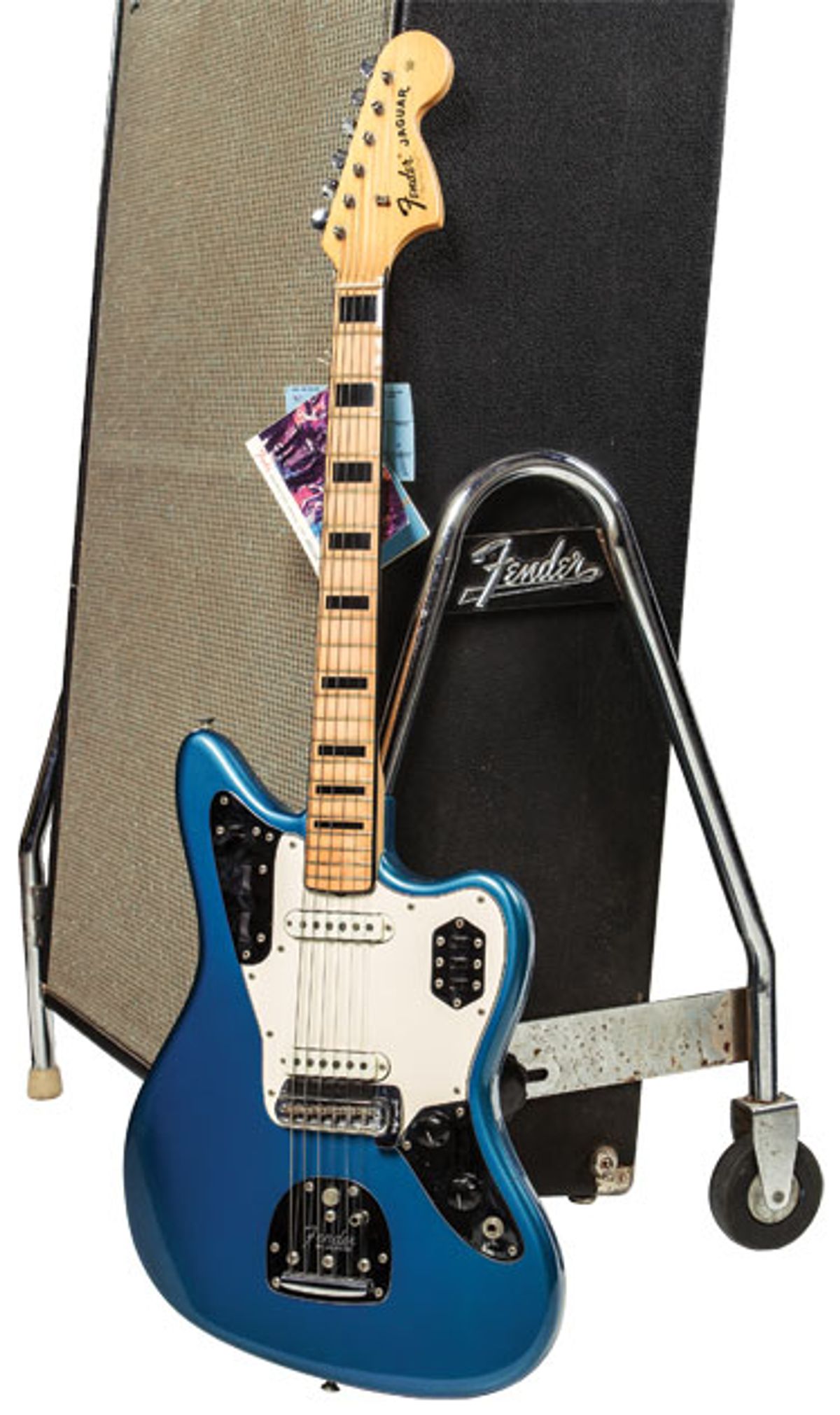 In its day, the Jaguar was Fender's top-of-the-line model.
In 1962, Fender launched the Jaguar as its top electric guitar model. Its offset body shape continued the look of 1958's Jazzmaster, yet the Jaguar also boasted a handful of new features, such as a 24" scale, a 22-fret neck, and tall, narrow pickups with metal surrounds to decrease noise. The shorter scale—a departure from Fender's standard 25 1/2" scale—and high-output pickups were meant to attract guitarists who were used to Gibsons.
The Jaguar's other novel elements included on/off switches for the pickups and tone circuits, a lead/rhythm selector switch, separate volume and tone controls for both lead and rhythm settings, and a foam string mute attached to the bridge. While the Jaguar wasn't widely accepted by Gibson players, it did briefly become the guitar of choice for mid-'60s surf guitarists. After being discontinued in 1975, Jaguars eventually found a niche in the hands of alternative rockers.

The large headstock and Fender logo are typical '70s features.
The 1972 Jaguar showcased here has typical '70s features, such as the large black Fender logo and thick polyester finish. The neck binding and block inlays (standard by 1966) are black for this maple-neck version. The neck and custom color options of this guitar were a $44 up-charge in 1972.
The 1972 list price for a Jaguar with a maple neck and custom color was $495, plus $65 for the case. The current value for this example in excellent all-original condition is $3,500.

Got a stamp? A mail-in postcard seems quaint in today's mobile world, but in those heady days of rock and funk, it was the only way Fender could gather data on its customers.
Towering behind the Jaguar is a 1968 Dual Showman Reverb amp. Released in 1960, the Showman was intended to be the "piggyback" version of the Twin with its four 6L6 power tubes. Reverb was added in 1968 to make it a counterpart to the Twin Reverb. This huge cabinet has two 15" JBL speakers and specially ordered tilt-back stand with wheels. The May 1969 list price for the Dual Showman Reverb top and bottom was $1,000. The stand was an extra $49.50. The amp's current value is $1,000.
Sources for this article include Fender: The Sound Heard 'Round the World by Richard R. Smith; Fender: The Golden Age 1946-1970 by Martin Kelly, Terry Foster, and Paul Kelly; and Fender Amps: The First Fifty Years by John Teagle and John Sprung.