What to Look for in a Case or Gigbag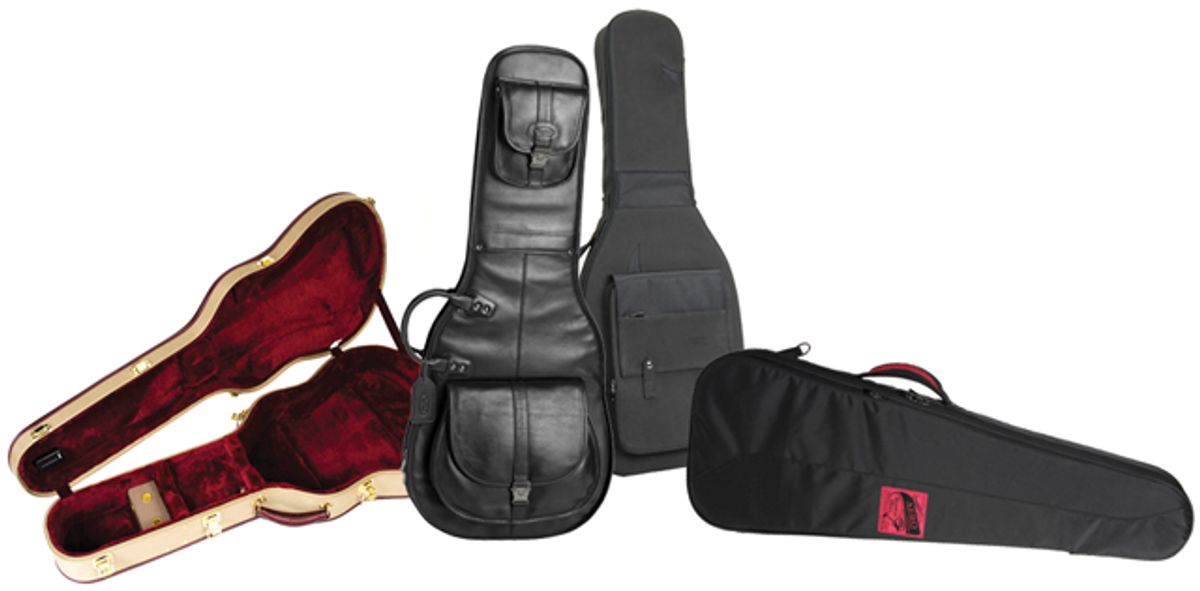 Left to right: Ameritage hardshell case, Reunion Blues Sonoma gigbag, Reunion Blues Continental gigbag, Reunion Blues Aero gigbag Some years ago, Andy Cabic, who now leads the band Vetiver,
Some years ago, Andy Cabic, who now leads the band Vetiver, was driving up Interstate 95 in his Honda Civic. His beloved 1967 Fender Mustang sat beside him, comfy in its soft, easy-to-schlep gigbag. Cabic reached across the seat to retrieve a cassette from off the floor, and when he sat back up it was too late—he slammed into a tractor-trailer that had stopped in the right lane. "I was lucky to be alive," says Cabic. The same couldn't be said for his guitar. "I still have the body—which is fine—but the neck was destroyed."
The incident speaks not just to the perils of distracted driving but to the importance of choosing a case or gigbag that will stand up to the rigors its likely to encounter while conveying your treasured instruments to and from jams, rehearsals, recording sessions, and performances. And despite horror stories like Cabic's, there aren't always clear-cut answers about what's best for your needs. For instance, enough factors come into play when you pit a Civic against a diesel—speed, height of the two vehicles' bumpers, airbags, and placement of the guitar—that a hardshell case won't necessarily guarantee that your axe emerges unscathed. Some of the more heavy-duty (and pricey) products on the market would probably do the trick in most nightmare scenarios, but then there's the question of whether you'd really want to lug around ultimate protection everyday. In other words, whether the trade-offs you encounter with a gigbag are worth it is up to the player and the circumstances. The average guitarist may find that the relative affordability and convenience of gigbags—which are lighter and more comfortable to transport, and which make it much easier to carry multiple instruments at once—outweigh the risks of one-in-a-million catastrophes. Players who regularly throw their gear into a van full of drum hardware and precariously positioned PA components may beg to differ.
But it's really not as simple as "soft vs. hard," because there are extreme variances within each category. Hardshell cases are available in models made from wood, plastic, or metal (or a mix of those), and both the finer points of their exteriors, as well as the strength and placement of the interior padding can provide very different types of protection—with some being deceptively unprotective [see the sidebar "Veer Away from Vintage"] and others being strong enough to withstand the abuses of negligent and/or sociopathic airline baggage handlers. Gigbags also vary from budget models with minimal padding and little to no protection from liquids to high-end designs with water- and tear-proof fabric and copious amounts of dense foam. Let's take a closer look at each category.
Veer Away from Vintage

Not long ago, L.A.-area blues guitarist Dave Widow learned a terrible lesson on the fallibility of some vintage guitar cases. "I had my Gibson Custom Shop 'Beano' Les Paul in an exact replica of a late-1950s case. It fell from a standing position and the neck broke in two—ouch!"
While many period-correct reproduction cases on the market look cool, most don't offer nearly the impact protection that a good modern case does, particularly in the neck area. This is especially important for Gibson models that are notoriously susceptible to headstock breakage.
If you're the owner of a vintage guitar with its original case, consider keeping the case in a safe place and buying a new one to use for gigging and travel. Not only will this offer superior protection, it will help preserve the original case, which will be useful if down the road you decide to sell the guitar.
Gigbags
If you're usually schlepping one or more axes to local gigs, rehearsals, or jam sessions, then you'll benefit from having a gigbag to ease your load. A gigbag typically has a fabric or leather exterior with inner padding that varies in density and thickness (usually between a half inch and an inch thick) as you move up the price ladder. The most protective gigbags also have added support in vulnerable areas like the neck. Pretty much all gigbags have two shoulder straps and at least one carrying handle, and virtually all are secured with a heavy-duty zipper. Unlike hardshell cases, the typical gigbag has an outer compartment large enough to accommodate sheet music, in addition to smaller items like picks, strings, and capos.
"I prefer gigbags because they're lighter and I can carry them on my shoulder," says Mac Randall, a guitarist and music journalist in New York City who still uses the same Mooradian gigbags he bought 20 years ago for their superior protectiveness. "All my electric guitars—a late-'70s Strat, an early-'70s Les Paul Custom, and a mid-'90s Tele with B-Bender—are fairly heavy, so I appreciate every break I can get on overall weight." He adds, "I will opt for hardshell cases when longer travel's involved, though—either road or plane." You can score a Mooradian standard gigbag like Randall's, for any type of acoustic or electric guitar or bass, for around $220. (All prices quoted in this article are street.)
For those who prefer the svelteness of a gigbag, one of the top names is Reunion Blues. The bags in their Continental Series go for about $200 and strike a nice balance between portability and protection. These water-resistant bags have high-density, dual-layer foam and an internal neck-brace system. Of a Continental prototype, Leah Murphy, Reunion Blues' director of marketing, says, "After we tested it in various scenarios, we knew that people would still hold onto old beliefs, so we did the unthinkable—with a Stratocaster inside, we dropped it off a three-story building and onto gravel and loose concrete. It survived every time, without a scratch. Although we do not condone doing this at home—nor do we claim our cases will survive every drop from a building—there is something to be said [for the stellar test results]."
Another reliable name is Levy's Leathers, whose gigbags feature 1"-thick foam interiors and are often luxurious enough to set you back more than $500. For around the same price, Levy's also offers a series of unique double gigbags, including the polyester CM series or the leather LM series, that can accommodate an acoustic and an electric guitar, two electric guitars, or two bass guitars. And for the cash-strapped, the company also offers nylon bags in its EM series with less padding that come in under the $100 mark. Other companies worth considering include Fusion, with its sporty F1 ($200); Gator, offering the very utilitarian Commander ($160); Mono, whose super-rugged Vertigo is a unique, top-loading option ($200); and Access, with the luxurious Harvest series of cowhide-, buffalo-, and crocodile-covered bags (from $429).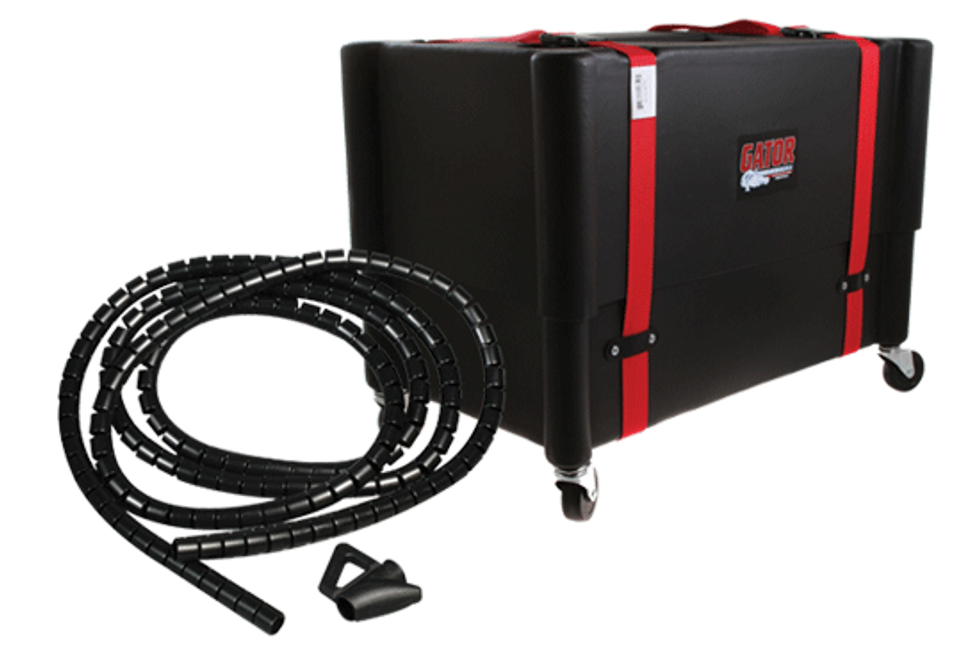 Left to right: Monster Cable's Cable-It, Gator's G-ROTO-112
Handy Extras to Take Along with Your Case or Gigbag

In addition to the proper guitar case, a few essential pieces of onstage gear will help you keep everything in order at jams, rehearsals, and recording or performing gigs. A good guitar stand such as Musician's Gear tubular model ($10) or Hercules with folding yoke ($49) is a no-brainer that avoids tragic falls when you think your guitar is leaning against an amp, wall, or chair. If you need one that accommodates multiple axes, the K&M Guardian comes in versions that hold either three ($190) or five ($230 street) electric, acoustic, or bass guitars in a row. Ultracases GSX models are rugged road cases that open up into a stand that can accommodate or four ($399), six ($449), or eight ($499) guitars. Similarly, Fender offers a guitar-case stand that resembles a vintage tweed or black case when closed, but opens to hold either three ($250) or seven ($310) guitars. One benefit of the several-in-a-row-type stands is that they're much less prone to tipping over than conventional single-guitar types.
Whichever stand you choose, make sure it's one that doesn't feature materials that can damage or chemically alter the finish type of your guitar (nitrocellulose lacquer finishes are particularly prone to this discoloration). And even if the stand is chemically safe for your finish, it wouldn't be a bad idea to cover the points of contact with scraps of soft cotton in order to prevent damage.
Given how many of us are using combo amps these days, another great take-along tool is a stand to get your amp off the floor and where you and the audience can hear it better. Sure, you can try the cheap milk-crate option or maybe a chair, though neither is particularly stable—and definitely not adjustable. For a minimal investment, the On-Stage RS7000 ($40) is adjustable for height and tilt angle, and its rubber pads and feet grip the amplifier and prevent the stand from sliding. Other makers to check out include Musician's Gear, whose Deluxe Amp Stand is an affordable option at $20; Ultimate Support, offering the compact Amp-150 Genesis stand with folding arms and legs ($30); and Quik-Lok, which designed its double-brace low-profile stand with large amps in mind ($50).
Another aspect you might want to consider about your amp is that it's often as vulnerable as your guitars during transport. So, it's never a bad idea to stow them in cases when not in use. Some of the manufacturers featured in this piece—Anvil, SKB, and Gator—offer roadworthy cases for any type of amp, from a 1x12 combo to a 4x12 cabinet In the Fly Anvil line (from $285) you'll find a relatively lightweight option for everything from a 100-watt head to a 2x12 combo. SKB's neat Amp Utility Vehicle ($385) fi ts any 2x12 and doubles as a riser for onstage projection. And Gator has a range of sensibly priced amp cases from the G-ROTO-112 ($105) for a 1x12 combo to the G-ROTO-212 ($125) for a 2x12. Whatever case you choose for your amp, be sure it has some serious casters—three inches in diameter, at minimum—to provide a smoother roll, which translates to less potential shock to the amplifier parts and circuitry inside.
And, finally, cable clutter is a musician's enemy, and there are a number of easy ways to fight it. Planet Waves makes elastic ties ($9 for a 10-pack) that will keep your 1/4" cables unkinked and neatly organized. Monster Cable's Cable-It (from $19.95) is a cable-management kit that zips up a bunch of cables into one unit—perfect for guitarists and bassists with complicated setups.
All of these solutions remove potential distractions from what's most important—keeping your mind on making music when it's time to hit the stage.
Hardshell Cases
Traditional hardshell cases are typically made from a multi-ply wooden structure covered with a material such as vinyl, a textile such as tweed, or leather. This type usually either follows the contours of the guitar (similar to most Gibson acoustic or electric cases) or is rectangular, like those for Fender solidbodies. It is secured with a series of metal latches and carried with a handle made from plastic or leather. Some hardshell cases also include a pair of hooks designed to accommodate a strap for carrying. Many also have metal feet on the butt end to protect their coverings when placed in a vertical position, and on the bottom to keep them level when horizontal.
Many moderate- and most high-priced guitars come with hardshell cases, and if you're a bedroom rocker, or if you play local gigs and have a streamlined rig with little to carry other than your axe, then this may be your preferred method of transport. If you acquire an instrument that doesn't include any sort of case, or it came with a gigbag and you're worried it won't provide enough protection (which may not always be the, er, case—again, it all depends on your playing circumstances), one obvious solution is to simply buy the model of hardshell case offered by the instrument manufacturer.
But there are many other options for a good wooden hardshell case at all price points. For less than $100, companies like Gator and Silver Creek offer well-built wooden cases with Tolex covering (the faux-leather material used on many amplifiers) in a range of sizes that will fit everything from parlor-sized acoustics to Precision bass–style solidbodies. TKL—which manufactures many of the cases that come with new instruments from Gibson, Martin, and others—offers a similar style of case, the Prestige, that has a tougher DuraHyde covering, a thickly padded interior, and a roomier accessory compartment. These start at around $90 street.
If you want the snuggest possible fit for your guitar or bass—especially if you've got one in a nonstandard size or shape—then a custom hard case is the way to go. Fill out a spec sheet with a couple dozen measurements of your guitar, and a company like Cedar Creek (a division of TKL) or C&G (which also makes cases for the Fender Custom Shop and Paul Reed Smith, among many other high-end clients) can build you a smart case with your choice of exterior and inner coverings, hardware packages, and other options.
Erich Solomon, a master luthier who ships many of his finished archtops with an American Vintage Series CC720 Cedar Creek case, is a staunch proponent of making sure a case hugs its contents tightly—a fit that is pretty much guaranteed with a custom build. "A proper fit is a must for any decent guitar case, especially in regards to the way the neck and neck angle are addressed in the case," says Solomon. "If the neck is supported on too short of a distance—or the neck angle is not correct and the body falls too deeply into the case, and the neck just contacts in one spot—if there is a shock, it will act as a fulcrum, and potentially cause damage to the instrument." This is why Solomon says it's critical to take precise measurements of your axe when ordering a custom case.
In the late 1970s, SKB pioneered an alternative to wooden cases—the acrylonitrile butadiene styrene molded hardshell case. Better known as ABS plastic, this is the same lightweight, resilient material used for athletic helmets, sprinkler pipes, and car bumpers. SKB currently offers its vacuum-molded ABS cases—made by pouring warm thermoplastic into a mold and applying suction—to fit a wide range of guitar and bass styles. The SKB-FS6, for instance, with its universal fit for almost any solidbody electric guitar, has a street price of $100. At the other end of the spectrum, beginning at around $500, Hiscox offers its Liteflite case, available in the Standard, Pro II, and Artist versions, with an ABS outer layer and a semi-rigid cellular foam inner layer with thermal insulation. The standard case has a crush resistance of more than 1,100 pounds, as is neatly demonstrated in a video on the company's website, while the Artist series is four times as resistant to impact and puncture.

Hoffee makes sturdy hardshell guitar cases out of highly stable carbon fiber.
Other companies such as Musicians' Gear, Guardian, Superior, and Crossrock use lightweight, impact-resistant fiberglass in place of a wooden shell. These typically have what's sometimes called a "universal fit" to accommodate a range of instrument styles, many for less than $200. Calton Cases also makes high-end, extra-heavy-duty fiberglass cases that can be ordered for any type of guitar or bass. Prices start at about $750. Many pros, including Andy Cabic, swear by their Caltons for touring, even with air travel. "I keep my acoustic—a Martin 000-15—in a Calton case, which is indestructible and amazing," says Cabic.
Just as some guitar makers have turned to carbon fiber as a substitute for wood, Accord and Hoffee are two companies using this highly stable material to protect instruments in transit. Coupled with the highest quality hardware, these lightweight cases are exceptionally protective, and both brands can fit a case for your specific instrument based on measurements you provide. They're among the finest hardshell cases you can buy, with prices to match—they start at around $1,000. "We make cases out of carbon fiber because it is one of the best materials available, in terms of the strength-to-weight ratio," says Jeff Hoffee of Hoffee Cases. "It provides great strength while reducing weight as much as possible. In addition, the weave pattern of carbon fiber makes our cases very attractive."
In its Gold Series, Ameritage makes an interesting hybrid case that starts at around $400 for acoustic, electric, and bass guitars. It uses a strong, 6-ply wooden shell covered in ultraviolet- and tear-resistant Cordura—a material often used for gigbags. Inside the case, Ameritage's proprietary suspension system—a series of highly supportive pads—envelopes the guitar to protect it from shock, while a combination hygrometer/thermometer monitors the environment and works in tandem with Ameritage's built-in Humidity Control System to keep the interior "climate" ideal—a huge plus for acoustic guitars traveling between varying external climates.
Flight Cases
Players who often have to entrust their instruments to throw-happy luggage handlers or similarly rugged conditions can likely identify with singer-songwriter Dave Carroll, whose "United Breaks Guitars" songs and videos on YouTube lament the demise of his Taylor 710 at the hands of the airline's workers. And maybe you've heard the sad story of the 1965 Gibson ES-335 that belonged to Dave Schneider, singer and guitarist in the Zambonis and the LeeVees. On a recent flight, Schneider was forced to check the guitar (which was stored in a modern hardshell case) with other luggage. It got stuck in an elevator when it was being unloaded. The case was destroyed and the instrument sustained heavy damage. "It was an emotional TSA [Transportation Security Administration] moment," says Schneider of the instant he was reunited with the guitar after a worker spent an hour freeing it.
If you often fly with your guitar and check it as baggage, then a case designed and tested specifically for this type of travel is a wise investment. Many touring musicians swear by Calton and Accord flight cases, but companies such as Gator also make flight cases for those on more modest budgets. For $140 street, you can get a Gator ATA molded case that's made from tough, military-grade polyethylene and features a Transport Safety Administration-approved locking center latch—a lock that allows a TSA officer to easily open the case for inspection while keeping it impenetrable by other airport personnel. These cases have a plush, universal-fit interior that accepts any bass or guitar. For $100 more, the company offers its G-TOUR flight cases with heavy-duty plywood construction, aluminum-reinforced corners, and recessed twist latches.
Anvil/Calzone, which also makes cases for sensitive military, medical, and aerospace equipment, makes standard Airport Transportation Administration-approved cases for Les Pauls (around $450), Stratocasters ($450), and P basses ($500). The company says the cases are 30 percent lighter than standard flight cases but just as shock and drop resistant. They can also be custom ordered to fit any guitar or bass, and they're available in a rainbow of exterior and interior colors.

SKB's 3i series of waterproof flight cases uses molded thermoplastic and plush padding for apt protection.
Another good bet for air travel are the injection-molded ATA cases from SKB (like the 3i-4214-66 for Stratocaster- or Telecaster-style guitars, which goes for around $250). Formed by feeding plastic into a heating mold and letting it cool and harden to the shape of the mold, this military-grade design is made of an ultra-high-strength polypropylene copolymer resin that's airtight, water resistant, and resistant to corrosion and fungus—attributes that make them good candidates for, say, a home that may be prone to a waterlogging situation like a basement flood. These SKBs are available for a variety of guitar and bass types, and they feature a patented trigger-release latch system with TSA locks and wheels for easy transport. "You can drop one of these cases with a guitar in it in the ocean," says SKB product manager Will Steven, "and it will float. Put some weight on it and it will sink. Then, when you remove the case from the water and open it, the guitar will be completely dry."
Case Extreme has a unique take with its crush-resistant shells coined The Clam, which start at around $270 and feature an outer layer of aerospace-grade plastic. Inside, they use a series of thick foam pads to sheathe standard hardshell cases or even gigbags. The company also offers models (like the CXLP for a Les Paul or the CXFS for a Strat) that cradle a guitar or bass in 3" foam padding and prevent the instrument from touching the walls of the case. These cases, which start at $300, can withstand an 850-pound crush test, and they can also be built to accommodate any type of instrument—or even two in one.
A Case for Every Case
As we said at the beginning, which case you buy for your guitars is really a case-by-case decision. It could be that you only need the case your instrument came with. You may also find that the hardshell case that came with your bass is a bit cumbersome for what you usually do. Or, you might benefit from having as many as three different types: a gigbag for local shows, a hardshell case for gigs involving longer travel on the road, and a flight case for dates requiring air travel. Assess your needs and select the very best you can afford in whichever category meets your needs. And remember, models that inhibit the bass or guitar from moving around inside and offer optimal support to vulnerable areas like the neck are going to safeguard your babies better than those that don't. Take this precaution, and you're much less likely to receive a nasty, costly surprise when you open your case after your next trip—regardless of whether it's a long or short jaunt.
Manufacturers & Dealers Index
Whether you're looking for the ideal case or gigbag for your acoustic or electric guitar or bass, or you need a variety of onstage accessories, the following manufacturers offer quality gear that runs the gamut of prices and applications. Check out their websites for details, as well as pricing and contact information.
Cases & Gigbags
A&S Case Company -- ascase.com
Access Bags and Cases -- carryaccess.com
Ace Products -- aceproducts.com
Anvil -- anvilcase.com
Bam Cases -- bamcases.com
BoWoo Bags -- bowootheworld.com
Brady Cases -- bradycases.com
Calzone Case Co. -- calzonecase.com
Cedar Creek -- cedarcreekcases.com
Coffin Case -- coffincase.com
Crossrock Cases -- kingstarintl.com
Custom Amp Covers -- amplifiercovers.com
D2F Amp Covers -- d2fcovers.com
Fusion Bags -- fusionbagsusa.com
G&G Quality Case -- ggqualitycase.com
Gator Cases -- gatorcases.com
Guitar Fetish -- guitarfetish.com
Ameritage / GWW Cases -- gwwcases.com
Hiscox Cases -- hiscoxcases.com
Hoffee Cases -- hoffeecases.com
Karura Cases -- karuracase.com
Levy's Leathers -- levysleathers.com
MONO Case -- monocase.com
Reunion Blues -- reunionblues.com
Ritter Bags -- ritter-bags.com
Road Ready Cases -- roadreadycases.com
Road Runner Cases -- roadrunnercases.com
Rock Hard Road Cases -- rockhardcases.com
SKB Cases -- skbcases.com
TKL Cases -- tkl.com
Stands
Cooperstand --
cooperstand.com
Corrado Music Stands --
corradomusicstands.com
Goby Labs --
gobylabs.com
Hercules --
herculesstands.com
Konig & Meyer --
k-m.de
On-Stage Stands --
onstagestands.com
Rock Solid Guitar Stands --
rocksolidguitarstands.com
Triad Corp Standback --
standback.net
Ultimate Support --
ultimatesupport.com
Straps
Bitchstraps --
bitchstraps.com
Couch Guitar Straps --
couchguitarstraps.com
DiMarzio --
dimarzio.com
Dunlop --
jimdunlop.com
El Dorado Straps --
eldoradostraps.com
Ernie Ball --
ernieball.com
Get'm Get'm --
getmgetm.com
Jodi Head --
jodihead.com
Lakota Leathers --
lakotaleathers.com
LM Products --
lmproducts.com
Moody Leather --
moodyleather.com
Neotech Straps --
neotechstraps.com
Onori Straps --
onoriintl.com
Perri's Leather --
perris.ca
Planet Waves / D'Addario --
planetwaves.com
Poerava Straps --
poerava.net
Red Monkey Designs --
redmonkeydesigns.com
Revo Guitar Straps --
therevonation.com
Souldier Straps --
souldier.us
Superfly Straps --
superflyguitarstraps.com
Trophy Straps --
trophystraps.com
Wide Rides Guitar Straps --
widerides.com
Other
BR Custom Pedalboard Covers --
pedalboardcovers.com
Cruz Tools --
cruztools.com
Pedal Pad --
pedalpad.com
Pedal Snake --
pedalsnake.com
Stagetrix Pedal Risers --
stagetrixproducts.com