When a trio of pickups just won't do, try a quartet.
Every now and then I spot a guitar that just floors me with its looks. This 1967 MaxiTone is one of those (Photo 1). I spotted this Japanese solidbody on eBay and it immediately knocked me out. Not only because of its four pickups, but that green-sparkle finish is so over the top. Just check out the back (Photo 2) and matching headstock (Photo 3).

Photo 2
These models originally came from the factory with a rather boring sunburst finish, but somewhere along the line that was replaced with emerald green metal-flake paint. Normally a refin on an older instrument will lower its resale value, but I think sometimes the right refin can actually improve a guitar's worth if the original finish looked fairly pedestrian. Time will tell on this one.
The guitar spent some time on eBay with the seller lowering the "Buy It Now" price every week for a few weeks. When it reached $240, I could stand it no longer and pulled the trigger. Shipping was $40, but the seller said that if the shipping came to less than that, he would refund the difference. Shipping came to $17, and true to his word, he refunded $23, bringing my total to $257.
Ah yes ... it's good to hear the sound of the '60s again.

My MaxiTone arrived safely, and after testing it to make sure everything worked, I put on new strings and did a setup. The seller must have already done some work because the guitar was really easy to play and everything functioned properly—unusual for a '60s Japanese electric.
Bottom Feeder Tip #289: Always test a guitar as soon as you receive it. If there's a problem, it's best to contact the seller immediately to resolve any issues before you waste your time working on something you might have to send back.
The moment of truth came when I plugged it in. Ah yes ... it's good to hear the sound of the '60s again.

Photo 3
Usually when a guitar has three or four pickups, they really interfere with my right-hand technique. But on this model, the pickups are grouped in pairs (Photo 4), and this leaves enough room between the pairs for fingerpicking—nice. Actually, that was one of the selling points for me.
I also like the old on/off rocker switches—one for each pickup—and this simple scheme yields a plethora of pickup combinations. The switches were a little scratchy, so I sprayed some contact cleaner on them, as well as on the volume and tone pots to clean up their sound.

Photo 4
The only problem I need to solve is the angle of the strings as they come over the bridge, heading into the trem. Sometimes I accidentally pluck the treble strings out of their saddles when I switch over to hybrid picking. Down the road I'll need to find a way to create a steeper angle across the saddles, but without modifying the guitar and lowering its resale value. I'll find a way because this guitar is worth the extra effort.
So is it a keeper? Oh yeah, I've never owned a guitar that sounds quite like it. Plus the color still floors me whenever I open the case!
Looking for more great gear for the guitar player in your life (yourself included!)? Check out this year's Holiday Gear Finds!
This full-amp-stack-in-a-box pedal brings a new flavor to the Guitar Legend Tone Series of pedals, Missing Link Audio's flagship product line.
Adding to the company's line of premium-quality effects pedals, Missing Link Audio has unleashed the new AC/Overdrive pedal. This full-amp-stack-in-a-box pedal – the only Angus & Malcom all-in-one stompbox on the market – brings a new flavor to the Guitar Legend Tone Series of pedals, Missing Link Audio's flagship product line.
The AC/OD layout has three knobs to control Volume, Gain and Tone. That user-friendly format is perfect for quickly getting your ideal tone, and it also offers a ton of versatility. MLA's new AC/OD absolutely nails the Angus tone from the days of "High Voltage" to "Back in Black". You can also easily dial inMalcom with the turn of a knob. The pedal covers a broad range of sonic terrain, from boost to hot overdrive to complete tube-like saturation. The pedal is designed to leave on all the time and is very touch responsive. You can get everything from fat rhythm tones to a perfect lead tone just by using your guitar's volume knob and your right-hand attack.
Features 
Three knobs to control Volume, Gain and Tone
Die-cast aluminum cases for gig-worthy durability
Limited lifetime warranty
True bypass on/off switch
9-volt DC input
Made in the USA
MLA Pedals AC/OD - Music & Demo by A. Barrero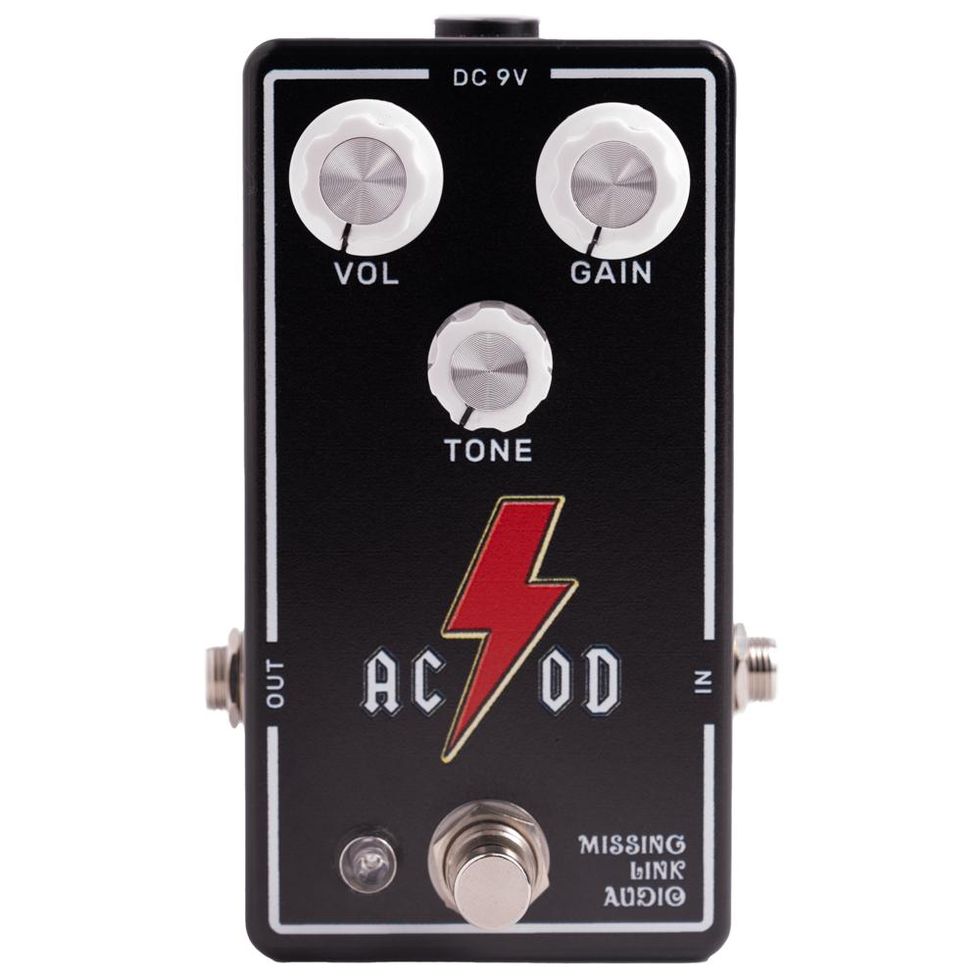 www.mlapedals.com.
Sporting custom artwork etched onto the covers, the Railhammer Billy Corgan Z-One Humcutters are designed to offer a fat midrange and a smooth top end.
Billy Corgan was looking for something for heavier Smashing Pumpkins songs, so Joe Naylor designed the Railhammer Billy Corgan Z-One pickup. Sporting custom artwork etched onto the covers, the Railhammer Billy Corgan Z-One Humcutters have a fat midrange and a smooth top end. This pickup combines the drive and sustain of a humbucker with the percussive attack and string clarity of a P90. Get beefy P90 tone plus amp-pummeling output with the Railhammer Billy Corgan Z-One.
Patented Railhammer Pickups take passive guitar pickups to a new level with rails under the wound strings lead to tighter lows, and poles under the plain strings offer fatter heights. With increased clarity, the passive pickup's tone is never sterile.
Railhammer Billy Corgan Signature Z-One Pickup Demo
Designed for utmost comfort and performance, the Vertigo Ultra Bass is Mono's answer to those who seek the ultimate gigging experience.
Complete with a range of game-changing design features, such as the patent-pending attachable FREERIDE Wheel System, premium water-resistant and reflective materials, shockproof shell structure and improved ergonomic features, the Vertigo Ultra Bass takes gear protection to the next level.
The Vertigo Ultra Bass features:
Patent-pending FREERIDE Wheel System that allows for wheels to be attached on the case in no time, giving you the option to travel with it seamlessly
Upgraded materials, including a water-resistant 1680D Ballistic Nylon outer shell, plush inner lining and new reflective trim for maximum backstage and night visibility
Enhanced protection with a shockproof shell structure and heavy-duty water-resistant YKK zippers for protection from the elements
Improved ergonomics and functionality including added back support and load-lifting detachable shoulder straps with side release buckles
Flexible storage options with added space for touring essentials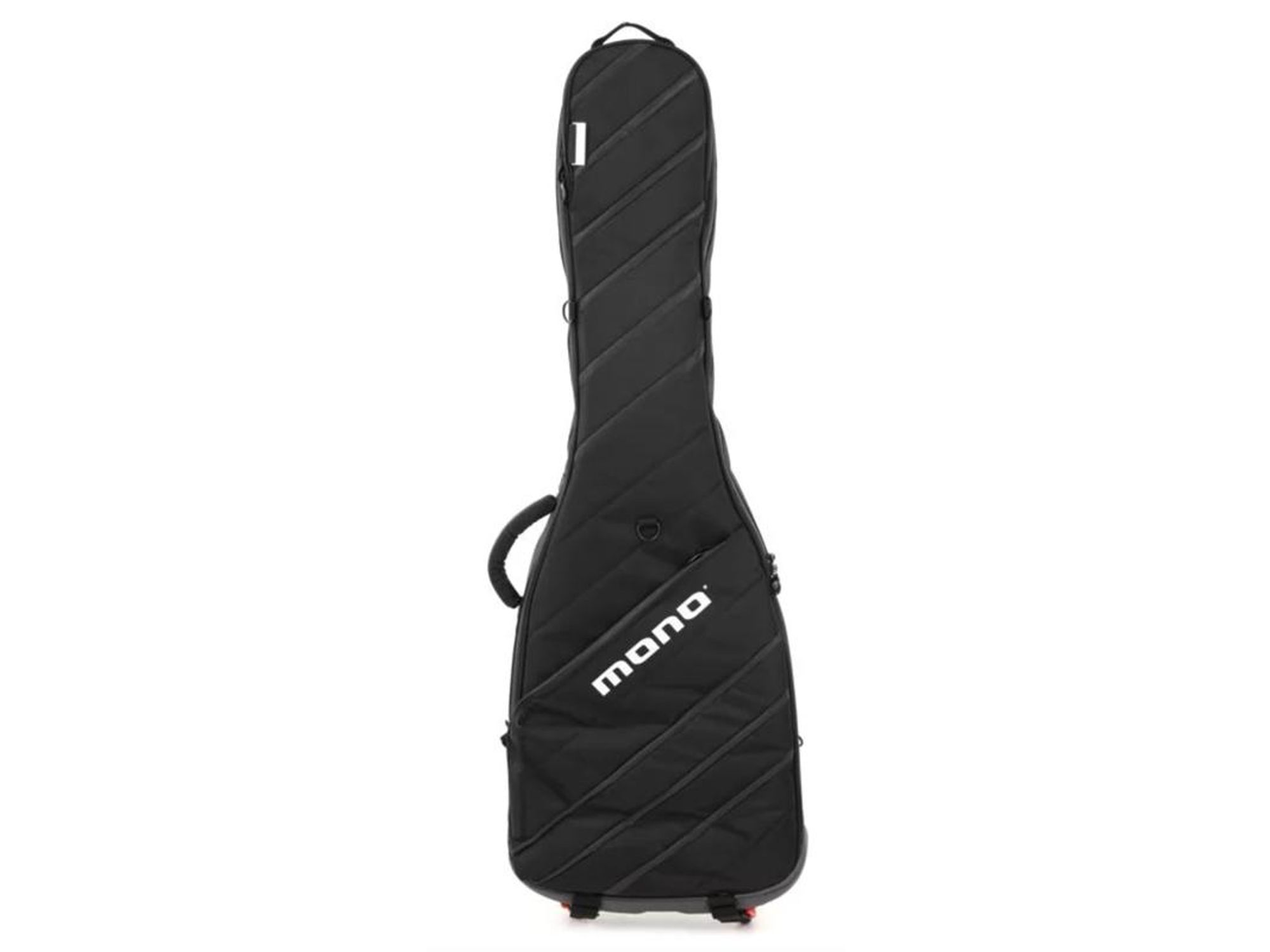 For more information, please visit monocreators.com.
Mono