Will Ray's Bottom Feeder: Squier Telecaster Custom II with P-90s

Looking for another guitar or amp? Consider swapping gear with a fellow musician.
Every now and then I do a trade with someone who has a guitar I like or am curious about. This Squier
Telecaster
Custom II (
Photo 1
) was one such animal.
Here's the story: My friend Eric plays in a band in my hometown of Asheville, North Carolina, and we both frequent a popular restaurant in our area. One day he was telling me about a cool amp he'd heard at a local music store. I told him I actually owned one and was thinking of selling it on eBay. He asked if I'd consider trading a guitar for it, and I told him I might.
The following week he brought over a Squier Tele, and I liked it right off the bat. It had two P-90 pickups, a maple fretboard with a satin finish, a butterscotch paint job, and a Hipshot B-Bender. I've played Hipshot B-Benders for many years, so I immediately bonded with this guitar.
I dig P-90s—single-coils with midrange growl. I know from past experience that these Duncan Designed P-90s have the fat tone I'm looking for, and I like how the guitar's individual tone and volume knobs put a range of sonic options at my fingertips.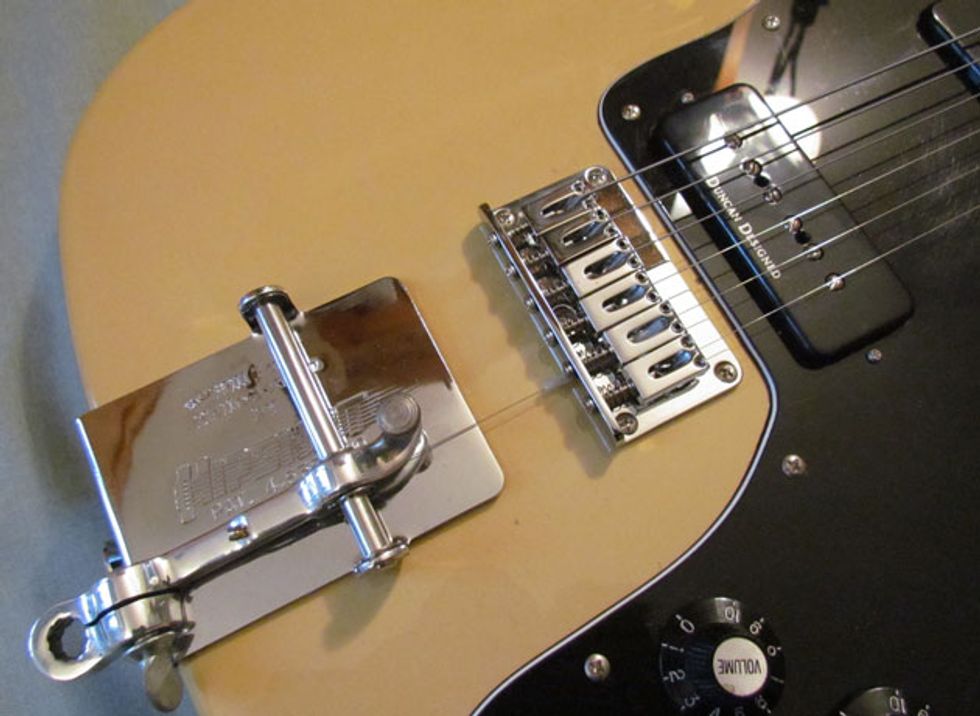 Photo 2
Satin finish on a maple neck is important to me because I find it makes bending much easier, plus I can't stand the slippery feel of a varnished fretboard. The Hipshot unit was icing on the cake. Eric had done a good job installing it by drilling a hole through the bridge for the B string to pass through (Photo 2). This Tele was ready for battle.
By the way, if you aren't familiar with the Hipshot bender, it attaches to the guitar's body with no routing required. It has a removable lever you push against your hip to raise the B string a whole-step.
The nut was in good shape and the sealed tuners felt solid (Photo 3), so I took the trade. Eric got the amp he wanted and I got an intriguing guitar, and because both items had a retail value in the $300 range, it was a win/win.

Photo 3
Bottom Feeder Tip #2865: Sometimes a good trade saves time, energy, and the hassle of selling something online with fees.
This is a pretty cool hybrid guitar in my book. You've got Les Paul Junior-inspired pickups and controls mounted on an iconic Tele body, a Strat-style bridge, and a Jazzmaster-ish pickguard ... all pimped out with a cool string bender. What's not to like? This guitar can play balls-to-the-walls country, easily slip into blues and jazz, and rock 'n' roll with the best of them.
To further enhance the Tele vibe, down the road I might replace the six-saddle Strat bridge with a half-size Tele "ashtray" bridge and three compensated brass saddles. But for now, this guitar is really fun to play as is. Check out my audio demo to hear how it lets me jump from country to blues to jazz in a single solo. This Tele Custom II eats different guitar styles for breakfast!