Gibson Vs. Epiphone—Are We The Ones Being Elitist?
Is Gibson always considered a treasure and is an imported Epiphone always considered trash? The answer isn't quite that simple.
A question I often receive goes something like this: "I have a Gibson Epiphone guitar and I've heard they're worth a lot of money! It looks like a Les Paul and has a serial number of S9312XXXX. What's this Gibson worth?" I'm sure I've broken many hearts by informing the owner that it's worth just a few hundred bucks, because it really isn't a Gibson. It also became apparent to me that many people don't really know the difference between Gibson and Epiphone, or how the two fit together. Is Gibson always considered a treasure and is an imported Epiphone always considered trash? The answer isn't quite that simple.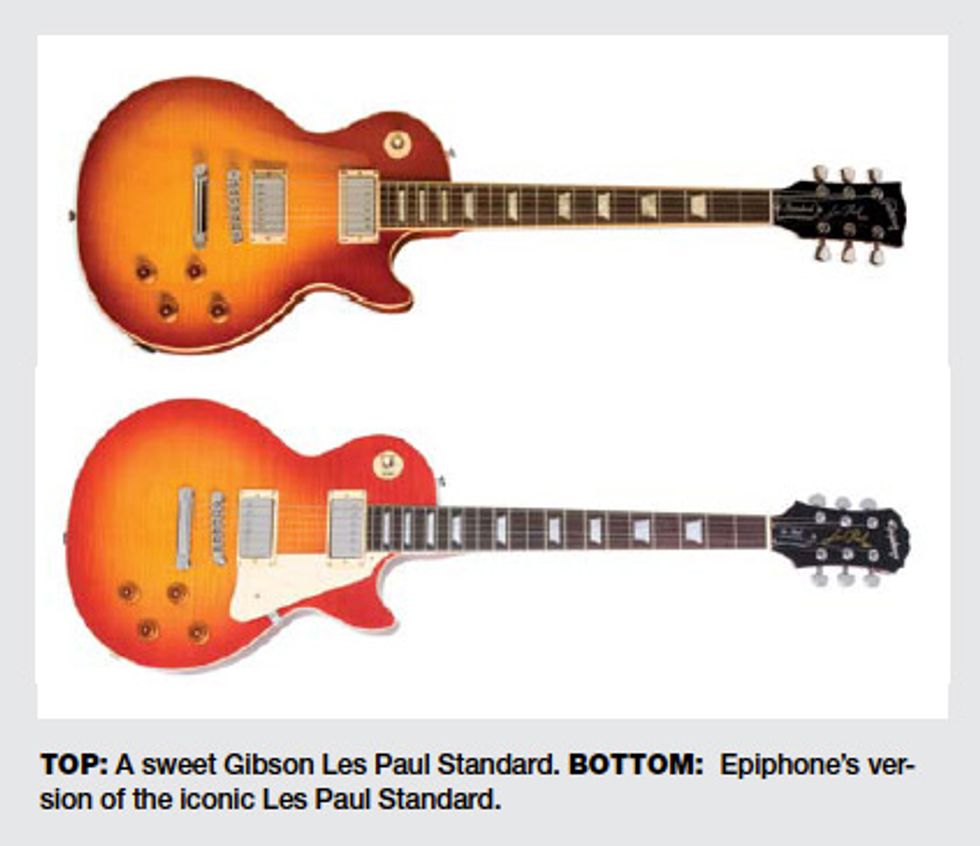 Gibson has been building guitars since 1894 and the name is generally synonymous with a quality, valuable, and great-playing guitar. Epiphone was another successful guitar manufacturer during the first half of the 20th century. But after the hardships of World War II, illnesses and death in the Epiphone family, and severe labor issues at the Epiphone factory in the '50s, the company found themselves falling behind. Gibson President Ted McCarty, who had previously expressed interest in buying a portion of Epiphone, ended up purchasing the entire company in 1957.
It was decided that Epiphone would be re-established as a first-rate guitar manufacturer so that Gibson's parent company, CMI (Chicago Musical Instruments), could offer a product comparable in every way to Gibson. This arrangement was set up by Gibson primarily to offer comparable Epiphone guitars to the music stores that were not allowed to carry the exclusive Gibson line. Though Epiphone was set up as an autonomous company in a separate part of the Gibson complex, parallel product lines were soon established, and Gibson was essentially competing with itself.
When the guitar boom of the '60s slowed toward the end of that decade, every guitar manufacturer felt the pinch. Gibson was no different, and they were struggling to keep Epiphone alive. In 1970, Gibson decided to move all Epiphone production from the US to Japan, and since then, nearly all Epiphones have been produced in various Asian countries. It wasn't until 1986 when Henry Juszkiewicz, David Berryman, and Gary Zebrowksi purchased Gibson that Epiphones slowly became the budget brand of Gibson.
Because Gibson generally produces expensive guitars, the company has wisely offered budget lines of instruments through the years, including the Kalamazoo, Recording King, and Cromwell brands. With the rise of imported guitars during the '70s and '80s, the new management team at Gibson decided to use the oft-neglected Epiphone brand for their Gibson-style budget models. By the late '80s, Les Pauls, Flying Vs, SGs, and other Gibson models were being produced with an Epiphone logo.
Gibson has found a winning combination by using Epiphone not only for budget versions of Gibson models, but also for producing reissues of popular Epiphone models from the '50s and '60s. They have also used the brand for some higher-end guitars including their Elitist and Masterbilt Series. A few Epiphones are still made in the US at Gibson's factory.
Since Epiphone became Gibson's budget brand in 1986, you may ask what the main difference is between the two. Country of origin is certainly the number one difference. However, Gibson rarely admits that, and according to a 1998 piece of Epiphone literature called "Ask Dr. Epiphone," one question asks, "What are the differences between an Epiphone Les Paul and a Gibson Les Paul?" It's a good question and here's the answer, according to Dr. Epiphone: "Our Epiphone Les Paul guitars are built 100 percent to Gibson
Les Paul
specifications. However, an Epiphone Les Paul is different from a Gibson Les Paul in the following main areas: In general our [Epiphone] instruments are about 1/3 to 1/2 the cost of Gibson guitars. Therefore, we have to make some adjustments to the specifications in order to be able to offer our customers this kind of value." Dr. Epiphone goes on to say that these adjustments include fewer inlays, a thinner maple-veneer top, and the use of chrome hardware instead of gold. There is no mention of where the guitars are actually made.
Today, it's no secret that almost every major guitar manufacturer is building in or at least offering guitars for sale that are built in Asia. With the average price-point of an electric guitar dropping to $357 in 2010, it is simply a way for guitar manufacturers to remain competitive in the 21st-century business landscape. Epiphones that are built in the image of popular Gibson models are becoming even more similar, and if not for the headstock logo, it's difficult to differentiate the two. Try playing the instruments without looking at the headstock and let the sound and playability guide your purchasing decision.
Over the course of 100 years, the Epiphone brand has been associated with many different levels of guitars—from $200 beginner models to the archtops of the early 20th century that are worth several thousand dollars. The bottom line is that you can't just look at the headstock to determine if your guitar is worth something or not. After all, is a Geo really considered a Chevrolet? Just because the truss rod cover says Gibson doesn't mean it's a Gibson.
---
Zachary R. Fjestad is author of
Blue Book of Acoustic Guitars
,
Blue Book of Electric Guitars
, and
Blue Book of Guitar Amplifiers
. For more information, visit
bluebookinc.com
or email Zach at
guitars@bluebookinc.com
.