In this exclusive giveaway, you could WIN a Sunn O))) Life Pedal® from EarthQuaker Devices! Enter before Feb. 17, 2023.
See the Rig Rundown!
Full Rig Details: https://bit.ly/SunnORigSubscribe to PG's Channel: http://bit.ly/SubscribePGYouTubeWe've featured loud rigs. We've stood strong in front of ...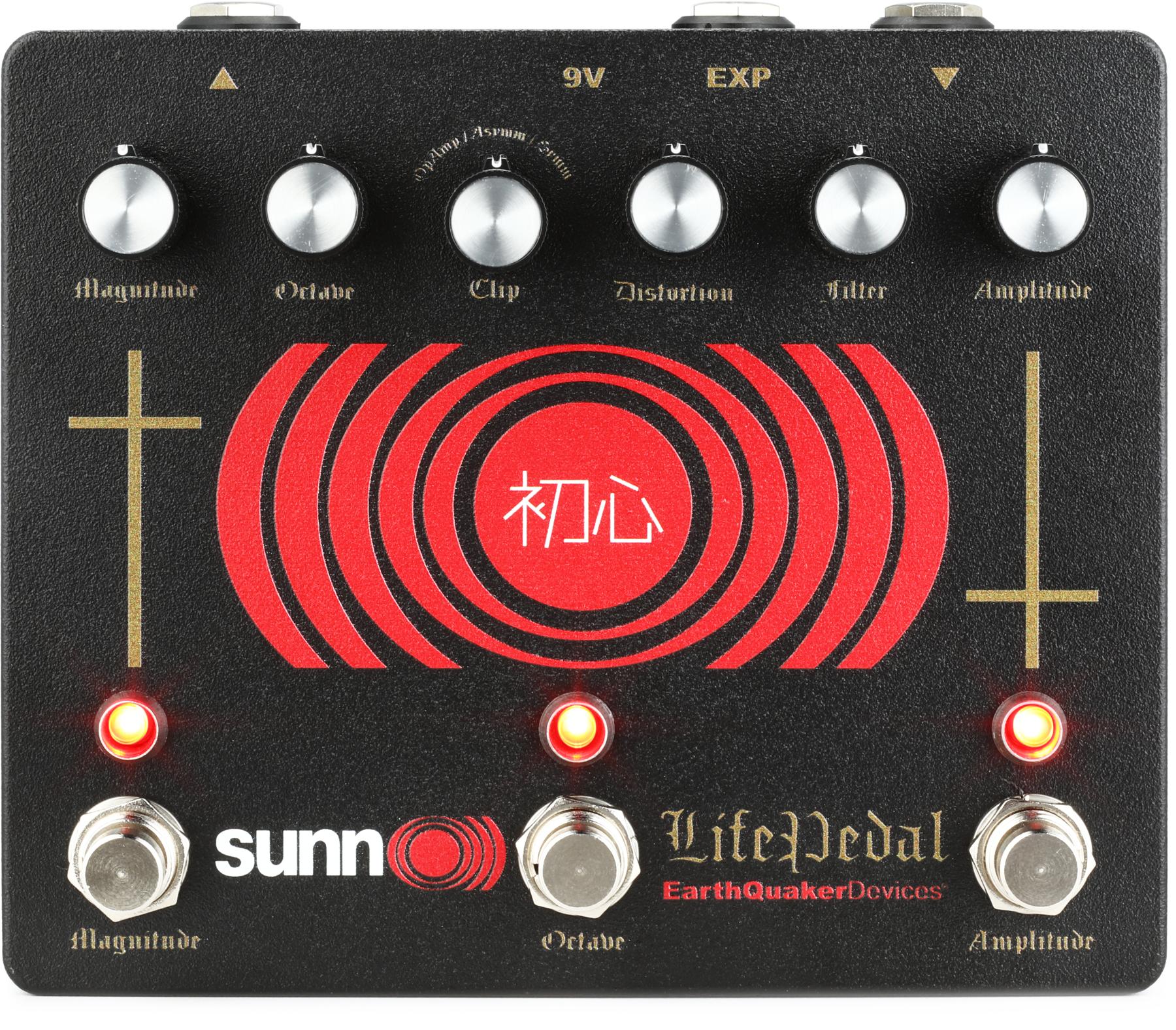 Sunn O))) and EarthQuaker Devices are pleased to bring you the Sunn O))) Life Pedal V3. The Sunn O))) Life Pedal circuit has been meticulously tweaked from the original to squeeze every last drop of heavy crushing tone available. The octave section has been fine tuned to make it more pronounced without losing the bottom end and we added a third footswitch, utilizing Flexi-Switch Technology®, for the octave to allow an additional method of quick and radical tone shaping.
EarthQuaker Devices
Three of five new analog stomps from the revived brand forge unique paths from vintage origins.
Unique, vintage-colored modulations. Boost compensates for perceived volume loss.
Modulations could be a little more liquid and cohesive.
4
4
4
4
Many different effects can salvage a crappy backline situation. A nice reverb goes a long way toward making a lame amp sound okay. A delay or compressor can usually lend a little energy and mystery to an otherwise lifeless tone, too. But in my experience, few effects coax magic from garbage quite like tremolo.
Mariner Tremolo
Just ask Keith Richards. For the spooky-as-hell guitar track that underpins "Gimme Shelter," Keith used a Triumph solid-state amp that legendary engineer and producer Glyn Johns hated. But while Johns may have thought the Triumph sounded lame, it had a tremolo circuit Keith loved. Go ahead, give the song a listen. It's hard to imagine "Gimme Shelter" without that haunting pulse.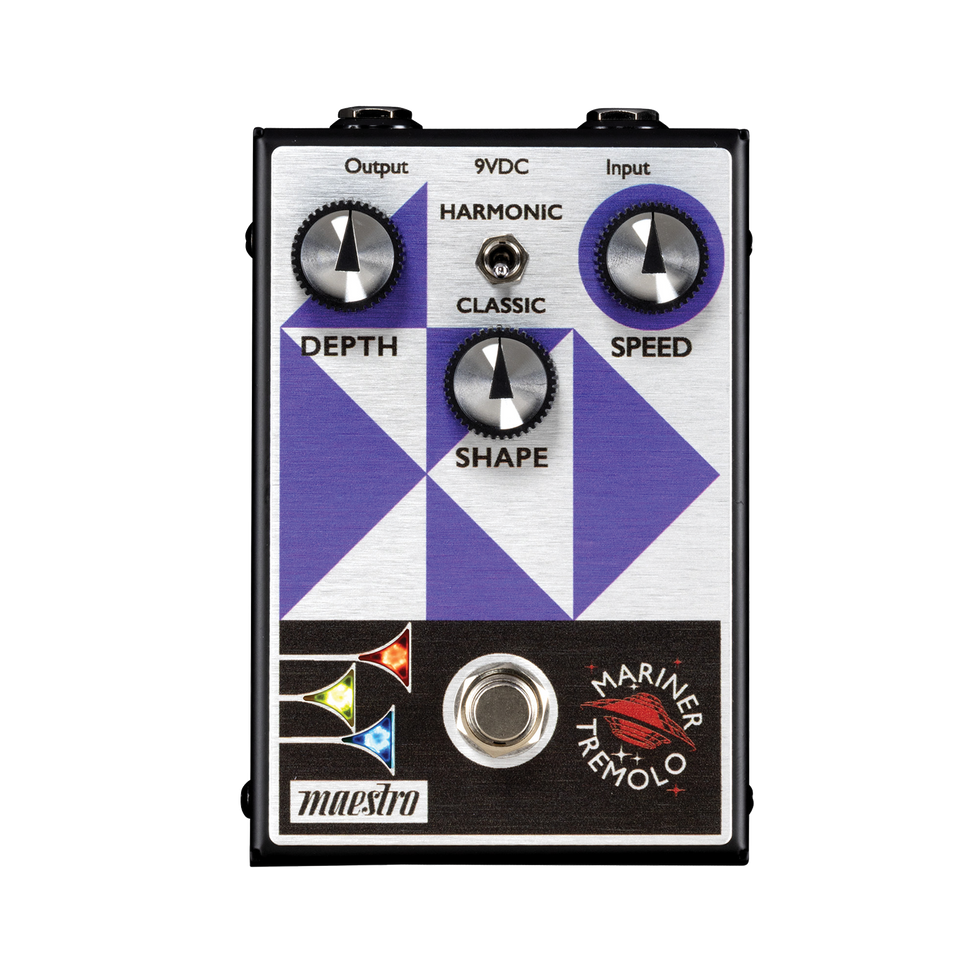 Maestro's Mariner tremolo has the same potential to rescue a lifeless track or performance. It's not the most refined tremolo (it can come on a bit strong at times), nor does it sound like an approximation of any vintage standard. (It sounded very different from a black-panel Fender Tremolux and Vibroverb, as well as an excellent digital take on those circuits.) Functionally speaking, it will probably remind many players of the Boss TR-2, with its depth, speed, and wave shape controls, which move between sine and square waveforms. Even its controls are arranged in an inverse triangle like the Boss. But the Mariner offers a second, more phase-y mode that it calls harmonic tremolo, which approximates, to some extent, the harmonic vibrato on some early-'60s Fender brown-panel amps. That extends the practical and fun potential of the Mariner.
Maestro
Pick Your Pulse
If you're a stickler for vintage-correct emulations, Mariner might not be your first pick for a pedal tremolo. That doesn't mean it lacks vintage feel, though. In classic mode (it's not clear if this all-analog circuit was designed to approximate an optical tremolo circuit, bias tremolo, or neither), you can dial in very pretty, immersive modulations that will sound more than adequately vintage-like in a mix. Classic settings are also easy to shape in creative ways with the waveform knob. Compared to what's arguably the affordable analog tremolo standard bearer, the Boss TR-2, the Mariner's maximum depth and square wave settings are more pronounced and intense. Some of this intensity might be due to the fact that the Mariner is flat-out louder. Tremolo-pedal makers often build in a very mild boost to compensate for the perceived loss of signal that accompanies some tremolo effects, and Maestro certainly seems to have included one here. The Mariner is perceptibly louder than both a TR-2 and a Strymon Flint.
Even still, Mariner's harmonic mode is rich and charming, and the wobbly pulses lend a very psychedelic edge.
The Mariner could be more nuanced at times. The classic mode's pulses, for instance, sometimes seem more hard-edged than liquid. These less-fluid modulations can be even more pronounced in the harmonic tremolo mode. Many players, however, will prefer this texture, even though amp-based harmonic tremolo tends to sound smooth and contoured. Still, Mariner's harmonic mode is rich and charming, and the wobbly pulses lend a very psychedelic edge. And at slower rates, in particular, the harmonic mode finds its stride. The modulations are phasey and elastic and can sound both beautiful and striking in the right setting.
The Verdict
At nearly 160 bucks, the Mariner is priced near the top end of the affordable tremolo class. But Mariner's secret weapon may be the fact that it sounds vintage without clearly imitating other circuits or sounding too generic. That relative individuality, plus its extra output, make it an appealing option for those who'd rather not default to the most obvious standard.
Orbit Phaser
One of my favorite ways to make a tremolo pedal like the Mariner sound even cooler than it already does is by situating a phaser downstream. I tend to disagree with guitarists that regard phase as one-dimensional. I've seen ripping players with great dynamic touch and broad tone palettes that almost never turn them off. And it's always impressive how they weave a phaser's cool mysterious sense of motion into a complex whole instead of placing the modulation front and center.
There's a lot more flexibility to do that these days now that phasers have evolved so considerably from early one-knob classics. Maestro's Orbit Phaser walks the line between contemporary and complex, and vintage and stupidly simple, though it tends toward the latter. So, while it lacks some of the fine-tuning features you see on more powerful units, it facilitates creation of subtle, backgrounded blends and much more prominent modulations.
Maestro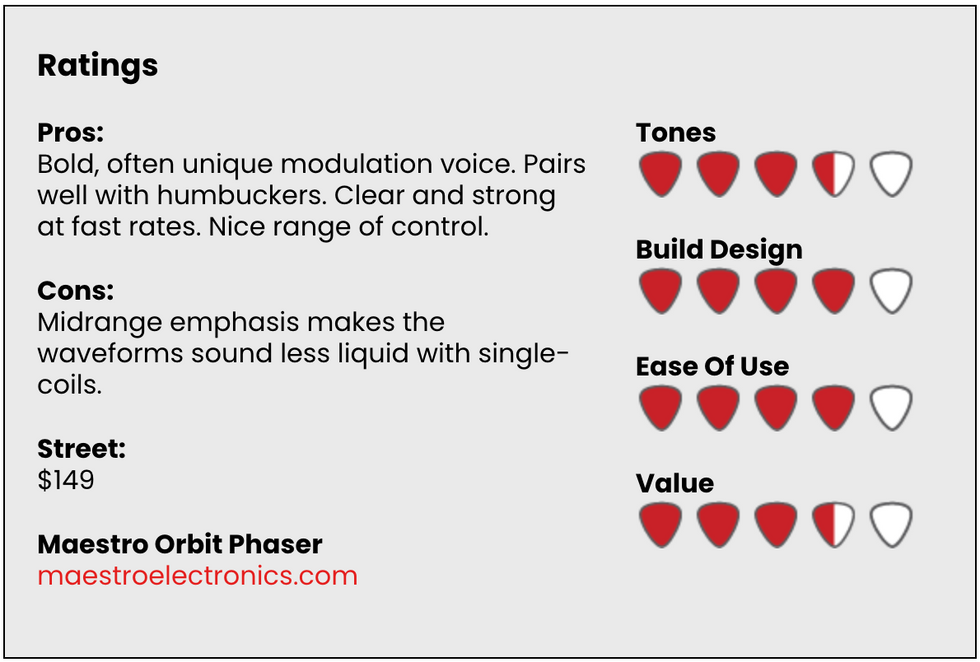 You Gotta Move
The Orbit's phase is bold and clear. There is no perceived signal loss—a problem that plagues a lot of older analog phasers and which becomes a fear among many first-time phaser shoppers. In some situations, the Orbit cuts because of a very pronounced midrange emphasis. The pedal adds a distinct tone color—midrange-y enough to evoke a cocked wah or filter at certain settings and with certain guitars. There are some awesome applications for the voice. For example, I paired the pedal with a Telecaster on which I rolled the tone way back. The resulting skwonky waveforms I heard could transform an otherwise dull part into something hooky and weird. The midrangey voice also meshes very nicely with PAF-style humbuckers, creating pronounced, muscular waveforms that cut in jangly settings or psychedelic blues solos. The Orbit sounds extra cool and assertive at fast modulation rates—another neat way to pepper up a same-old fake-Jimi solo. It also sounded bolder in this setting than the very old and familiar Small Stone and Phase 90 I used for reference.
The Orbit sounds extra cool and assertive at fast modulation rates.
At slower rates­—the kind that, say, you would use for The Dark Side of the Moon tracks, soul ballads, or Waylon Jennings jams—the Maestro's mid-focused voice works less well. Rather, the more open-ended and less specific voices of the Phase 90 and Small Stone let your signal breathe a lot more across the frequency spectrum, while the Orbit feels punkier and more snarling. Which flavor is better is totally subjective. But I would say Orbit's slow phase tones read as a little less liquid than those from the old MXR and Electro-Harmonix units.
The Verdict
The Orbit Phaser can be a real joy for how unique it sounds. Faster rate settings are particularly rich. The ability to tailor width and feedback enables loads of contrasting subtle-to-robust waveforms. The 4-and-6-stage modes provide additional versatility, though the differences between them is less pronounced than on some phasers with that option. The Orbit's range would make it the ideal candidate for an always-on phaser, and there will be players who use it in just that fashion. But the strong midrange emphasis will probably dissuade many from using it that way— especially those that primarily use single-coils. Humbucker players might have a different experience. The Orbit's voice gets along great with a PAF. And that's just one of many intriguing and satisfying sounds here.
Agena Envelope Filter
To a large segment of the guitar-playing populace, "envelope filter" usually means "auto wah" or "that quacky thing." Most good envelope filters do that stuff. It's probably what most buyers expect of them. But envelope filters can do other really cool things. They can effectively work like high-contrast EQ presets—transforming solos as radically as a fuzz can. They can also work like dynamic phasers and summon interesting phrasings from pedestrian chord changes and melodic lines, particularly when you get used to working in bendy, elastic give-and-take tandem with the effect. Correspondingly, they are great tools for digging out of a rut.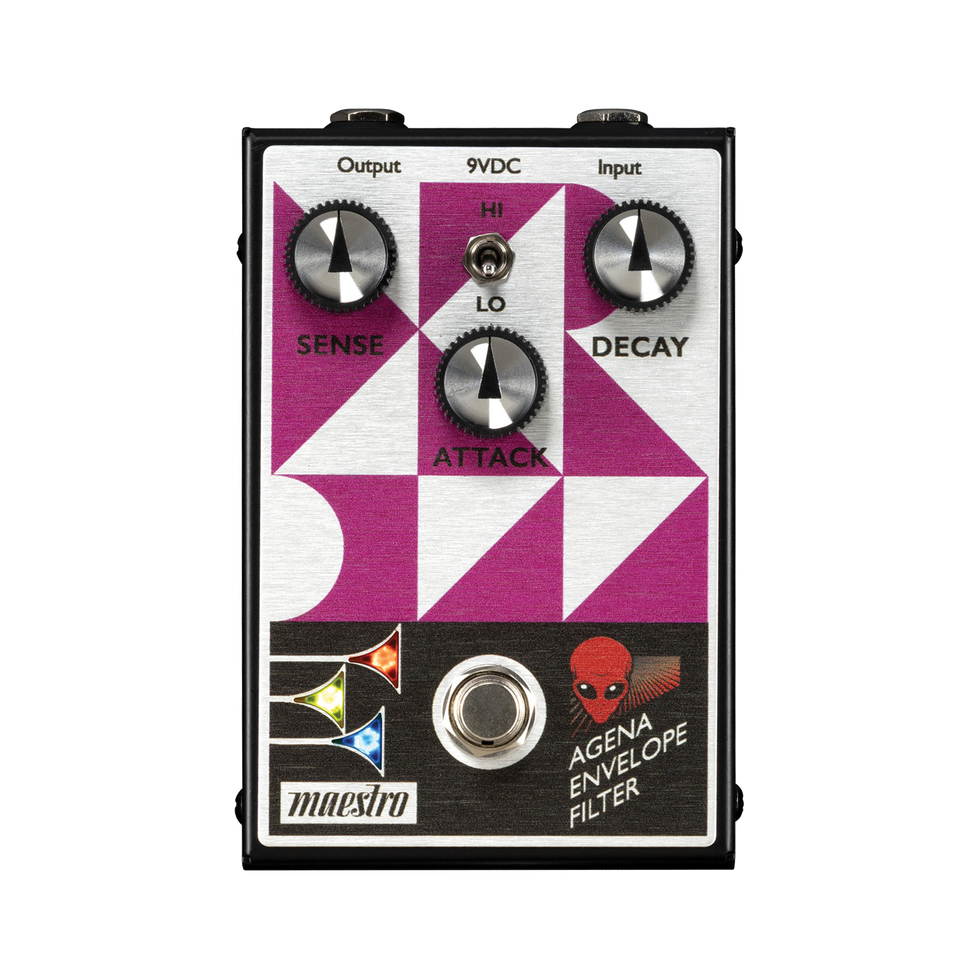 Maestro's Agena lives a little less on the quacky end of the filter spectrum, trading some of those hyper-vowely, percussive and snappy filtering qualities for a more expansive dynamic palette and a little more control over attack. But for anyone keen to explore the effect beyond Jerry Garcia and Bootsy Collins sound archetypes, it will seem much more forgiving and usable than many more clearly Mu-Tron III-derived circuits.
Maestro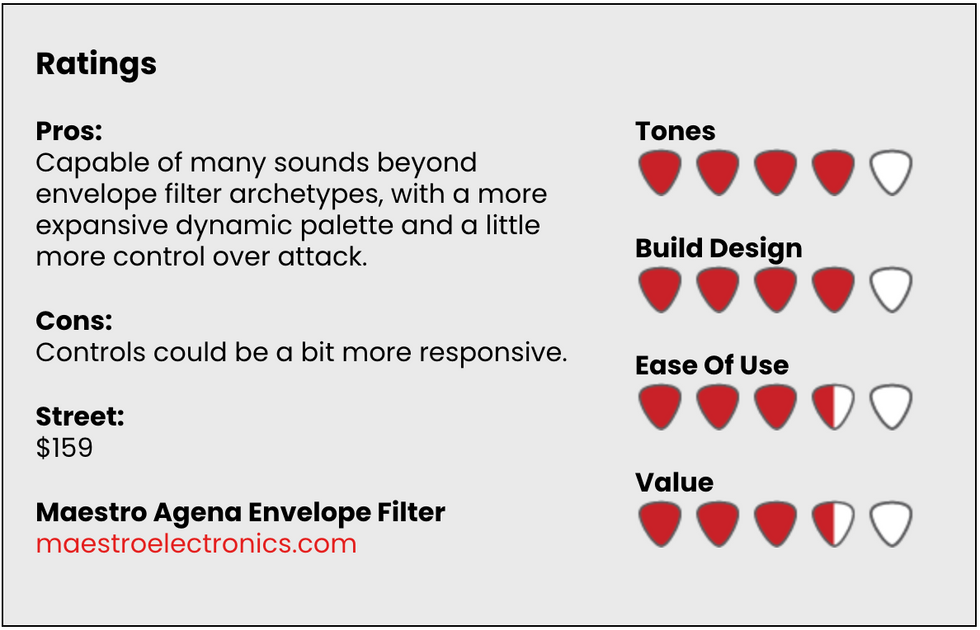 Practical in Practice
If you're at all put off by envelope filters because their controls are counterintuitive on the surface, you should not fear the Agena. Even if you're not familiar with how envelope filters are supposed to work, it's easy to feel your way through how they interact and respond to the input from your guitar and fingers.
The sense knob governs how much picking energy is required before the envelope is activated. Attack controls how fast the envelop opens. Decay regulates how long the filter stays open. A small toggle will be familiar to old-school Mu-Tron and Electro-Harmonix Q-Tron users. It assigns emphasis to higher or lower frequency ranges. The controls are fairly interactive. You can set up classic quacky sounds by cranking up the sense and attack controls and situating the decay control in the middle third of its range. More subdued, less vowel-y tones lurk at faster decay rates, where you can also coax great narrow-focus filter sounds that evoke old octave effects like the Ampeg Scrambler or Dan Armstrong Green Ringer.
You can also coax great narrow-focus filter sounds that evoke old octave effects like the Ampeg Scrambler or Dan Armstrong Green Ringer.
Because the Agena is a dynamically controlled filter, it responds to any change in your input signal. So, it reacts differently to varied pick attack and heavier or thinner picks. Boosts and overdrive remove dynamic range but can add emphasis to quacky and vowelly filter responses or filter effects that highlight specific frequencies. Different guitars and pickups can have very different relationships, too. Telecaster bridge pickups were especially good for coaxing dynamic phase sounds at high-sense/fast-attack/medium-decay settings. PAF-style humbuckers, meanwhile, sounded hot and vocal.
The Verdict
In some ways, the Agena could be the envelope filter for people that don't like envelope filters. It rarely feels like an all-or-none proposition, and the filter is capable of many sounds in between Grateful Dead caricature and less loaded voices. It also rewards players who pursue less obvious, droning playing approaches as opposed to those who play it funky. But even if it's just classic quack you're after, the Agena gives you many shades to work with.
Maestro [Gibson] Mariner Tremolo, Titan Boost, Arcas Compressor, Agena Filter & Orbit Phaser Demos
Photo by Ken Settle
Remembering the art and life of one of the world's greatest and most innovative instrumentalists, who died on Tuesday, January 10, at age 78.
Legends are immortal, but not human beings. And so, Jeff Beck, an immortal of the electric guitar, died from bacterial meningitis on Tuesday in a hospital near his sprawling county estate, Riverhall, in Wadhurst, England, at age 78.
To call Beck a giant of the instrument nearly diminishes his monumental and singular accomplishments. He established his own supremely influential language of the guitar and spoke it fluently for more than six decades. Although he never sang on his recordings, in his hands the 6-string was vocal—fluid, melismatic, melodic, and most important, full of heart. Attending a Jeff Beck concert was to witness inspiration at its most wild and relentless. And to bask in a tone so large and purposeful that it could seemingly be heard around the planet.
Which it was. Beck was known and revered across the globe—an instrumentalist who made albums for the first two decades of his career, (starting with the Jeff Beck Group's still stunning and innovative 1968 debut, Truth) that routinely made the top 20. Those include his groundbreaking duo of mid-'70s recordings, Blow by Blow and Wired, that transformed fusion into part of the soundtrack of popular culture. But Beck was not a jazz or rock guitarist. He was an omnivore, who digested every style—country, rockabilly, swing, Tin Pan Alley, punk, skronk—to both put his seal on them and twist them to his own ends, turning the Beatles' "She's a Woman" into a reggae playground and transforming an idea taken from a theme by composer Maurice Ravel and turning it into the epic, soaring, and harmonically supercharged "Beck's Bolero."
"Whenever I pick up a guitar, it will always be heavily blues influenced, but I try to push it further, because you have to expand your scales and melodic thinking." —Jeff Beck
When I asked Beck about his approach, during the '80s, he replied, "Whenever I pick up a guitar, it will always be heavily blues influenced, but I try to push it further, because you have to expand your scales and melodic thinking. But I'll play a blues solo on a non-blues song, bending the notes into whatever the song takes. That's my whole thing: trying to explore the blues to the maximum, really. It's in the blood."
Note that Beck said, "whatever a song takes," not whatever it needs. The courage and will of his playing were consistent, impulsive, and limitless. Listen to "Morning Dew" from Truth. His guitar toys with themes, playing fragments of melodies, dropping patches of wah wah, howling, rather than weaving a defined rhythm or tune through the song. Then hear "Pull It," from 2016's Loud Hailer, an album cut with vocalist Rosie Bones and guitarist Carmen Vandenberg of the English punk outfit Bones UK. Made nearly 50 years after Truth, that song is also telegraphy as music—dots, dashes, fuzzy blots of tone. And yet both performances not only work—they're riveting.
Beck considered blues to be the core of his music but saw its opportunities for expansion as limitless.
Photo by Ross Halfin
Beck was born in Wallington, Surrey, England, on June 24, 1944. Les Paul was his first guitar hero, followed by Cliff Gallup, B.B. King, and Steve Cropper. He became friends with Jimmy Page when they were both teenagers, and, while attending Wimbledon College of Art, he fell in with David "Screaming Lord" Sutch, with whom he first recorded in 1962. But Beck really began his 60-years-plus of breaking rules in 1965, when he replaced Eric Clapton in the Yardbirds. There, he pushed the group's blues envelope with his inflammatory guitar on "Shape of Things" and the demented "Over Under Sideways Down," where his hammer-ons, slides, and bends created the number's sitar-influenced riff. Although Beck was unhappy in the Yardbirds, his 18-month membership earned him his first induction into the Rock 'n' Roll Hall of Fame in 1992, followed by a second induction for his work as a leader and solo artist in 2009.
The inevitable formation of his own band, the Jeff Beck Group, featuring Rod Stewart and future Rolling Stone Ronnie Wood, occurred in 1967, and with the next year's Truth, he presaged Led Zeppelin's recasting of blues as psychedelic manifesto. Beck's playing on that album remains practically avant-garde at its least restrained, yet still directly speaks a dialect of the blues. But with the notable addition of pianist Nicky Hopkins, the Group tilted further into rock with its next release, 1969's Beck-Ola. Two more albums, Rough and Ready and Jeff Beck Group, followed, with the latter including "Going Down." Beck's version of the Don Nix tune that Freddie King had made famous became an instant FM radio staple.
"I saw Beck use the whammy bar alone to play a slow, lovely feedback melody through his array of amps, and then point the guitar's headstock straight down into the stage and push himself into the air by placing his hands on the rounded back end of the body. When he touched down, he tossed the guitar—still feeding back—into his arms, hit two notes that revealed where the tuning had drifted, and flawlessly picked up the melody he'd been playing before his acrobatic stunt."
That band was followed by the short-lived Beck, Bogert & Appice, who released an album of the same name in 1973. The group was a trio, with vocalist/bassist Tim Bogert and drummer Carmine Appice, from the Vanilla Fudge and Cactus. All along Beck had continued to maintain a studio career (which continued almost to the present) and had played on Stevie Wonder's Talking Book the year before. Beck, Bogert & Appice's rendition of Wonder's "Superstition" was one of their album's highlights, along with a beautiful slide-guitar-dappled reading of Curtis Mayfield's "I'm So Proud."
After this soul-music-influenced outing, Beck experienced a kind of rebirth. He was already a Gibson Les Paul player, but while recording in 1972 in Memphis he found a 1954 goldtop that was refinished in oxblood by its previous owner. That guitar is depicted in Beck's hands on the cover of 1975's all-instrumental Blow by Blow, which sold a million copies in the U.S. and reached number four on Billboard's Hot 100 album chart. The epochal Blow by Blow alone is enough to ensure that Beck's legendary status will endure. It's full of monumental performances, including his emotional tribute to Roy Buchanan, "'Cause We've Ended as Lovers," perhaps the greatest blues-inspired instrumental ever recorded.
Longtime friends Jeff Beck and Eric Clapton share the stage at the 2010 Crossroads Guitar Festival.
Photo by Chris Kies
And the die was cast. Although he went on to make albums and cut singles with exceptional vocalists—perhaps most notably a soulful 1985 version of the Mayfield gospel song "People Get Ready," with Rod Stewart, that's become a classic—from that point on Beck dedicated himself primarily to instrumental music.
The next year's follow-up, Wired, built upon Blow by Blow's success with performances of Charles Mingus' "Goodbye Pork Pie Hat" and Jan Hammer's "Blue Wind" that also set radio afire. More important, though, was the arrival of the Fender Stratocaster on its cover. For the rest of his life, Beck and Stratocasters were mostly inseparable onstage and in the studio. And by using banks of amps and unsparing volume, he crafted a unique sound on the single-coil instrument, huge and compelling, with a horn-like fluidity and endless, sustained tone.
His technique on the Strat's vibrato arm was extraordinary. It was as if it was grafted to his hand, or, at least, seemingly never left it. His subtle—and often radical—bending and pulling of notes with the bar made his playing even more voice-like, able to carefully craft and negotiate micro- or macro-tonal changes effortlessly. His intimacy with the Strat made for some truly uncanny performances.
In a '90s concert at the Great Woods Amphitheater in Mansfield, Massachusetts, I saw Beck use the whammy bar alone to play a slow, lovely feedback melody through his array of amps, and then point the guitar's headstock straight down into the stage and push himself into the air by placing his hands on the rounded back end of the body. When he touched down, he tossed the guitar—still feeding back—into his arms, hit two notes that revealed where the tuning had drifted, and flawlessly picked up the melody he'd been playing before his acrobatic stunt.
Beck's romance with the Stratocaster caught fire during the recording of 1976's Wired album.
Photo by Ken Settle
Beck continued to make excellent studio albums—most notably There and Back, Jeff Beck's Guitar Shop, Jeff, Emotion & Commotion, and Loud Hailer. He also racked up high-level session credits, recording with Roger Waters, Jon Bon Jovi, Kate Bush, and Tina Turner. And he accumulated eight Grammy Awards—seven for Best Rock Instrumental Performance. His most recent album was 18, a 2022 collaboration with Johnny Depp. Beck's final public performance was touring behind that release, on November 12, in Reno, Nevada.
After Beck's family announced his death on January 11, fellow guitar virtuoso Eric Johnson shared his thoughts on social media: "Hearing about Jeff Beck is a shock. He was one of the most original guitarists I ever heard. He never conformed to status quo guitar or conventional playing, always reaching for a new dimension, which he achieved multiple times. He was the most expressive lyrical storytelling guitarist there ever was and that's why non-musicians loved him. He garnered more affection from audiences than other guitar heroes because he had such a musical poetry to his playing.
"I believe that he and Jimi Hendrix were the most inventive and original rock guitarists there ever was. I had the gift of being able to visit with Jeff a few times and that is a treasured memory in my life. The guitar world will go on, but it won't be the same without the most inventive 6-string visionary we have been graced with on this planet. Joyous wishes to you, Jeff, as you soar on to your next magnificent adventure. Thank you for teaching me and inspiring me to want to play guitar."
JEFF BECK LIVE Cause We've Ended As Lovers