Interview: Orianthi - Finding Freedom
Photo by Stephen Holding, Shooting Stars Photography
Orianthi dishes about the natural vibe of her new album, getting nervous in front of Santana, and her favorite bassist
Listen to "Frozen" from Heaven in this Hell:

At the ripe age of 7, Orianthi Panagaris told to her parents that she was "going to America" to make music. From there, the self-proclaimed terrible student sought out her own education by way of Elvis videos, guitar magazines, classical training, and hours of practicing guitar. "I'd come home from school and not see my parents for six hours or something," she remembers. So no one was surprised when the Aussie native left school at 15 to devote all of her time to playing the band circuit in her hometown of Adelaide.
It was around that time she first played with Steve Vai, and soon Santana was in her corner too, an early champion of her skills in a long list of supporters that includes Michael Jackson. In 2009, Orianthi was invited by Jackson to try out for his This Is It tour after seeing her perform with Carrie Underwood at the Grammys. When Orianthi proved she could make the famous "Beat It" solo her own—and rock the stage with Jackson while playing it—she was chosen on the spot.
In 2011, she joined Alice Cooper's touring band and continues to tackle those guitar duties while balancing a solo career in between. Her 2009 major label debut Believe included a song co-written with Vai, and her single "According to You" received heavy airplay and made the global charts. But while Believe was more of a pop record, she calls her new album more "organic."
"I was really proud of [Believe]," Orianthi says, "but I feel that every record should be different, it's part of this musical journey and you should evolve." In fact, Heaven in this Hell wasn't really planned, per se, but born out of inspired jam sessions with Ori's writing comrade/producer Dave Stewart (Eurythmics). They recorded the tracks in two sessions: one at Nashville's Blackbird Studio, the other at Stewart's Hollywood studio.
In her new tunes, Orianthi references the blues-rock and country she grew up with while opening herself to new muses. "I'm discovering different sounds," she says, "like the Delta blues of Robert Johnson where he's not playing with his pick but with his hands," Orianthi says. "It sounds swampy and I've just been discovering that and writing with a vibe in mind." In light of this creative awakening, Orianthi tells us about her songwriting "walkabouts" and humming songs into her phone on the streets of L.A., her new favorite pedal combination, and how she sees herself as more than just a chick guitar player who can shred.
Photo by Stephen Holding, Shooting Stars Photography
You've said you're going to keep touring with Alice Cooper as long as he'll have you, but do you have plans for your own dates in the interim?
Totally, I'm setting that up now, trying to fit it in around Alice and his tour dates. I have such fun playing onstage with him and it's fun to be the guitar player, but I want to do my own dates so it's all about finding the balance and figuring it all out.
What have you learned as a player, working on the Alice Cooper tour?
They're all like brothers to me, everyone in the band. I've learned a lot because there are so many parts in the songs. They're great performers. We all have our own thing going on, like characters in a crazy Rocky Horror show. The first part of the tour I'd have blood all over my face and arms, and I'd be writing things on my arms and I had all of these Christian people thinking I was some sort of Satanist or something, with blood all over me and the guitar. I'm like no, I'm playing a part! I'm playing this irritable zombie onstage—I was called "Scarianthi" or "Gorianthi" for a while. Maybe I'll be Frankenstein for the next one, I'm not quite sure.
Playing live shows is a lot different than making an album. What's Orianthi like in the studio?
I like to bring a lot of people in, my friends and family or whoever I'm hanging out with for the day. I like the energy of people around, it sort of adds to it being a mini crowd. I like playing live, in front of people. When I'm alone, I'll play differently. If there's only one person in the studio, I won't play as energetic as if there's more people in the room and I'm putting on a show.
I've been playing live since I was 7, I started writing my first songs and played the school assembly. Even at lunch time I'd be playing in front of people. There's something about performing and capturing the performance as opposed to hearing yourself think. The problem is, if I'm left alone too long I tend to drive myself insane because I'll go over a solo too many times until I, like, destroy it. … I think energy is actually an important thing when you're recording.

Photo by Stephen Holding, Shooting Stars Photography
Dave Stewart is your producer, but you also seem to have a bandmate relationship. Do you look at him as someone you love to play and make music with or as a mentor?
All of that. He's definitely been like a mentor and friend and jamming buddy. We talk about the blues and he loves writing songs. About two years ago he said, "Come 'round my place and jam out." We ended up just writing a ton of songs and it got to the point where we said, 'Let's make an album.' It started that way, it felt like a natural thing, we got along very well, it was a great vibe. I walked into Blackbird Studio and, listening to these people play, I was really blown away.
You're a player who can play it all. Was it a struggle to figure out where you fit in genre-wise?
The last record [Believe] took quite some time to make. It was more in the pop vein, and there's nothing wrong with that, but this one was a lot freedom because I left Geffen Records and made it myself, with Robo Records releasing it. It was like, 'Let's just make an album,' kind of the way that records were made back in the day.
Where do you like to do your songwriting?
It changes, like, all the time. At my place here in L.A. or if I'm walking down the street and I have an idea I'll be humming it into my phone, it's kind of embarrassing … sometimes it's strange you can't hear anything, it's like a bunch of sirens and crap. Sometimes you get good ideas like that. People think I'm strange but I don't really care anymore, I'm going on walkabouts [laughs].
Did you and Dave Stewart write most of the songs together?
We wrote most of the songs together, and then I also went to Nashville and wrote some songs over there with some of my favorite writers. But most of the songs I wrote with Dave. One of the first songs we wrote was "How Does That Feel?" It kind of flips from this bluesy jazz to this rock thing. I wrote [part of] "Heaven in this Hell" with John Feldmann from Goldfinger—we had this Delta blues idea—and then I wrote the chorus with Dave because we had this swampy idea. I would bring in different ideas and go from there.
I noticed some unique genre-blending on "How Does That Feel?" where you go from like an R&B funk groove to one of the most epic rock solos at around the two-minute mark.
We had this idea that it should totally flip. It's a story—It's basically an "F U" to a dude: "You can do your thing but I love playing music and that's my first love so I don't really care because I've got a million fans, ya know?" We were thinking about how fun this song would be to play live.
You really belt it out in the opener, "Heaven in this Hell," and then it ends on this notable contrast of acoustic melody. Do you play acoustic quite a bit?
I wrote that on acoustic when I was listening to a lot of Robert Johnson and Howlin' Wolf. There's some country going on in the album too, I worked with Zac Maloy in Nashville on "You Don't Wanna Know" and I played banjo on it too. But I wanted to have the nylon string sound for ["Heaven in this Hell"] because it starts off in hell, and I wanted it to end with this floaty sound, like you're going to heaven.
You're noticed for your mad guitar chops, but you've also got major pipes. Do you find people taking more notice of your vocal abilities these days?
I've been singing since I was 7, and then I had this instrumental phase where I focused on just playing and writing songs, and then coming out here collaborating with a lot of people and just being a guitar player, but I see myself more as an artist than a guitar player. If someone gives me something to learn, I'm going to put my own thing to it naturally. It's something I've learnt to do, to paint with my own colors because I don't want to step on anyone's toes. For example, going to work with Michael Jackson on the "Beat It" solo, I can't fill Eddie Van Halen's shoes, hell no! He's amazing, but I'm going to go in and do my own thing, and I think that's what Michael wanted me to do because each guitar player he's worked with is different. Slash is so different from Eddie and from Jennifer Batten. Yeah, I 'm definitely more of an artist than a guitarist I think.
Are there any singers you really admire who've influenced you?
I grew up listening to Elvis a lot and I love Roy Orbison, the Beatles, Eric Clapton, Steve Ray Vaughan, and Jimi Hendrix. I listened to a lot of country too—from Faith Hill to Rascal Flatts—because we always had the country music channel on at home in Adelaide. So it's kind of a real blend, I was playing in a cover band too, Top 40 stuff like No Doubt. I was singing guy songs and whatever was on the radio.
And making guitars out of milk cartons?
Yeah and rubber bands! When I left my guitar at home and I had invited everyone to watch me perform at lunchtime by the steps. I remember I was like, 'Crap I guess I'll have to make one.' It was terrible. My mom used to work at this dental office and people used to come and say "I saw your daughter perform this afternoon with a guitar made out of rubber bands." She kinda got used to that.
Let's talk about your gear a little bit. You have your signature PRS guitar. Is "Pepper" still your number one?
Yes, definitely. I've had Pepper 10 years and that's my go-to guitar. It just feels like my companion guitar, it's natural to play it. I love "Manos" and then I have "Moby," and "Frank"—they're all custom 22s and 24s. On the Alice tour I use "Floyd," it's a white PRS Custom 24 and "Fire" is my other one I use on the tour and it's covered in blood. I name all my guitars. I have another one I love called "Haze" that was built on Christmas Eve (2011). It's a very special guitar, made in purple, it's just really electric-looking. It's a private stock guitar, pretty much a one-off, it's a PRS Custom 22 and I love it.
In the studio, did you stick with your PRS's or were there any other guitars you played?
I used an old Fender '54 Stratocaster, you can see me playing it in the making of the Fire EP. It's a beautiful Strat, I just had to use it, it's old, it sounds great and the PRS and Strat sound good together.
On what tracks on the album can we hear you play the Strat?
The guitar solo in "If You Were Here with Me."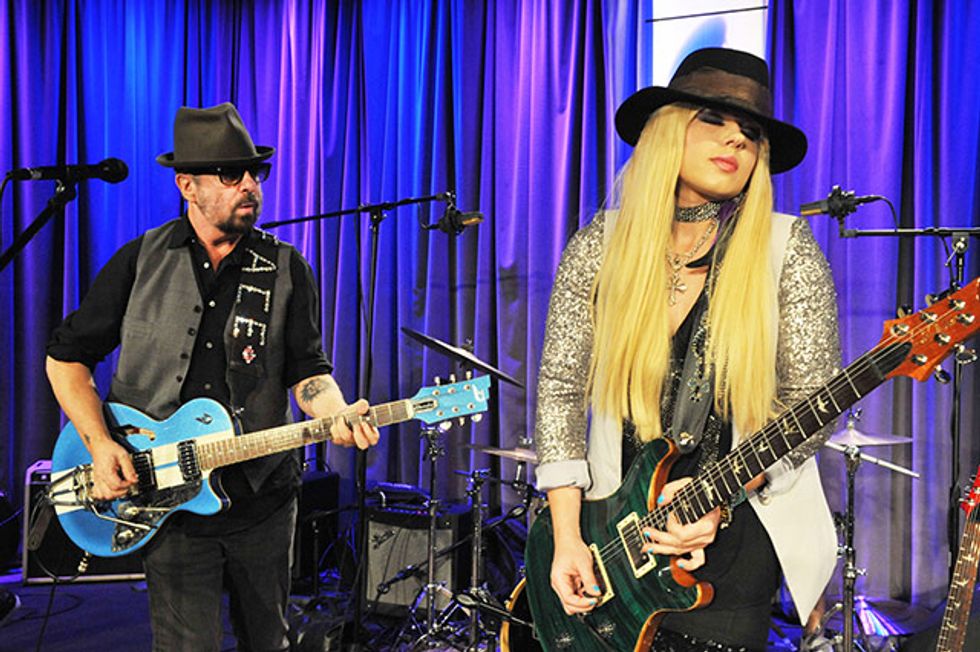 Photo by Robert M. Knight

Is your setup different for your own band and your Alice Cooper rig?
I don't use many effects when I play with my band, it's just straight into the amp, maybe a delay or a reverb or wah or something. But with Alice I use a Whammy pedal, it changed from first tour to this tour, it's pretty bare bones now but we use an [ISP] Decimator and some other things. I like the connection of the amp and the guitar so I try not to interfere with that much. On my first tour I had a whole rackmount with TC Electronic stuff. I had this song called "Dracula's Theme," and I had a ton of effects for that song—I had a flange going on and I did customized Tone Prints with TC. It always changes, it depends on the song but I like to use technique, really.
Do you have a favorite pedal?
Right now I like the Boss Octave and the Dunlop Fuzz Face.
What are you using to get your crunchy tones like at the end of the title track?
My EVH 5150 III amp and also the TC Electronic MojoMojo Overdrive. I also used an old Fender amp that was at Blackbird, I can't remember the model but it was just super old and battered. For the "How Do You Sleep?" solo, we actually had the amp so loud it was near the breaking point.
Can you recall one of your performances where you had an out-of-body experience where you played the best you ever played?
I got to jam with Carlos Santana not too long ago up in Seattle, he was getting honored at the EMP Museum, and they asked me to come and play with Jonny Lang. [Santana] is the reason why I play guitar and he's a friend—I've known him since I was about 18—but I'm always in awe of him and when playing in front of him I'm never comfortable … He sat down on the couch and I was playing one of his solos at [Microsoft co-founder and EMP creator] Paul Allen's studio and it was this great setup. So he was sitting there staring at me and I'm like "Carlos you're making me very nervous. I don't get nervous very often, but you staring at me right now while I'm playing so you have to get up and play." And he got up and jammed.
And then writing a song with Steve Vai for my last album, "Highly Strung"—there's definitely been a lot of moments where I'm like, "This is crazy."
Do you think you'll collaborate with Steve Vai again?
I would love to, and we've spoken about it. He's been so encouraging to me since I was 14 and it was my first support, I think, for him in Adelaide. I would send him demos and he would actually listen and write back and take the time to say, "This part I like, but this part could be better if you change this chord, or change the key here." He was just very attentive, and it was like wow, getting an email from Steve Vai who's actually listened to your demo. That's just incredible!
He's definitely been a mentor and just an awesome person. I don't want to play when I'm around him because he's like the Hendrix of our time, he's such an innovator. He's one of the very few who can actually shred like there's no tomorrow and play the most beautiful melody that makes you just stop what you're doing and listen. Some guitar players can play full out, and it's a bunch of noise and it's craziness. But Vai is a composer, too. He seems really free with his playing but at the same time being very technical. I haven't heard anyone play like Steve. I don't think there will be.
Gear

Guitars
Signature PRS SE Orianthi Model, PRS Custom 22s and 24s, PRS Angelus Cutaway Acoustic
Amps
EVH 5150 III amps
Effects
Boss Octave, Dunlop Fuzz Face, TC Electronic pedals, DigiTech Whammy, ISP Decimator
Strings, Picks, and Accessories
Dean Markley Helix .009-.042 strings, 1 mm picks
What kind of player are you?
I studied classical at age 10 and went through that theory thing, but then you have to try and step away from that and just play. A lot of players I love, like SRV, B.B. King, or Santana, it's not really in scales it's more about the melody. When I hear Santana I get inspired and want to play guitar. That's what I hope to do for others. Playing guitar is like a meditation and it makes me feel like it's what I'm meant to be doing. Now more female players are coming up to me and it's so cool because when I first started there were hardly any female players, it was all guys. You don't want to be shy about it … you gotta step out there and own it. And I think that's the thing I'm seeing more and more of, which is awesome. One of my favorite bass players is Tal Wilkenfeld, she just owns it—she just plays like a dude and I love it. Whether you're a drummer or whatever, you don't want people to think you're playing politely.
So when are Orianthi and Tal going to start a band?
We've spoken about it. Right now she's doing her stuff, and I'm doing my stuff, but when the time is right, we'll do something. We've played together at the Troubadour with Joss Stone and Dave Stewart, and I saw her at Crossroads in '07 when she was onstage with Jeff Beck. Hopefully we'll do something together in the future.
YouTube It

Orianthi performs bonus track "Sex E Bizzare" from her new album at a St. Jude benefit this month, taking a searing solo at 1:50.


This montage from Michael Jackson's This Is It documentary shows the man and his guitarist practicing one of the most famous solos on one of the most famous songs of all time.

Behind the scenes during the making of the video for the Orianthi-Vai shred-fest "Highly Strung." The concept, Vai says, is: "Play your ass off."