Jimmy Herring: Triple-T Threat
Jimmy herring's deft command of the three Ts—technique, tone, and taste—have made him the toast of the jam-band scene. here he talks about his fusion roots, his vintage Super reverb mods, and the mystery tele that's all over the latest Widespread panic album.
Herring digs into his Custom Shop Fender Stratocaster loaded with Seymour Duncan '59 humbuckers. Photo by Colin Vereen
Among guitarists familiar with his diverse array of projects, Jimmy Herring is a guitar hero who defies clear-cut categorization. Combining the three Ts—technique, tone, and taste—he seems to be able to whip up a tantalizing ear feast for any situation he's thrown into. Just this past year, he has played everything from post-bop fusion with Return to Forever drummer Lenny White to Southern rock jams with Widespread Panic. With each new project, Herring's musicality seems to grow by leaps and bounds. Any given night you could catch him juxtaposing blazing pentatonic lines with angular phrases that sound like something out of John McLaughlin's catalog.
In 2008, Herring released
Lifeboat
, his first solo album on the jazz/fusion label Abstract Logix. And there not only did his playing finally take center stage—something that hasn't always been the case in his various projects—but it also allowed Herring to stretch his compositional wings.
Since joining seminal jam band Widespread Panic in 2006, Herring has seen his star continue to rise to become one of the most respected and influential axe-slingers on the jam scene. And on their most recent album,
Dirty Side Down
, he once again infuses their tunes with everything from ripping leads to delicate acoustic fingerpicking. From the opening, feedback-drenched notes of "North" to the swampy de-tuned riffs on "Shut up and Drive," it's clear Herring has settled in and found his place within the band.
PG
wanted the inside scoop on what makes Herring tick in all these different projects, so we caught up with him during one of Widespread Panic's seemingly never-ending tours to discuss his gear, life on the road, and playing with some of his heroes.

You're no stranger to touring, but it seems like this year was especially busy.
These other opportunities keep coming up in between tours. This was going to be that year where I didn't say "no" when I really wanted to do something—even if it means getting off one bus and getting into a van three days later.
Where did you record the album?
It was recorded at [producer] John Keane's studio in Athens, Georgia. The guy is brilliant. He has a long history with Panic, but this was the first time I had the opportunity to work with him—even though we have been friends for a long time. Over the years we have played together, but this was the first time we have recorded together. I can't imagine ever calling anyone else to record with.
Your live tone really came across on the album. What amps did you use?
John Keane has a lot to do with that. I was really glad, because he loved my amps. There were only two amps that I brought in, a '64 Fender Super Reverb and a Fuchs Tripledrive Supreme. We used both quite a bit. On "Shut up and Drive," we actually used a Budda 80-watt amp. John is absolutely brilliant with getting guitar sounds. But for the most part it was the Super Reverb and Fuchs.

What guitars did you use on the record?
We used a lot of guitars, but I would say that close to 70 percent of the album was actually John's Fender
Telecaster
. The guitar plays like a million bucks. I have never had so much fun playing a Tele in all my life. A lot of the stuff without the twang bar is his Tele, mostly. There are a few songs where I used a Fender Custom Shop Strat. I used my main Strat on some songs. The stuff you hear with a twang bar is my main Strat.



For variety, Herring brings out a Gene Baker B3 (left) with Lollar Imperial pickups, in addition to a Jerry Jones Baritone (right) that he uses on "Shut Up and Drive." Photo by Jason Shadrick

Do you bring those same guitars with you on the road?
Yeah, I usually bring my favorite Strat, which I've had for about 17 or 18 years. It has Seymour Duncan humbuckers in it. I probably will bring a Tele and maybe another Strat with single-coils, just so I can have another sound.

How does your rig change when you go out with your solo band?
It's smaller. With the solo band, we travel under different conditions. We don't have trucks and semis, and the stages aren't as big. I do love a Super Reverb—it is really hard to beat for a club amp—so I am bringing that on tour. I generally try to use the reverb through a separate source, like I do with Panic.
Is the Super Reverb stock?
It has an external speaker out, but I never use it. So I had my amp guy convert it to a line level out—which is something like an effects send. There is no return on the Super Reverb. I could have one put in, but I don't want to do anything to a vintage Super Reverb that can't be undone. Converting the external speaker out to a send is no big deal—they can put that back pretty easily.
What do you use the line level out for?
I send the signal to a volume pedal and then to a digital reverb of some type. Then I return it to the power amp of another amp and set the mix on the reverb unit to 100 percent wet. That way I have the dry sound coming out of the Super Reverb and you can bring the reverb in from another source with the volume pedal. If I need more reverb, I just step down. Basically, all I use is a couple of volume pedals—one for the main amp and another for the reverb—along with a Hughes & Kettner Tube Factor.
The songwriting on Dirty Side Down has a real cohesiveness to it. How did the material come together?
Everyone had some ideas and we got together in small groups. We actually live pretty far apart—some guys live in California, others in Nashville, and some here in Atlanta. We got a couple of us together at a time, here and there. One time we had four of us together and started putting ideas down on a four-track. Everybody's ideas got put down on tape, and the next thing you knew, we had a whole new batch of material mixed with some older stuff that had never been recorded on a studio album before.
How do you divide the guitar parts between you and John Bell?
We just kind of hit it. Sometimes we are conscious of the register that we are playing in.
If I come in with a riff and I am playing really low, he will find something in another register so that we aren't playing in the same part of the neck. He is all about letting everyone find their own space. JB is great at finding his own parts, you never have to go "Here, JB, play this riff," because he finds something to play that is always interesting and different. I thought his guitar sound on this record was amazing. John Keane brought in a G&L guitar with some weird single-coil pickups for him to use on some tracks. On "When You're Coming Home," the pretty ballad on the record, I was playing a Nashville-strung acoustic and JB was playing that G&L through a Vox AC30. John is the king of getting incredible rhythm-guitar tones.
Herring controls all aspects of his monitor mix with a series of Ernie Ball volume pedals. Each band member's signal is assigned to a pedal, and he mixes them in and out, depending on the tune. The Rocktron MIDIPedal is for switching Fractal Axe-Fx Ultra patches. Photo by Jason Shadrick
A lot of the bands you've played in have large catalogs of songs. How did you approach learning the tunes when you first joined Panic?
Basically, I had two weeks to try to learn the material—which wasn't enough. The first week, I just listened and didn't even really pick up the guitar. When I have to learn a bunch of songs in a short amount of time, I listen to the material and make a rough outline of the tune—like a bar chart. I map it out first and later I go back and fill in the chord changes. Panic has over 200 songs that could be called—and not all are originals, but they do the covers in such a unique way it is almost like an entirely new tune. Most of the time, I had to go back and listen to live shows to learn the cover tunes instead of the original recordings. For example, they do a couple Three Dog Night tunes, but because they do them their own way and they have been playing so long, I had to learn it the way they played it. If we learn a new cover, then you can go back to the original version and learn it.

How did the tour with drummer Lenny White come about?
Basically, Souvik Dutta, who runs Abstract Logix, hooked it up. I have been a Lenny White fan since I was 17 or 18 years old and I heard
Romantic Warrior
[by legendary fusion keyboardist Chick Corea's group Return to Forever]. It changed my whole life. The big three bands for me were Weather Report, Mahavishnu Orchestra, and Return to Forever. Those bands were basically Miles Davis' children. Both Lenny and I did records with Souvik, and Lenny asked him if I could play on his record and it started from there. I love Lenny. He is just incredible.

How much of an influence has John McLaughlin been for you?
I am 48 years old and I should be past the point of being starstruck, but you can't be around John McLaughlin and not feel like you're 18 years old. He is such an inspiration. He's one of those artists that just about recreates himself with every album he makes—just like Miles. And, you know, Miles was a tremendous influence on him. I love so many aspects of John's career. Obviously, Mahavishnu was my first exposure to him. My brother first gave me that album. After that, I started to trace back to everything he had done before then, and it led me to Miles. I couldn't believe it when Souvik called and said, "John McLaughlin wants to play with you [at two Abstract Logix concerts in November]." I just didn't know what to say.
Herring's overdrive comes exclusively from his Fuchs amps. His main Tripledrive Supreme (left image)
powers the Tone Tubby cab, while the backup head (right image) sits atop two Hard Trucker 2x12 cabs
for his wet signal. Photo by Jason Shadrick
Do you have plans for a second solo album?
This has been that crazy year where I have been busy and haven't had a real chance to write. I have these sketches lying around that as soon as I get some time I will finish them and get to recording. It is something I wish I could do every year. It will probably be January before I get a break and so I will take that time and work on that. At least then, I will have enough material to make another record.

Musically speaking, what is the most rewarding part of creating a solo album?
With this music, I just wanted a final say about the performances. I am not the guy to mix or engineer the record, but as far as the performances go—especially my own—I wanted to have the final say. This is the first time I have been able to do that. I probably used too much reverb in certain spots, but people like John Keane are real good at seeing the bigger picture. We wrote, recorded, and mixed the record inside of a month, and his genius is what made that possible. We were done recording within three weeks, and he just went straight in and mixed it. I know a lot of people make records faster than that, but that is pretty good for a record like that. If we can do the same thing with a more fusion-oriented record like what I want to do next, I will be thrilled to death.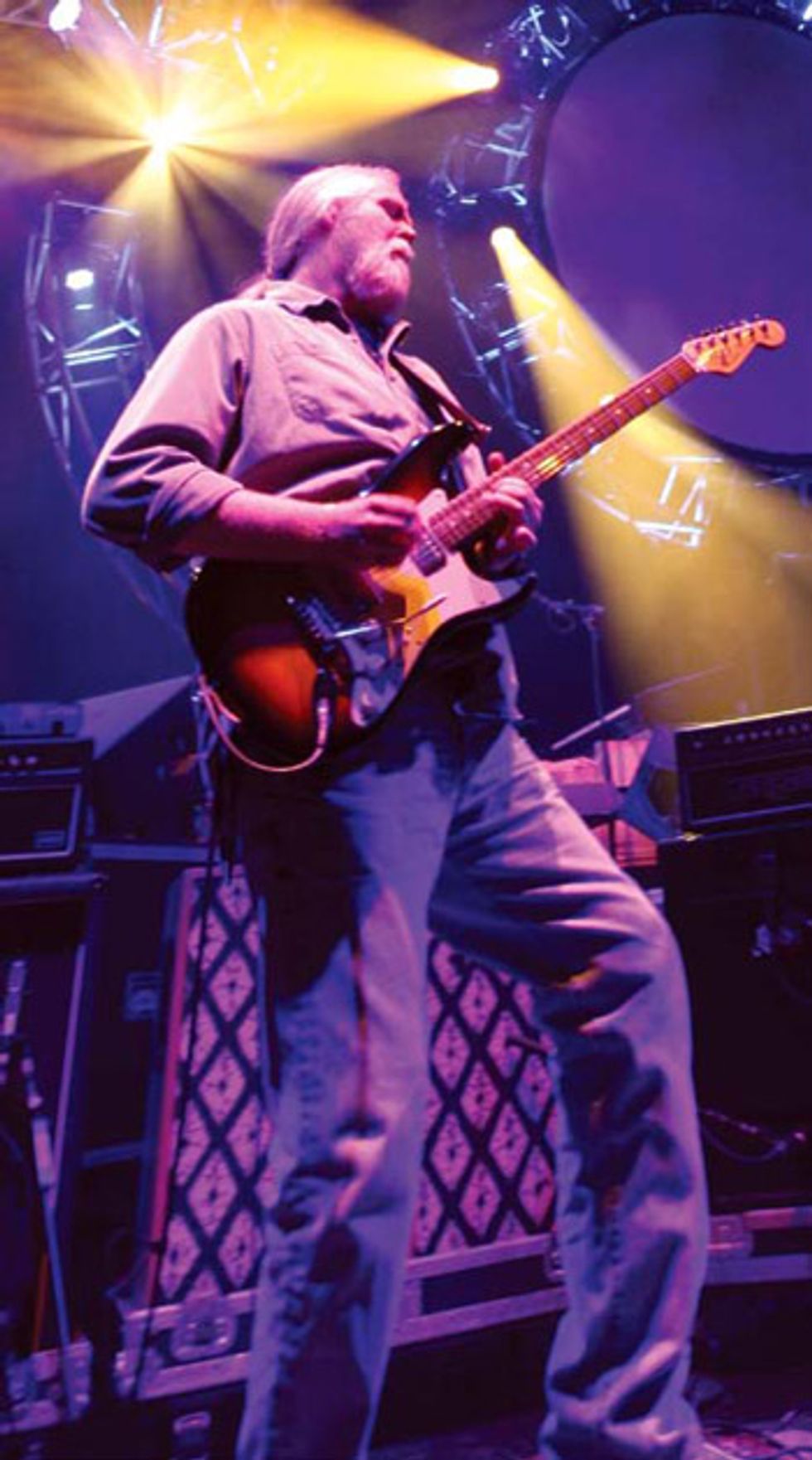 Backed by a trio of cabs—including a Leslie, two Hard Trucker 2x12s, and a Tone Tubby 4x12—Herring burns through another solo. Photo by Colin Vereen
Jimmy Herring's Gearbox
When it comes to his rig, Jimmy Herring likes to keep it simple. If he needs a certain tone for a song, he is more likely to switch guitars than to add an extra pedal or amp. According to his tech, Joel Byron, the signal chain is pretty straight-ahead. "The signal comes out of the guitar, through the volume pedal, and directly into the Fuchs Tripledrive," Byron says. "Then it goes from the effects loop of the Fuchs into a Radial Switchbone, which splits the signal between a Fractal Axe-Fx Ultra unit and a Fuchs Verbrator tube reverb we keep in a drawer."
From the Verbrator, Herring's signal goes to the effects return on a Fuchs Clean Machine and then into a Leslie cab. Meanwhile, the stereo outputs from the Fractal Axe-Fx Ultra are routed to one a Mesa/Boogie Simul-Class 2:Ninety stereo tube power amp, which powers two Hard Trucker 2x12 cabs.
Herring likes to be able to mix both a dry and wet sound on the fly, depending on the tune he is playing. "The main Tripledrive is totally dry through the green Tone Tubby cab," says Byron. "He controls the reverb from the Fractal unit with a second volume pedal. The wet mix comes out of the Hard Truckers cabs and he adds the Leslie in by hitting the Both switch on the Radial Switchbone. All of the distortion comes from the different channels on the amps—Jimmy doesn't use any overdrive or distortion pedals."
Guitars
Jerry Jones Baritone, Fender Relic Tele with Lollar pickups, Warmoth semihollow Strat-style with a Seymour Duncan '59 in the neck and a Rio Grande BBQ Bucker in the bridge (tuned to drop-D for "Shut up and Drive"), Fender Strat with Lollar Imperials, Baker b3 with Lollar Imperials and a coil-tap switch, Fender Strat with Vintage Noiseless single-coils, sunburst Fender Strat with Seymour Duncan '59 pickups
Amps and Cabs
Fuchs Tripledrive Supreme 100-watt head through a Tone Tubby 4x12 cab (Herring also brings a spare Tripledrive), Fuchs Clean Machine through a Leslie G27 cab, Mesa/Boogie Simul-Class 2:Ninety stereo tube power amp (Herring brings a backup of this, too) through two Hard Trucker 2x12 cabs
Effects
Fractal Audio Systems Axe-Fx Ultra controlled by a Rockman MIDIPEDAL, two Ernie Ball volume pedals
Strings and Picks
D'Addario (gauged .010–.046), V-Pick (Large Pointed)
Miscellaneous
Planet Waves cables, Radial Tonebone JX-2 Pro Switchbone AB-Y switcher, Boss TU-2 tuner pedal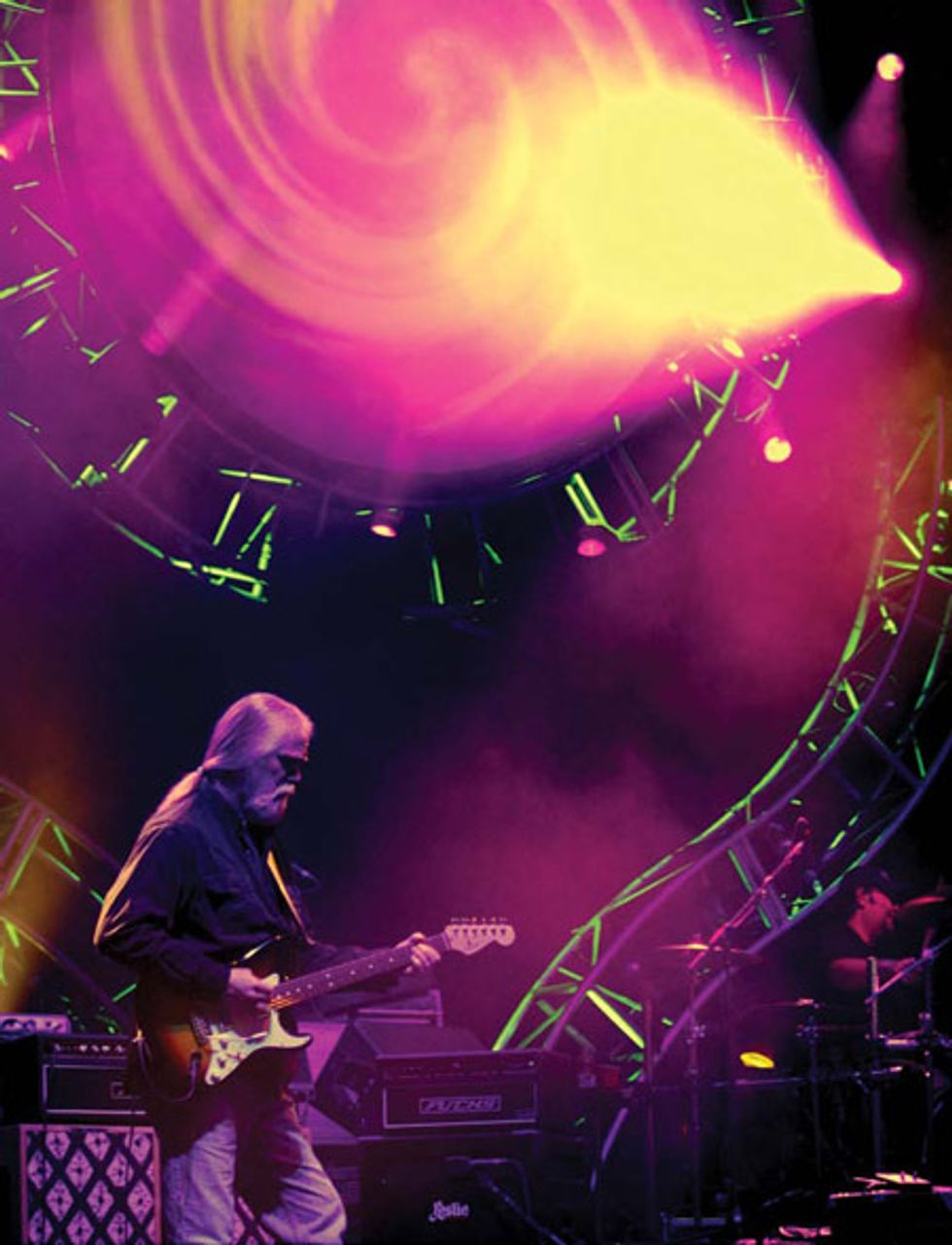 Along with Widespread Panic drummer Todd Nance (right ), Herring holds down the groove
with his army of Fuchs amps. Photo by Colin Vereen
Producer John Keane on Getting Herring's
Tones on Dirty Side Down
John Keane is the unofficial seventh member of Widespread Panic. Since meeting the band in the mid '80s, he has gone on to engineer and produce five of their studio albums, in addition to joining them on tour to play guitar and pedal steel. He has also worked with such marquee artists as REM and the Indigo Girls, and with each project his reputation and sonic touch become more impactful.
Keane describes how knowing a band like Widespread Panic for so long, really helps in the studio. "I have established a rapport with them—there is a certain amount of trust there. They are familiar with my methods, and I am familiar with theirs. It makes it a lot easier to get things rolling quickly in the studio." And the proof is in the pudding: On
Dirty Side Down
, Keane pulled some of the best tones and performances out of the band since their
Space Wrangler
debut.
Keane recorded all the guitars through a DI and mic'd the amps. "I use these Demeter direct boxes that have tubes in them so they don't load down the guitar pickup. I usually go straight from the guitar into one of those and record that to a track in Pro Tools," Keane says. "I record the direct signal, and I usually don't listen to it—I just want to make sure it's clean. Later on in the mixing stage, if I think the amp is too dirty or too clean and I want to use a different sound, I will take the direct guitar signal and feed it into another amp and re-record it onto another track."
While on tour with Panic, Keane let Herring try out his favorite guitar—a Tele that Herring latched onto and used for most of the
Dirty Side Down
sessions. "It's a guitar that I traded some studio time for about 15 or 20 years ago. It's an inexpensive Japanese Tele. When I first got it, I wasn't sure I was going to be able to do anything with it. All the electronics in it were terrible." After a few upgrades, it became a go-to axe. "I went ahead and pulled all the electronics out of it—all the pots and switches—and replaced them. I put a Seymour Duncan Quarter Pounder in the bridge and another Seymour Duncan pickup in the neck position. I put a 5-way switch in, which is what is recommended to get all the tonal possibilities out of the Quarter Pounder. It's real fat and dark sounding, kinda like a P-90. But it also has a tap position that sounds more like a regular Tele pickup. After I did that to it and got it refretted, it became my favorite guitar."