"I think Greeny is a guitar of the people and this is an amazing opportunity for more players to experience the spirit of Greeny."
- Kirk Hammett
"Kirk worked with us every step of the way to ensure this Epiphone Inspired by Gibson Custom Shop 'Greeny' model has the same sound and feel as his legendary original guitar," says Mat Koehler, Vice President of Product at Gibson Brands. "It was extremely important for him that we get it right. I know that we've done him proud because he couldn't–and still can't–stop playing the prototype. Our Epiphone and Gibson Custom Shop teams are continually collaborating and elevating materials and ideas, and our forthcoming Inspired by Gibson Custom Shop-level Epiphone models will also feature the open-book Gibson headstock shape. This version of 'Greeny' is undeniable, and we couldn't be more excited to bring it to market."
The story of "Greeny" is shrouded in mystery, but few guitars are as illustrious. Greeny is one of the most iconic original Les Paul Standards ever made, with a unique sound as recognizable as the guitar itself. Previously owned by Peter Green, it was used throughout his time with Fleetwood Mac and later sold to Gary Moore, who used it for three decades with Thin Lizzy and as a solo artist. Now owned by Kirk Hammett, Greeny has passed through the hands of three legendary guitarists. Its distinctive sound is partly from the out-of-phase middle switch position due to the neck pickup's reversed magnetic-polarity.
The Inspired by Gibson Custom Shop range is the crown jewel of the Epiphone Collection, and this Epiphone Kirk Hammett "Greeny" 1959 Les Paul Standard follows the successful release of the Gibson Custom Shop "Greeny" and the Gibson USA "Greeny" announced earlier this year. This exceptional Epiphone guitar was inspired by Kirk's legendary original and allows players around the world the opportunity to experience the magic of "Greeny" for themselves. It features premium components, including Gibson USA Greenybucker pickups with the neck pickup reverse mounted and complete with a reverse polarity magnet, a Switchcraft pickup selector and ¼" output jack, CTS potentiometers, Mallory™ capacitors, and Grover® Rotomatic tuners with spade-style buttons on a Gibson-style "open-book" headstock. A vintage-style Epiphone hardshell case in brown and pink is also included.
For more information, please visit epiphone.com.
Its 38-watt output, powered by a quartet of EL84 tubes, is designed to provide lots of headroom and response for discerning players.
The original idea behind Jet Black was to bring the Black Cat's trademark sound to players who needed more volume. With a second pair of EL-84s doubling its output, common sense suggested it'd be louder and tighter, but no one was quite prepared for the tones the Jet Black would unleash.

Unleash Your Creativity with the Jet Black
The Jet Black offers guitarists an unrestrained and visceral playing experience. Its 38-watt output, powered by a quartet of EL84 tubes, provides awesome headroom and response for discerning players. With two channels, tremolo, FX loop and reverb, the Jet Black is an ultra-versatile tool for shaping your sound.
Channel 1: The revamped first channel is bold and clear, making it perfect for clean tones and harmonically rich edge of breakup sounds.
Channel 2: The second channel is versatile and fresh, suitable for a wide range of rock-oriented tones. It successfully captures the essence of classic and modern guitar sounds, boasting its own unique character and swagger.
3-Band EQ: The new 3-band EQ allows precise control over your tone, with a pronounced mid/high response that cuts through the mix, unlike traditional "British Voice" amplifiers, the Jet Black carves its own niche in the sonic spectrum, ensuring that it shines in a two-guitar band setup without contributing to a volume war.
Reverb and Tremolo: Rarely found on rock-oriented amps, meticulously tuned reverb and tremolo circuits are included to complement the amplifier's ultra-wide range, delivering lush and noise-free effects with adjustable depth and speed.
FX Loop and Line Out: The Jet Black features a transparent FX Loop for connecting external effects without hassle. A line out simplifies the use of external impulse responses or re-amping. The amplifier also offers various speaker outputs to accommodate different setups.
Footswitch: The included two-button footswitch provides convenient control over the tremolo and channel selection.
Availability
The Bad Cat Jet Black amplifier will be available from, November 21, 2023, through select Bad Cat dealers and online retailers.
For more information, please visit badcatamps.com.
Positive Grid's mighty mini amp has taken the world of practice—and stage—by storm. Here's the lowdown on the original Spark amp, the Spark MINI, the Spark GO, the new Spark CAB, and the company's flexible, tone-hopping controller. Most are sale-priced for the holidays.
The holiday season is upon us, and if you're on the quest to find the ultimate gift for the guitarist in your life, or perhaps you're treating yourself, look no further. We're about to take you on a journey through the world of Spark series amps – the gifts that sound right for any guitarist's wishlist. With numerous awards and an ever-growing community of over 500,000 players worldwide, these amps have certainly made their mark.
And the best part? Fantastic deals on Spark start now. There's a Spark for every type of player (bassists included!) – so let's find the one that fits you.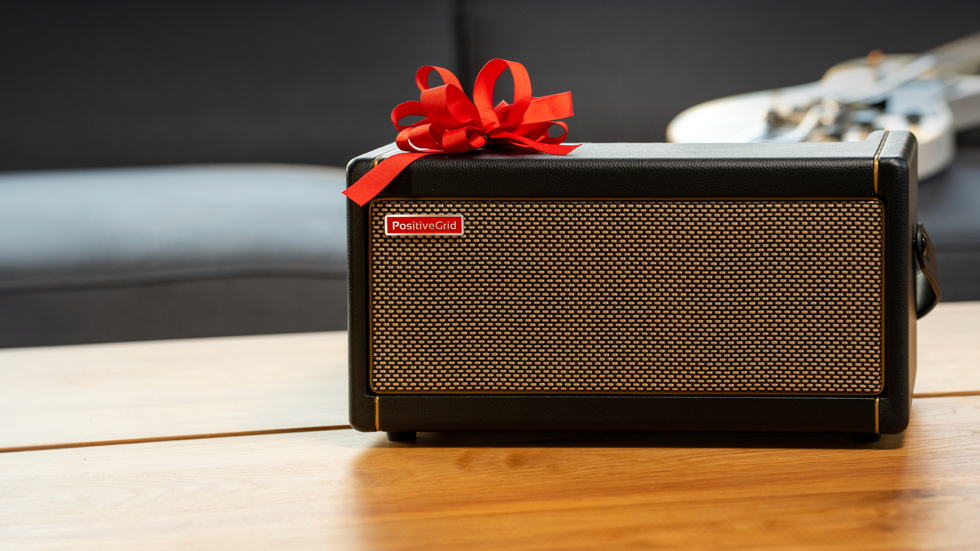 Spark - The Complete Jam Package
Let's kick things off with the Spark guitar amp and Bluetooth speaker – the trailblazer in the Spark series. This 40W practice amp doesn't just fill the room with incredible sound; it puts you in the driver's seat of your own tone. But what really makes Spark stand out is the incredibly powerful smart app that works seamlessly with the entire line of Spark series amps. Packed with all the gear and innovative smart features, it's your gateway to instant jamming fun. Looking for that perfect tone? You've got access to a whopping 50,000+ tones and custom presets created by guitarists worldwide to get you started. Plus, who needs bandmates when you've got Smart Jam? Just start playing, and the AI creates a real-time drum and bass track for you.
We're just scratching the surface here. It's no wonder why over half a million guitarists worldwide are playing more guitar than ever with Spark, now completely
customizable
to fit your unique style. And don't forget to check out the official
Traveler Gig Bag
– a must-have for any Spark owner on the move.
Spark MINI - Portability Meets Power
For those who crave portability without compromising on power, meet the Spark MINI. Don't let its size fool you. This 10W portable beast of an amp features a passive radiator that delivers unbelievable sound and punchy bass that'll have you questioning why all amps aren't this compact. And our favorite part – Spark MINI features a built-in rechargeable battery that provides up to 8 hours of jamming or music listening, perfect for impromptu jam sessions at the office, home, or anywhere that inspires you. Seriously, take it to the park or the beach; it's always ready to roll.
Spark MINI has even earned the praise of guitar legends like Zakk Wylde and Paul Gilbert, both of whom crafted their own limited-edition versions which, unfortunately for you, sold out. But don't fret, they also created custom presets that can be downloaded for free in the Spark app and are available to all Spark users.
Spark GO - The Ultra-Portable Wonder
Ever wonder what it was like to have an amp on you…all the time? Spark GO is a 5W wonder so small it can slide right into your gig bag or suitcase without hogging precious space. In fact, you might even forget that you packed it in the first place! It's the personal guitar amp that fits the unique style of every guitarist – regardless of skill level. Touring guitarists across the globe are falling head over heels for this tiny powerhouse, and for excellent reasons. They've discovered that not only does it deliver surprisingly big sound for an amp its size, but also the incredible convenience of Spark GO, turning hotel rooms and tour buses into impromptu jam spaces.
Just in time for the holidays, you can take home a Spark GO for under $100 USD. While you're at it, pick up the new carrying case, to ensure your musical sidekick is well-protected from the rigors of the road.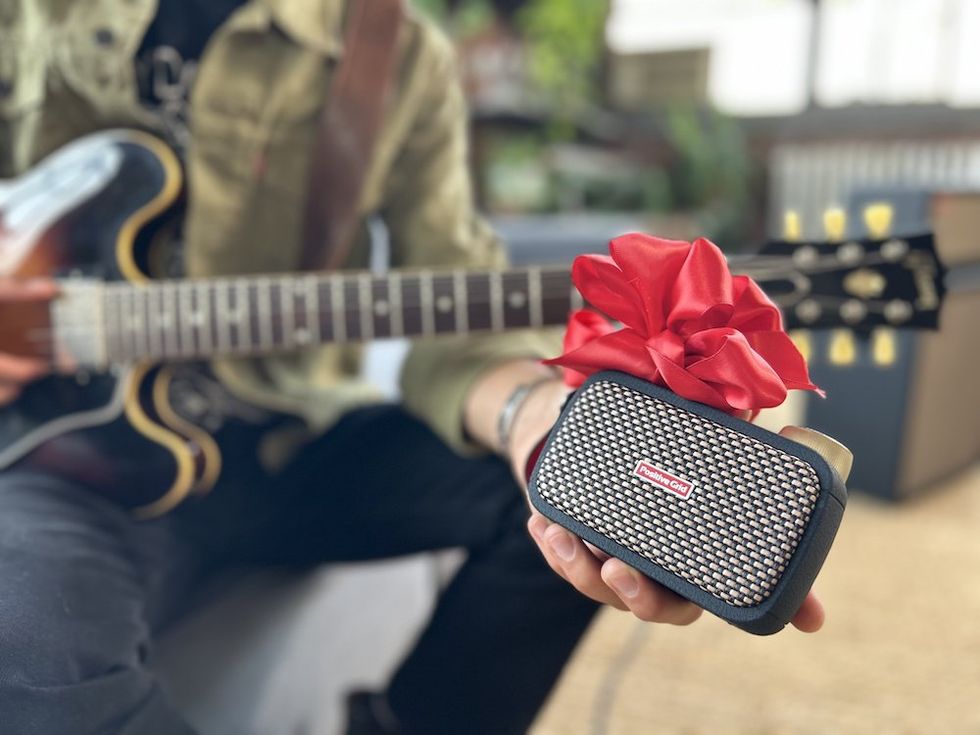 Spark CAB - It's Time To Get Loud
Sometimes, you need that extra oomph in your sound, and that's where Spark CAB comes into play. It's not just about making your music louder; it's about making it shine. But make no mistake, this cab is LOUD! Designed for Spark amp owners hungry for more volume during live performances or jam sessions, Spark CAB is a 140W FRFR (Full Range, Flat Response) powered cabinet that perfectly complements any Spark series amp. Plus, it's great for cranking up the volume on other gear like keyboards, modelers, or even an extra amp with line level outs.
Spark Control - Elevate Your Spark Experience
Now that you've decided which Spark series amp works best for you (or the lucky person you're gifting it to), it's time to pair it up with the ultimate Spark accessory – Spark Control. It allows you to effortlessly (and wirelessly!) switch between presets, fine-tune settings, control music, and more, and it's compatible with every Spark series amp. Besides, a good pedal is something every guitarist needs. Say goodbye to fiddling with controls and knobs when you need to switch tones. Set up your favorite preset, assign them to Spark Control, and you can seamlessly switch them on the fly without ever missing a beat.
With the holidays racing towards us faster than one of Paul Gilbert's legendary solos, let this list guide you in your quest for the perfect gift. So, this holiday season, let's celebrate the joy of giving with the best gift of all: music. And remember to treat yourself; you've earned it.
Looking for more gift ideas? Visit our
Holiday Gift Guide
to snag the best deals of the year.