Explore the tricks and techniques that made Jason Becker one of the most influential shredders of the Shrapnel era.
This month we're looking at the legendary shred guitarist Jason Becker. Hailing from Richmond, California, Becker began playing guitar at the age of five, inspired by his father and uncle, who both played guitar. Becker began by learning Bob Dylan songs on his acoustic and performing them for his friends at school. Soon he moved to electric guitar and after watching The Last Waltz, he began learning Eric Clapton solos note-for-note. It wasn't long before Becker was diving into Van Halen, Uli Jon Roth, Yngwie Malmsteen—and even Bach and Mozart.
By the time he was 14, Becker was a virtuoso who blended hard rock and heavy metal with classical-inspired harmony and compositions. His father secured him a slot performing at a coffeehouse, and there Becker developed a one-man show. Between his blistering solo guitar performances and stage theatrics, he earned a reputation as a teenage protégé.
At the time, Mike Varney, the head of Shrapnel Records, was looking for talented, unknown guitarists to be featured on his label, so Becker submitted a demo. Varney was floored, not just by Becker's technique, but his rich, deep knowledge of composition, harmony, and counterpoint. Varney offered Becker a deal with Shrapnel, pairing him up with Marty Friedman to form the speed metal band Cacophony. Becker cut his first Cacophony record for Shrapnel, Speed Metal Symphony,when he was just 16.
It wasn't long before word of Becker's abilities began to spread, and he joined David Lee Roth's band for A Little Ain't Enough. Around the time of the recording, Becker started walking with a limp. He eventually went for tests and was given the devastating news that he had amyotrophic lateral sclerosis, which is sometimes called "Lou Gehrig's Disease." Before the disease totally robbed him of the ability to play, Jason spent time recording, but eventually he was unable to continue as a guitarist. Becker's story may seem tragic, but it's also an inspiring testament to the human spirit and Becker's love of music. To celebrate his amazing life, a full-length movie documentary, Jason Becker:Not Dead Yet, was released in 2012 to critical acclaim.
Becker's playing style includes fast alternate picking, sweep picking, legato, tapping, hybrid picking, advanced whammy bar phrasing, and an instantly recognizable vibrato. He often employed a technique of landing on a note that was outside the scale—essentially a "wrong" note—and then slowly bending it to become an inside note. This technique helped with tension and release. Japanese music was also a big influence and Becker was known to employ the Japanese pentatonic scale, or Hirajoshi scale, which is based on the tuning of a koto.
The track I've composed for this month's lesson borrows ideas from the Cacophony pieces "Images" and "The Ninja," and also Becker's solo composition "Altitudes." As well as having the full track with all of the guitar parts, I've included two backing tracks. Backing track one includes guitar two and guitar three's harmony parts, which accompany the composed solo for guitar one. Backing track two has no harmony guitars, and only the rhythm guitar is included, so that you can try ideas of your own and don't have to stick with what I've written.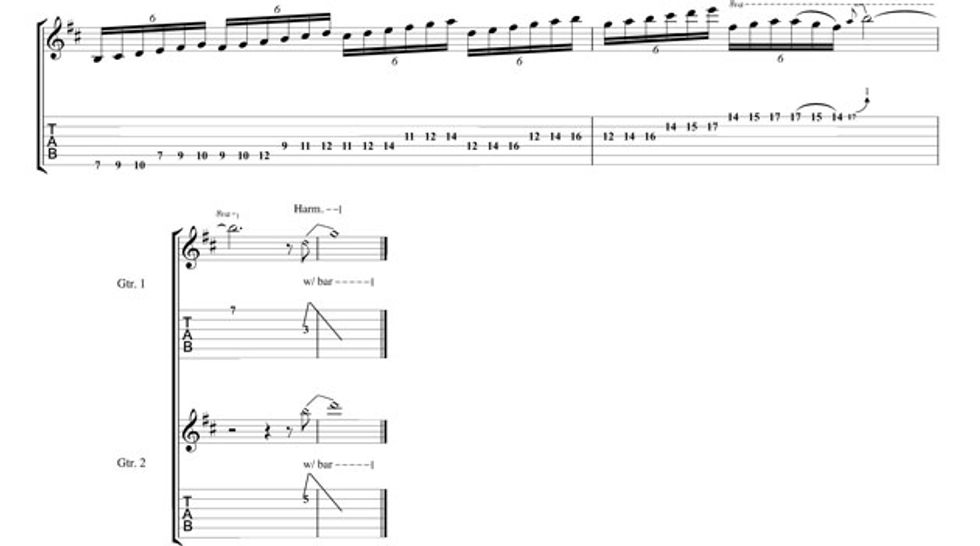 The track kicks off with a very melodic, clean-toned solo based around the B Aeolian (B-C#-D-E-F#-G-A-B) mode with a first inversion B minor arpeggio. It then moves into one of Becker's signature bending ideas by moving from C# to D. In measure five, we move to a series of sweep-picked E minor arpeggios. This demonstrates one the slightly unusual ways that Becker linked shapes—check out the stretch from the 9th to the 4th fret!
Measures seven and eight move to F# and illustrate how Becker might incorporate the F# Phrygian dominant (F#-G-A#-B-C#-D-E) scale over a V-Im resolution. Over this section we use an A#dim7 arpeggio across all six strings to create an F#7b9 sound, and then traverse up the neck using inversions on the top two strings.
Guitar 2 comes in at measure 12 and harmonizes a descending A major arpeggio on the top two strings before moving to a D major arpeggio across all five strings. This section concludes with a sequence based around one version of the B Hirajoshi (B-C#-D-F#-G) scale. I kick on the distortion in measure 15 for a series of harmonized diminished 7 arpeggios that imply a strong Phrygian dominant sound. The arpeggios are grouped into quintuplets and I use some sweep picking while moving up the neck in minor third intervals. The harmony part for Guitar 2 is the same line, but transposed up a minor third.
Our melodic theme comes in at measure 17 and expands to three different guitar parts with Guitar 1 and Guitar 2 playing in octaves while Guitar 3 adds the harmony. This melody emulates some of the interplay heard between Becker and Marty Friedman, and includes legato phrasing with wide stretches and more outside-to-inside bending ideas. Guitar 1 takes over in measure 23 with a B minor pentatonic (B-D-E-F#-A) phrase that has an angular sound due to some string skipping. I conclude with a diatonic sliding figure that ascends the top two strings.
The next section emulates Becker's flawless sweep-picking technique and shows how he would link five-string arpeggio shapes. We stick with G major and F# major arpeggios, while moving to a B minor arpeggio near the end of the section. Finally, we finish the example with a sextuplet-based, B Aeolian-infused line and conclude with some harmony squeals.
To emulate Becker's tone, I used a Music Man Silhouette Special fitted with DiMarzio Area series single-coils in the middle and neck, and a Fast Track Hot Rail in the bridge. Becker's clean tone sounded like a straight DI sound, so I plugged my guitar directly into my Avalon mic preamp and used the middle and neck single-coils. For the distorted tone, I used a Blackstar Series One 50-watt head feeding an isolation cab equipped with a Shure SM57 mic. This ran into an Avalon valve mic preamp, EQ, and compressor. I also used a Pro Tone signature Jason Becker Distortion pedal, which really delivers his crisp, crunchy tone. Becker's tone had exaggerated high-end EQ that helped the lead guitar sit within the mix. I also added a healthy dose of stereo delay during the mixing process.
Looking for more great gear for the guitar player in your life (yourself included!)? Check out this year's Holiday Gear Finds!
Flare is a dual-function pedal with a tube-like booster and a 1970s-style ring modulator effect that can be played separately or together.
Flare's ring modulator is based on the iconic tone of the original Dan Armstrong Green Ringer. This vintage classic was made famous by Frank Zappa who loved the unusual modulations created by generating a harmonic octave over notes. Messiah's version offers two control knobs: a "Sparkle" tone attenuator and output Level control. Its taupe-gold body, purple and green knobs and stick-figure rock 'n' roller holding up a flame convey an appropriately rockin'70s vibe.

​In a unique twist, Messiah's Flare pairs the ringer with a warm tube-style boost instead of a fuzz. Flare feeds the booster into the ringer for an extra punch, while preserving the Green Ringerspirit. The ringer side also turns any fuzz into an octafuzz, and it has the ability to quiet signal background noise fed through it.
The booster side features a single Boost knob to control the MOSFET circuit, making it very tube-amp-friendly with a warm, organic boost and gain of up to 32dB.
​The pedal is a distinct improvement over the 1970s pedal that inspired it. "Most ringer pedals don't track well," Tom Hejda, owner of Messiah Guitars. "The player can't rely on repeating the same effect even with the most consistently played notes. We carefully matched the components, so our ringer follows your every move, producing that slightly dirty octave you expect on demand."
Messiah developed this vintage octave pedal with flexible features so that people who love that messy, dirty Zappa-esque sound can get there with ease but there's also something for those who have not fallen in love with fuzz or the Green Ringer alone. Flare offers an array of sonic options while retaining simplicity in the controls.
Each Flair Pedal Includes:
3 control knobs: Boost, Sparkle, and Level
Two effects – Ring Modulator and Boost – can be used together or separately
Space-saving top side jacks
Durable, cast aluminum alloy 125B enclosure with fun artwork
Easy to see, illuminated True-bypass foot switch
Standard 9V pedal power input​
Flare Pedal Demo
Messiah Guitars pedals are designed with an explorative player in mind. Like their custom guitars and amplifiers, Messiah's pedals are hand-crafted in Los Angeles for a long life with guaranteed quality.
Flare retails for $199.00 and can be purchased directly at Messiah Guitars or you can hear it in person at Impulse Music Co. in Canyon Country, CA.
For more information, please visit messiahguitars.com.
This feathery little guy is a joy to play because of its incredibly quick response to your right hand - much faster and more expressive than your typical auto-wah pedal.
​If it looks like a duck, acts like a duck, and QUACKS like a duck, then it must be a duck. That's how we came up with the name for our new envelope filter. This feathery little guy is a joy to play because of its incredibly quick response to your right hand - much faster and more expressive than your typical auto-wah pedal. Trevor explains how this is possible in the launch video, as well as gives a demo on Le Canard's operation.
​The attack control determines how quickly the filter responds to the envelope, and the decay sets how quickly the filter releases afterward. The range controls which frequency spectrum the filter does its magic on. Add to this relay-based full-bypass switching with failsafe, and you've got one crazy little quacky beast. It is so expressive that you'll want to give up on your rocker-wah forever.
The MayFly Le Canard envelope filter features:
Super fast responding envelope follower. Touch it and it jumps!
Range control to dial in the character of the filter
Attack control to control how fast the filter moves on that first touch
Release control to control how slowly the filter slides back to baseline
Full bypass using relays with Fail SafeTM (automatically switches to bypass if the pedal loses power)
Cast aluminum enclosure with groovy artwork
MSRP $149 USD ($199 CAD)​
Introducing the MayFly Le Canard Envelope Filter
All MayFly pedals are hand-made in Canada.
For more information, please visit mayflyaudio.com.
Outlaw Effects introduces their next generation of NOMAD rechargeable battery-powered pedal boards.
Available in two sizes, NOMAD ISO is a compact, versatile tool that offers the convenience of a fully powered board plus the additional freedom of not having to plug into an outlet. NOMAD ISO is ideal for stages with limited outlet availability, quick changeovers, busking outdoors, temporary rehearsal locations, and more.
NOMAD ISO builds upon the legacy of the ultra-convenient and reliable NOMAD rechargeable pedalboard line originally launched in 2018. The brand new NOMAD ISO editions feature eight isolated outputs (1 x 9V DC, and 1 switchable 9V/12V DC) for even more versatility and clean, quiet power. With an integrated lithium-ion battery pack boasting 12800mAh capacity, NOMAD ISO can fuel a wide array of pedals, and will last over 10 hours* on a single charge.
Each NOMAD ISO pedal board includes adhesive hook & loop pedal-mounting tape, eight (8) standard DC connector cables, and one (1) reverse polarity DC cable, giving you everything you need to build your ultimate "off-the-grid" rig. A rugged, road-ready padded gig bag with shoulder strap is also included, to safely protect your gear while you're on the move.
NOMAD ISO S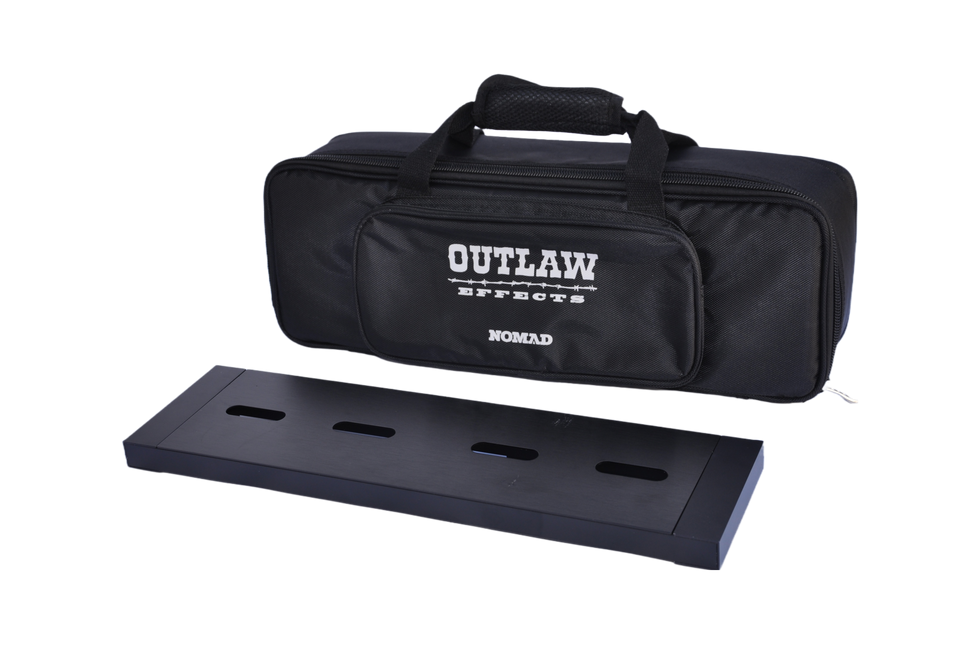 NOMAD ISO S: MSRP $309 / MAP: $249
Dimensions: 19 ¼" x 5 ¼"
NOMAD ISO M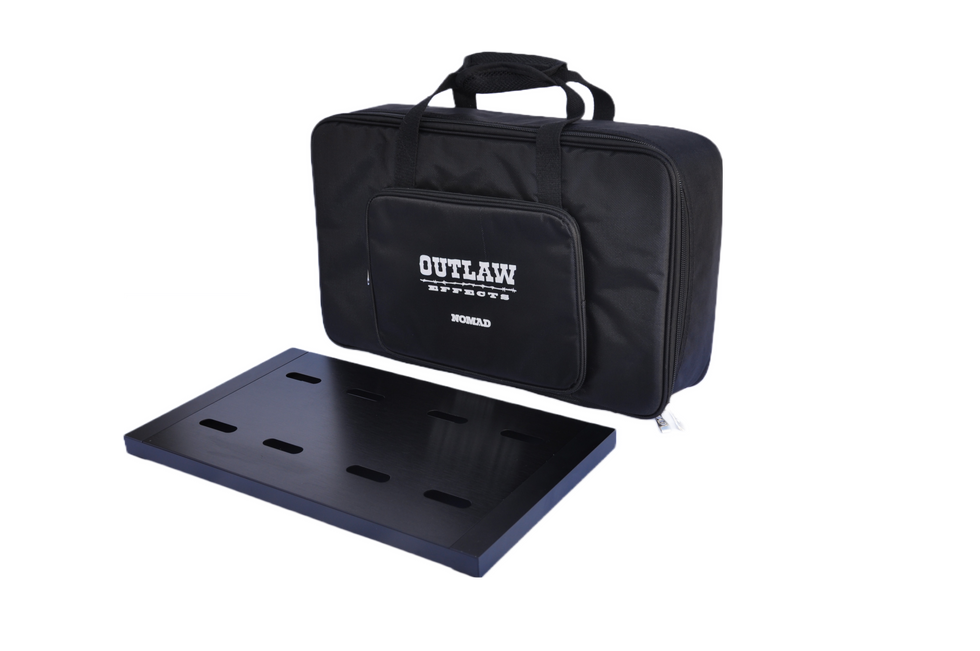 NOMAD ISO M: MSRP $349 / MAP $279
Dimensions: 19 ¼" x 11"
More info: https://www.outlawguitareffects.com.