Mad Professor Unveils the Simble Predrive, Evolution Orange Underdrive, and OS51 RT Amp
The Evolution Orange Underdrive takes a new approach by cleaning up your already distorted tone.
Finland (January 30, 2015) -- Simble Predrive is not just a preamp, it is a preamp/booster/compressor/upper harmonic enhancer.
Simble Predrive boosts the signal and compress it without slow attack time and also adds musical harmonic overtones too. This musical tonal combination is totally adjustable with your picking attack and guitar volume pot.
The amount of boost depends on the input signal level and HOT/COOL switch position. Maximum is about +10dB on lower level notes and average is about +6dB. Simble Predrive's special circuitry uses low noise transistor with high input impedance (over 2 Mohm) so you can boost even piezo pickups without tone loss. The output impedance is 50 Kohm so it works even in front of fuzz pedals.
The power consumption is very small, if you remove the input jack when not playing you can use the pedal with a 9V battery for few years!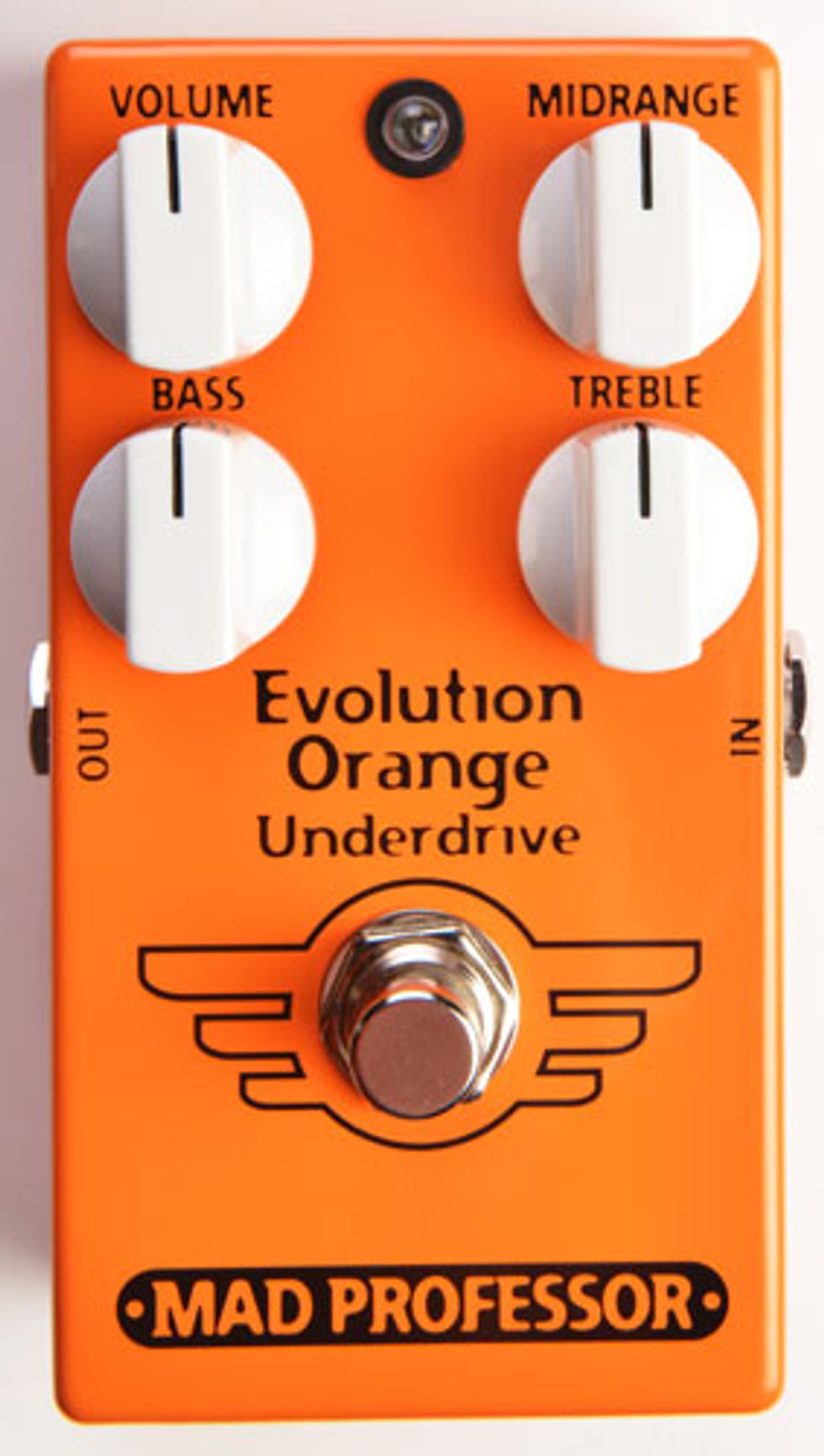 Evolution Orange Underdrive (EOU) offers a new way to approach your tone. Instead of overdriving your clean tone, now you can get cleaner tones from your favourite overdriven tone. That is what we call underdriving.
Evolution Orange Underdrive works really well with vintage single channel amps that sound great when you push them to overdrive. When you turn down the volume from your guitar to clean that tone, the sound often gets bit too dark and the clean tones are not as good as the overdriven tone.
With EOU you can tailor your cleaner tone with the four pots. The Evolution Orange Underdrive works by lowering the midrange as that is where the overdrive mostly is. You can dampen the amplifier input with the EOU's Volume control and then set the Bass and Treble to tailor your clean tone. EOU can also be used to boost mids by settings the Midrange and Volume up.
Watch the company's video demo:

As the name suggests this amplifier is designed for classic guitar tones from the 50's to now! More powerful and more distorting (when you need it) than our Old School 21RT amplifier.
The OS51 RT allows you to get legendary tones from both sides of the Atlantic that suits country, pop, rock, reggae, soul, hard rock, and alternative.
No need for channel switching as these classic tones from shimmering clean to distorted are easy to capture by adjusting your guitar's volume and tone knobs. Coming from a pedal manufacturing company this amp also receives pedals VERY well. The amp has built in Reverb and Tremolo for that final old school touch. ?
Head, 1x12" or 2x12" combo
51 watts
5 x 12AX7/ECC83
2 x EL34
Built in Reverb and Tremolo
Low/High gain input switch
Watch the company's video demo:

For more information:
Mad Professor