Malekko Announces the Sneak Attack and Lil' Buddy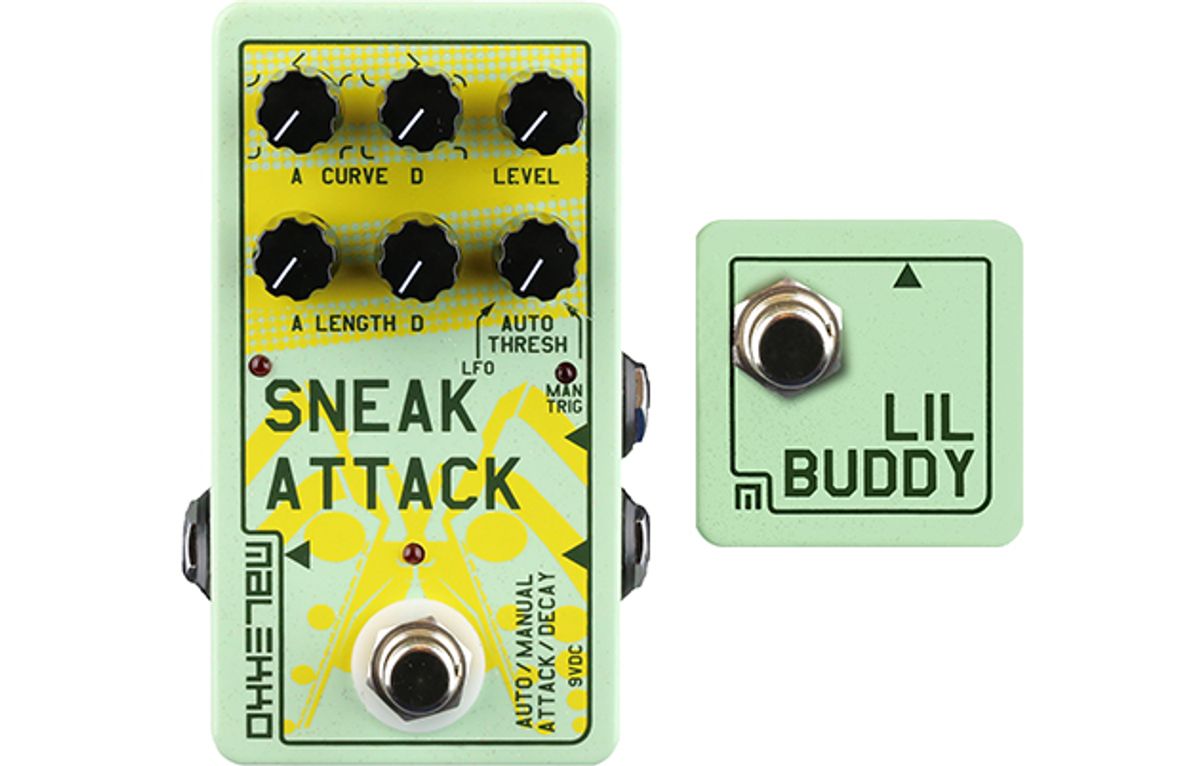 A digitally-controlled analog VCA pedal with the Lil' Buddy expander.
Anaheim, CA (January 27, 2016) -- Following the successful releases of Scrutator and Charlie Foxtrot pedals in 2015 comes Malekko's official NAMM announcement of their latest invention Sneak Attack and it's side-kick Lil' Buddy. Sneak Attack is based on their new digital pedal platform and has been designed with every intention of pushing boundaries or in this case, the envelope.
Sneak Attack is a digitally controlled analog VCA pedal that can also be manually triggered or used in a tremolo mode. The core of the pedal is an Attack/Decay envelope generator with separate length and curve controls for both the attack and decay segments. The envelope can be triggered or cycled in several ways using the input signal, built in footswitch, Lil' Buddy footswitch or external clock/click track. Lil' Buddy also expands the feature set to include tap tempo and additional, unique control over the attack and decay.
Features:
Attack and Decay Curve control
Attack and Decay Length control
Volume/Depth contro
Threshold control with multiplication of tempo by 1,2,3 or 4 while in tap tempo mode
Single Trigger Modes as well as Cycling (LFO) Modes
Auto trigger using input signal threshold
Manual trigger using built in footswitch in manual trigger mode (Attack only)
Manual trigger using Lil' Buddy external footswitch
Manual trigger using external click track
Built in LFO mode cycles the A/D envelope
Tap tempo LFO using Lil' Buddy external footswitch
Tap tempo LFO using external click track
Sneak Attack - $189
Lil' Buddy - $35
For more information:
Malekko