Master-crafted instruments that strive for the pinnacle of 21st-century guitar lutherie.
FV Premier
The FV Premier was originally commissioned by jazz great Frank Vignola and built with the intention of providing versatile and clear acoustic tone with a fusion of Gypsy, archtop, and flattop sounds. This FV Premier boasts Lutz spruce for the top, figured cocobolo binding, walnut for the back and sides, and a mahogany neck that's capped with an ebony fretboard. For electronics, the FV Premier is outfitted with a blade-style P-90 called the San Rafael.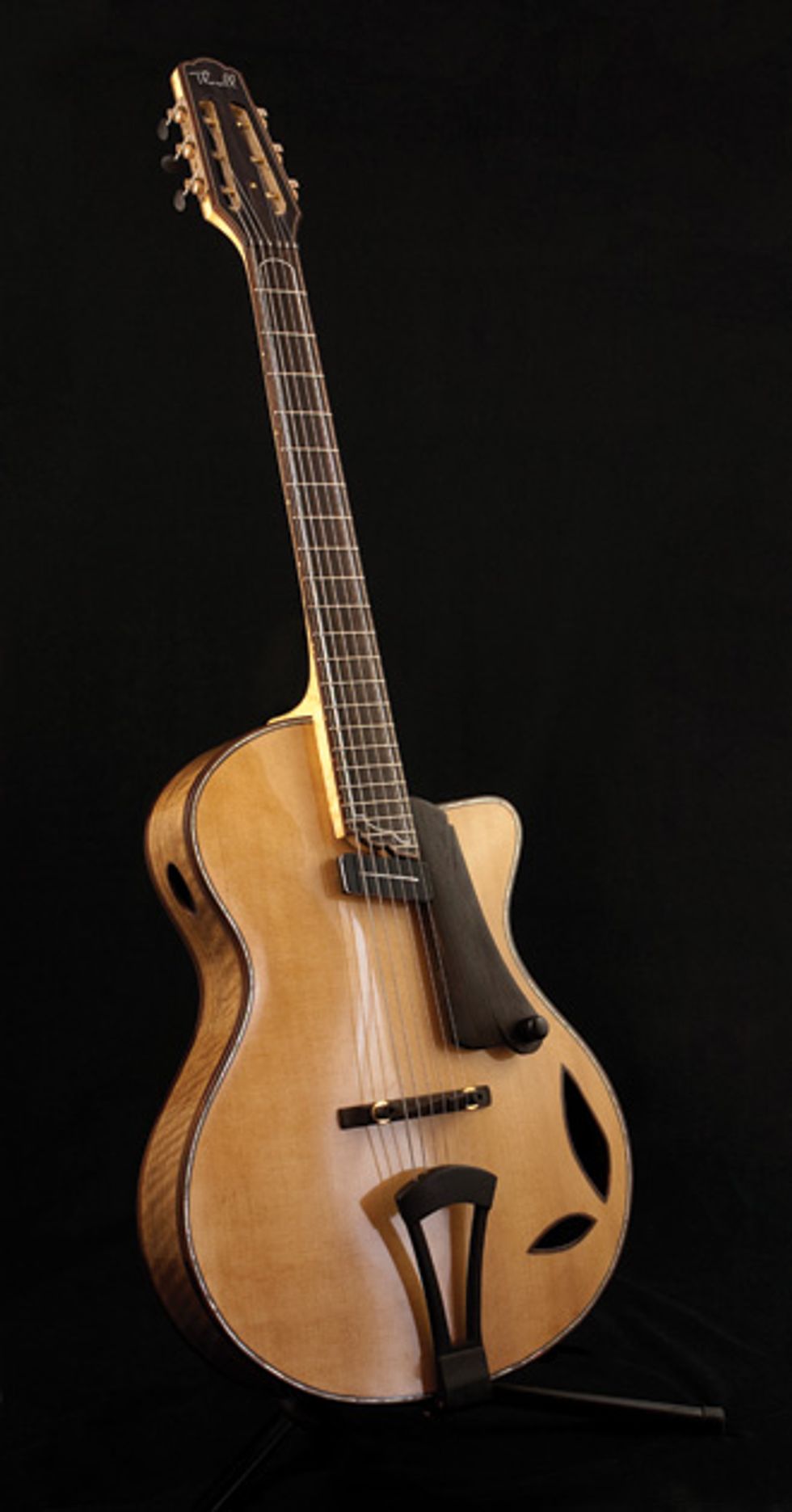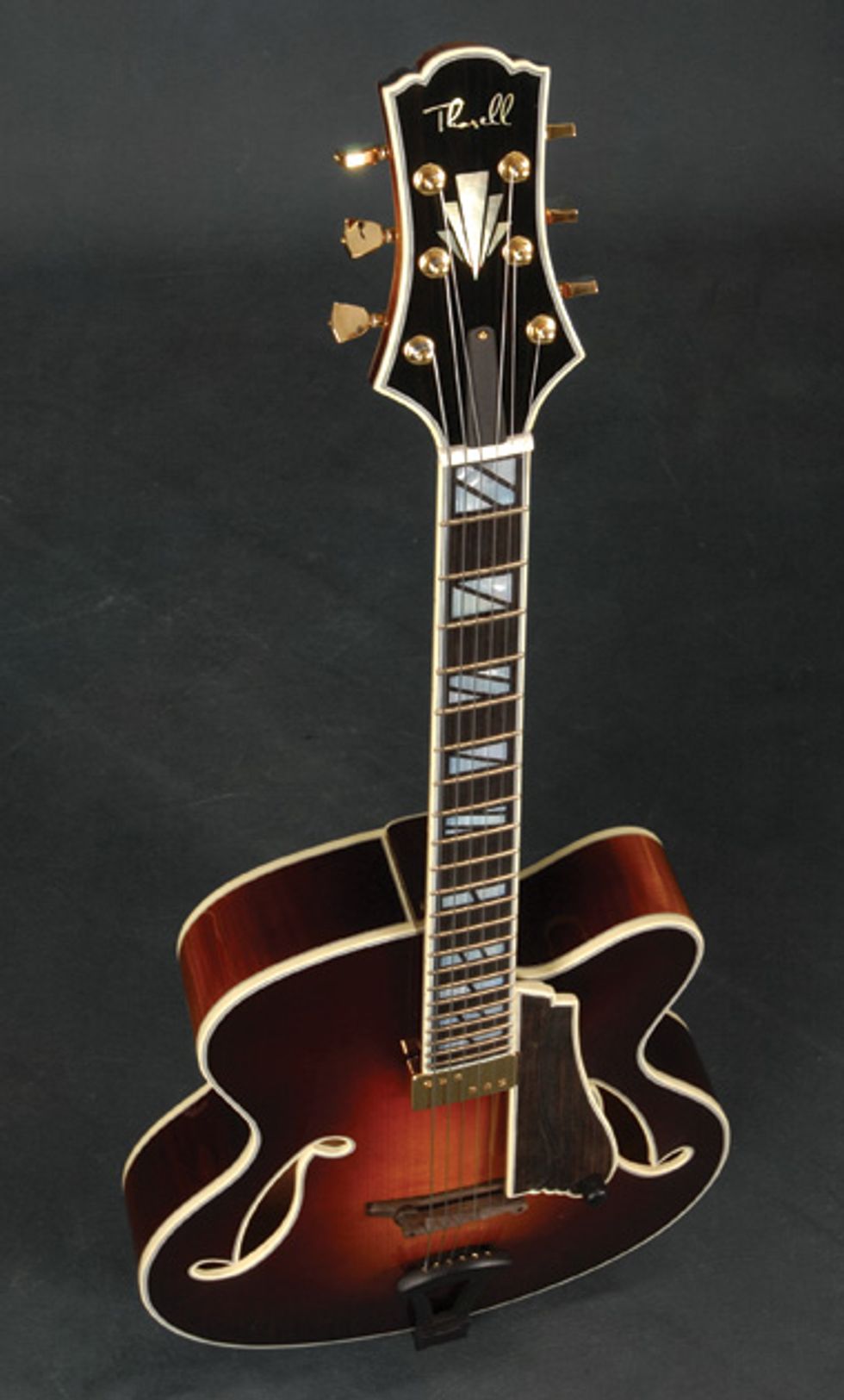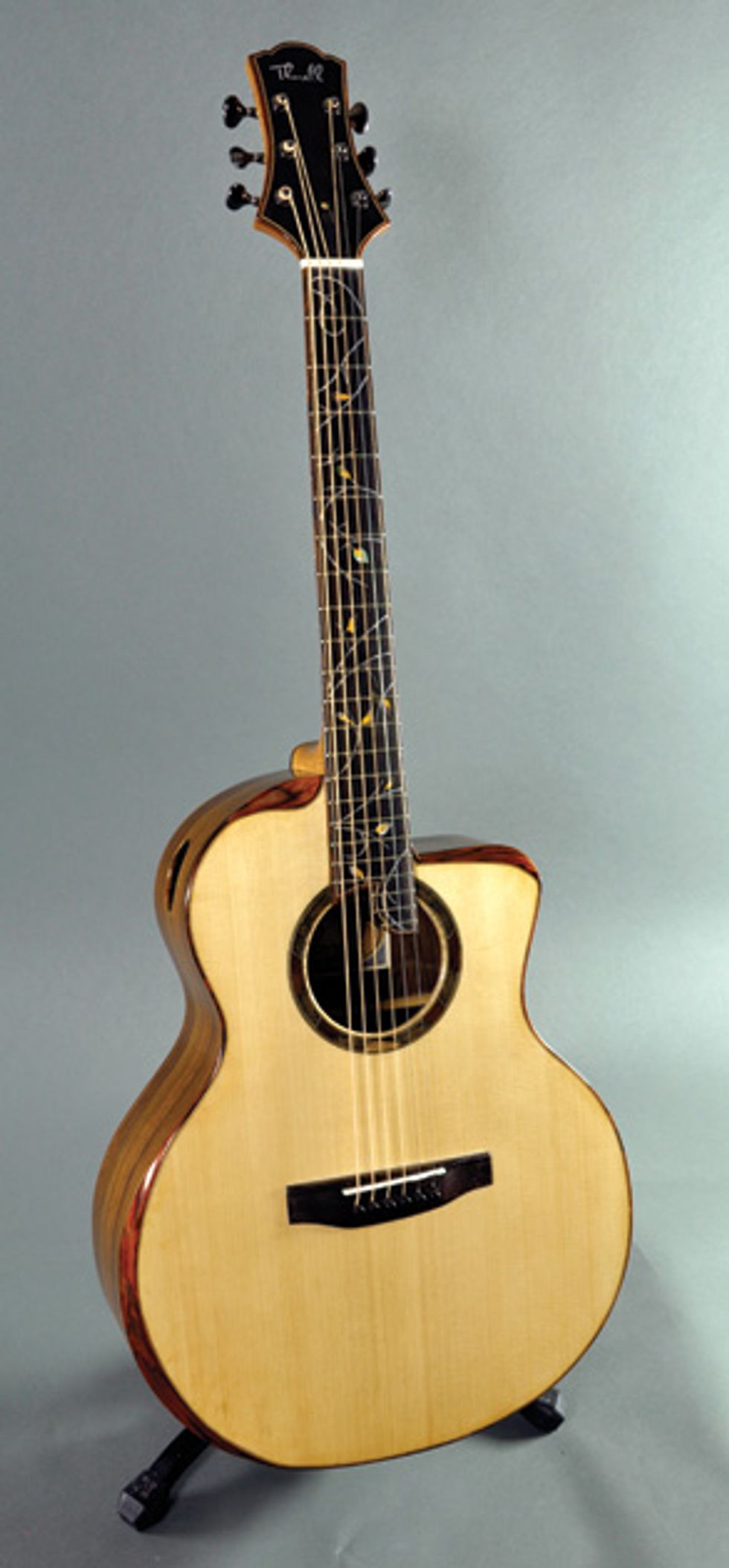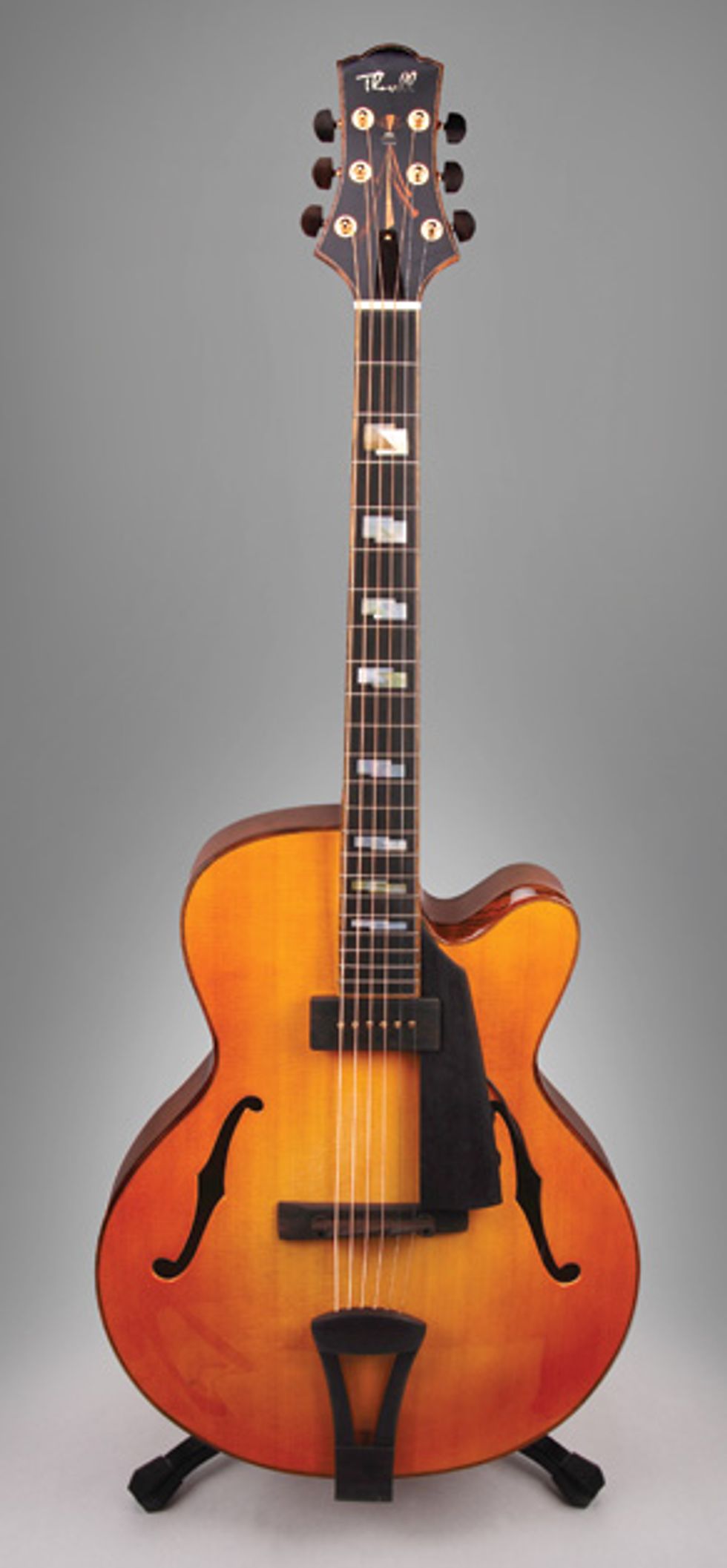 Ryan Thorell got an early start building guitars at 14-years-old. He was already playing quite a bit at the time, and like many rockers his age, he was big into Metallica and Skid Row. It was fitting that his first guitar design included a "battle-axe headstock with an eyeball logo crying blood down the fretboard."
One probably wouldn't suspect the heavy metal background when checking out Thorell's wares today. His master-crafted instruments—from archtops to flattops to nylon-stringed guitars and more—represent the pinnacle of high-end lutherie. In fact, his guitars are the go-to weapons for jazz extraordinaire Frank Vignola.
Thorell contends that the early stages of learning to play the guitar were most influential and defined his sense of the instrument. "I found that I had an affinity for an instrument to respond in certain ways and I really developed a good intuition for what a guitar needed to be able to do as a tool. Once I had really dedicated myself to building instruments, that became a good basis for my explorations in what can be done sonically and aesthetically," says the luthier. "I also think of guitars like amps, in that I try to influence how they break up or don't as you push them or play softly."
Before setting out on his own, Thorell did about eight years of apprenticeships and says that he's never stopped trying to learn and develop his skills. "I look at my guitars as communal pieces of art, in that they are my responses to what my clients are looking for. If I can build and design from a place of excitement and passion about what I do, all the motives and reasons are right."
"I also think of guitars like amps, in that I try to influence how they break up or don't as you push them or play softly."

Thorell winds all his own pickups and mostly builds DeArmond-style pups with adjustable pole pieces housed in an ebony case. He uses a slightly wider aperture for the pickup and winds them hot so they're a "bit fatter in tone but still really crisp." He builds various other pickups and prefers to wind them himself because it gives him more quality control.
When it comes to tonewoods, Thorell admits he has a special affinity for walnut. "I have been around it my whole life. My grandfather cut it and loved it, and I've used it everywhere. There is nothing like Cache Valley black walnut," he says. "I love other woods, and even other walnuts, but local handsawn walnut always gives me reverence. I've also been using a lot of Douglas fir."
One obstacle Thorell faces as a boutique builder is that some guitarists don't consider a finely built instrument as a worthy investment when there are many less-expensive options. "It's unlike the violin or classical guitar world where there are a large amount of great inexpensive instruments, but serious players know and have a tradition of seeking out instruments that respond as fully as possible and allow them more freedom of expression. In those worlds, it's the experience more than the name that people are purchasing and they are willing to make a proper investment because they appreciate the rewards."
When asked what model best represents his work, the luthier says it's always his latest build. "Every one is so unique and I approach each with such passion that it's hard to see it any other way. It is more of a timeline than a product line."
Pricing and Availability
Thorell's shop is located in Logan, Utah, where he builds approximately 20 guitars annually with the help of his apprentice of two years, Nate Wood. Thorell guitars are sold both direct and through a handful of global dealers, with a wait time of about a year. Prices vary greatly from $5,500 to $20,000 depending on build options (most of these instruments are custom designs).
thorellguitars.com
Looking for more great gear for the guitar player in your life (yourself included!)? Check out this year's Holiday Gear Finds!
Created in collaboration with legendary guitarist George Lynch of Dokken and Lynch Mob fame, the Mr.Scary Mod adds an adjustable tube gain stage and an onboard Deep control, which together are designed to enable an amp to have increased sustain while still retaining note definition and dynamics.
LegendaryTones, LLC today announced production availability of its new Mr. Scary Mod, a 100% pure tube module designed to instantly and easily expand the capabilities of many classic amplifiers with additional gain and tone shaping. Created in collaboration with legendary guitarist George Lynch of Dokken and Lynch Mob fame, the Mr.Scary Mod adds an adjustable tube gain stage and an onboard Deep control, which together are designed to enable an amp to have increased sustain while still retaining note definition and dynamics.
Originally released as the Lynch Mod in February 2021, the updated Mr. Scary Mod features the same core circuit as the Lynch Mod but is now equipped with a revised tube mix combo per George's preference as well as a facelift in a newly redesigned electro-galvanized steel enclosure. As with the Lynch Mod, each run will be limited and the first run in Pumpkin Orange with Black hardware is limited to just 150 pieces worldwide.
​The Mr. Scary Mod adds an adjustable tube gain stage on top of the cathode follower position, keeping note definition and articulation while further increasing sustain. Each Mr. Scary mod is meticulously built by hand in the USA, one at a time, and tuned using high-grade components. Equipped with a single ECC81 (12AT7) in the first position and ECC83 (12AX7) in the second, the Mr. Scary Mod can clean up beautifully when rolling down your guitar's volume, and still adds scorching gain when you roll it back up. This is a gain stage that's been tuned and approved by the ears of the maestro George Lynch himself.
"The Mr. Scary Mod excels with dynamics and is incredibly touch-responsive, allowing me to shift from playing clear, lightly compressed cleans to full-out aggressive sustain and distortion –and control it all simply by varying my guitar's volume control and picking," said GeorgeLynch. "In many ways, it's an old-school approach, but it's also so much more natural and expressive in addition to being musically fulfilling when you can play both the guitar and amp dynamically together this way."
The Mr. Scary Mod installs in minutes, is safe and effective to use, and requires no special tools or re-biasing of the amplifier. Simply insert the module into the cathode follower preamp position of compatible amplifiers (includes Marshall 2203/2204/1959/1987 circuits) and

immediately get the benefit of enjoying a hot-rodded amp that delivers all the pure harmonic character that comes with an added pure tube gain stage. The handmade in the USA Mr. Scary Mod is now available to order for $319.
For more information, please visit legendarytones.com.
October Audio has miniaturized their NVMBR Gain pedal to create two mini versions of this beautifully organic-sounding circuit – including an always-on gain device.
The NVMBR Gain is a nonlinear amp that transitions gracefully from clean boost to overdriven tones. Volume increases from just over unity to about 10db before soft-clipping drive appears for another 5db of boost. Its extraordinary ease of use is matched by outstanding versatility: you can use it as a clean boost, push a stubborn amp into overdrive or create a just-breaking-up sound at any amp volume.

October Audio's new family of mini NVMBR Gain pedals includes a switchable version that allows you to bypass the effect: one option features brand logo pedal graphics, while the other sports a fun "Witch Finger" graphic with a Davies knob as the"fingernail".
The second version in the new lineup is an always-on device featuring the Witch Finger graphic and Davies knob, with the same NVMBR Gain circuit that lies at the core of the switchable version.
Features:
Knob controls gain and clipping simultaneously
Stunning silver hammertone finish
Switchable versions are true-bypass, available with classic or witch finger graphics
Authentic Davies knobs, including the "fingernail"
9V center negative power supply required
Dimensions: 3.63 x 1.50 x 1.88 in​
Witch Finger (always on NVMBR Gain) demo
​All October Audio pedals are assembled in Richmond, VA, and available for purchase directly through the online shop. Street price is $109 for NVMBR Gain footswitch versions and $89 for the always-on device.
For more information, please visit octoberaudio.com.