What's more evil-sounding than the Devil's interval?
Florida's Hate Eternal have been around for many years and have evolved their style and production with every album. Mastermind, vocalist, and guitarist Erik Rutan, who previously played in Morbid Angel, is also a producer and owner of Mana Recording Studios. While the influence that Morbid Angel had on him is undeniable, and particularly present on the 7-string songs from their latest album, Upon Desolate Sands, his style is unmistakable. It's dissonant and often layered and counterpointed by aggressive blast beats at blistering speeds. The production often favors the drums over the guitars and immediately puts a huge grin of disbelief on the face of any extreme metal fan. Hate Eternal are audibly rooted in Florida death metal but play it in a contemporary style that sounds unlike any other band and shies away from current trends.
Hate Eternal have influenced bands like Vitriol and helped to establish unresolved dissonant sounds and counterpoint guitar parts in extreme metal. In my opinion, they are the very essence of contemporary death metal.
Erik Rutan favors B.C. Rich guitars, mainly two custom Ironbirds that are tuned to C# with a Seymour Duncan SH-5 Duncan Custom bridge pickup and a Bill Lawrence L500 in the neck. He gets his crushing guitar tones from a Marshall JCM800 and Mesa/Boogie Dual Rectifier which he boosts with various pedals like the Maxon OD808, OD808X, and TS9 Pro+. As with most contemporary death metal however, you can get away with simply a high-output humbucker into a boosted high-gain tube amp.
Ex. 1 is a relatively fast riff that demonstrates a foundational element in Rutan's playing. He almost completely avoids power chords in favor of octave dyads and stacked tritones. (A tritone is an interval of three whole-steps—hence its name. It divides the octave in half and creates an augmented fourth or diminished fifth.)
In this case, the fast succession of dyads is played with slides that give the riff a chaotic and slurry feel while still sounding somewhat defined; the stacked tritones add the typical dissonance that is so prevalent in Rutan's playing.
Ex. 2 features an extensive use of stacked tritones—another trademark of Rutan's style. Instead of typical root-5 power chords, Rutan plays a series of four-note chords comprising two tritones stacked on top of each other. We then move these tritone chords around in thirds before adding some chromaticism. In the second half of the riff, the guitars veer off into different rhythms to create some interesting counterpoint.
Ex. 3 also makes use of stacked tritones in combination with slides at a very high tempo. This riff is inspired by the noisy, chaotic verse in "Hell Envenom" from the Fury and Flames album. These types of riffs are often completely drowned out and serve mostly to add to the wall of noise already created by the ferocious drumming.
Reaching into higher registers, Ex. 4 illustrates a counterpoint guitar line that's typical of Hate Eternal. It moves down the fretboard before ending with both guitars creating an arrhythmic harmony effect. Gtr. 1's higher melody moves in minorseconds and tritones, while Gtr. 2 plays a harmony part that moves between minor second, minor seventh, and tritone harmonies. What makes these lines compelling is that harmonic changes are created by moving the melody lines independently: One line stays static while the other creates different harmonies before reversing roles. This effect works best if both guitars are panned hard to left and right.
A "slower" riff that mixes triplets with tremolo-picked tritones, Ex. 5 is a rather simple idea that moves chromatically. Notice how the tritones keep within the same shape as the stacked tritones in our previous examples. These riffs are often used for bridge parts or intro riffs.
The riff in Ex. 6 alternates our stacked tritone shape with a chugging low 6th string. Riffs like this are similar to what you might hear in the verse section of the band's "I, Monarch" or "Hunting Abound." While going higher up the fretboard, the chords don't alternate with an open string, but with a chord a major second below.
A breakdown riff, Ex. 7 combines a repeating 32-note rhythmic pattern that's broken up by octave dyads with a short burst of stacked tritones.
Ex. 8 closes out this lesson with a rapid-fire shred lick. There's no rhythm guitar underneath—both guitars play this lead simultaneously. The figure is a ripping melody that moves chromatically and ends with an ear-piercing measure of notes at the 24th fret, while Gtr. 2 plays a harmony. This type of lead doesn't serve as a guitar solo but rather as a twisted, extreme death-metal version of the type of melodic harmony Iron Maiden are famous for.
Looking for more great gear for the guitar player in your life (yourself included!)? Check out this year's Holiday Gear Finds!
Outlaw Effects introduces their next generation of NOMAD rechargeable battery-powered pedal boards.
Available in two sizes, NOMAD ISO is a compact, versatile tool that offers the convenience of a fully powered board plus the additional freedom of not having to plug into an outlet. NOMAD ISO is ideal for stages with limited outlet availability, quick changeovers, busking outdoors, temporary rehearsal locations, and more.
NOMAD ISO builds upon the legacy of the ultra-convenient and reliable NOMAD rechargeable pedalboard line originally launched in 2018. The brand new NOMAD ISO editions feature eight isolated outputs (1 x 9V DC, and 1 switchable 9V/12V DC) for even more versatility and clean, quiet power. With an integrated lithium-ion battery pack boasting 12800mAh capacity, NOMAD ISO can fuel a wide array of pedals, and will last over 10 hours* on a single charge.
Each NOMAD ISO pedal board includes adhesive hook & loop pedal-mounting tape, eight (8) standard DC connector cables, and one (1) reverse polarity DC cable, giving you everything you need to build your ultimate "off-the-grid" rig. A rugged, road-ready padded gig bag with shoulder strap is also included, to safely protect your gear while you're on the move.
NOMAD ISO S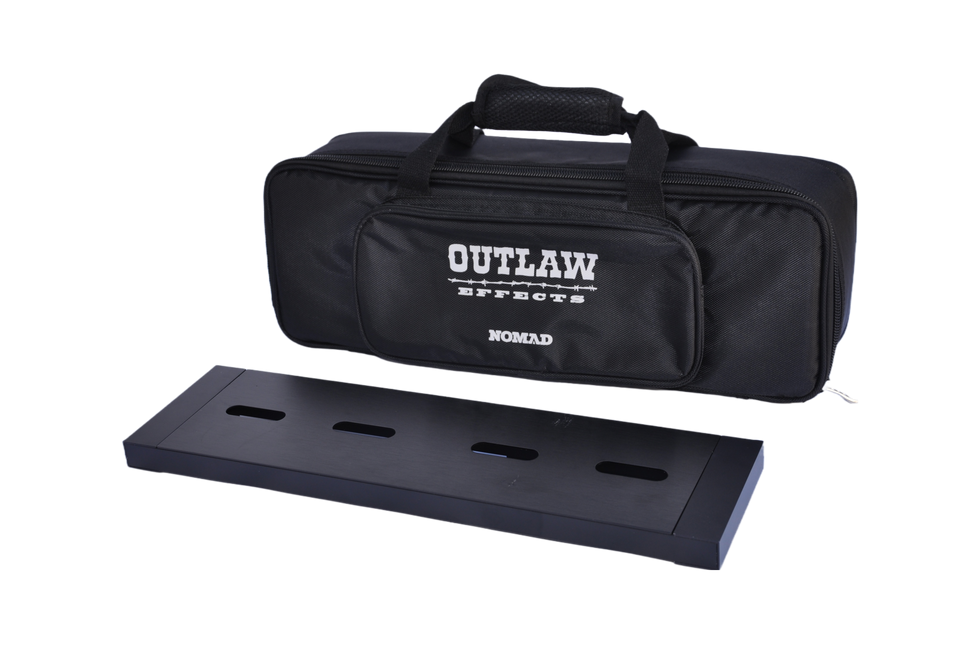 NOMAD ISO S: MSRP $309 / MAP: $249
Dimensions: 19 ¼" x 5 ¼"
NOMAD ISO M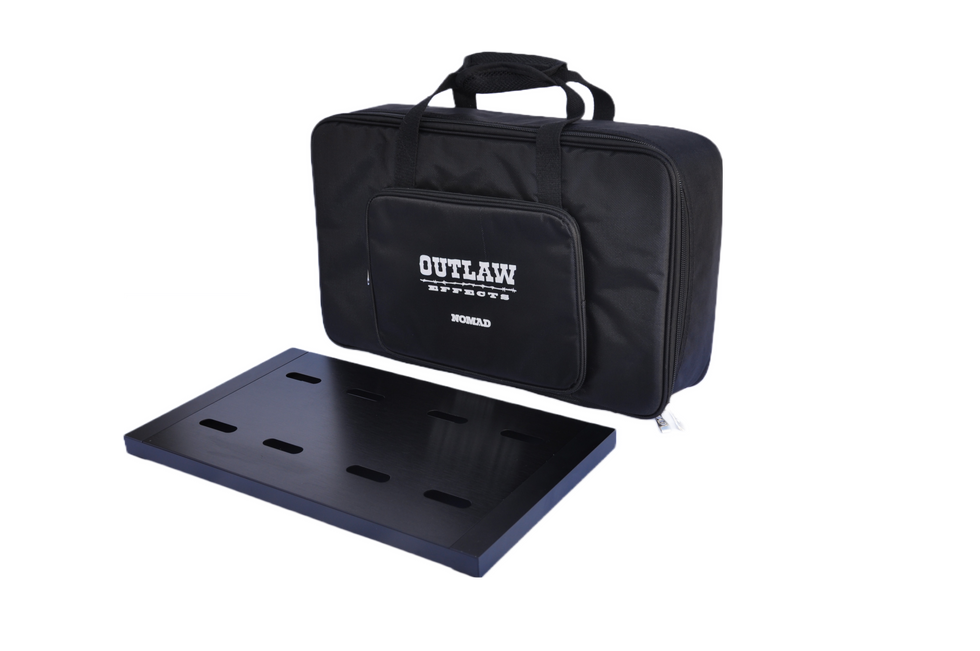 NOMAD ISO M: MSRP $349 / MAP $279
Dimensions: 19 ¼" x 11"
More info: https://www.outlawguitareffects.com.
Dunable announce new Minotaur model featuring Grover Rotomatic Keystone tuners.
The Minotaur's DNA is rooted in their classic Moonflower model, which Dunable discontinued in 2017. However, they have long since wanted to create a fresh take on a carved top guitar design, and various attempts to rework the Moonflower led them to a brand new concept with the Minotuar.
Dunable's goal is to give the player a guitar that plays fast and smooth, sounds amazing, and gives maximum physical ergonomic comfort. The Minotaur's soft and meticulous contours, simple and effective control layout, and 25.5" scale length are designed to easily meet this criteria.

Dunable Minotaur!
Features
25.5" scale length
Dual Humbucker
one volume, one tone, push pull for coil splitting
Grover Rotomatic Keystone tuners
Grover Tune O Matic bridge with brass Kluson top-mount tailpiece
jumbo nickel frets
12" fretboard radius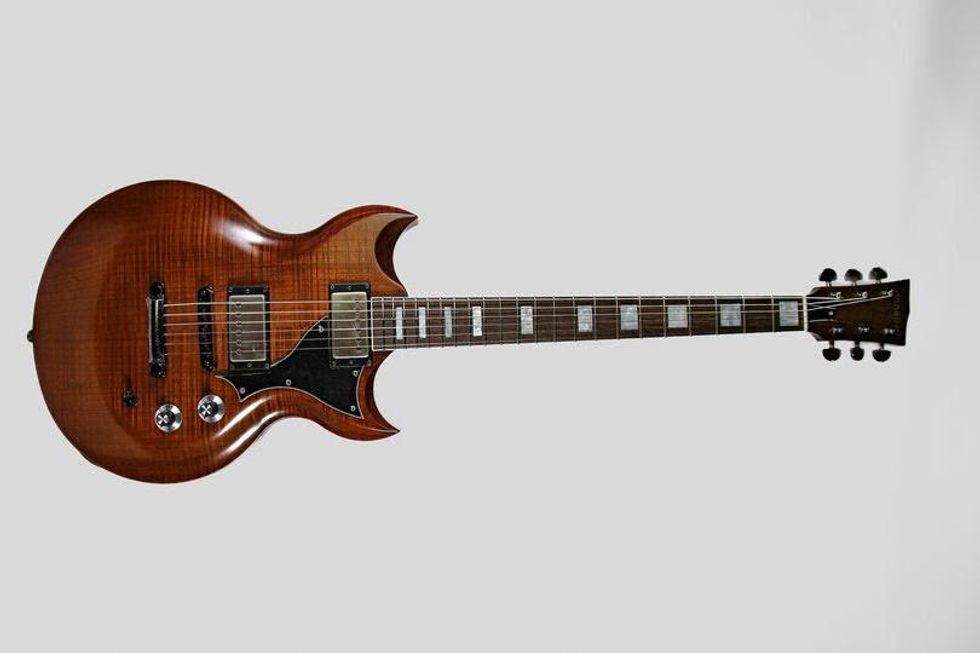 Dunable
This full-amp-stack-in-a-box pedal brings a new flavor to the Guitar Legend Tone Series of pedals, Missing Link Audio's flagship product line.
Adding to the company's line of premium-quality effects pedals, Missing Link Audio has unleashed the new AC/Overdrive pedal. This full-amp-stack-in-a-box pedal – the only Angus & Malcom all-in-one stompbox on the market – brings a new flavor to the Guitar Legend Tone Series of pedals, Missing Link Audio's flagship product line.
The AC/OD layout has three knobs to control Volume, Gain and Tone. That user-friendly format is perfect for quickly getting your ideal tone, and it also offers a ton of versatility. MLA's new AC/OD absolutely nails the Angus tone from the days of "High Voltage" to "Back in Black". You can also easily dial inMalcom with the turn of a knob. The pedal covers a broad range of sonic terrain, from boost to hot overdrive to complete tube-like saturation. The pedal is designed to leave on all the time and is very touch responsive. You can get everything from fat rhythm tones to a perfect lead tone just by using your guitar's volume knob and your right-hand attack.
Features 
Three knobs to control Volume, Gain and Tone
Die-cast aluminum cases for gig-worthy durability
Limited lifetime warranty
True bypass on/off switch
9-volt DC input
Made in the USA
MLA Pedals AC/OD - Music & Demo by A. Barrero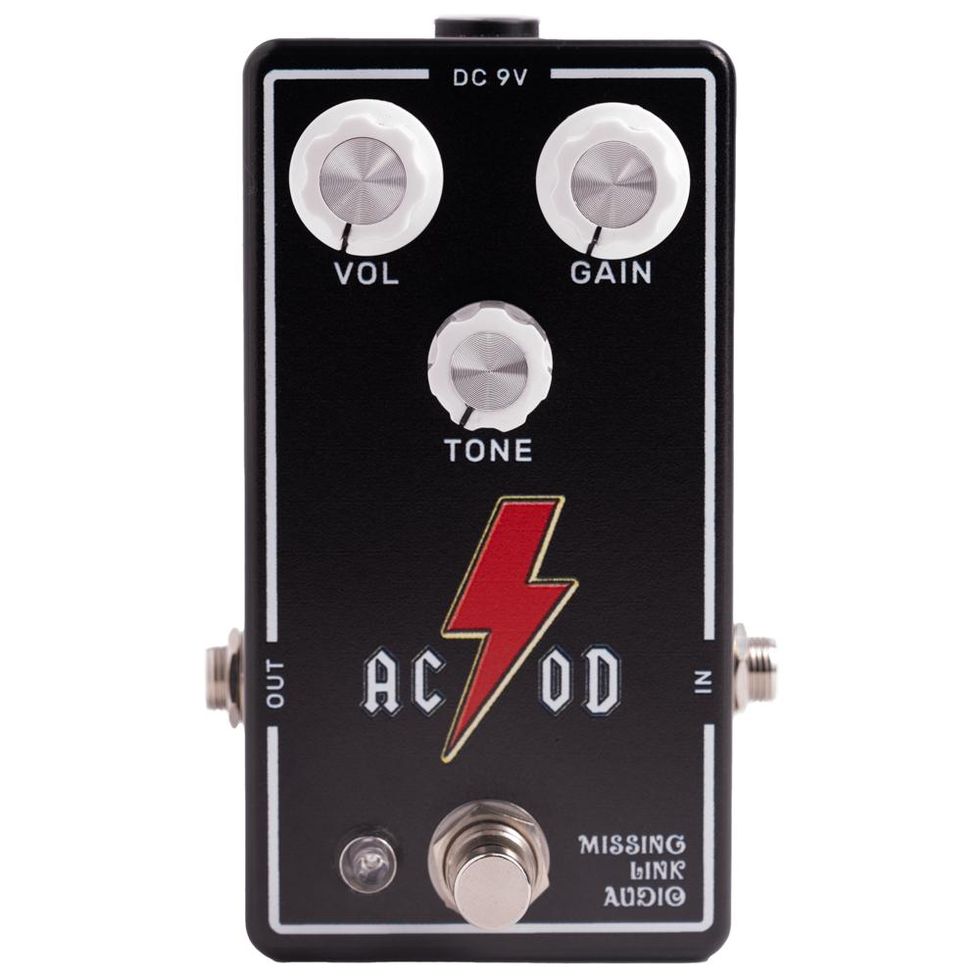 www.mlapedals.com.