Music City Pickers, Singers, and Fans Celebrate Fingerstyle Wizard Pete Huttlinger
On Tuesday, July 26, a standing-room-only crowd of enthusiastic music lovers gathered at the Mercy Lounge to help raise money for guitarist Pete Huttlinger.
Vince Gill leans into a ringing chord as emerging singer-songwriter
Sean Della Croce warms up the Mercy Lounge crowd.
Nashville, TN
(July 28, 2011) -- On Tuesday, July 26, a standing-room-only crowd of enthusiastic music lovers gathered at the Mercy Lounge to help raise money for guitarist Pete Huttlinger. One of the world's finest acoustic fingerpickers, Huttlinger is a Nashville-based studio guitarist and expert accompanist known for his skill backing John Denver, LeAnn Rimes, John Oates, and many other singer-songwriters. At Eric Clapton's invitation, Huttlinger performed at the Crossroads Guitar Festival in 2004, 2007, and 2010, and has been featured in the music series, Live from Abbey Road.
Last November, Huttlinger had a massive stroke and then in March, he experienced extreme heart failure. He was life-flighted to St. Luke's Texas Heart Institute in Houston and underwent surgery to install a heart pump. Called a "bridge to transplant," this high-tech device is powered by a battery pack Huttlinger carries with him. Huttlinger has recovered from his stroke and is currently waiting for a heart transplant at Vanderbilt University Medical Center.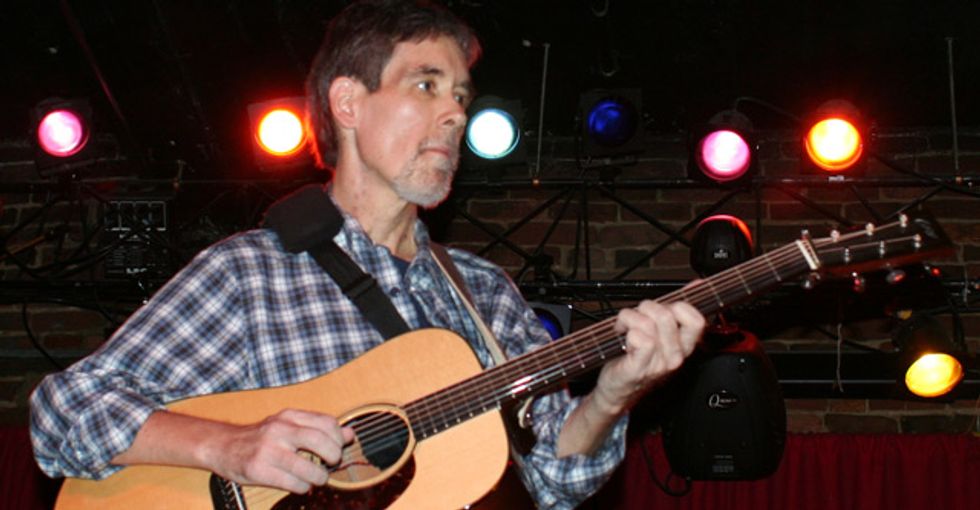 Wearing his heart-pump battery pack, Huttlinger joined John Oates
onstage to perform a moving tribute to the late John Denver.
Vince Gill thrills the packed house.


Hundreds of friends and colleagues each paid $20 to help defray costs associated with Huttlinger's astronomical medical bills. Vince Gill, John Oates, Sam Bush, John Jorgenson, Bekka Bramlett, and the Long Players (a legendary Nashville band that performs classic albums by the Beatles, Pink Floyd, Steely Dan, the Rolling Stones, and other titans of rock from start to finish) were among the many stellar musicians who entertained the sweat-drenched crowd at the Mercy Lounge.
Titled "For Pete's Sake—You've Gotta Have a Heart," the event was a resounding musical and financial success. In an impromptu auction, John Oates raised $7000 from two audience members who each scored four backstage passes "to any Hall & Oates show, anywhere in the world."
John Jorgenson and mandolinist Sam Bush—widely known as "the father
of newgrass"—perform the Beatles' "Love to You" from Revolver.
Bill Warmoth of Artisan Guitars—a boutique guitar shop located in nearby Franklin—was on hand to show off the limited edition Collings Pete Huttlinger Signature OM1. Huttlinger has been playing Collings flattops since 1997, and in his honor the Texas-based company is making 50 of these instruments, each of which will have a custom signed and numbered label. The Huttlinger OM1 is available with a Sitka or Adirondack spruce top, a mahogany body, and a 12th-fret inlay of Huttlinger's signature. Collings will donate $1000 from each sale to Huttlinger's medical fund. More info is available at
collingsguitars.com
.
Artisan Guitars' Bill Warmoth holds a Collings Pete Huttlinger
Signature OM1—the first of 50 being built.
Fans of the National Fingerstyle Guitar Champion (Huttlinger took 1st place in 2000) can make donations to his medical fund at
petehuttlinger.com
.