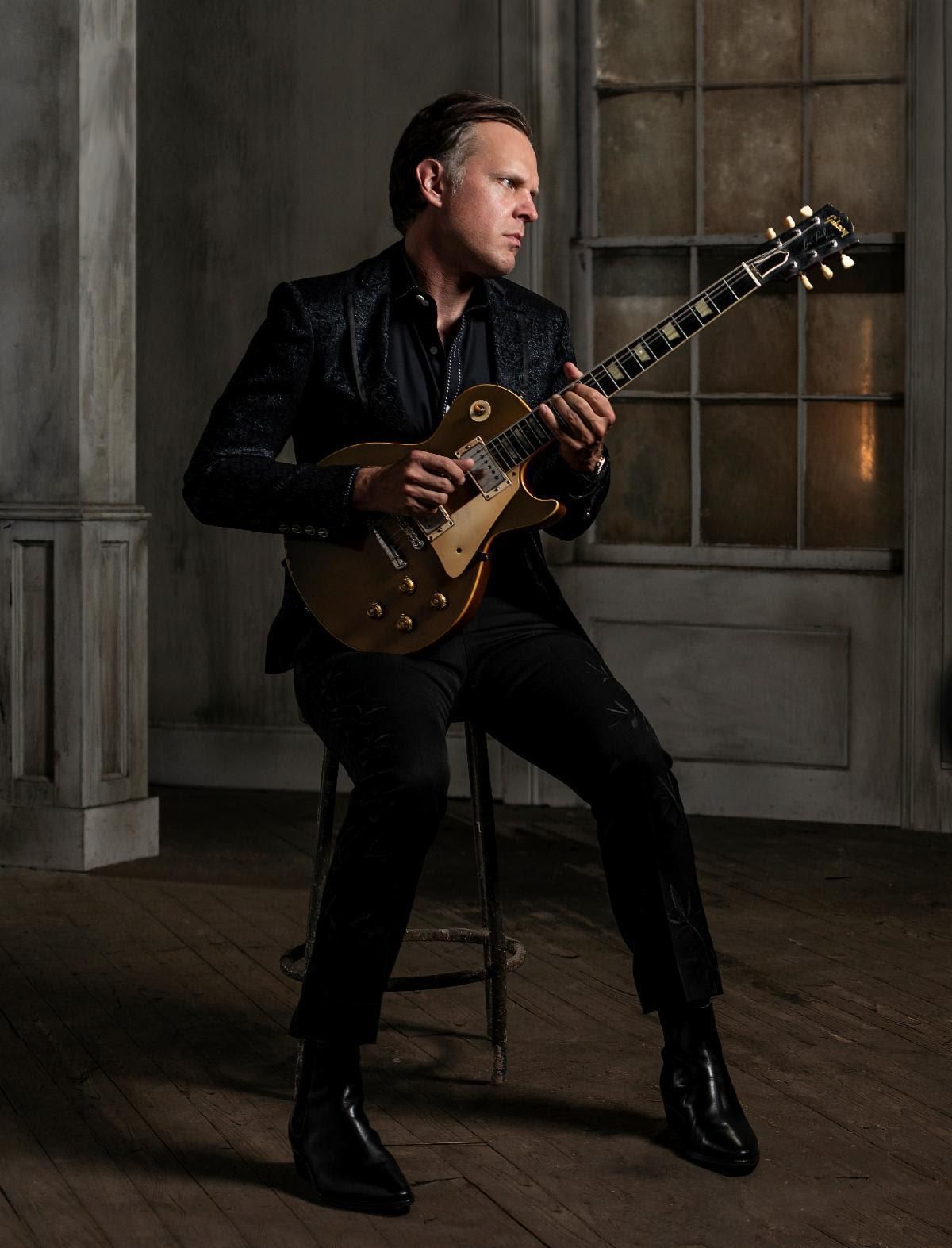 The track will appear on Joe's forthcoming album, which will arrive later this year.
Blues rock artist Joe Bonamassa is back with a brand-new single from his highly anticipated upcoming album, due out later this year. "Notches" exemplifies the unwavering journey Joe has experienced while taking the road less traveled, ultimately leading him to find success.
---
A bit older in years, but wiser in knowledge earned, his new sound has a raw and vital flavor, combined with a resolute skill that can only be gained through years of perseverance and unyielding dedication. The first single arrives today as a foot-stomping, fist-pounding dose of rock mastermind that pays homage to the artist's resilient history, with an eye on the future as he continues to bend genres, break down walls and defy the odds of the music industry.
Joe Bonamassa - "Notches" - Official Music Video
Joe belts out the Blues-tinged lyrics in "Notches" with a vocal range that gets even better with each release, diving deeper into his rock capabilities as he croons the resounding chorus, "I got miles under my wheels. Notches in my walkin' cane." He takes no prisoners with his hard-hitting anthem and holds nothing back, delivering a fresh unchartered sound that isn't like anything he's done before. The cinematically excellent official music video was directed by Paul van Kan.
For recording "Notches," Bonamassa hit the studio with longtime collaborators Kevin Shirley as producer and manager/business partner Roy Weisman as executive producer. The track was mixed by Bob Clearmountain (Bruce Springsteen, The Rolling Stones, Toto, Bon Jovi) and was co-written with Charlie Starr (Blackberry Smoke). Recorded in New York City at Germano Studios/The Hit Factory the band includes Steve Mackey (bass), Lachy Doley (piano), Bunna Lawrie (didgeridoo), Bobby Summerfield (percussion), and Late Night with David Letterman's Anton Fig (drums and percussion), along with Mahalia Barnes, Juanita Tippins, and Prinnie Stevens on backing vocals. The fantastic artwork on this single was created by famous graphic artist Hugh Syme (Rush, Aerosmith, Whitesnake).
The lyrics allude to Joe's tenured uphill battle with the music industry. Looking back, he reflects, "Twenty years ago, I recorded a record of covers that eventually was called 'Blues Deluxe.' It was recorded at Bobby Nathan's studio in Manhattan. It captured an energy and purpose that always stuck with me as an artist…The music business is tough, very tough. Especially back in those days when major labels pulled all the strings and, in my case, all the punches."
Now, maybe more than ever, Bonamassa holds the power of controlling both his artistry and his business in both hands. With 24 #1 albums, yearly sold-out tours worldwide and custom annual cruises, he's a hard act to beat. Joe knows his worth, and albeit humble, he has no plans to back down now. "Notches" is a testament to his credentials. It's Joe Bonamassa at his finest, ready to rock.
"Notches" is a song that begs to be heard live in an audience, banging loud from the speakers. Luckily for fans, this month Joe heads back out on tour for 42 shows, starting on the West Coast in the US at the end of this month, then traveling around the rest of the country throughout the fall season before taking the stage at sea for his sold out Keeping The Blues Alive At Sea VII cruise, sailing from Miami, FL to Ocho Rios, Jamaica on February 21-25, 2022, by way of the Norwegian Pearl.
For tickets and full tour dates, visit jbonamassa.com/tour-dates.
Looking for more great gear for the guitar player in your life (yourself included!)? Check out this year's Holiday Gear Finds!
Created in collaboration with legendary guitarist George Lynch of Dokken and Lynch Mob fame, the Mr.Scary Mod adds an adjustable tube gain stage and an onboard Deep control, which together are designed to enable an amp to have increased sustain while still retaining note definition and dynamics.
LegendaryTones, LLC today announced production availability of its new Mr. Scary Mod, a 100% pure tube module designed to instantly and easily expand the capabilities of many classic amplifiers with additional gain and tone shaping. Created in collaboration with legendary guitarist George Lynch of Dokken and Lynch Mob fame, the Mr.Scary Mod adds an adjustable tube gain stage and an onboard Deep control, which together are designed to enable an amp to have increased sustain while still retaining note definition and dynamics.
Originally released as the Lynch Mod in February 2021, the updated Mr. Scary Mod features the same core circuit as the Lynch Mod but is now equipped with a revised tube mix combo per George's preference as well as a facelift in a newly redesigned electro-galvanized steel enclosure. As with the Lynch Mod, each run will be limited and the first run in Pumpkin Orange with Black hardware is limited to just 150 pieces worldwide.
​The Mr. Scary Mod adds an adjustable tube gain stage on top of the cathode follower position, keeping note definition and articulation while further increasing sustain. Each Mr. Scary mod is meticulously built by hand in the USA, one at a time, and tuned using high-grade components. Equipped with a single ECC81 (12AT7) in the first position and ECC83 (12AX7) in the second, the Mr. Scary Mod can clean up beautifully when rolling down your guitar's volume, and still adds scorching gain when you roll it back up. This is a gain stage that's been tuned and approved by the ears of the maestro George Lynch himself.
"The Mr. Scary Mod excels with dynamics and is incredibly touch-responsive, allowing me to shift from playing clear, lightly compressed cleans to full-out aggressive sustain and distortion –and control it all simply by varying my guitar's volume control and picking," said GeorgeLynch. "In many ways, it's an old-school approach, but it's also so much more natural and expressive in addition to being musically fulfilling when you can play both the guitar and amp dynamically together this way."
The Mr. Scary Mod installs in minutes, is safe and effective to use, and requires no special tools or re-biasing of the amplifier. Simply insert the module into the cathode follower preamp position of compatible amplifiers (includes Marshall 2203/2204/1959/1987 circuits) and

immediately get the benefit of enjoying a hot-rodded amp that delivers all the pure harmonic character that comes with an added pure tube gain stage. The handmade in the USA Mr. Scary Mod is now available to order for $319.
For more information, please visit legendarytones.com.
October Audio has miniaturized their NVMBR Gain pedal to create two mini versions of this beautifully organic-sounding circuit – including an always-on gain device.
The NVMBR Gain is a nonlinear amp that transitions gracefully from clean boost to overdriven tones. Volume increases from just over unity to about 10db before soft-clipping drive appears for another 5db of boost. Its extraordinary ease of use is matched by outstanding versatility: you can use it as a clean boost, push a stubborn amp into overdrive or create a just-breaking-up sound at any amp volume.

October Audio's new family of mini NVMBR Gain pedals includes a switchable version that allows you to bypass the effect: one option features brand logo pedal graphics, while the other sports a fun "Witch Finger" graphic with a Davies knob as the"fingernail".
The second version in the new lineup is an always-on device featuring the Witch Finger graphic and Davies knob, with the same NVMBR Gain circuit that lies at the core of the switchable version.
Features:
Knob controls gain and clipping simultaneously
Stunning silver hammertone finish
Switchable versions are true-bypass, available with classic or witch finger graphics
Authentic Davies knobs, including the "fingernail"
9V center negative power supply required
Dimensions: 3.63 x 1.50 x 1.88 in​
Witch Finger (always on NVMBR Gain) demo
​All October Audio pedals are assembled in Richmond, VA, and available for purchase directly through the online shop. Street price is $109 for NVMBR Gain footswitch versions and $89 for the always-on device.
For more information, please visit octoberaudio.com.