Electro-Harmonix Unveils Pico-Sized NYC DSP Effects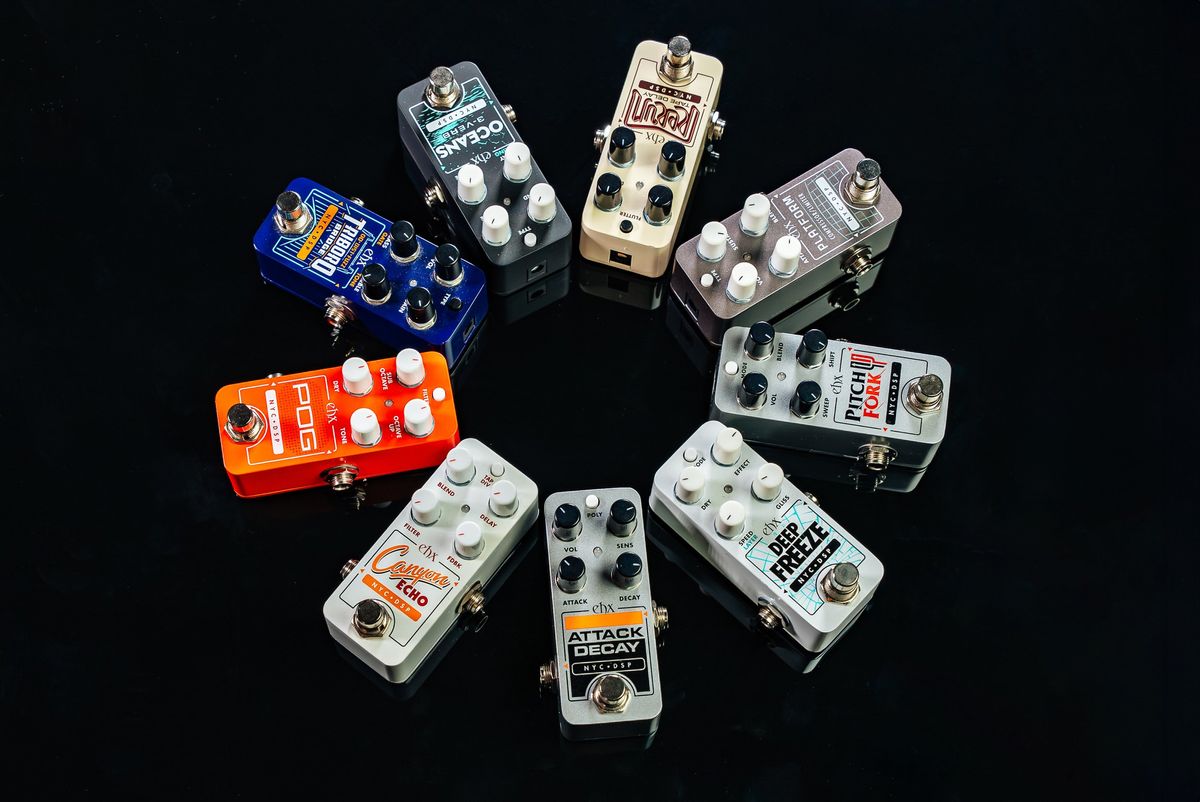 Electro-Harmonix reveals the full line of NYC DSP Series pedals. This series consists of a pack of nine pico-sized stompboxes that draw from some of the company's most iconic effects.
---
Offering a total of 30 pitch shift options and expanded controls, the Pico Pitch Fork is the next evolution in pitch shifting from Electro-Harmonix. The Mode button selects between Pitch Up, Pitch Down, and Dual Modes, while the Volume and Blend knobs make for perfect multi-voice mixing. The new Sweep control adjusts the pitch sweep speed from instant to 4 seconds. The Pico Pitch Fork offers Latch and Momentary switching functions for bursts of bent tones or retuning capabilities for full songs.
EHX
The Oceans 3-Verb takes the ever-reliable Spring, Plate, and Hall reverbs from the award-winning Oceans 11 Reverb and offers them in petit package capable of conjuring huge ambient sounds. This pack of essential reverbs comes equipped with flexible controls including pre-delay, spring length, and tone. Additionally, Infinite Reverb can be accessed in an instant by maxing the time control or conveniently pressing and holding the footswitch for an ambient wash of swelling reverb.
EHX
The Canyon Echo digital delay distills the original Canyon Delay and Looper's simplicity and versatility into a no-nonsense echo effect with performance ready features and tone. At its foundation, the Canyon Echo is a pristine clean digital echo with up to 3 seconds of delay time. Then we added smart features that any musician can appreciate: Tap Tempo with 3 beat subdivisions, a FILTER knob that cuts treble or bass, switchable delay tails, and a new Infinite Repeats mode which acts as a looped tape machine.
EHX

Meeting between the original Freeze and Superego pedals is the Deep Freeze Sound Retainer. With the ability to freeze a moment in sound, the Deep Freeze is capable of acting as a sustain pedal for holding chords and notes as backing for your playing or as a platform to manipulate your tone into new sounds impossible with a normal guitar. Features include Latch, Moment and Auto Modes, Speed/Layer, and Gliss controls, as well as 3 bypass topologies for enhanced performance options.
EHX
Known for producing volume and reverse swells, backward tape sounds, artificially short staccato notes, and bowed instrument effects, the Attack Decay reissue brought the vintage effect into the present. Now the Pico Attack Decay takes the signature Attack Decay filter effect and makes it even more pedalboard friendly. Featuring a simple control layout of Volume, Sensitivity, Attack and Decay controls, the Pico Attack Decay also offers the revolutionary Poly mode that gives each note its own attack envelope and makes playing arpeggios and fast leads lines effortless and unique.
EHX
The foundations of dirt include Overdrive, Distortion, and Fuzz and all 3 can be found in the new Triboro Bridge multi-mode drive pedal. Taking dirt algorithms from the Platform and Attack Decay, the Triboro Bridge connects the 3 drive styles with a simple and convenient control set of Volume, Gain, EQ controls plus a Gate for the fuzz. An additional Input Contour Mode applies additional EQ at the input for more modern tonal capabilities.
EHX
Based off the tape delay algorithm found in the Canyon Delay & Looper, the Rerun Tape Delay gives off vintage vibes with modern convenience. Three modes of Flutter and a Saturation knob bring a wide array of Tape Delay tones to this deceptively powerful unit. Cranking the Feedback knob or pressing and holding the footswitch creates runaway tape delay effects that are playable as their own instrument.
EHX
The Pico Platform brings studio-style compression and limiting with advanced options to any pedalboard for a wide array of dynamic control. From subtle tone polishing to super squashed sustain, the Pico Platform offers a whole studio's worth of compressor and limiter styles in a super-compact footprint.
EHX
The Pico POG takes the powerful and lightning-fast polyphonic octave algorithm from the EHX's acclaimed POG line and packs it into a pico package. Octave Up adds pristine shimmer while the Sub Octave brings the thunder all with super tight tracking and perfect polyphony. Add the new TONE control with 3 filter settings and you get a fresh take on the world's most popular octave pedal.

EHX