Fender Launches Michael Landau Coma Stratocaster
The Michael Landau Signature Strat comes equipped with noiseless single coil and humbucking pickups, vintage-Style Hardware and a faded "coma" red finish.
---
The "Coma" Stratocaster's story begins at Sol Betnun's Musical Instruments in 1974, a guitar shop in the heart of Hollywood, where during one of Landau's many visits, a 1959 Stratocaster caught the young guitarist's eye. The original finish had been stripped and the pickups were swapped out. To his surprise, the modded guitar played like a dream. After Landau recognized that there was freedom that a customized instrument afforded him, he wanted to see what would happen if he pushed the modifications even further. The '80s were the days of rock stars with one name - Bono, Sting, Prince, Flea. Landau admired all of them so during a fun night of debauchery with pals in the late 80s, he decided that he, too, should have a one-word name to joke with his friends about in a fun way. In a flash of inspiration, the name "Coma'' magically appeared to him. The name didn't stick with Michael, personally, but as soon as he wrote it on that red-stained '59 Strat with a black sharpie, that guitar became the Coma guitar forever.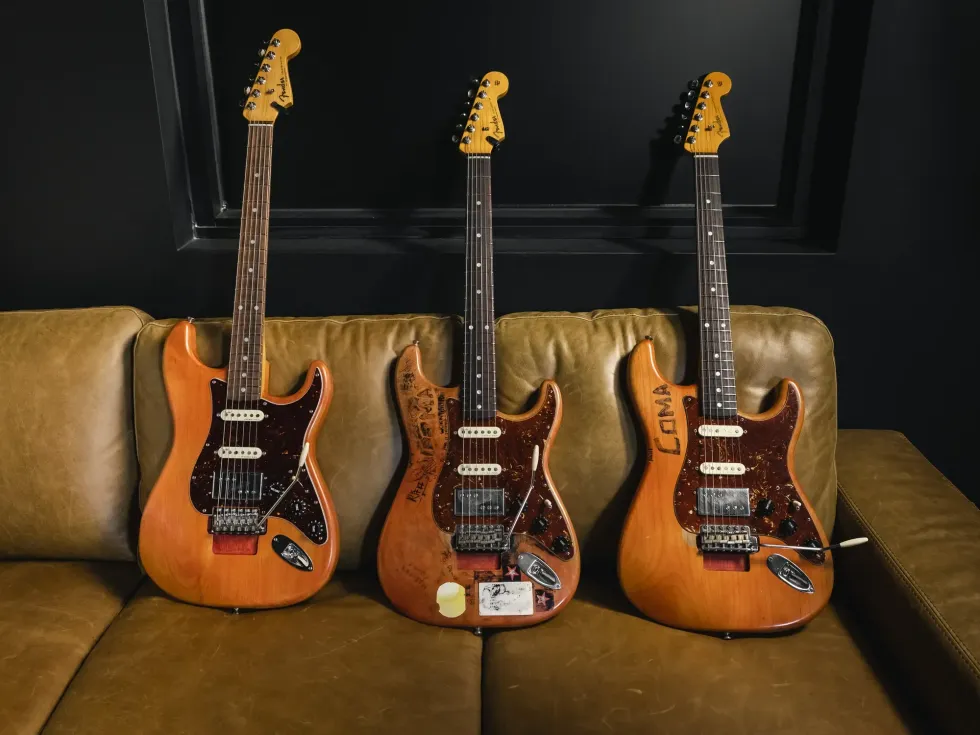 The version of "Coma" recreated in the Fender Stories collection represents the guitar as it exists now. Electronics include custom-designed ML Noiseless Strat neck-and-middle pickups and a custom Wide Range humbucking pickup in the bridge position. Hardware includes a 6-screw vintage-style Stratocaster tremolo with a cold-rolled steel block, a custom ML-spec neck, Fender ClassicGear™ tuning machines and the signature faded Coma red satin lacquer body complete with a Floyd Rose route. The Michael Landau Coma Stratocaster wears its rich history on full display, truly representing a vital artist that's always in transition. Also included is a Coma booklet written by Michael Landau himself, a Coma sticker set, custom strap, Coma pick tin (with limited-edition Michael Landau picks), a roll of PTFE plumbers tape for the tremolo, and a custom Coma-embroidered hardshell case.
At the heart of the "Coma" are a unique set of pickups designed to Landau's specifications. Custom wound noiseless 4th generation single coil pickups occupy the neck and middle position and offer that classic Stratocaster bell tone with none of the hum. In the bridge is a beastly CuNiFe wide range humbucker that delivers midrange bite and can cut through even the thickest fuzz. The beautifully worn red-stained alder body tells the tale of a well-loved guitar that's seen countless studios and stages across the world, marked with faded hand-drawn artwork and tattered stickers that not only optimize this instrument's playability and performance but start a conversation. Finished in a nitrocellulose Coma red stained lacquer and laboriously reliced by the Custom Shop's Master Builder Todd Krause, this guitar is as eye-catching as it is a dream to play. Landau knows better than anyone that every guitar tells a story and this gorgeous Custom Shop Stratocaster is a veritable novel.
"Landau poured so much of himself into the Coma," said Mike Lewis, Vice President of Product Development and Fender Custom Shop. "And we worked endlessly to capture that same passion with this Custom Shop Model and that meant more than just a one-to-one replica. The craftsmanship and care our team employed in order to create this instrument helped translate the magic that can only come from a beloved and well-used guitar."
The Michael Landau "Coma" Stratocaster | Fender Stories Collection | Fender
For more information, please visit fender.com.
Fender