Flower Pedals Releases the Castilleja Phaser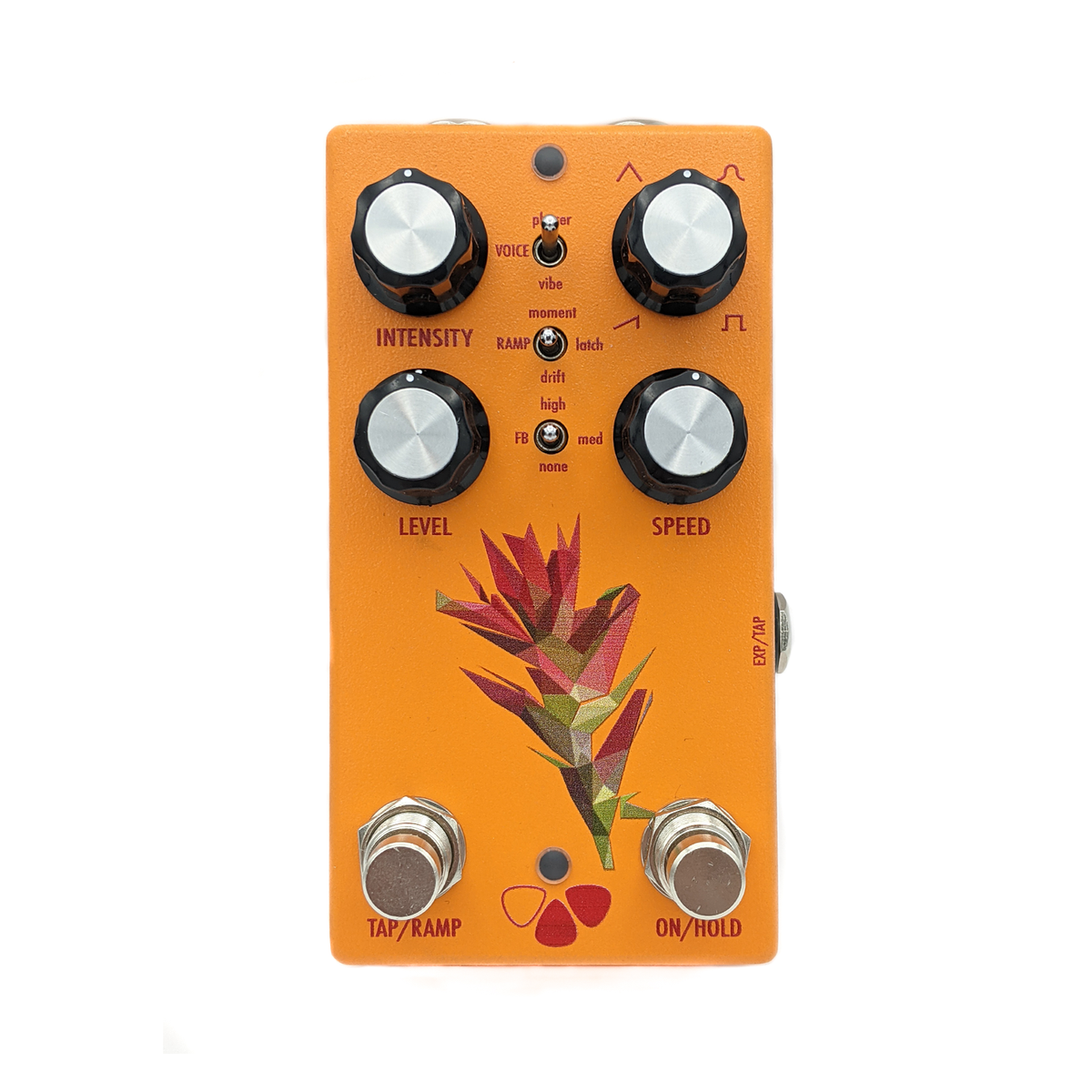 A feature-packed, four-stage phaser with two different voicings.
Looking for lush modulation to wash your tones across a prairie at sunset? Take a listen to the Castilleja Phaser! It's a 4 stage analog optical phaser with digital controls. Unlike most phasers, this one has two different voicings: the first a standard 4 stage phaser in the vein of classics such as the Phase 90, and the second voiced like the classic Univibe.
---
In addition to the two classic voicings, the Castilleja also has 3 levels of feedback (none, low, and high) as well as an option to switch between chorus (50/50 wet and dry) and vibrato (mostly wet) modes. Four continuously variable waveforms are selected via the Shape Knob. The frequency and depth of the LFO are controlled by the Speed and Intensity knobs. The Level controls the overall output volume with plenty of boost on tap.
The Castilleja features 3 different speed ramping modes in addition to tap tempo with 4 different subdivisions. The first mode is Momentary ramping, in which you hold the Tap/Ramp footswitch to ramp to a secondary speed, then release to ramp back to the main speed. The second mode is Latch ramping, where you just tap the Tap/Ramp footswitch to ramp to a secondary speed. Tap again to ramp back to the first speed. Last, but not least, is the Drift mode. This mode takes your base speed and then modulates that speed up and down to a different LFO.
Castilleja Phaser - Flower Pedals
A couple of little extra features are also available. One is the Exp/Tap jack, which allows you to either use an external tap connection to control tap and ramp or an expression pedal (signal tip) to control the speed. When an expression pedal is plugged in, you can set the heel and toe speeds using the Speed knob and the secondary function of the Speed knob.
For more information and demo videos or to buy a Castilleja, go to flower-pedals.com. The Castilleja is available for purchase both on the Flower Pedals website and Reverb.com for $249 plus free shipping in the U.S.
For more information:
Flower Pedals
From Your Site Articles
Related Articles Around the Web