Having gained access to a specimen from Seattle's Museum of Pop Culture, Paul Reed Smith takes aim at the tones of Hendrix's modified Woodstock head.
Fantastic range of Marshall-esque tones, from clean and lovely to tough, mean, and singing.
No standby switch. Minor cab rattling audible at moderate volumes. Head may need securing at high volume and bass settings.
$2,900 (head)
$899 (2x12 Stealth)
5
4
4.5
4
Just as PRS's 2012 HXDA was inspired by firsthand looks at one of slide legend Duane Allman's amps from his seminal At Fillmore East performance, the brand-new HX 50 is the result of Paul Reed Smith and PRS amp guru Doug Sewell getting extensive access to a Marshall head reportedly used by Jimi Hendrix during his iconic performance at the 1969 Woodstock festival.
That amp—a circa-'68/'69, 100-watt Super Lead modified for Hendrix by Dave Weyer of West Coast Organ and Amp—currently resides at the Museum of Pop Culture in Seattle, Washington, and Smith and Sewell's perusing of the circuit was made possible by the museum's proprietor, Microsoft cofounder Paul Allen. Lending additional credence to the original amp's provenance and pedigree, a small stenciling of the "Authentic Hendrix" badge appears on the HX 50's rear panel to indicate endorsement by the late guitarist's estate.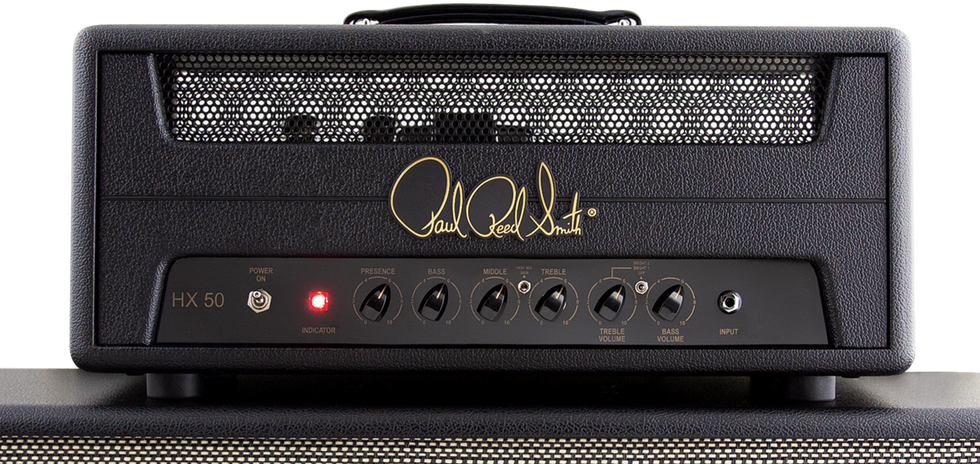 Under the Hood
The HX 50 reviewed here is powered by a pair of New Sensor EL34s and it uses a custom power supply whose rectification and capacitor arrangements are exactly like the 100's. Ostensibly, this avails more reasonable volumes and easier breakup while helping to imbue the amp with headroom and responsiveness more like the 100. The circuit is meticulously handwired on a thick (2 mm), 2-sided, through-hole printed circuit board—which, in a nice homage, is purple rather than the typical green. A trio of 12AX7s drives a preamp with presence, bass, middle, treble, treble volume, and bass volume knobs, as well as an off/on high-mid toggle and a 3-position brightness selector. While vintage Super Leads like Hendrix's Weyer-modified Marshall feature four inputs—which many famous players have "jumpered" (connected in series using a 1/4" patch cable) to tap more gain from the circuit, the HX 50 and 100 have a single input that's internally jumpered to the same effect.
By way of explaining the deviations from vintage-plexi architecture, Sewell says, "This is not a painstakingly historical recreation of the amplifier Hendrix used, but a snapshot in the development of a series of modified amps he came to use on tour and in the studio. Consideration was given to reliability, compatibility with his effects and guitars, the tones he achieved, and the feel and response of the amp."
In most cases I found myself turning outboard boost or gain pedals off before long, preferring the HX 50's beautifully articulate and open-feeling power-amp distortion—although a vintage-voiced germanium fuzz sounded as Hendrix-y wonderful as I could've hoped.
Castles Made of Sound
I tested the HX 50 (through the accompanying PRS cab featuring two Celestion G12H-75s) using a Strat, a Jazzmaster with Curtis Novak JM-V and JM-Fat pickups, a '57 Classic-loaded Les Paul, and a Schecter Ultra III equipped with a TV Jones Magna'Tron. From the outset I was impressed with the low noise floor, even at very loud and saturated settings. I didn't really hear any hum or squealing unless I was very close to the amp and using single-coils or slathering on gain from a stompbox. (On the latter point, in most cases I found myself turning outboard boost or gain pedals off before long, preferring the HX 50's beautifully articulate and open-feeling power-amp distortion—although a vintage-voiced germanium fuzz sounded as Hendrix-y wonderful as I could've hoped.)
As you'd expect from an amp inspired by a vintage classic, the range of tones available from the HX 50's EQ is moderate compared to some modern designs, but in terms of what you'd expect from a procured plexi, it's impressively wide ranging. With humbuckers or single-coils, I had no trouble making any guitar chime, sing, or sting—or the other way around—using just the knobs. The presence and mid controls can either sharpen your guitars' teeth or imbue them with a more "American," scooped-mid cushiness. Meanwhile, facile combinations of the treble and bass channel volumes—or even dialing one out completely—further the lean-and-clean(-ish) to velvety-thick possibilities. (Interestingly, even as a favorer of bright-ish single-coil tones, I rarely felt the need to engage the high-mid or bright toggles—neither of which were featured on the reference Marshall, although players of darker-sounding instruments or users of extensive outboard effects might appreciate their inclusion.)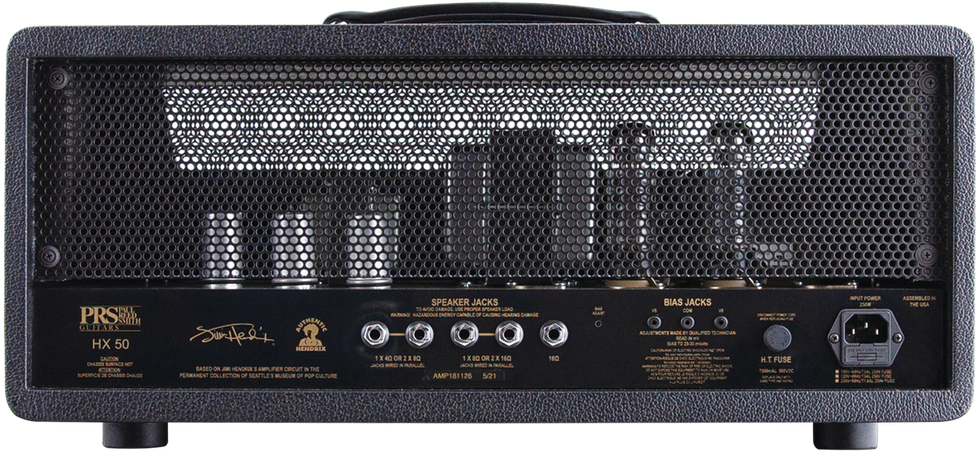 Further, while the HX 50 certainly won't pummel like, say, a Mesa Rectifier or a Diezel through a Rivera sub, for its size and power, it's impressively punishing in the lower registers. Enough so that, at more aggressive settings, even the middle position on my Jazzmaster threatened to vibrate the head toward its cab-diving demise (thank you, Gorilla Tape!). Meanwhile, even at low channel volumes (treble volume at 2 and bass volume at 1, with presence and bass dimed, made for a lovely pedal platform), the HX 50 sounds virile and open, yet is also loud enough to hang with a reasonably volumed band.
The Verdict
In terms of construction, tones, and versatility, the PRS HX 50 is a lovely brute of an amp worth trying regardless of your affinity for Hendrix or his tones. Sure, it can help you get to hazy-purple realms if you're so inclined, but for me it was even more fun to discover a slew of sounds that work for what I do. Whichever way you dial it, it's a damn good-sounding vintage British-style specimen.
The punk-rocking ripper extensively details how East Bay Ray's "smacky, bouncy" delays, "sour" dissonant chords, and suspense-and-release playing sideswiped them into the guitar universe.
Be one of THREE winners of a Guitar Slip No More Combo Package!
U.K. recording artist Hannah Trigwell names Guitar Slip No More as one of her Top 5 new gadgets for musicians!
Watch the video to see why and get your GSNM now at guitarslipnomore.com!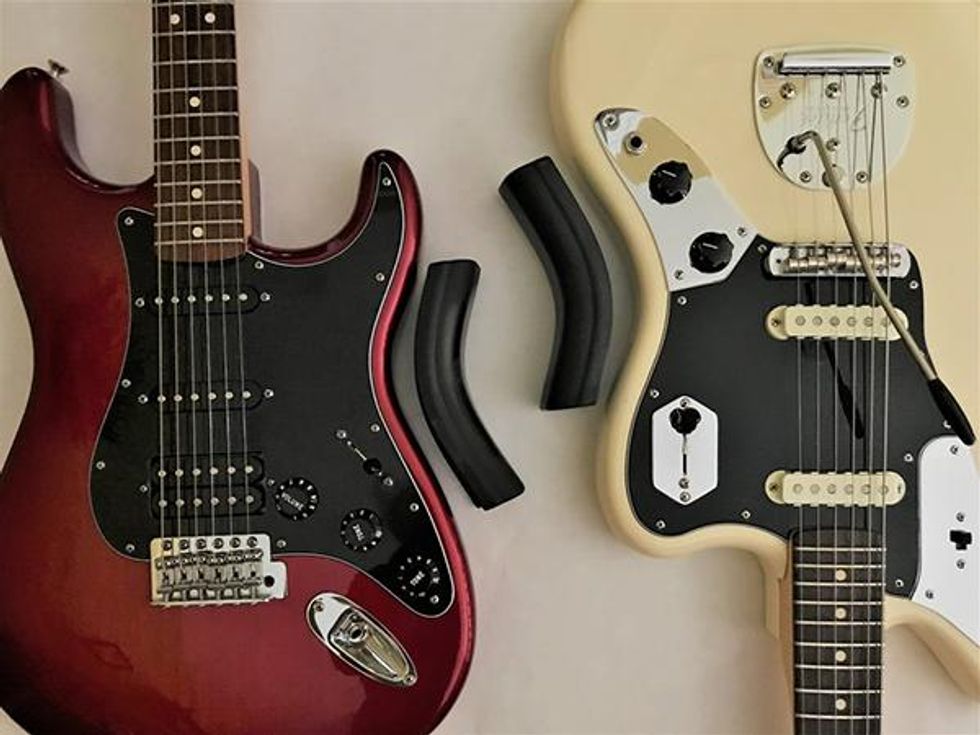 The Traditional Body Style, large Guitar Slip No More (GSNM) is designed with many guitar models and brands in mind including but not limited to the Stratocaster, Telecaster and Les Paul. The Traditional Body Style, medium Guitar Slip No More (GSNM) is designed with many guitar models and brands in mind including the Jaguar and Jazzmaster body style as well as the Squire brand. Buy the best fitting Traditional Body Style, GSNM today and begin enjoying all of the benefits of using our GSNM product including:
Increased control over your instrument
Prevent the slip while you sit!
Better guitar balance
Free the hands for writing, transcribing, etc.
Take the weight off your shoulders
Form fit easy on & easy off
Made in the U.S.A.
Guitar Slip No More
A former Guild employee builds guitars and winds his own pickups by hand. Here's his latest creation.
Name: Jacques Blanchette
Location: Rhode Island
Guitar: Blue Hawaii
I've been building guitars on and off since the '80s. I worked at Guild Guitars in Westerly, Rhode Island, for two years under Kim Walker's tutelage. After leaving, I worked at a music store as manager, repairman, and buyer.
I haven't been active in the music field since the mid 1990s. It's very hard to work as a builder or repair tech alone with no reputation. I build guitars now as a form of therapy. I don't really think about what I'm going to do with them when they're finished.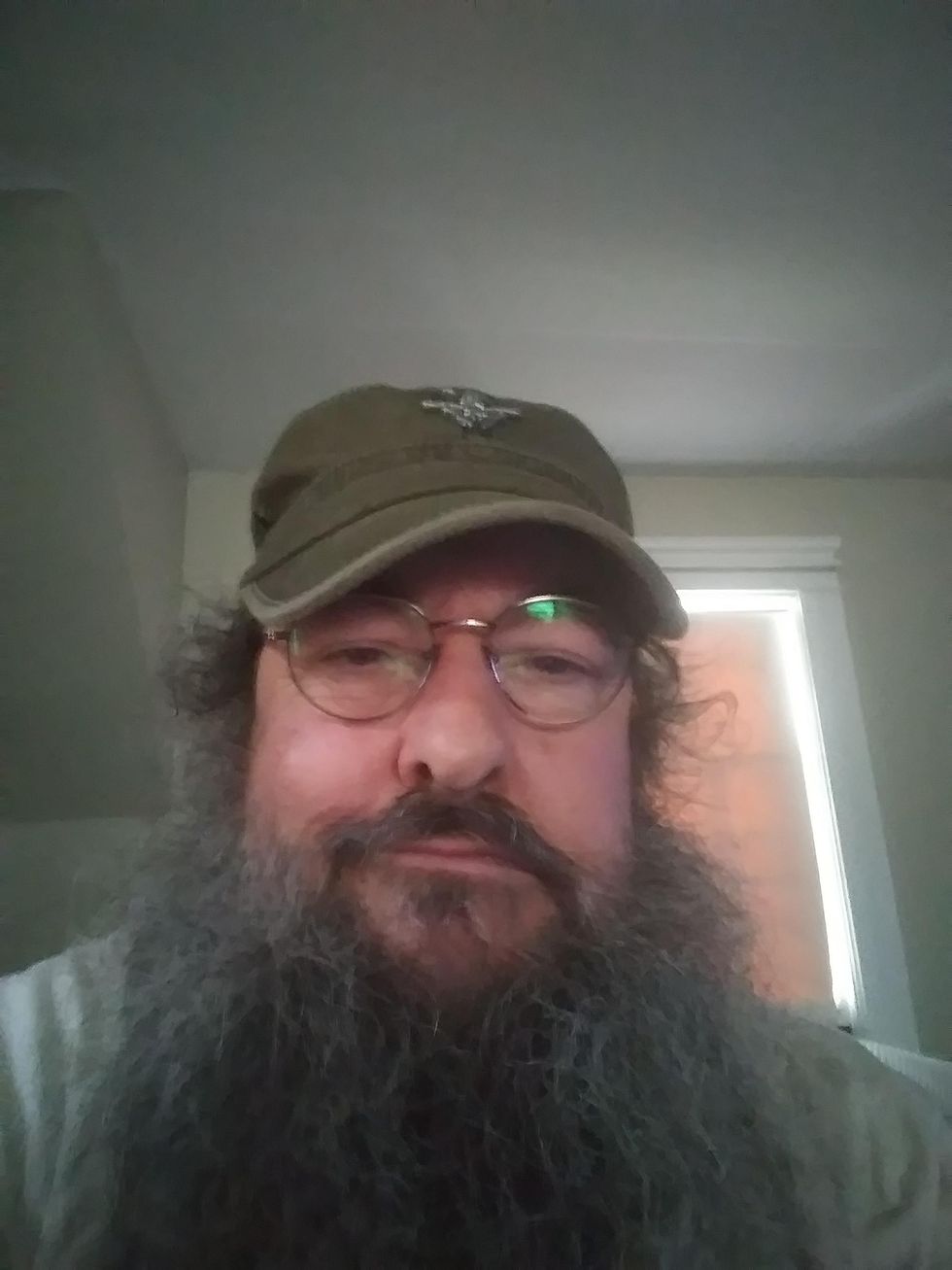 This is the latest guitar I've built. I call it Blue Hawaii, and it's actually the second of a set of three guitars. The third one is still in my head.
Blue Hawaii is a tribute to 1960s import guitars with a nod to the surf scene. The pickups are my own version of the old Danelectro lipstick tubes but without the tubes. I used 42-gauge wire wrapped directly onto alnico 6 bar magnets. The metal interferes with the magnetic field, so I leave them open. These pickups are handwound, as in bobbin in left hand and wire in the right hand. They have a very tight and snappy kind of sound, not much low end—think Fender with a bit of Rickenbacker mixed in. I made a set of these for my 12-string, too.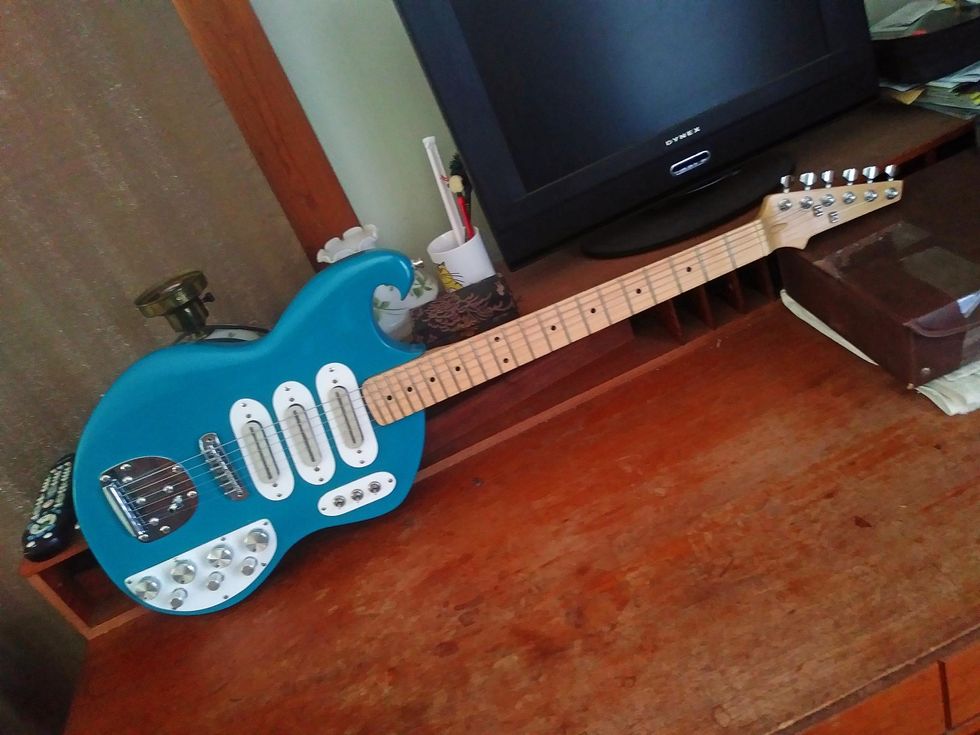 Each pickup has a volume, tone, and on/off switch with a master volume as well. The pickup covers are white PVC, the bridge is a salvage, the tuners are Gotoh, and the neck is a Chinese import. The guitar's body is a solid slab of poplar. The finish is nine coats of Rust-Oleum Lagoon. That's it, no clear coat. This guitar took about three months from start to finish, including finish-drying time.
I don't use many power tools, mostly because I can't afford the good ones. I just have a cordless drill, belt sander, jigsaw, and palm sander. I source most of my parts through Amazon. What I can't find, I make.
I've always loved the '60s and early-'70s imports and this series is my take on the various makers. The surf vibe of this guitar is because that's what those guitars were primarily used for. I decided on a set of three guitars like this, in primary colors. First is red, then blue, and finally yellow. The yellow guitar is still in R & D.
This simple technique can yield complex filthy tones, but don't lean too heavily on the fuzz.
Hello and welcome back to another session at the Dojo! This time, I'd like to explain the concept of gain staging using two (or more) overdrive/distortion pedals in series (one after another) to get more complex and saturated distortion tones for your recordings. Let's get to it!
Gain staging is an audio engineering term that refers to setting your input levels and routing to maximize the signal-to-noise ratio levels relative to the preamp, the volume fader, and the inherent headroom of the system. For guitarists, at its most basic this means using the aforementioned overdrive pedals in series to get complex and saturated distortion tones.
However, if you enjoy your hearing, your bandmates, your significant others, and cordial relations with your fans and neighbors, blasting your 100-watt Super Lead should be reserved for the stadium and not the club gigs. Thankfully, most high-gain amps these days have a master volume to help, but sometimes you just need more or, more importantly, you want different flavors of distortion. This becomes particularly important when recording multiple guitar takes. You can even build a distortion-oriented pedalboard specifically for your recording adventures, as I have.
In our never-ending quest for better and bigger distortion, we guitarists have never shied away from experimentation—from slicing speaker cones (not recommended) to slaving one amp into another via load boxes, which is a subject for another Dojo. Usually, bigger distortion means louder volume, especially if you're getting your distortion solely from your amp. When you crank your amp up to maximum volume, you can potentially get three types of distortion—preamp, power tube, and speaker. This is one of the reasons vintage Marshall amps sound so good when they are dimed, with every knob all the way up straight across the faceplate.
Remember that the point is to create gnarly tones that will still retain enough detail and character to punch through in a recording's mix.
By gain staging overdrive and distortion pedals in series, you can spice up your main distortion tone or create new tones altogether. You'll be able to achieve these at lower volumes, which can pay off in more nuanced sounds. I've found that overdrive pedals offer the most flexibility. The main reason is because of their soft-clipping circuit designs. There's a huge amount of tonal variation and possibilities here, because these pedals don't really ever go into "nuke" territory. Heavy overdrive and fuzz pedals, on the other hand, have hard-clipping circuit designs and serious amounts of distortion. You may find that you will reach a law of diminishing tone returns very quickly if you just use these types of pedals. Try it for yourself and see what inspires your creativity, but remember that the point is to create gnarly tones that will still retain enough detail and character to punch through a mix.
Try experimenting with the many different types of overdrives and distortion pedals on the market, using my guidelines below to get started:
Set the output volume of each pedal to match the level of your guitar when bypassed.
Layout your pedals in order of overdrive capabilities, from least to greatest. Experiment with their settings and record them so you can really hear the differences when listening to playback. What your ears hear as you play may sound different on "tape."
Reverse the order, record, and listen to the differences. For example, I really love Xotic Effects' BB Preamp going into their AC Booster [Photo1]. These pedals sound great when gain-staged together. Typically, I set the gain on the BB Preamp at 5 o'clock (full) and plug it into the AC Booster with its gain at 11 o'clock.
If you have a 2-channel amp (or a gain switch), listen to and record the pedals in both your clean and overdrive channel, individually.
Add a fuzz pedal after the overdrives and play with the amount of fuzz. Why not?
Try adding a clean boost pedal as the last pedal to drive your amp even harder.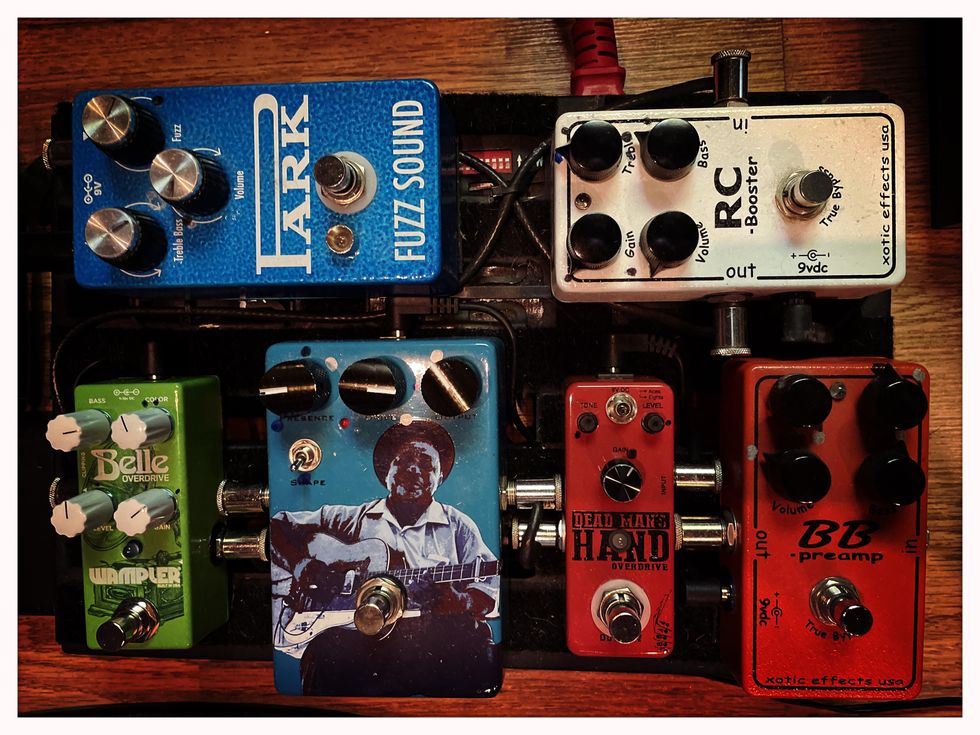 Photo 2
If you have more than two overdrive/distortion pedals, repeat the process and then make a mini pedalboard in the order you like. Photo 2 shows a pedalboard I've put together consisting of four overdrives (bottom row), one clean boost, and a fuzz pedal. The signal flow is from bottom left to top right. This gives me flexibility in choosing which pedals I want to cascade into the others. For example, I might like running pedal 1 into pedal 3, pedal 2 into 3, but not pedal 3 into 1—hence the layout order.
One final word of advice: Be sure to record all the possible combinations, because it's very easy to lose your point of reference when listening to overdrives for extended periods of time. Having them recorded in your DAW will allow you to take breaks and really know which combinations inspire you the most and how they sound on playback.
Until next time, keep experimenting! Namaste.
Since first making an appearance in the promo video for the classic Oasis song "Little By Little," the Gibson J-150 has not left Noel's side.
For 127 years, Gibson has shaped sound across generations and genres and has emerged as the most relevant, played, and loved guitar brand around the world. Gibson is proud to announce it has teamed with world renowned singer, songwriter and guitarist, Noel Gallagher to re-create his beloved Gibson J-150 acoustic guitar. The Noel Gallagher Gibson J-150 has been Noel's go-to acoustic guitar for over 20 years and is available worldwide now
"When Gibson brought the prototype down and I saw it there on the floor I was like 'It looks the bollocks man,' but then it sounded exactly like mine," says Noel Gallagher. "I was blown away!" "Noel Gallagher's music not only defined a generation, but it also became the foundation to a way of life for many around the world," says Lee Bartram, EU Head of Marketing at Gibson Brands. "Truly great music has the capability to transport you to a moment in your life…a snapshot in time, one of life's reference points. Noel's music does that for millions who listen to his songs and travel to somewhere else, somewhere they believe they can be a rock n' roll star… even if it's for that briefest of moments. It's been an honor to work with such an iconic artist and bringing this project to life is a small token of thanks for that music… and the belief that comes with it."
Noel Gallagher J-150
Since first making an appearance in the promo video for the classic Oasis song "Little By Little," the Gibson J-150 has not left Noel's side and has been seen and heard by audiences around the globe. Gibson is proud to launch a limited run of 200 pieces of Noel's go-to acoustic guitar with features including an AA maple back and sides and a premium Sitka spruce top all complemented by a hand-rubbed Historic Thin finish. Along with a custom case, signed label, and reproduced hand-written lyric sheet, the Noel Gallagher Gibson J-150 guitar will also include an authorized adidas Trefoil Decal resulting in a guitar that is truly Familiar to Millions.
For more information:
Gibson