On Bass: Covering Your Basses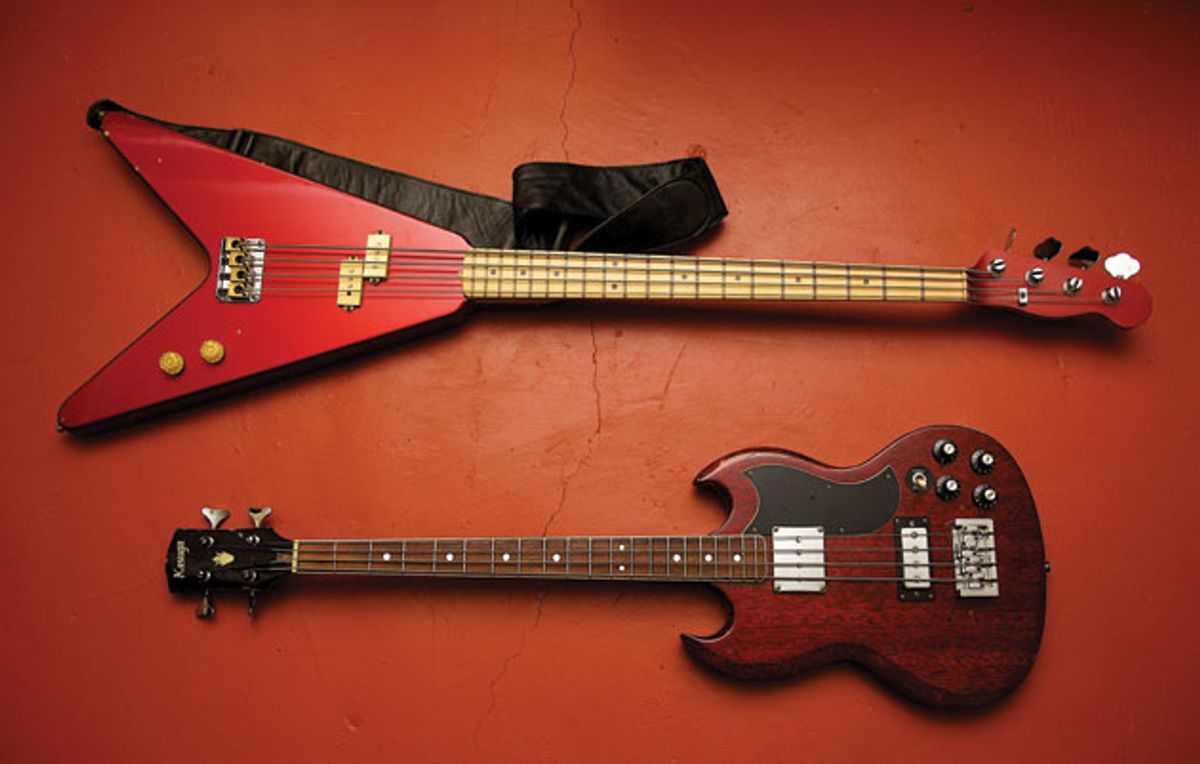 If you're serious about playing bass for a living, it's important to be intimately familiar with a number of different musical styles.
One of the many benefits of my growing up in a fairly small town was the short supply of bassists. Being one of the few available meant that I "had" to play in metal bands, Latin trios, '50s rock 'n' roll bands, folk duos, 18-piece big bands, fusion quartets, and electronic synth-pop bands. I wasn't very good at a lot of it, but I loved being in this situation, and it was a blessing in disguise.
I started all of these other projects while still a member of a rock band with serious ambitions. Some of the guys in my band didn't understand how I could enjoy playing so many styles, and I'd constantly hear snide remarks about "not staying true to my art" or being a "musical whore." As a listener, however, my musical tastes have always been very diverse. And the dream of staying in a rock band with high school pals who made it to greatness together eventually became less important to me.
Back then, I looked up to the bassists that were not necessarily associated with only one specific genre. Pino Palladino has toured with rockers The Who, neo-soul legend D'Angelo, folk icons Simon and Garfunkel, and pop sensation John Mayer—all within the last decade. Darryl Jones has performed with Madonna, Miles Davis, Sting, Peter Gabriel, and the Rolling Stones. And after studying players like them in my teens, my sights began to focus on becoming a versatile, professional sideman instead of a rock star.
There's a lot of jazz music and traditional jam-band music that I don't necessarily love, so I'm absolutely not offended when somebody else gets hired for those gigs.

I guess you could call me a jack-of-all-trades, master of none. By no means does this mean that I am equally strong across the board. The styles I am most passionate about are the hard rock of the '80s and soul music of the '60s. This shows up clearly in my playing, and it also influences the way I approach other styles. There's a lot of jazz music and traditional jam-band music I don't necessarily love, so I'm absolutely not offended when somebody else gets hired for those gigs. They might be better than me, love the music more, or most likely both. But when I do get called to play those gigs, I want to be able to fake my way through them fairly well and sound somewhat professional!
I was lucky enough to study bass at Music Tech of Minneapolis (now called McNally Smith College of Music). My small group of teachers there constantly reminded me that I needed to learn the basics of all modern, commercial genres in order to make a living. This was certainly right in line with what I had already started discovering on my own, but it is also the greatest advice I've been given in my career as a bass player.
Many music schools focus on genres that are technically more advanced or culturally more sophisticated, but some of those genres have very little to do with actually making a living in today's music industry. I was happy focusing my learning on what the marketplace needed. And it's my true love of musical styles that appeal to the masses over artsy, less-commercial styles that has kept me working full-time as a bassist for almost 20 years.

Bassists tend to find themselves with a lot more work when they make it their job to learn the basics of numerous types of music.
From scales to standard bass patterns, there are so many pieces of knowledge that are directly interchangeable between styles on bass—more so than on guitar. If you know how to properly adapt a root-5 pattern, for example, you're able to play a country ballad as well as quite a few Black Sabbath songs.
When it comes to gear for working bassists, we got lucky there too. That's because the sound and approach for many genres only involves a few pieces of gear, whereas guitarists often need a large collection of instruments and other gear to cover a wide variety of styles. Just think about the classic sound of Precision- and Jazz-style basses and how they have been the foundation for virtually every genre. Tonal differences between genres are largely decided by our touch on the instrument and perhaps a little tweaking of the onboard tone control. This means that we can sound authentic in many styles on a fairly small budget. All you have to do is listen, learn, and emulate. That's not to say you're just working on becoming a skilled copycat. You'll undoubtedly still find your own style while learning to emulate others.
Next time, I'll go through the basics of a few different styles and how to emulate the sounds heard on some pivotal records
without
having to touch a single piece of gear except your bass. See you then!