Our Favorite Recent Gear Buys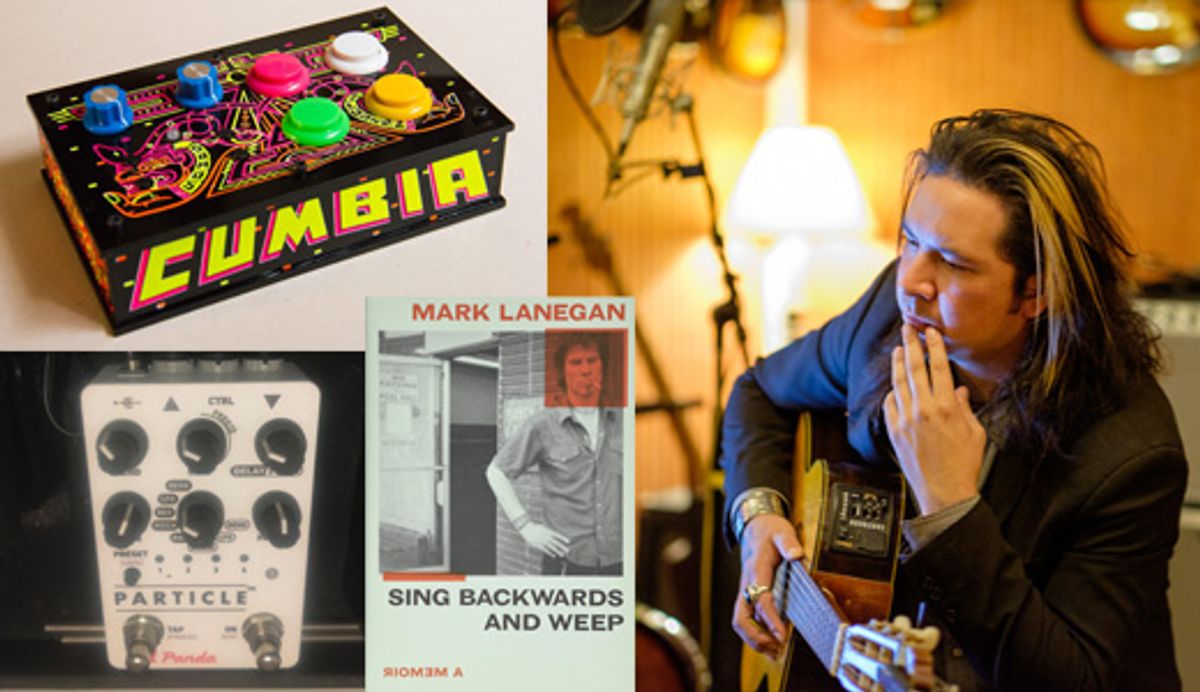 Gabriel Sullivan of XIXA joins PG editors and our reader of the month to discuss coolest tone-tool purchases of the last year, as well as current musical obsessions.
---
Q: What was your best gear purchase of 2020?
Photo by Charlie Stout
Gabriel Sullivan
XIXA
A: Without question my best purchase was a 1976 Marshall JMP 50-watt head. Our Dust & Stone Recording Studio has typically been a predominantly Fender vibe but this Marshall is quickly changing that. There's no sweeter sound than plugging a guitar into an amp with no pedals and having all the dynamics you need right under your fingers.
Current obsession: I'm constantly obsessed with creating and discovering cumbia music. I recently purchased a rare little device called the Hanan Cumbia—a killer little drum machine in a pedal casing that's geared completely towards cumbia rhythms and sounds!
---
Steev Kelley
Reader of the Month
A: A black Suhr Pete Thorn signature guitar. I bought it one week before lockdown by cashing in Regeneron stock. Stupid financial move, EXCELLENT gear move.
Current obsession: My current musical obsession is nailing all those badass '80s hair-metal guitar solos that I couldn't do in the '80s!
---
Photo by Johnny Hubbard
Ted Drozdowski
Senior Editor
A: A Red Panda Particle 2. Joe Gore's review hipped me to this pedal and the concept of granular delay, and I've been delighted. It ain't cheap, and I'm still learning, but it's opened up new textures and allows micromanaging pitch and decay to create sublime, surprising sounds, plus the freeze function with feedback is dramatic live. At least it was the two times I got to perform early last year.
Current obsession: Playing in big, unhurried, hypnotic tones, which is, unfortunately for my wallet, stoking my curiosity about Sustainiac-equipped guitars.
---
Tessa Jeffers
Managing Editor
A: When Aisha Loe wrote a feature for PG about strange stomps, I was floored by the concept of the Landscape HC-TT (Human Controlled Tape Transport). With this pedal, you use manual knobs to manipulate cassette tapes. It's a similar sound to scratching vinyl, but there are also touch sensors (for muting and feedback) that get pretty wacky, plus it came with two speaking-only tapes that are super fun to experiment with. I couldn't justify dropping that much money on myself, so I did the next best thing: I bought it for my partner as a gift. Best buy of the year, and we both get to play!
Current Obsession: Mark Lanegan's memoir, Sing Backwards and Weep. I'm only a third of the way in, but I just got to the part where his friendship with Kurt Cobain begins. The stories are gripping, and Lanegan's honesty is unabashed.