Love and Sockets: 1964 Supro Tremo-Verb
Photo by Laurie Hoffma
A killer old-school growler once owned by a little old lady from Providence, Rhode Island.
I love amps, and what I especially love about this 1964 Supro Tremo-Verb is that it resides with me. It is one nasty, noisy, and entirely perfect machine with exceptional low-fi vintage tone—a sound it helped define. I toured with it for a few years, and then, wisely, retired it to the studio, where it absolutely shines when you want to sound like you're playing inside a metal trash can—in a good way. Disciples of Ry Cooder and early Led Zeppelin know the joys of low-wattage Supros, so to have this near-mint condition Tremo-Verb drop into my lap was a genuine gift.
Of course, there's a backstory. This amp was purchased brand new at Sears in Providence, Rhode Island, by my wife Laurie Hoffma's aunt, Flo Levesque. Flo was a musical entrepreneur who played gigs, taught piano and dance, and led a state-champion drum corps, and the amp was bought with a Japan-made Ace Tone Electronic Organ. (Think ? and the Mysterians.) The '64 Supro catalog lists $149.50 for this 5-watt wonder, but Flo's receipt is long gone.
The reverb tank is genuine cardboard, with a thin slice of foam cushioning on the top and bottom.
Fast-forward 20 years, to the mid '80s, when Laurie and I borrowed the organ and amp for our outdoor wedding, and then hung onto it to start a band. I coveted the Trem-Verb instantly. I was barely able to restrain myself from begging Laurie to not plug a keyboard into it. Sometimes, I would plug a Strat or a Tele in at home and just revel in the fat, ultra-tank-y reverb, its glorious sag, and growling, fast, junkyard dog breakup. We scored a Roland Cube so the Tremo-Verb would no longer be subjected to the tyranny of a keyboard.
Then, one day, my love affair with this amp was interrupted. Flo needed it back. In her early 80s, she'd scored a regular gig at a nursing home "playing for the old people," and wanted to leave the amp and the Ace Tone onsite. She said that Laurie could have both when she died.

Photo by Laurie Hoffma
Sadly, a few years later Flo passed, and a few more years flew by until we worked up the nerve to ask her son if we could have the amp and keyboard. He immediately responded "yes," provided we take more of the musical gear Flo had left behind, which now filled his garage. In the late '90s, when I started a North Mississippi hill-country-influenced band called Scissormen, and wanted a juke-thentic sound, I used the Supro. Fired up, it reminded me of Hound Dog Taylor or Muddy Waters on early Chess records. Simply badass.
Here's the lowdown: There's just a slight patina on the control panel, where there's an easy-to-access fuse, a red indicator light, an on-off switch (no standby), and a single dial for the fantastic dizziness-inducing tremolo. There's also an input for a footswitch for the tremolo and another for the reverb, but I've never used them. The remaining controls are tone and volume dials, and there are three inputs marked regular, regular, and treble. The noticeably brighter treble is maybe where you'd plug in an accordion—another sacrilege.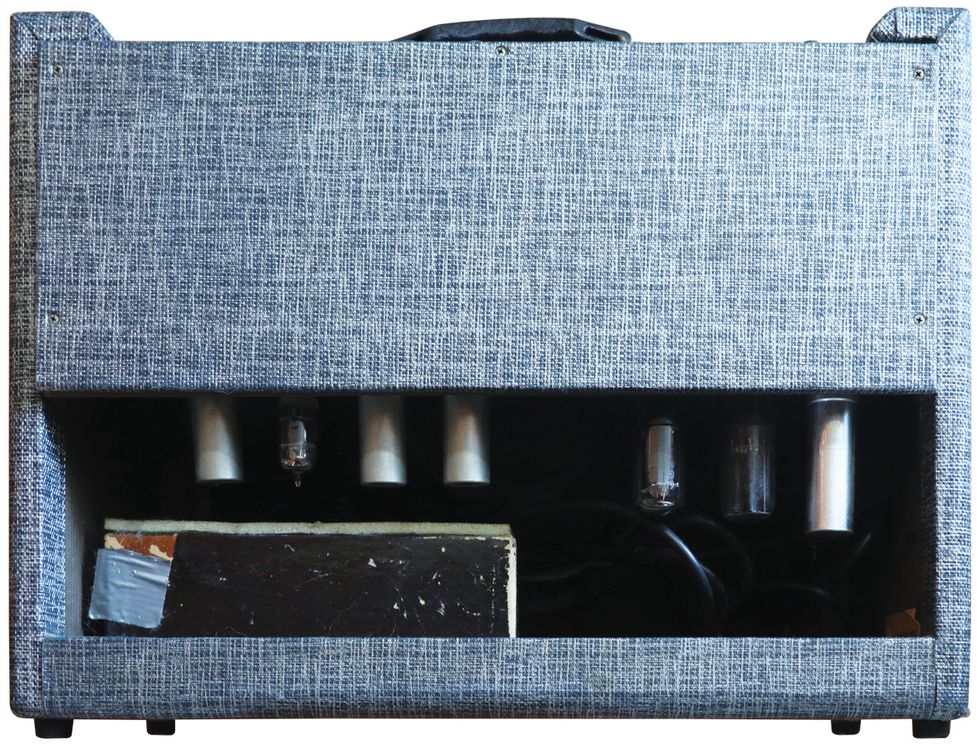 Photo by Laurie Hoffma
Inside, it's a clean layout that's easy to access, since the back panel only covers the top half of the amp. There's a 10-inch speaker of undetermined origin, four 12AX7 tubes for the preamp, reverb, and tremolo, a 5YTG3 rectifier tube, and a single 6V6GT power tube. There's also a can capacitor. The reverb tank is genuine cardboard, with a thin slice of foam cushioning on the top and bottom. Before taking it to Carter Vintage here in Nashville, where amp tech Zack Allen did a pro fix, I'd probably glued and duct-taped that foam 15 times. Except for the tubes and power cord, which I had swapped to reduce noise, it's all stock—including the replacement fuse in its original envelope, stapled inside. If you've never played a Valco-made amp like this, I suggest it. There's nothing better for nasty old-school tone, and it's impossible to get a bad sound that's not good. They currently sell for about $1,000.
Next time, I'll hit the opposite end of the vintage spectrum by getting the lowdown on a Dumble. Meanwhile, if you've got a beloved amp you think would be great for Love and Sockets, drop me a line at ted@premierguitar.com.
---