A Thoroughbred Marshall Prepares for Its Next Race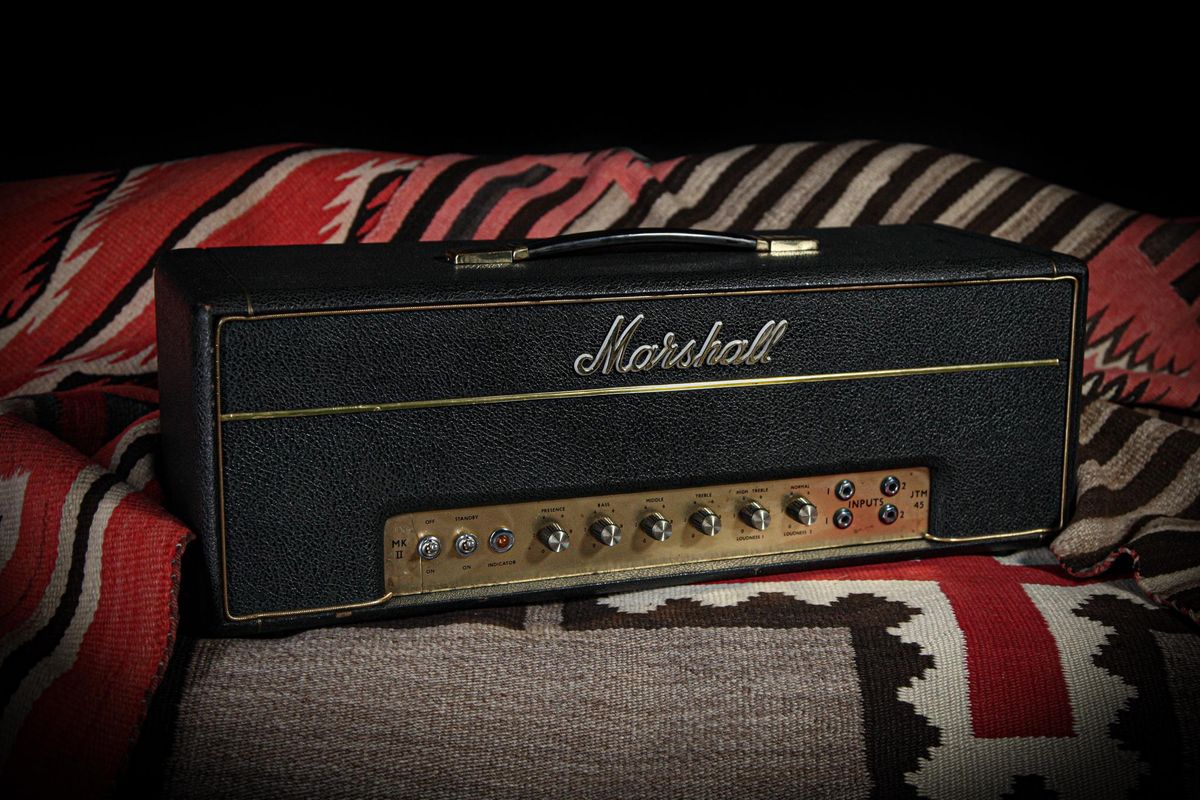 This JTM45 is an amp of which rock and blues dreams are made on.
So often in the world of guitar and amp design, the earliest innovations are hard to improve upon. Companies spend years and countless dollars trying to tweak the formula just to wind up back where they started. The Telecaster still looks virtually the same 75 years later, and Marshalls are still the gold standard for classic rock 'n' roll amplification.
---
This 1966 JTM45 might be the "holy grail" of Marshall heads. For most of 1965, the JTM45 featured the block logo design. This example sports the newly introduced and now familiar script Marshall logo. This is also the second full year of the black levant Tolex still found on Marshall amps today. Later in 1966, the small-box 50-watt Marshall heads would replace the JTM45s, making these amps relatively short-lived in their original incarnation, despite all their early adopters. Original examples like this are incredibly hard to find in the States, especially in excellent, stock condition.
With a gold plexiglass front panel and white back panel, this amp certainly has the looks, but as with most things in life, it's what's inside that counts.
Off with its hood! Here's the power tube and transformer array in this 56-year-old tone machine. It's a simple but potent mix.
The folded-end aluminum chassis features the early style lay-down power transformer with a top-mounted voltage selector. A pair of KT66 power tubes complements three ECC83 preamp tubes and a GZ34 rectifier tube, delivering the singing, sweet sustain you hear on countless records. With two channels and high and low inputs for each, the amp offers several distinct sounds, including the popular choice produced by jumping the channels with a patch cable, to combine the best qualities of each. (The bright channel has a bright cap on the volume pot and a second cap bypassing the 270k mixing resistor, FYI.)
"The previous owner is a Nashville sideman who has backed up legends like Hank Williams Jr. and Jimmy Hall."
The 2x12 combo configuration of this amplifier is thought to be the type of amp Eric Clapton used for the so-called "Beano album" with John Mayall and the Bluesbreakers, officially titled Blues Breakers with Eric Clapton and released in July 1966. Pete Townshend and other players had been using Marshall amps live for some time, but it was Clapton's combination of a PAF-equipped 1960 Gibson Les Paul and a JTM45 amp, as well as his insistence that the engineers of the recording session pull the microphones back and allow him to turn his amplifier up, that introduced the world to what these amps could do. Soon all the guitar greats on the London music scene were flooding Jim Marshall with orders. Clapton's early successors in the Bluesbreakers lineup, Peter Green and Mick Taylor, also used Marshall amps for their times in the band, forever linking the sound of a Marshall amp to the British blues explosion of the 1960s. Soon you could hear Marshalls on nearly every record coming from England, and subsequently in the recordings of generations of guitarists around the world that they inspired. Classic albums by Humble Pie, the James Gang, AC/DC, Jeff Beck, and ZZ Top all demonstrate the 45-watts of solid power of a JTM45. Even today, no studio would be complete without some kind of plexi-era Marshall.

As often happens with plexis, at some point a tech hand-wrote the ohm-output position numbers on the white rear plate of this vintage Marshall.
This amp walked into our store some time ago and has been in our private collection since, but it's now for sale. The previous owner is a Nashville sideman who has backed legends like Hank Williams Jr. and Jimmy Hall. Its condition reflects its status as the prized possession of a working musician. It's been played but very well maintained and is in pristine running order. These were built to last, and this amp has performed faithfully for many years.
In the endless pursuit of tone, so often it seems the sound many of us are chasing is the sound of this amplifier. No matter how many pedals claim to nail it, or how many boutique amps copy the circuit, there is simply nothing like plugging into a plexi-panel JTM45. These amplifiers are in many ways a musical instrument unto themselves and have no doubt inspired and shaped guitar-centric music for 60 years.